Baby on the way? Congrats! Here are all the best free baby stuff and samples to help you save money and test out new products.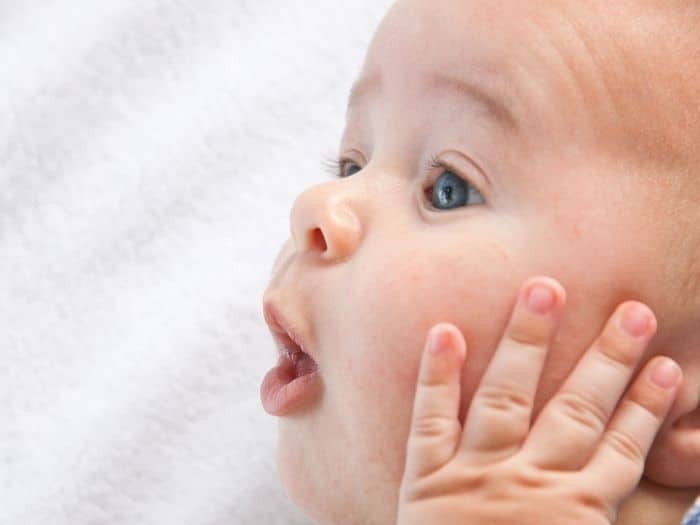 £10 BONUS OFFER: Earn easy cash by watching videos, playing games, and entering surveys.

Get a £10 sign up bonus when you join today.

Join Swagbucks here >>
Congrats! You're about to get a lot of free stuff to help out with your baby!
Companies love giving new and expectant parents free baby samples.
It's quick and straightforward to get the freebies – you just need to look in the right place.
Here are all the genuine places you can pick up free stuff for your new bundle of joy.
Amazon Baby Wishlist
When you create an Amazon Baby Wishlist, you can claim a free welcome gift.
Add at least £20 worth of baby products to your wishlist, and you can pick between:
Tommee Tippee Twist and Click Nappy Bin
Neal's Yard Remedies Baby Balm
Tommee Tippee Closer to Nature Baby Bottles
Fisher-Price Laugh and Learn Puppy's Remote
Tommee Tippee Anti-Colic Baby Bottles
WaterWipes Baby Wipes
BABYBJORN Baby Bib
Be sure to add the most recent promotional code, so the discount is applied.
Free baby samples with Emma's Diary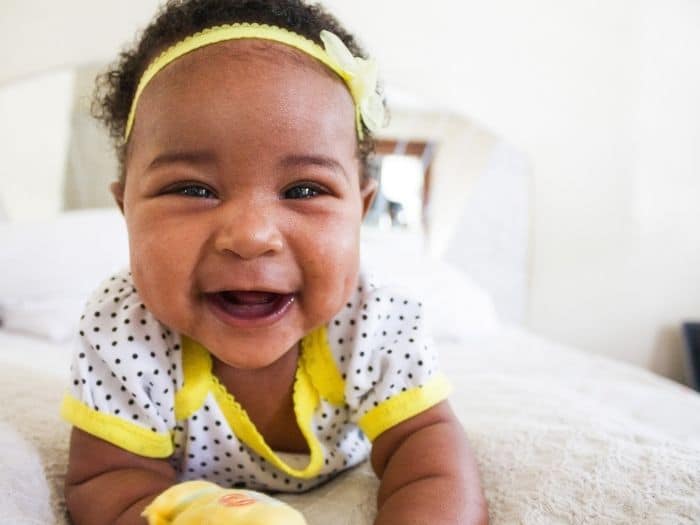 When you join Emma's Diary, you get not one, not two, but four packs of free goodies.
You join Emma's diary today and sign up on their site, then access vouchers for your free pack.
Head to your local Boots or Argos, where they'll scan your vouchers and give you the free sample pack. You don't need a printer as you can scan the barcode straight from their app.
It's not when your baby arrives; there are four free packs for different stages of your baby journey:
Mum-to-be free pregnancy packs – for early pregnancy
Bump to baby welcome pack – best for when you're 27+ weeks pregnant
Labour information gift pack – best for when you're 32+ weeks pregnant (you get this pack for free from your midwife or GP)
New family gift pack – after your baby's birth
Samples include things for you as well as baby products like free Johnson's baby samples.
Bounty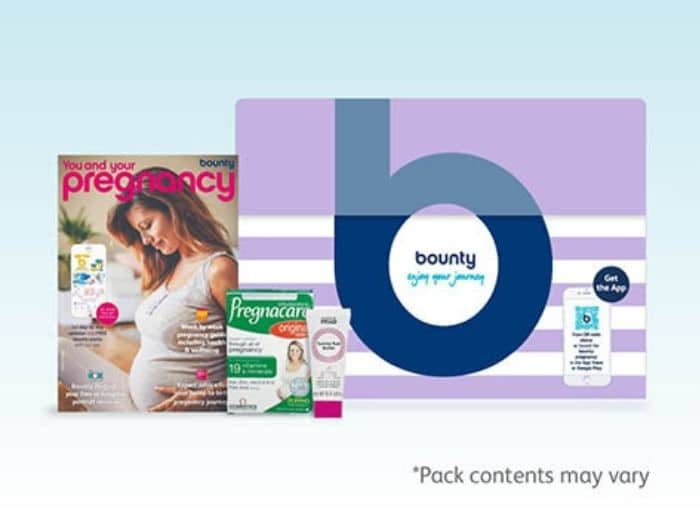 With Bounty, you get three packs starting from when you're first pregnant.
The Pregnancy Information folder has a handy carry case so you can keep your pregnancy notes safe and together. Plus, you get samples like pregnancy vitamins and moisturisers, as well as money off coupons.
There is a mum to be pack. Download the Bounty app, and you can collect the Bounty pack full of pregnancy stuff from Tesco (not the smaller Express stores).
The mums to be packs usually contain free full-sized Tesco Fred and Flo nappies, baby wipes, and laundry products. You'll also get information and money off vouchers.
The final Bounty baby pack can be collected from the maternity ward and is a newborn pack. It's filled with baby product samples such as nappies, baby wipes, and nappy cream. You also get a CH2 form to claim Child Benefit (see more about this below) and coupons to save on future purchases.
Boots Parenting Club
I think most people have a Boots Advantage Card, but if you don't, it's time to get one.
Usually, with the Boots loyalty card, you collect 3 points for every £1 you spend and can go on to redeem the points in store for free shopping
You get even more as a parent.
Sign in to your account (or sign up) and let them know you're expecting or have a child under the age of 5. You will then can get a massive 8 points for every £1 you spend. It's easy to manage your points using the Boots app.
There are also free gifts when you're a member of the Boots Parenting Club. You get free gifts at different stages of your baby's development. Right now, they are giving away a free full-size bottle of Aveeno Baby Daily Care 2-in-1 Shampoo and Conditioner.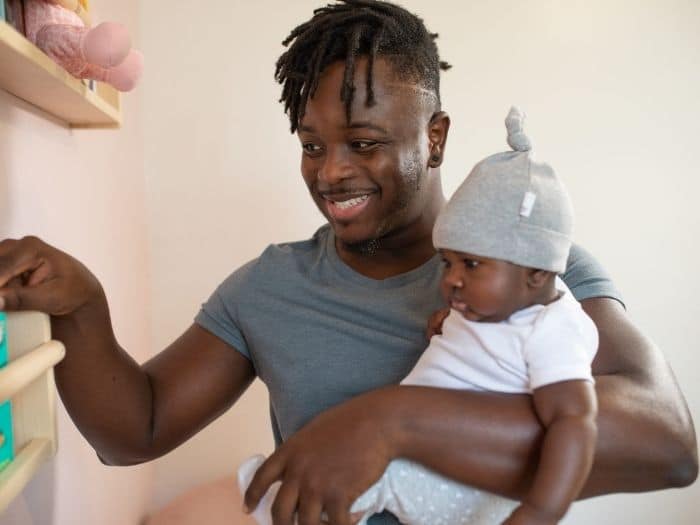 Pampers Club – free nappies
You're going to get through a lot of nappies, so why not get some for free?
With the Pampers Club app, you get free Pampers nappies, although you don't get the freebies straightaway.
Using the app, you can track your purchases using codes from the packages; then, you get one pack free delivered after you've collected ten packs of Pampers nappies.
The app also gives you free expert advice and a pregnancy guide.
SMA Baby Club
If you plan to use follow-on or growing-up milk, you can make money back from your purchases.
When you first sign up, you get £5 back on your first purchase, then a further £5 back for every third purchase.
You first need to buy the milk, then claim your cashback by uploading your receipt.
(Check out these other apps where you can scan receipts for money).
Free books from Bookstart
To help get kids reading and loving books from a young age, Bookstart gives free books to every child in England and Wales.
Children get a Booststart pack when they reach 12 months and get another when they're 3-4 years old (27 months in Wales).
You'd usually get board books and rhyming sheets, which can be in dual language or for children with additional needs if required.
Don't forget that your local library can lend you books for free that are suitable from birth.
Free nappies from Beaming Baby
Watch a video and claim nappies with Beaming Baby.
Their nappies are bio-degradable and are kind to the skin.
You can claim a £5 Beaming Baby Voucher, get free advice about washable and disposable nappies, and receive free Organic Baby Wipes and Cornstarch Nappy Sacks Samples.
The offer can be withdrawn at any time, depending on demand.
MAM Club
As a member of the MAM club, you get a pregnancy calendar and a calendar to track your baby's development, which helps to read up and get support during all the different milestones.
As a member of their baby club, you join with other parents to take part in product tests for baby equipment to try free items. You can also enter competitions and get coupons and discounts.
Free premature nappies from Asda
Around 1 in 13 babies are born pre-term in the UK, and they need specialised care.
When it comes to nappies, families can get them from hospitals or healthcare providers, but in partnership with Pampers, you can now get them for free from one of the 254 pharmacies in Asda stores.
Free Aldi Nappies
You can apply via Netmums to get a free pack of Aldi Mamia newborn nappies.
Free infant foods from Ella's Kitchen
Ella's Kitchen gives you a free weaning pack to use when your little one is six months +. You get a colourful weaning wall chart, free stickers and an Ella's Kitchen weaning journey map.
You also get a coupon for any Ella's Kitchen pouch of food.
Free baby on board badge
If you travel on train or underground, to avoid getting bumped on your bump and so people can see you might need a seat, you can get a free Baby on Board badge from Transport for London.
The TfL will send out one badge to any address within the Greater London area and South East England.
Free pregnancy/kids parking sticker
Find yourself struggling to get in or out of the car with a growing bump or need a bit more room with a car seat?
Car parking spaces aren't big, and there is a campaign to help highlight this.
You can request a free car parking sticker so you can let other drivers know you need a little more room.
Free first aid guide
It never hurts to be prepared. Even if you don't need to use it, it's worth increasing your knowledge of baby first aid.
St John Ambulance issued an Essential Baby First Aid Guide, although this has been paused due to the pandemic.
In the meantime, check out the St John Ambulance handy app, which has first aid advice for adults, children and infants.
Also, get in touch with your local children's centre.
When my youngest was a few months old, I took a free Infant First Aid Course through the British Red Cross. I never needed to use what they taught me, but it made me feel a lot safer. They may still run similar training programmes.
Free toys
It's not a guarantee, but you could try signing up for the Tommee Tippee Testers panel.
As a member, you get to test their newest products for free, and then leave an honest review after.
Parent Club Baby Box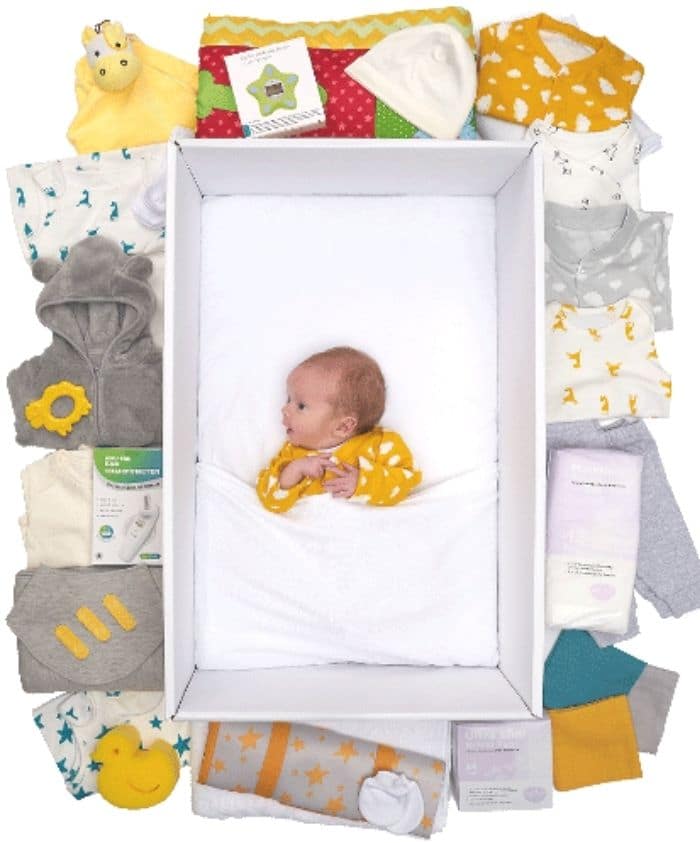 Every baby born in Scotland can get a free baby box full of essentials from birth to 6 months.
You don't even need to buy a Moses basket, as the box doubles as a safe place for your baby to sleep (and then can double as a toy box as they get bigger).
To get a box, apply through your midwife at your 18-20 or 28-week appointment. The box is delivered four weeks before your due date.
The box is packed with stuff like free baby grows and other clothes! You get:
Digital thermometer
Scratch mittens
Short-sleeved vest
Long-sleeved vest
Reusable nappies voucher
Long-sleeved side buttoning vest
Cotton hat
Long-sleeved jumpsuit
Jersey trousers
Pair of socks 0-3 months and 3-6 months
All-in-one day suit
Long-sleeved sleepsuit
Jersey trousers
Fleece jacket with hood
Mattress protector with a fitted sheet
Cellular blanket
Baby wrap
Hooded bath towel
Bath sponge
Bath and room thermometer
Teething ring soother
Baby books
Playmat
Emery boards
Bib
Muslin cloth squares
Comforter toy
Travel changing mat
Disposable nursing pads
Maternity towels
Box of condoms
This is for new parents in Scotland only.
My Pura – free baby wipes and nappies (after P&P)
While not a total freebie, as you need to cover the delivery costs, we thought it worthwhile to include this offer from My Pura.
You're able to get a free 24 pack of baby wipes but need to pay 99p for postage and packing.
They also offer a free trial pack of their eco nappies, with delivery costing a bit more at £3.49. You can choose from newborn sizes up to size 6 (15+kg/33+lbs).
HiPP BabyClub – money off vouchers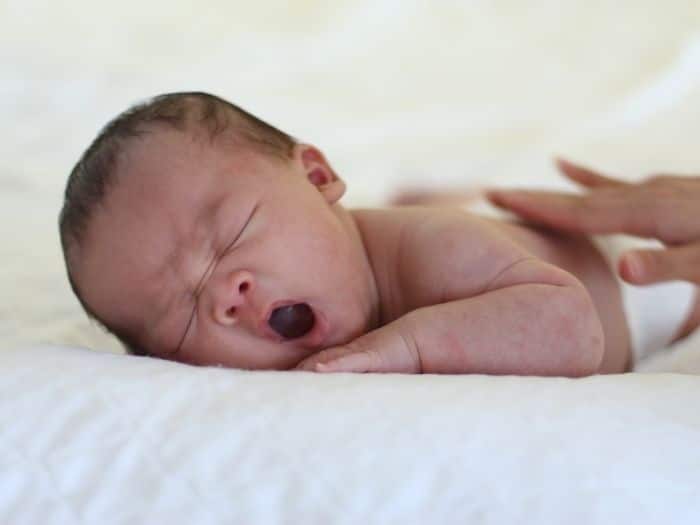 While you don't get any freebies, you get money off vouchers when you join the HiPP BabyClub, which may come in handy as your baby gets a little bigger.
Even if you want to follow baby-led weaning or cook everything from scratch, it's always handy to have free food on hand.
You can also access exclusive competitions and prize draws.
Cow and Gate Baby Club – money off coupons
With Cow and Gate, you get a free weaning plan to use from 6 months onwards.
Other than that, by signing up to their mail list, you get advice, support, money-off vouchers, and the latest info on Cow & Gate products. You'll need to add the date of birth of your baby.
Aptaclub
Joining Aptaclub gets you a free welcome pack, as well as vouchers for money off.
Free samples of DryNites
You can claim free products and samples of DryNites via the Huggies site.
Although not for a new baby, it still may be helpful for when they're older.
You can pick sizes from 3-5 years, 4-7 years or 8-15 years.
They will also enter you into a prize draw to win a family holiday worth £1,000, and you will receive a money off coupon.
Testing and keeping free products
Not all items will be specifically for babies, but it never hurts to sign up for testing sites. They send you free products, and you try them out and give an honest review and feedback of how you got on with it.
Check out the best product testing UK sites to join.
And, as a treat for mum, why not pick up some free perfume samples too.
Financial benefits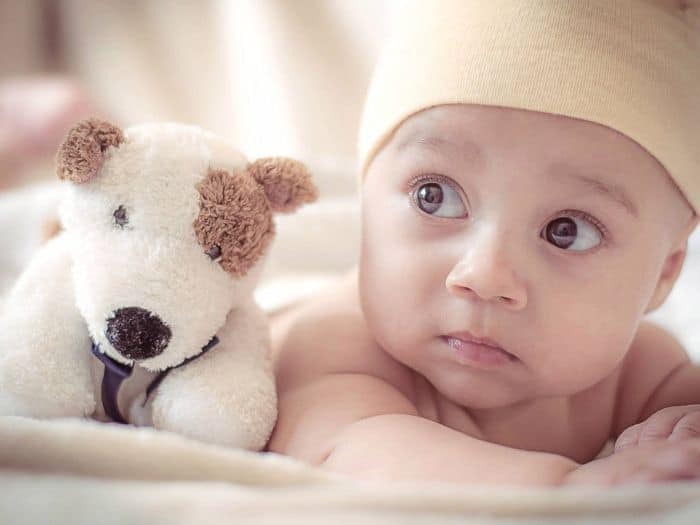 Not a freebie as such, but there is a lot of financial support provided from the government for new and expectant parents:
Statutory Maternity Pay
You get paid Statutory Maternity Pay (SMP) for up to 39 weeks by your employer. You get:
90% of your average weekly earnings (before tax) for the first 6 weeks
£156.66 or 90% of your average weekly earnings (whichever is lower) for the next 33 weeks
Check your employer's Maternity Policy to see if they have any other contractual maternity pay.
Adoption leave
If you have taken time off to adopt a child or have a child through a surrogacy arrangement, there is Statutory Adoption Pay (SAP) which is arranged through your wages by your employer. You get:
90% of your gross average weekly earnings for the first 6 weeks
£156.66 a week or 90% of your gross average weekly earnings (whichever is lower) for the next 33 weeks
Maternity Allowance
In the event you are not eligible for SMP, you may be entitled to Maternity Allowance.
If eligible, you could get either:
£156.66 a week or 90% of your average weekly earnings (whichever is less) for 39 weeks
from £27 to £156.66 a week for 39 weeks – how much you get increases with each Class 2 National Insurance contribution you make
£27 a week for 14 weeks (if you do unpaid work for your spouse or civil partner's business)
Sure Start Maternity Grant
You could get a one-off payment of £500 to help towards the costs of having a child with a Sure Start Maternity Grant (Pregnancy and Baby Payment if you're in Scotland).
You need to be on a low income and expecting your first child or expecting multiple births (such as twins) and have children already.
Child Benefit
As soon as you've registered your child's birth, you can start a claim for Child Benefit.
You would have been given the CH2 form with your Bounty pack after giving birth, so be sure to complete it and post it back to the benefits office postal address (you cannot do this online, so keep that form).
Healthy Start vouchers
If you receive certain benefits, you're eligible to apply for the Healthy Start scheme.
You can apply from when you're ten weeks pregnant up to when you have a child of 4 years.
Vouchers are given to you every four weeks to spend on cow's milk, fresh, frozen or tinned fruit and vegetables, infant formula milk, and fresh, dried, and tinned pulses.
You can also get free vitamins.
In Scotland, you can apply for Best Start Foods.
Maternity exemption certificate
If you are pregnant or have given birth in the last 12 months, you can get maternity exemption certificates that entitles you to free prescriptions and NHS dental care.
Your midwife or doctor needs to apply on your behalf.
Potential free baby samples clubs to avoid
Your Baby Club
You're promised a baby box filled with things like a teddy bear, baby toiletries, Pampers nappies, clothing, SMA baby club welcome packs, and discount vouchers with Your Baby Club.
When you sign up, it looks like you've entered into a prize draw to win a baby box, rather than just getting it for free or you have to buy £20 worth of stuff from Amazon first.
Reviews show a mixed bag of feelings towards it.
Freebies baby stuff FAQs
How do I get free baby samples UK?
It's simple. Using the offers above, you can get baby freebies for mums to be (as well as dads to be). You need to give them your email or address of where to send out your free samples.
Why do they give it away for free?
New parents are a brand new consumer group, and companies want you to spend your money with them. Giving away a free sample allows you to see if it's right for your baby and tempts you to buy from them in the future.
Why is it free? Is there a catch?
If the company takes your email address and you opt-in, you will likely start to get marketing emails with helpful information about your new baby. Often, they give out money off coupons, too, so you can continue to save money. Otherwise, you will just be getting free products to try out.
You could always create another email address so you don't get overloaded with emails, but you may well find them helpful.
Is it safe for my baby?
The baby products and samples offered from the free baby clubs and baby companies are all from well known and trusted brands. Do check all labels before use if you are wary about allergies etc.
Are free samples legit?
The offers we've included are checked for authenticity, are real and are from legitimate companies.
Are there any other free samples?
I'm not going to lie – babies are expensive, but you can continue to save as they get older.

As extra money saving tips, check out these other printable coupons.

You can also get several birthday freebies (not just for you, but when your baby turns one).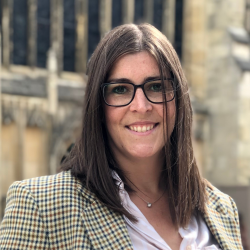 Latest posts by Naomi Willis
(see all)