With more people than ever using the internet to chat, send images, and video call each other, many have been wondering about their privacy.
If you only go back a few years, most users didn't think twice about their private information becoming shared when they go online. However, all of that is changing.
More recently, eyes have become open to how companies have turned the privacy of individuals, especially their consumers, into commodities.
Through the use of trackers and software, ads have become more personalised, with companies using this information to gain profit and increase their revenue. But that is where Signal is different.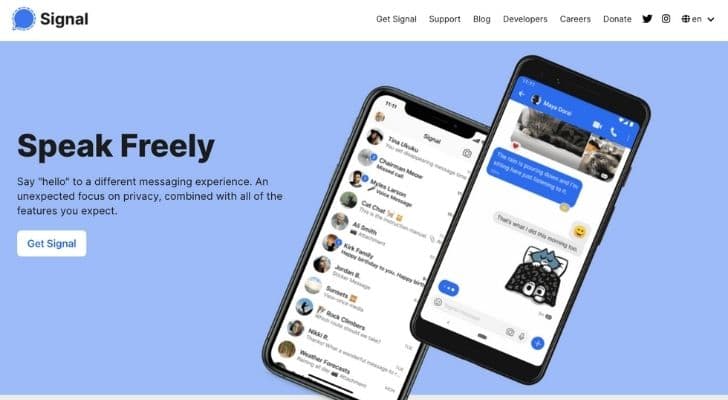 £10 BONUS OFFER: Earn easy cash by watching videos, playing games, and entering surveys.

Get a £10 sign up bonus when you join today.

Join Swagbucks here >>
Signal has grown to become one of the most globally well-known apps, and more and more people continue to download and use it each day.
Thanks to its emphasis on privacy and security, the app used to be very popular with activists and investigative journalists and is now popular with the general public too.
How does Signal generate revenue?
Donations
How does Signal make money? That may be a top question that comes to mind considering that this app does not use any trackers or ads. The answer is through donations.
In essence, Signal is a non-profit organisation. This means that the Signal app has been created for public or social benefit, without the goal of generating money.
Its business model relies solely on donations to continue functioning, and they accept all currencies as donations – even cryptocurrencies.
It should be noted that they do keep all of their donor's identities private for security reasons.
The core organisation behind the app is known as Signal Technology Foundation, which is a non-profit and tax-exempt organisation based in the United States.
Open-source software
The secure messaging app uses open-source software to program and operate, which means they can cut back on fees there too.
Open-source software is a type of computer software that is released under a license, and anyone is able to use or change it and its code for any purpose.
And as it is publicly available, independent developers are welcome to offer patches and solutions, which saves the Signal team from having to invest in coders and tech programmers.
According to research and future predictions, the Signal Organisation could be self-sustaining at one point.
This model relies on the fact that Signal has 100 million active users, and it continues to differentiate itself from less secure platforms such as Facebook.
The History of Signal
Signal hasn't been around for long, and its history starts in 2010.
A security researcher named Moxie Marlinspike and a roboticist named Stuart Anderson created a voice calling app (named RedPhone) and messaging app (named TextSecure) under Whisper Systems.
Both of these applications offered end-to-end encrypted communication.
In 2011, Moxie then developed the open-source software known as Open Whisper Systems to continue supporting the open-source TextSecure.
He then developed base protocols for instant messaging and encryption, which ultimately led to Signal being created in 2014 through the merger of TextSecure and RedPhone.
At this point, the Signal app was only available to download and install on iOS (Apple device software).
Open Whisper Systems then released Signal for PC a month later as a Chrome app, before it was relaunched in October of 2017 as a self-functioning app for Windows, Mac, and Linux.
The Signal messaging app continued to grow over the next few years, constantly being developed and bettered, until a big change came in 2018.
Brian Acton, who co-founded WhatsApp, resigned due to the security issues that were being presented in the app.
After his resignation, he connected with Moxie where he donated $50 million to the Signal Technology Foundation.
This, along with many significant movements (such as the BLM movement in 2020) over the following two years really allowed the app to gain a huge interest and following.
Plus, at around the same time, WhatsApp announced its union with its parent company Facebook (now owned by Meta), which is known for the tracking and sharing of user data.
Many people felt threatened by this move and feared that using WhatsApp would breach their privacy, ultimately turning them towards Signal – a more secure messaging platform.
How Does Signal Work?
The Signal app allows people to send messages and make voice and video calls to each other. It is different to other messaging apps as it keeps conversations and messages private.
In fact, Signal's universal selling point is disappearing messages that cannot be traced. But how exactly does this work?
The answer is that the Signal app uses end to end encryption to make that happen.
End to end encryption means that when you are calling or texting, both you and the recipient will develop unique keys, so the data that you send becomes scrambled going through the server and is unreadable.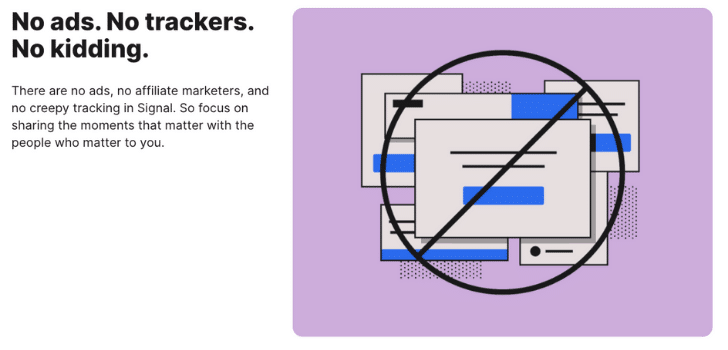 This means that the data cannot be decoded or stored encoded, but once it has reached the end, the unique key is required to make the transmitted data readable to the receiver.
This feature means that when you send a message on the encrypted messaging application, you can be sure that the only people who can see it are you and the recipients — not even the company that runs Signal can see what you send.
There are also other features, aside from end to end encryption, that makes the Signal app more secure than others. This includes:
A registration lock: When you install the app, you must set a pin to stop your messages from being read if your phone gets lost or end up in the wrong hands.
Disappearing messages: You can set up a time limit for messages and personal information to be displayed before they become permanently deleted from the platform.
Local backups: Any files or media sent through the secure messenger are stored in the device's local storage instead of on an online cloud, where third parties could leak the information.
View-once only media: Signal protocol allows users to send videos and images that can be viewed by the receiver only once.
Incognito Keyboard: There is also a built-in feature that prevents the keyboard from sending any data typed on the app to a third party, further preventing sensitive data from being leaked.
Group chats: Group chats can be created within the Signal app, but have a distinct difference in comparison to other messaging platforms. Anyone who is invited to a group is first asked if they wish to join or decline. This is different from WhatsApp, where you can be added to any group instantly (without accepting or declining) as long as the person has your contact number.
The Future of Signal
As it stands, the Signal app currently has around 40 million users globally.
Considering this, along with their exponential growth over the past couple of years, it seems the future is bright and promising for the Signal Technology Foundation.
It also needs to be taken into consideration that Signal has been structured as a non-profit organisation, which technically means nobody can ever actually own it or buy it.
This shows hope that Signal won't turn into just another sellout, compromising their users' data privacy for a big cheque.
This can be further validated by the fact the motive behind Signal has never been to make money.
Since Signal relies solely on donations to generate income, it shows that their priority is their Signal users.
FAQs
Where is Signal based?
The Signal app's origin is in California, USA.
What server does Signal use?
Signal relies on centralised servers that are maintained by Signal Messenger. They do not have any physical servers and do not own any of their own data centres.

Instead, it is thought that Signal is cloud-based and is thought to be relying on Amazon Web Services and Microsoft Azure.
Is the Signal Foundation publicly traded?
No, it is not. The Signal foundation was developed as a non-profit organisation and therefore is not a publicly-traded company.
Who founded Signal?
Signal was founded by security researcher Moxie Marlinspike and roboticist Stuart Anderson.

Out of their mobile security software startup, Whisper Systems, they created TextSecure for messaging and RedPhone for voice calls.

It wasn't until November 2015 that TextSecure and RedPhone were combined to create Signal. In 2018, Brian Acton donated $50 million to the Signal Foundation, which really bought it into the limelight.
Final Thoughts
So, now the question of how does Signal make money has been answered, its time for our final thoughts on the application.
At first glance, it seems like another free messaging application that uses end-to-end encryption to send and receive all kinds of communications with contacts who also have the Signal app installed.
Taking a closer look, the Signal app really is a great encrypted messaging application that is perfect for people who are looking to protect their data privacy a little more.
Unlike WhatsApp, it is tailored towards more privacy-conscious users and has increased awareness relating to how sensitive data is used and stored by many other platforms.
Hopefully, this post has allowed you to gain a better insight as to how Signal makes money and the scale of its business model.
Available on both Android and iOS devices, Signal is a communication platform that everyone should try out.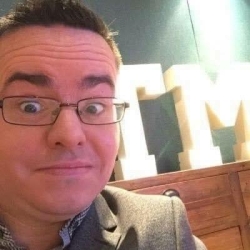 Latest posts by Ricky Willis
(see all)