Your child's growing faster than your vegetables in the garden, and you're fed up with the baby clothing scattered around your house. Maybe you want to sell without the selling fees. Maybe you want to buy something that doesn't cost an arm and a leg.
The Vinted business model is a game-changer for sellers and buyers alike. It presents an effortless batch of retail therapy, turning second-hand into the first choice.
Now you're probably thinking this is too good to be true.
If it's cheaper than heading out into town, then how does Vinted make money?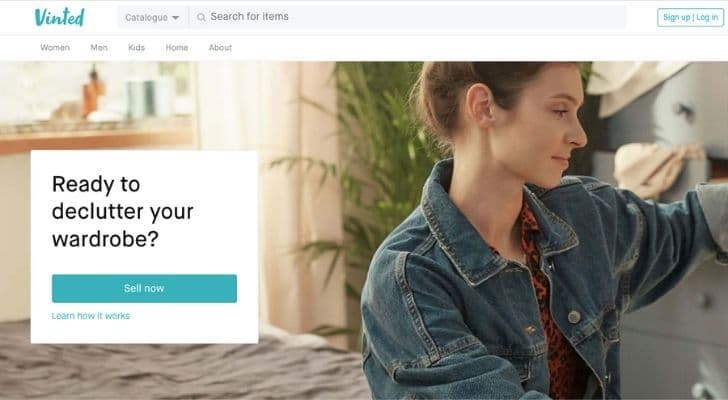 £10 BONUS OFFER: Earn easy cash by watching videos, playing games, and entering surveys.

Get a £10 sign up bonus when you join today.

Join Swagbucks here >>
How does Vinted work?
Selling clothes has never been easier.
Vinted is an online marketplace for selling clothing and purchasing second-hand items. To make things simple, there are two types of people in the Vinted business model.
On the red side, you've got your buyers. On the blue side, you've got your sellers.
The seller will receive a prepaid shipping label once they've sold something. They must print this and stick it onto their package.
The buyer pays for the prepaid shipping label. Part of the business model is Vinted's buyer protection fee which ensures protection if anything was to go wrong in the process.
The price for the shipping can depend on various factors, such as where the buyer lives.
Once the buyer has made the payment, the shipper has five days to send off the item, with proof of delivery being sent to the buyer.
This payment remains frozen until the buyer has said the item has arrived without any damage.
Through the Vinted business model, tracked shipping means protection for the seller as well as the buyer.
An official investigation can take place if a package has gone missing. In most cases, the buyer and the seller will be refunded if neither is at fault.
The Vinted payment process involves the money going into a Vinted account once the delivery has been approved. The seller can choose to keep the money in there to buy their own second-hand clothing or can transfer it to their bank account.
It's a great way for sellers to sell clothes without having a percentage of their earnings taken from Vinted. So if Vinted doesn't take anything from the seller, then how does Vinted make money?
How does Vinted make money?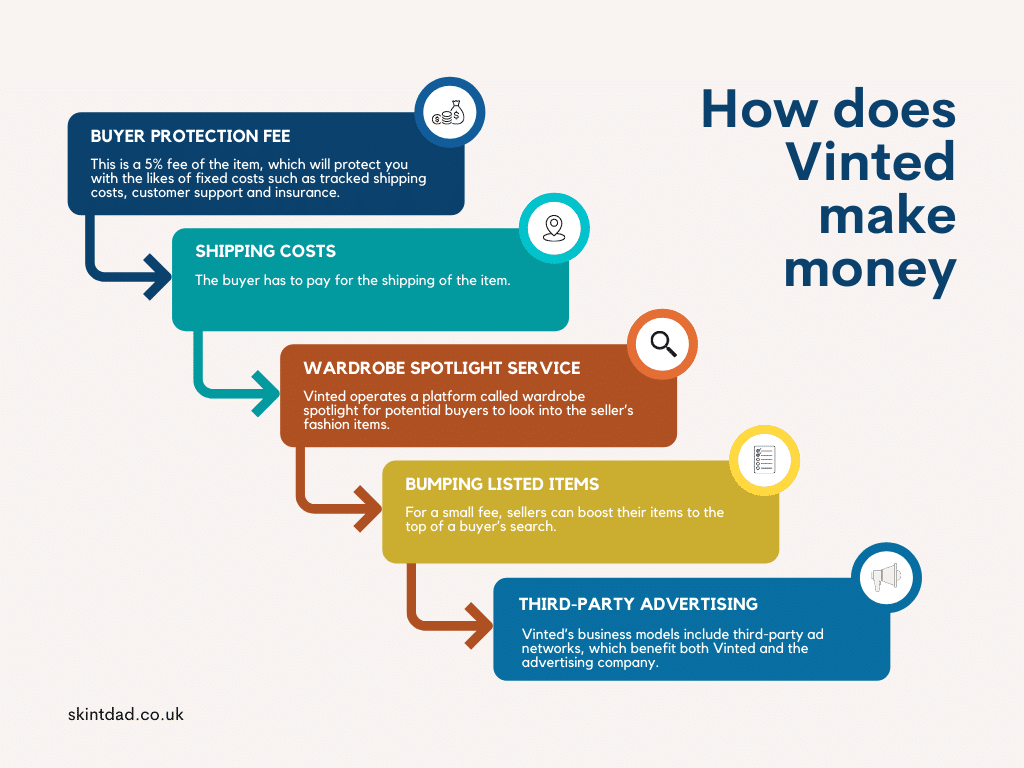 Buyer protection fee
One of Vinted's revenue streams is that the platform charges its buyers with buyer protection fees. This is a 5% fee of the item, which will protect you with the likes of fixed costs such as tracked shipping costs, customer support and insurance.
The buyer protection services are compulsory, and you can't avoid paying for this.
Shipping costs
The buyer has to pay for the shipping of the item.
This will depend on the size of the package and also the courier used.
Depending on where the buyer lives, they can choose to get it delivered to their home (which is usually the most expensive option) or to their local drop-off shop/chosen locker.
Top Tip: Choose the local drop-off shop/chosen locker. Although it's not delivered to your door, you can choose the destination closest to your home. It's usually less expensive, by quite a bit, and is a painless operation.
For example, having it delivered to your door could cost £3 compared to a £1.60 delivery to a chosen pick-up point. If you're buying a £1 top, you could be put off by the delivery that's three times the price of the item.
Wardrobe Spotlight service
Vinted operates a platform called wardrobe spotlight for potential buyers to look into the seller's fashion items.
If the items in a seller's wardrobe are mainly a size 12, then any buyers looking for size 12 clothes will be presented with the seller's wardrobe.
Their wardrobe will be in the spotlight based on the buyer's newsfeed preferences. This is a great technique for sellers to boost their wardrobe and generate sales.
The wardrobe spotlight is a huge reason for how Vinted makes money. A lot of sellers get tempted to choose this, especially if they haven't generated any sales.
It's the luck of the draw sometimes if your item gets noticed. Having the wardrobe spotlight in place can further increase your chances of being seen by targeted buyers.
Bumping listed items
This is essentially the fast track pass at Thorpe Park. For a small fee, sellers can boost their items to the top of a buyer's search.
The item bump is amazing for perfectly good clothes that are worth a lot of money because Vinted puts the clothes out there for many more people to see.
Otherwise, your item could be the scraps of scrolling unless it's specifically searched for.
It's the online shopping key to sales that everyone needs in the fashion industry. It can cost as little as £0.75 per item to be bumped for three days. It doesn't sound like a long time, but there's a greater chance of your item being seen, liked and potentially brought.
Of course, this depends on the item you've uploaded. More people are likely to search for a well-known brand compared to an unknown branded item.
Third-Party advertising
A business model for other companies is to ask Vinted for advertisement.
Vinted's business models include third-party ad networks, which benefit both Vinted and the advertising company.
This is a huge reason for how Vinted makes money.
Vinted's funding and valuation
To no surprise, Vinted received venture capital funding, and the business blew up in just a few weeks. It received funding from notable investors like insight partners, Lightspeed venture partners and Burda principal investments.
Having investors like these turned a local business into a global phenomenon.
Vinted's profit and revenue
Being a private company, Vinted is not required to make its revenue model statistics public.
Vinted's revenue model relies on its buyers and uses the business model of promotional tools such as advertising.
The paid promotional tools are one of the business models that generate its revenue through the buyers advertising their own clothes and also by other companies paying for advertisement.
The Vinted platform is like no other, with over 45 million users.
It was announced in May 2021 that the company had an estimated value of over $4.5 billion – it's a billion-dollar business.
The history of Vinted
The company launched in 2008. Vinted's journey began in Lithuania and was quickly merged with a German business.
It was once a slow fashion business for friends and family, but news of this company spread as quickly as warm butter.
Just like your babies, the company never stopped growing, making its mark globally in many different countries.
Buying pre-owned clothing became the go-to for shoppers around the world.
The company's strategic direction is handled and overseen by Thomas Plantenga, who had previously been hired to save the company from mitigation.
Since the pandemic hit, Vinted has grown even more.
Lockdown was the birth of many sellers who had the time to go through their wardrobes and come to the revelation that they owned too many clothes.
It generated the buyers that noticed their 10-year-old's jacket looked like it should be on a 5-year-old.
A new way of shopping was created. Like a phoenix rising from the ashes, Vinted was generating more sales than ever.
FAQs
Where is Vinted based?
The marketplace is based in Lithuania but can be used in the UK by downloading the app.
Is Vinted really free?
The marketplace is based in Lithuania but can be used in the UK by downloading the app.
Do you get your buyer protection fee back on Vinted?
Yes, you get a refund if your item doesn't arrive or is damaged.
Is it worth bumping items on Vinted?
If you're selling something that's worth a lot or you really need to make a fast sale, then bumping the items is worth it.

Type in something that you're selling onto Vinted.

Then see all the top items that come up first; it will say underneath "bumped" if the item has been bumped.

You can then look at how many times that item has been liked compared to items that aren't bumped.

This should help you make a decision on whether your item is worth bumping.
Is Vinted's buyer protection service optional?
No, this is mandatory.
Final thoughts
Okay, we've all been there with a wardrobe that spits fabric at you because it's stuffed to the brim with t-shirts, trousers and other clothing.
Yet, you still can't find an outfit.
People are fed up with buying brand new clothes which, more often than not, are never worn again.
Vinted's business model is a sustainable platform that everyone should try out.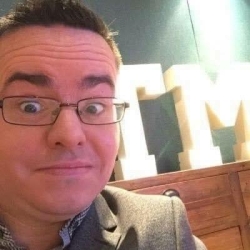 Latest posts by Ricky Willis
(see all)