For the first time in 50 years inflation in the UK has dropped to a negative level. But, is this a good thing or a bad thing, and what does this actually mean for me, and you?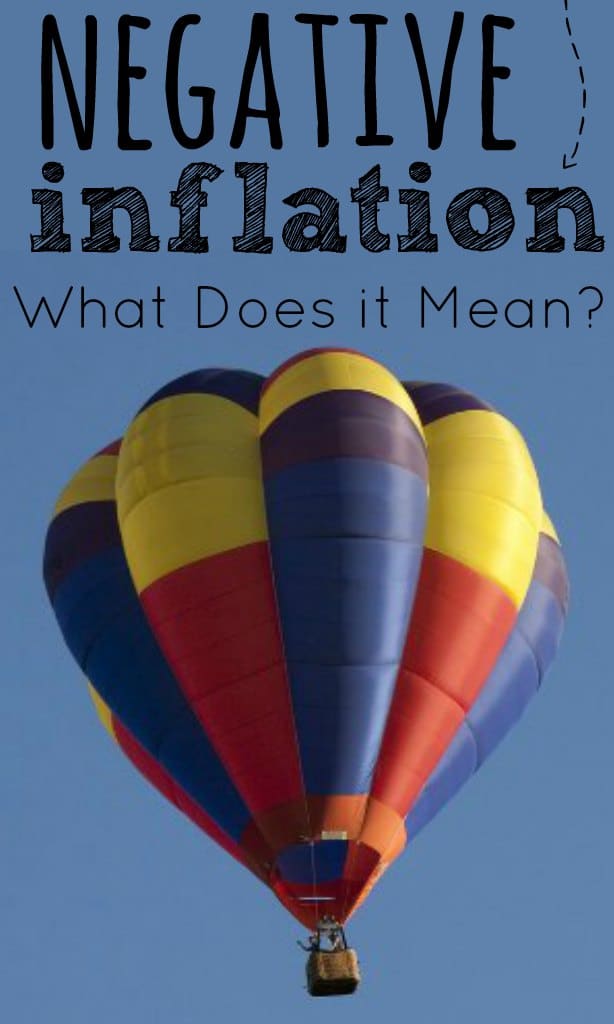 £10 BONUS OFFER: Earn easy cash by watching videos, playing games, and entering surveys.

Get a £10 sign up bonus when you join today.

Join Swagbucks here >>
The thing is, the news are not just going on about inflation because it has dropped, they are talking about it because it dropped to a negative level at -0.1% which is the first time this has happened since March 1960.
What is inflation?
Inflation tells us whether goods or services are getting more expensive or less expensive over time.
What cost something this time last year may cost more this year. Think about how much we pay for our gas and electric bills, or how much a loaf of bread cost versus last year or how much you pay for a ticket when you go to the cinema. Do you think the prices have changed?
Well by saying that inflation is at -0.1% means that things are generally cheaper than they were a year ago.
How is inflation calculated?
Inflation is worked out by the people over at the Office of National Statistics (ONS) by looking at the Consumer Price Index (CPI).
They make a large shopping basket of pretty much EVERYTHING that people buy and put an estimated price on it. They compare hundreds of thousands of products, items or services on a monthly basis that people purchase and look to see if you are spending more or less money.
Are you ready for this? They look at:
Food and drinks, alcoholic drinks, tobacco, clothing and shoes, house rentals, housing repairs/DIY, utility bills, household appliances, household utensils like glass wear and table wears, garden tools and equipment, medical products, dental spends, cars, bikes, public transport, postage, telephone services, photographic equipment, toys, games, flowers, sports and culture, books, newspapers, stationary, package holidays, education, restaurants, hotels, jewellery, watches, hairdressing, insurances and other financial services – to name a few!
Have you spent money on anything in that basket in the last 12 months? Then your spend will contribute to how inflation is calculated.
Play this video for an easy explanation:
So what has happened to make inflation drop?
Well, quite simply people have been spending less money, mostly on transport but actually, overall on everything.
This chart from ONS shows the spending from April 2014 versus what was spent in April 2015.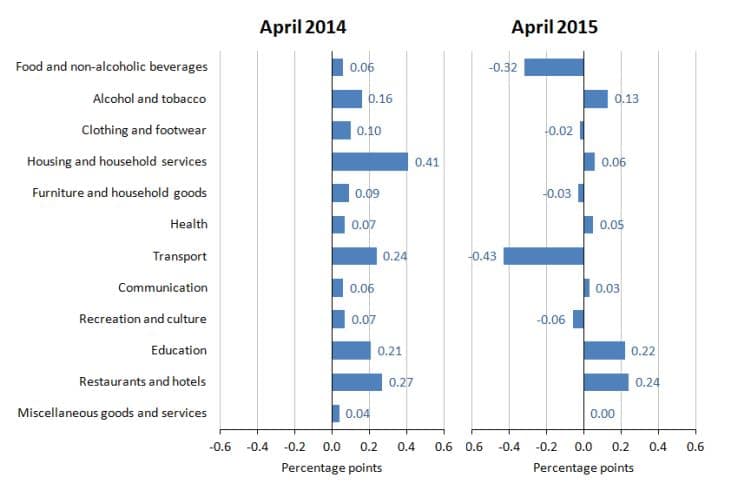 What does a drop in inflation mean to me, and you?
It means more money in our pockets – yippee!!
Essentially, the price of petrol, food and transportation should be cheaper than they were a year ago, leaving more money in our pockets at the end of the month! We'll pay less to live, heat our homes and eat so we'll have more to spend on other things.
But this will only benefit us in the short term.
We all like a bargain and when you think you may be able to get something cheaper you may hold off making a purchase, hoping it will be even cheaper next month. However that stops money being spent in the economy.
Although it may sound dramatic, if it continues it could affect jobs in the UK. Employers will have less money for pay increases and may need to cut back on staff. This is the extreme and economists are not predicting this will happen yet.
Inflation impacts on interest rates
The Bank of England also uses the inflation rate to calculate interest rates. As inflation has dropped, they may also look to drop the interest rates so this could have a negative impact on your savings, but if you borrow you could get a better deal on your mortgage or a better rate for your credit cards.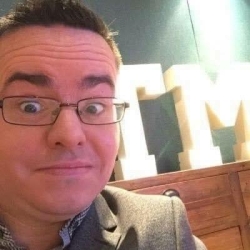 Latest posts by Ricky Willis
(see all)