It's beginning to feel a lot like Christmas …
Well, there may be a few months left, but Poundland (our local anyway) are stocked up on festive wrapping paper and their new range, so we can now officially mention the "C" word!
Tubs of chocolates are going on offer too with Morrison's running a 2 for £7 on large tubs. Although, they may be perfect for Halloween if you get tempted to eat them before December.
We're also finding out about the tasty treats that you may want to grab for your Christmas dinner table.
Sneak peek at the Lidl Christmas food range
At Lidl, you'll be able to enjoy a yard-long pig in blanket as well as some tasty puddings including a melting chocolate cottage.
According to the Sun, the prices have not been released yet, but I'm sure it won't be long until we are seeing these foods in store.
Here are some of the best bits Lidl has to offer this Christmas:
Yard-long pig in blanket
We love a few pigs in blankets around the Christmas period in the Skint household.
While the kids like helping out and rolling our own, we've only ever had mini, or chipolata, length sausages.
This yard-long pig in blanket may need to be shared (you don't have to!). The sausage has been seasoned with herbs and spices then wrapped traditionally in bacon.
Last year, Aldi and Asda sold a food-long for £5, but Lidl's version weighs in at 420g.
Festive feast in a blanket
Forget a sausage wrapped in bacon – this levels up your Christmas dinner!
Lidl is offering you an entire feast in a blanket.
To make things easier, you get all the trimmings in one!
So, you've got turkey, stuffing and Brussel sprouts, all wrapped up in bacon. It also comes with a serving of cranberry sauce.
It weighs in a 1.2kg so can feed the whole family on Christmas Day.
I suppose you just need to like Brussels!
Espresso martini roulade
When it comes to puddings, we're not big fans of Christmas cake, and it's a good time of year to have a treat.
While I'm not sure the kids will be a fan of a vodka-flavoured pudding, I know I'll love it!
The espresso martini roulade looks stunning as a centrepiece and has been hand-rolled, and filled with coffee and vodka-flavoured cream, plus Belgian dark chocolate sauce.
The grown-up meringue pudding has been topped with a dark chocolate drizzle and dusted with icing sugar!
Will someone please pass me a spoon!!
Chocolate cottage with salted caramel
This is a pudding that'll be popular with the whole family.
This gorgeous chocolate cottage is filled with chocolate mousse. To get to the middle, you need to pour salted caramel sauce down the chimney.
However, I can see there may be some arguments on who gets to do the pouring, so plan in advance, or draw straws.
Aldi did a similar show-stopper last year with their melting snowflake for £5.99.
Shop elsewhere? Take a look at all of the other latest supermarket offers.
Come and join thousands of other savvy shoppers in the Reduce Your Supermarket Spend Facebook community to find out tips and tricks to save money on your food shop.
Enjoy this post? Why not also sign up to receive our newsletter.
We send out all the best money saving news and tips from the site and as an added
bonus you'll get an exclusive £16 cashback from Quidco (new members only)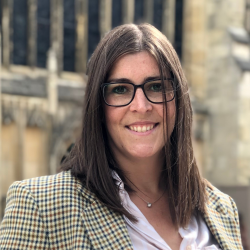 Latest posts by Naomi Willis
(see all)