Here are the latest supermarket offers to save you money on your food shop! Find out about food and drinks offers, deals, and bargains you can get at the moment.
This site contains affiliate links. We may receive a commission for purchases made through these links.
[Learn more]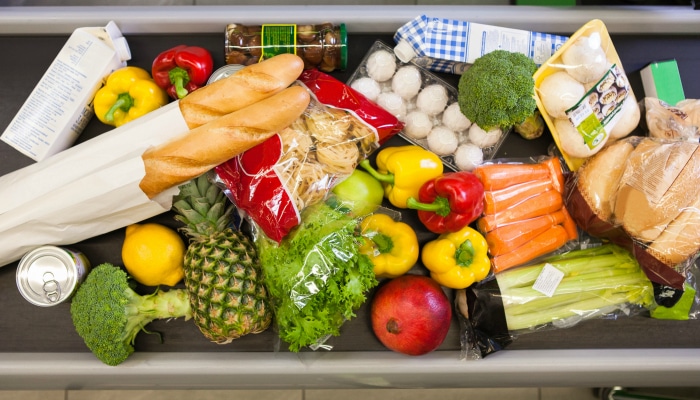 Here is a round-up of the very best supermarket offers running at the moment both in store and online.
When it comes to setting a budget, the grocery bill can be one of the most frustrating things to cost. Supermarkets change their prices week in, week out and it can be hard to work out how much you're going to spend from one week to the next.
Instead of worrying that you'll have to do without, here are the best supermarket deals, offers and freebies will help you cut the cost of your food shop, and help you meal plan.
Whether you're doing your weekly shop or even just nipping in to get a top up or treat, you know where you'll be able to save.
Looking for a particular supermarket offer? Jump down your favourite or scroll to browse
Supermarket offers
The following offers, deals and freebies are not specific to one supermarket.
Depending on what you want to buy you could find one shop is better priced than another. Check out the cheapest supermarket UK.
While these offers are mostly about food, here are the best supermarket wine offers including 25% off wine.
Prefer to shop online? Find out the cheapest online supermarket.
Cashback
There are freebies and cheap food available on the CheckoutSmart app.
Quidco has teamed up with Skint Dad to offer £16 cashback when you shop with ANY retailer. Sign up to the Skint Dad Newsletter, and we'll send you details of this exclusive offer that you can use with ANY supermarket to get a cheaper food shop.
We'll then send you all the latest money-saving offers every week (you can unsubscribe at any time).
TopCashback is offering loads of freebies using Snap and Save.
There are all sorts of stuff up for grabs (for free) and if you're planning on buying them anyway there is no reason not to get your money back! Just purchase the items from the supermarket then upload a copy of your receipt here.
The offers only run for a short period each but are updated regularly, so there'll always be loads to take advantage of. It'll take around 30 days for your cashback to be payable.
Aldi special offers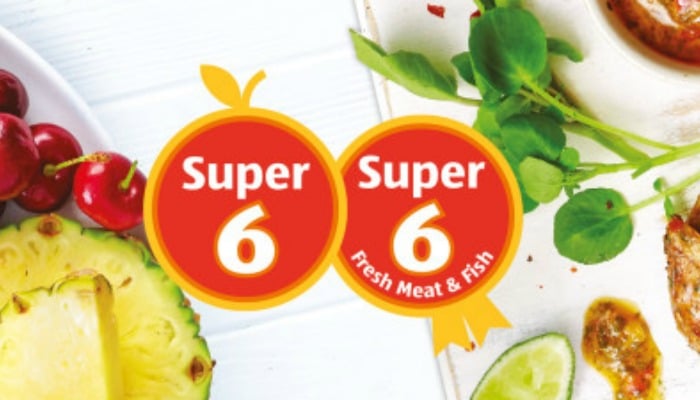 Aldi runs weekly deals on meat, fruit and veg known as the Super 6. Available from 29th April 2021.
The fruit and veg on offer this week are:
Oranges 79p
Asparagus tips 79p
Snack pack grapes 59p
Seasonal pears 59p
Salad potatoes 79p
Royal Gala apples 79p
The meat offers this week are:
British Ultimate Burgers £2.99
Breaded Mini fillets £3.99
Cumberland whirl £2.49
Bengal chicken king kebab £5.99
Aberdeen Angus sizzle steaks £5.99
Premium pork sausages £2.99
4x rump steaks £8.99
Beef medallions £5.99
2 British Wagyu burgers £3.29
Chicken drumsticks £2.59
They are only in store while stocks last.
When does Aldi super 6 change?
For offers on fresh fruit, veg, meat and fish, Aldi Super 6 and Super Weekly offers change each Thursday.
The same products and prices may not be the same in Scotland, Aldi local stores and Deliveroo.
Free wine
If you're after FREE wine join the ALDI Wine Club.
Aldi special buys
The latest special buys can be found here.
Amazon discounts

There is a whole lot of savings to be made when buying groceries from Amazon! Ready for this?
Amazon Subscribe and Save
For extra savings, sign up to subscribe and save to cut the costs even more – saving 30% on prices!
Rather than using Pantry, you can usually get a bigger discount and overall saving.
Amazon vouchers
You can use Amazon vouchers on foods, drinks, pet foods, office supplies, beauty, baby and more!
To use the vouchers, you need to select the ones you want to use (they're all listed here), and then the discount will be automatically applied at the checkout.
Amazon free samples
Each time you make an Amazon Pantry order, you're able to request a free sample.
Just take a look through what's on offer each week, add one to your basket and the discount (100% off) will be applied at checkout.
Free grocery delivery
A lot of the free delivery comes down to having Amazon Prime Membership. You can try a free 30 day trial of Amazon Prime here.
Offers at Asda
Special offers at Asda include RollBack on thousands of products including:
Andrex Classic Clean Toilet Roll 12 Rolls rollback to £4.50
Bold All-in-1 Pods Washing Liquid Capsules Spring Awakening 36 pack rollback to £5.98
Estrella Damm Lager 12 Pack rollback to £11.97
Coca-Cola Zero Sugar Cans 30 pack rollback to £8.50
Nivea Sun Kids Suncream Spray SPF 50+ rollback to £4.50
Dairylea Dunkers Jumbo Tubes with Cheese x6 rollback to £2
3 for £21 on selected 12 pack bottle of lager
3 for £3.50 on selected Walkers 6 multipack snacks
Haagen-Dazs Belgian Chocolate Ice Cream rollback to £3
Pampers New Baby Size 2, 46 Nappies, 4kg-8kg, Essential Pack rollback to £4.50
Schar Gluten Free Rolls, baguettes and waffles £2 each or 2 for £3
Check out all the Asda offers.
Loyalty scheme at Asda
Also, did you know Asda has launched a new loyalty scheme? George Rewards earns you points when you shop online :)
Asda cash and carry
Asda cash and carry has launched as a trial wholesale store next door to Asda Patchway (the super store in Bristol).
The shop has over 500 recognised brands in large formats and multi-buy packs.
The Deal Depot is similar to Costco but with no membership fees.
B&M savings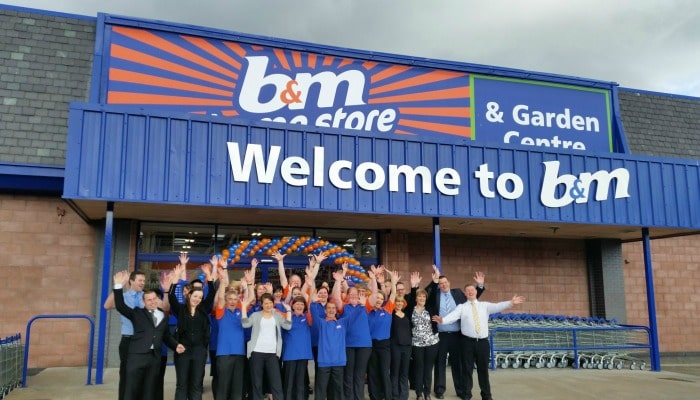 B&M can fill your home and garden for cheap, and they run many offers to keep your food costs down too.
Check out the B&M £5 meal deal. You get A 5 piece meal set for a fiver – perfect for a fakeaway!
Also, have you seen their latest sandwich meal deal? It's the cheapest on the high street at just £1.75. Yes, I know it's cheaper to make your own, but if you're in a rush or it's your treat, then it's a bargain.
Co-op savings
Co-op frozen meal deal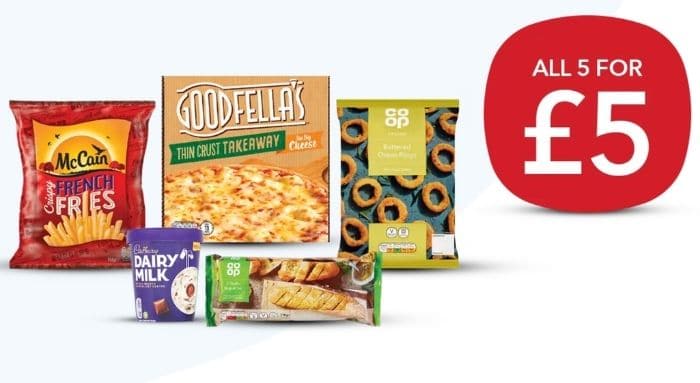 Only in selected stores, and running until 11th May 2021, you can 5 items just £5!
In the Co-op £5 meal deal you get:
Goodfella's Thin Crust Margherita Pizza 452g
Co-op Battered Onion Rings 454g
McCain Crispy French Fries 750g
Co-op Garlic Baguettes 310g
Cadbury Dairy Milk Tub 480ml
The usual price without the deal would be £11.05, so you're certainly getting a saving! You can also get the deal in Nisa stores that carry a Co-op range.
Co-op delivery
Did you know that you can now get Co-op delivery in some stores!
They're not delivering in vans, but using bikes instead.
10% student NUS/TOTUM discount
Don't forget that you can get a 10% discount if you present an NUS/TOTUM card at Co-op.
You don't need to be a full-time student to get your hands on this discount card!
Farmfoods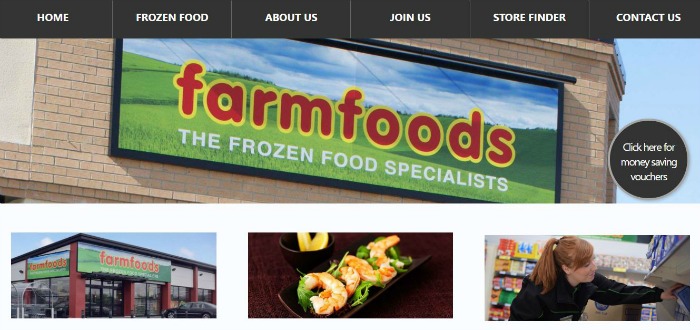 Current food offers at Farmfoods include:
85g Maltesers Mint Buttons 4 for £1
6pk Tunnock's Wafer 99p
3kg Pasta £1.99
700g Spare Ribs 3 for £10
85 Wash Comfort Intense £1.99
Mega-Box Kellogg's Cereals Mix Any 3 for £10
Large Chicago Town Takeaway Manhattan Meaty Pizza £1.99
40 Richmond Sausages £4
Prices are valid until at least 10th May.
Here are all the Farmfoods offers, their latest leaflet, and details about how to get vouchers.
Farmfoods vouchers
Farmfoods often has coupons to get money off when you pay at the till.
The Farmfoods vouchers are sent to you when you sign up to their email here.
Currently, you're able to get:
£2 off when you spend £25 – multiple vouchers
£5 off when you spend £50 – multiple vouchers
The vouchers can be shown on your phone, they can be printed, or you can read out the sequence of letters and numbers to the cashier at checkout.
Each voucher can only be used once, but you can use multiple vouchers at the same time if you've done a larger shop. The maximum discount is up to 10% of your shop.
They have also offered coupons for £7.50 off when you spend £75 and £10 off when you spend £100 in the past.
Iceland supermarket offers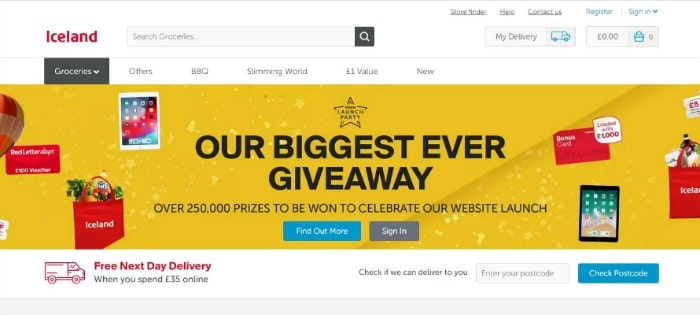 Iceland deals
They've got some cracking offers running at the moment.
As an online exclusive, they are running a flash sale on loads of items.
Dolce Gusto 3 for £9
Heinz soup 8 for £5
Birds Eye 3 for £3
Chicago Town Pizzas 3 for £7
Muller yoghurts 8 for £3
Alpen light bars 6 for £5
Wine 2 for £10
3 for £8 on selected packs of meat and poultry
You can also get 3 different meat for just £8, with lots of different meats to pick from.
Check out all the Iceland offers.
These offers are running online as well as in store. If you are shopping online, they still have 1,000s of next day delivery slots still available.
Iceland discount code
There is currently a discount code for shopping online with Iceland.
£6 off £40 New Customer Code – use the promo code ICELAND6OFF.
The code is valid until 31 December 2021 and is for new customers only.
Be sure to take a look at all the latest Iceland discount codes.
£1 for FREE when you save £20
Don't have a Bonus Card yet? This may sway you!
As a way to help save for Christmas, or any time of the year, you're able to earn even more bonuses.
You're able to get £1 for every £20 you save onto the Bonus Card.
On the run-up to Christmas, they usually run an offer to get double the bonus too.
Shop in a shop
If you don't have an Iceland near you, perhaps you have a The Range store?
Well, they are not teaming together, and The Range are stocking Iceland food.
There are only a few stores at the moment (our local has done it – yippee!!)
Jack's special offers
Take advantage of the special offers on fruit and veg with Tesco's discount spin-off Jack's Supermarket.
The sale prices on Fresh Five run for two weeks, so this lovely lot will be cheaper until 4th May 2021.
This week's Fresh Five from Jack's include:
Mixed chillis 35p
red pepper 35p each
3 pack of brown onions 35p
red grapefruit 35p each
loose conference pears 35p each
As well as food offers, in a similar way to Aldi and Lidl, Jack's has a When It's Gone It's Gone section with cheap non-food to buy.
Lidl special offers
Lidl shoppers can get some decent reductions and special offers this week in store.

Lidl fruit and veg offers this week
For fruit and veg, they offer a fixed reduced price on different items each week:
butternut squash 59p
wild rocket 35p
broccoli 49p
baby corn 79p
large ranges 99p
apples 59p
From 5th May
blueberries 89p
Conference pears 79p
Red onions 3 pack 39p
celery 35p
Aubergine 45p
Cauliflower 65p
Lidl meat offers this week
For meat-eaters, there is also four fish and meat offers each week.
8 Chinese style pork loin steaks 880g £4.99
BBQ, tikka, Chinese and sweet chilli chicken wings 1.4kg £3.99
chicken breast fillets 2.5kg £10.99
British beef steak selection pack 1.2kg £12.99
Maple pork belly slices 1kg £6.99
6 salmon fillets 720g £7.29
From 5th May
British 6 beef frying steaks 72g £4.99
Chicken breast mini fillets 600g £2.69
British chicken drumsticks 2kg £2.59
Tandoori lamb leg steaks 300g £3.99
6 jumbo breaded cod fish fingers 300g £2.99
deluxe 2 cluck and brisket British beef burgers 340g £2.69
Lidl restocks on a Thursday for their Pick of the Week food. Changes for the Middle of Lidl are on a Thursday and Sunday, but stock is only there while it lasts.
This week's theme is kitchen essentials and outdoor decor in the middle and Italian as the flavour of the week.
Wine of the week
Until Wednesday 12 May:
England – perfect with BBQ Cabernet Sauvignon was £4.99, now £3.49
Scotland and Wales – Italian Barbera d'Asti was £5.49, now £4.69
Lidl £1.50 veg boxes
Lidl trialled Too Good To Be True veg boxes in some stores, selling them at just £1.50 for 5kg of fruit and veg.
However, they've now rolled this out to all stores, so that everyone can get a cracking deal!
£5 off £25 spend with the Lidl app
For new app users, you can get £5 off when you spend £25.
The app is also handy to track your spending and you get money off coupons too.
Marks and Spencer offers
Yellow stickered foods are a favourite in our house! And M&S is a great place to find bargains.
M&S food reductions happened at various time throughout the day. However, we've found the best bargains are on the shelves after 5 pm.
We have to M&S food stores near us. The one in the town centre is always packed with people leaving work and hoping to get a bargain. However, the one on our industrial estate is quiet in the early evenings, so if you have a choice be sure to pick the shop with less competition.
M&S deals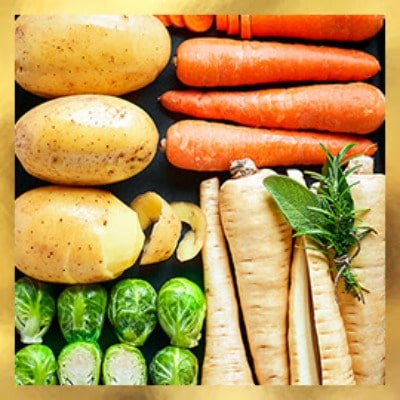 There are currently reductions on veg:
net of lemons and limes 45p
packs of sugardrop vine tomatoes 65p
single ripen-at-home avocado 85p
British purple asparagus 85p
Savings on protein
two Loch trout fillets for £3.50 (was £4.50)
two medium seabass fillets for £4 (was £5)
Southern fried whole fry chicken for £4.50 (was £7)
two pork shoulder steaks for £3 (was £3.50)
two gammon steaks with pea and mint crush for £3.25 (was £4)
You can also currently get two for £3 on Percy and Colin sweets.
M&S Dine In
There was a LOT of controversies last year when M&S first increased the cost of their Dine In deal to £12. Then, they only went and cancelled their meal deal altogether. Then, they brought it back but are doing it differently! All caught up? Well, all change again, as they've now removed the wine from the deal.
The Dine In deal is £10 for 2 people, but its fuss-free, and includes plant-based options.
You can choose a main, side and a dessert.
Check out the range in the offer.
Shop online with M&S with Ocado
You can shop M&S food and products online through Ocado.
They have more than 750 items, and you can shop selected clothing, homeware and cookware too.
As well as M&S food, you can buy branded stuff too.
Sparks card
The M&S Sparks card is a loyalty scheme that gets you reductions on your shop.
As you shop, or leave a review online or even swhop (donate clothes in M&S for Oxfam) you collect Sparks points. Essentially that means you don't have to shop too much if you are a good reviewer and donate clothes!
The points add up quite fast and unlock offers that you can load to your card, as well as priority access to sales and invites to events.
Previously, I was given the option to get 20% off bread and eggs – couldn't say no to that! You're able to load a maximum of 4 offers at a time (as long as you've got enough Sparks points).
Other offers include discounts on clothing for the family and accessories. If I know I'm heading near an M&S; I always check on my Sparks account (or on the app) to see if I can get a discount.
Morrisons offers this week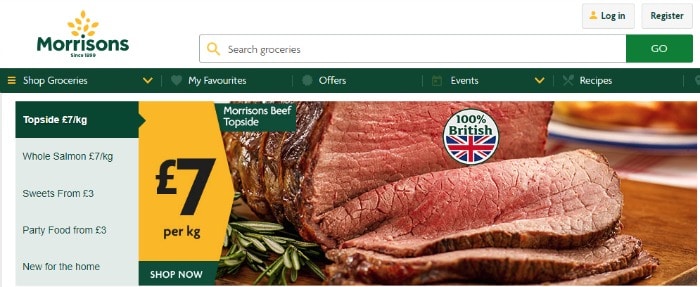 Any good Morrisons offers this week?
Yep, there is always a deal to be had at Morrisons.
Online only – ice cream bundle – get ice cream, waffle cones and sauce for £3.50 (usually £4.04)
Budweiser 20 bottles, was £14 now £9.99
2 for £5 on selected meats
Piriteze one a day tablets was £10 now £7
selected fruits 2 for £3
And that's not even half of it! There are loads more offers.
When do Morrisons offers change?
New offers at Morrisons usually start on Mondays.
However, end dates of promotions can vary. You can check on their website when a specific offer ends.
Morrisons discount code
There are no current discount codes for Morrisons, only offers.
Morrisons food boxes
Take a look at the Morrisons Food Boxes with Next Day Delivery.
Morrisons "wonky veg"
Morrisons now sells a "wonky" veg box £5.
They also sell an organic version for £8. They claim that it can feed a family of 4 for 5 days.
Sainsbury's offers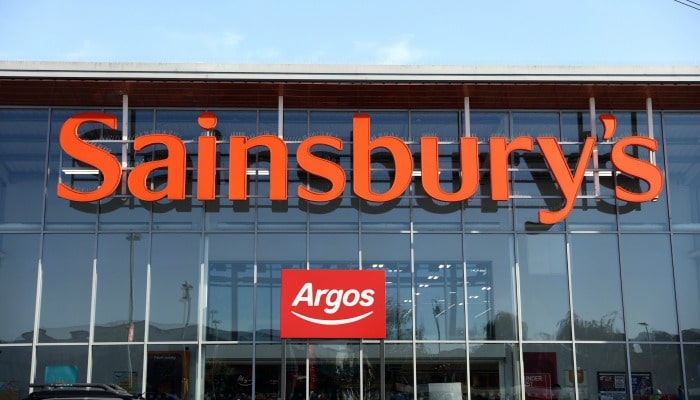 Freebies from Sainsbury's
Isn't it rubbish when all the deals are for new customer only? Well, not at Sainsbury's!
Make sure to look at this page before completing your order.
Here you're able to add free food and enter competitions
Sainsbury's offers
Sainsbury's has a variety of offers and half-price deals:
McVitie's Club Orange Biscuits x8 save 70p, now £1
Loyd Grossman Pasta Sauce, Tomato & Basil 350g, save 80p, now £1
Yeo Valley Organic Semi Skimmed Milk 2L, save 40p, now £1.80
Pepsi Max Cans 24x330ml, save £1.50, now £7
Nescafé Azera Americano Instant Coffee 100g, save £1.60, now £3
There are loads more offers available in store and online.
Sainsbury's Aldi Price Match list
In a similar way to Tesco, Sainsbury's now price matches 200+ Sainsbury's own label and branded products (larger stores only).
This is across fruit and veg, meat and fish, dairy and chilled, bakery, frozen, food cupboard, drinks and toiletries.
Prices can vary week to week. Here's the current full list of their Aldi Price Matches: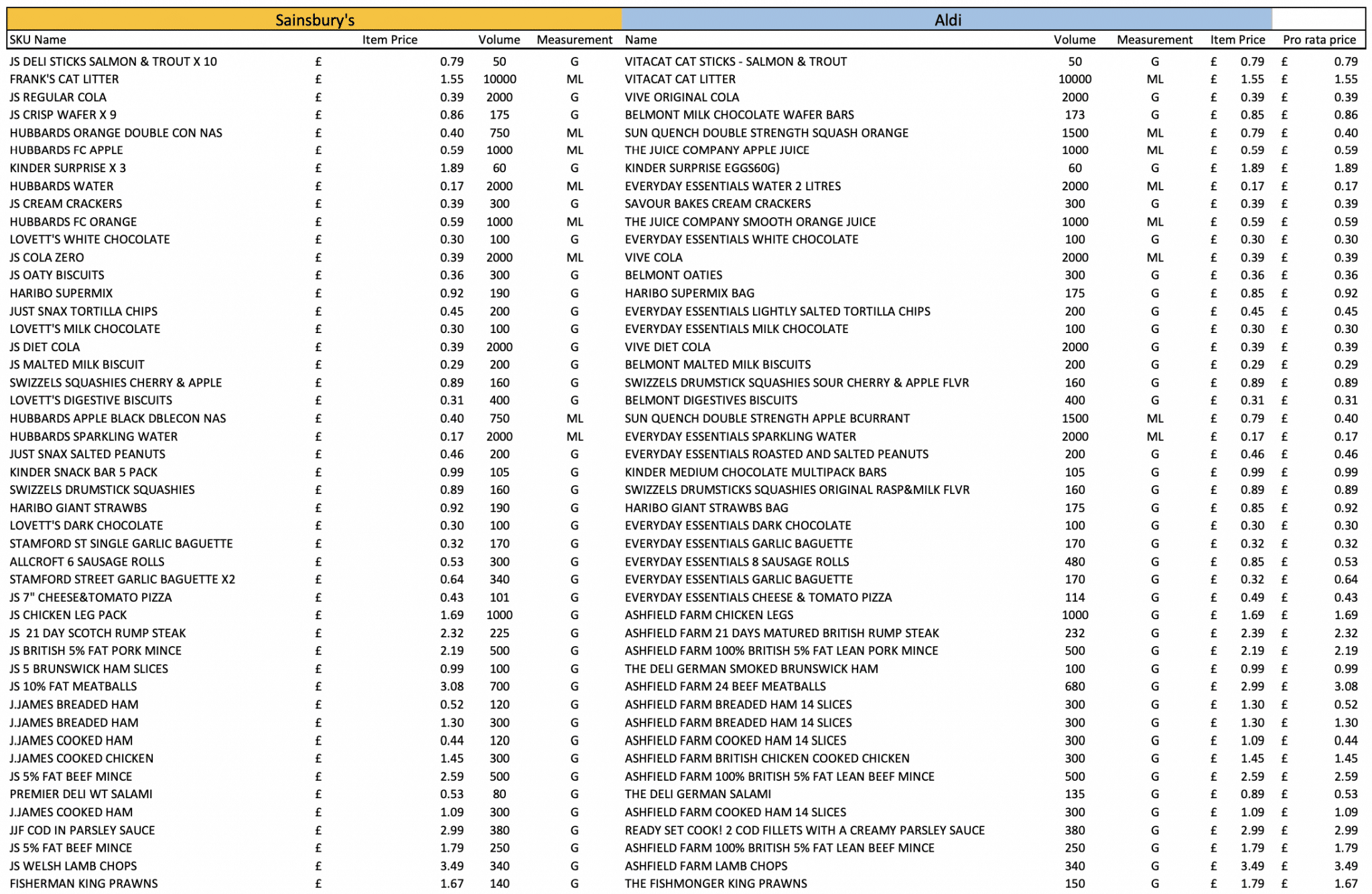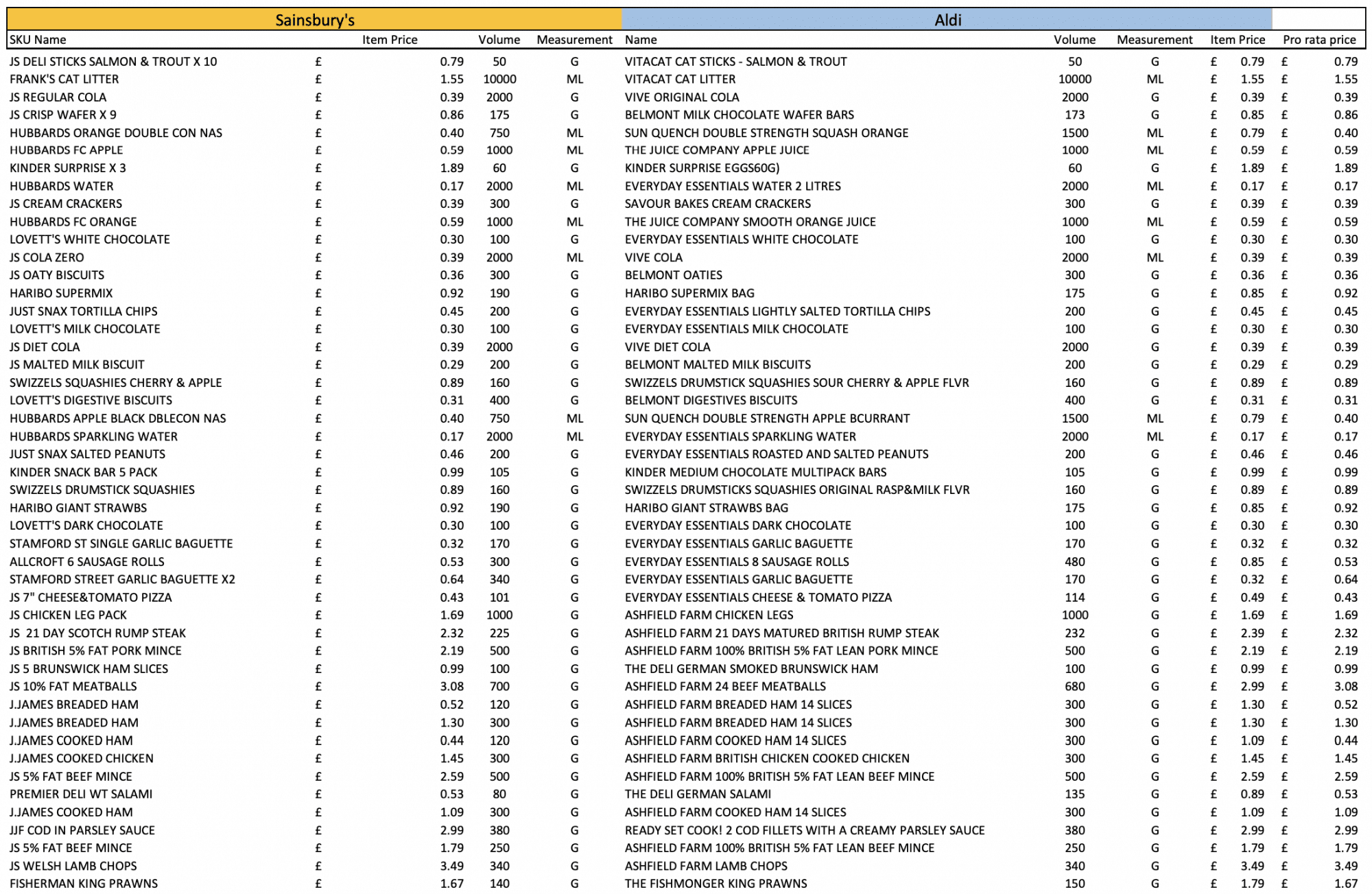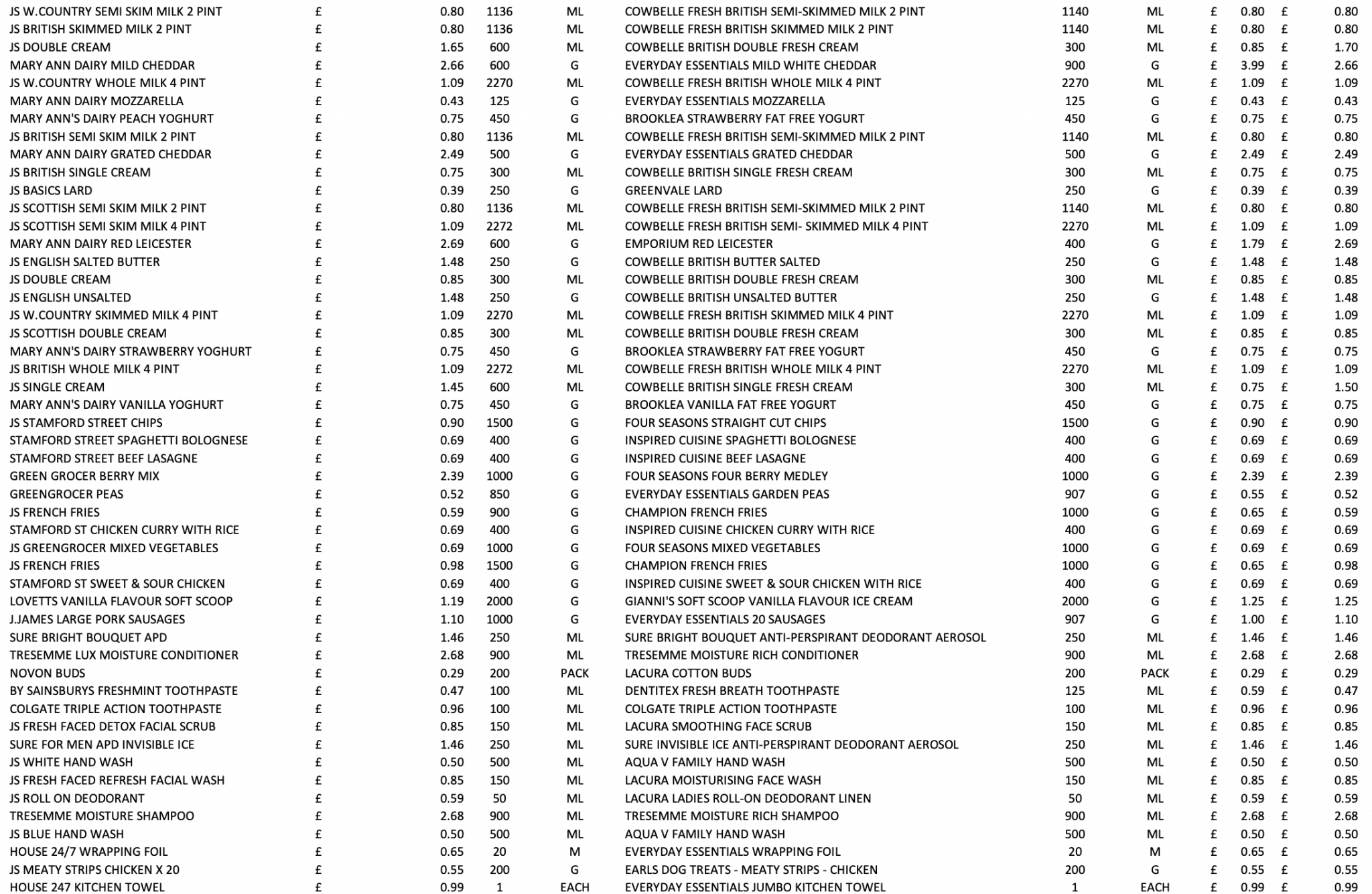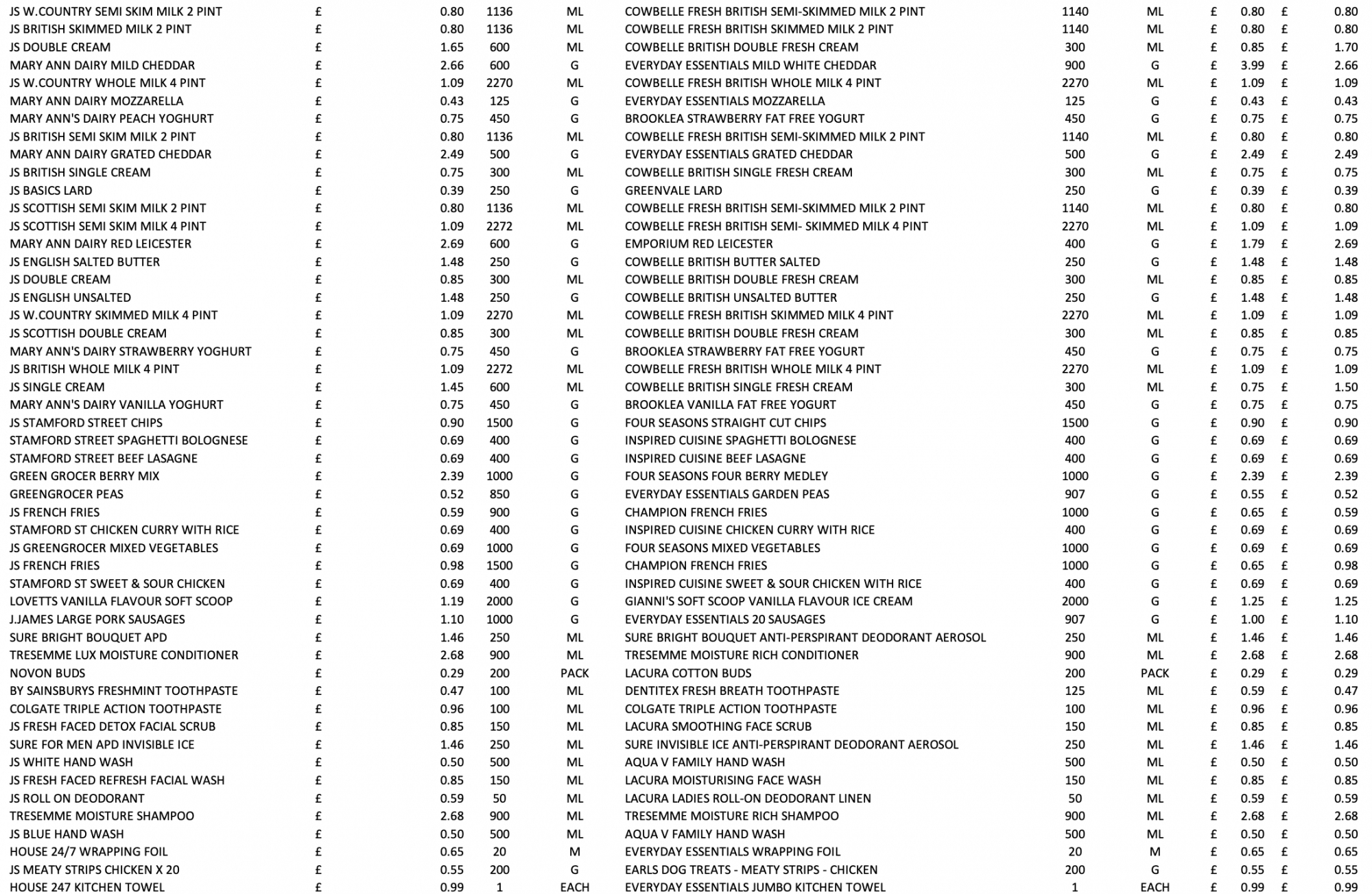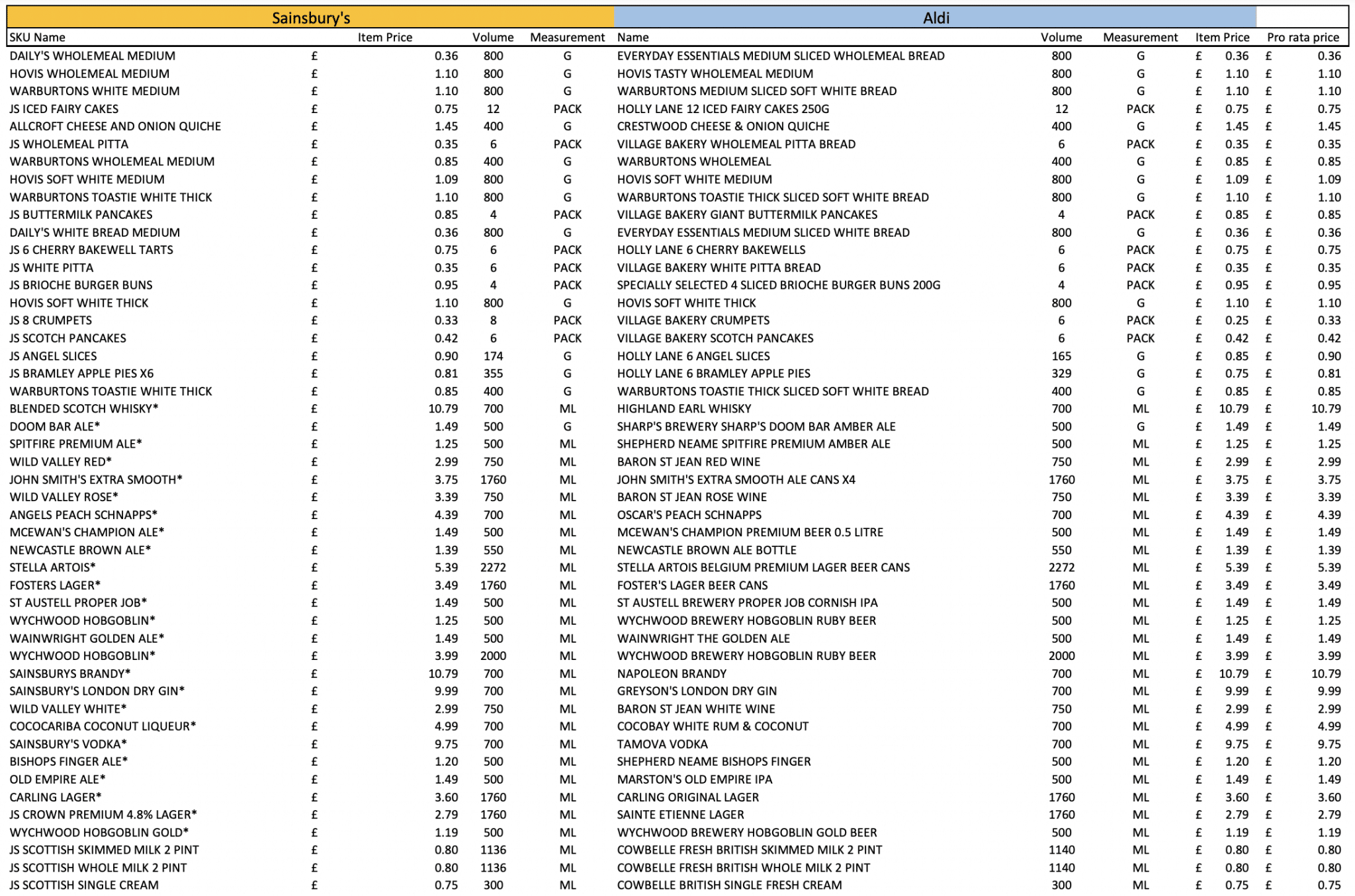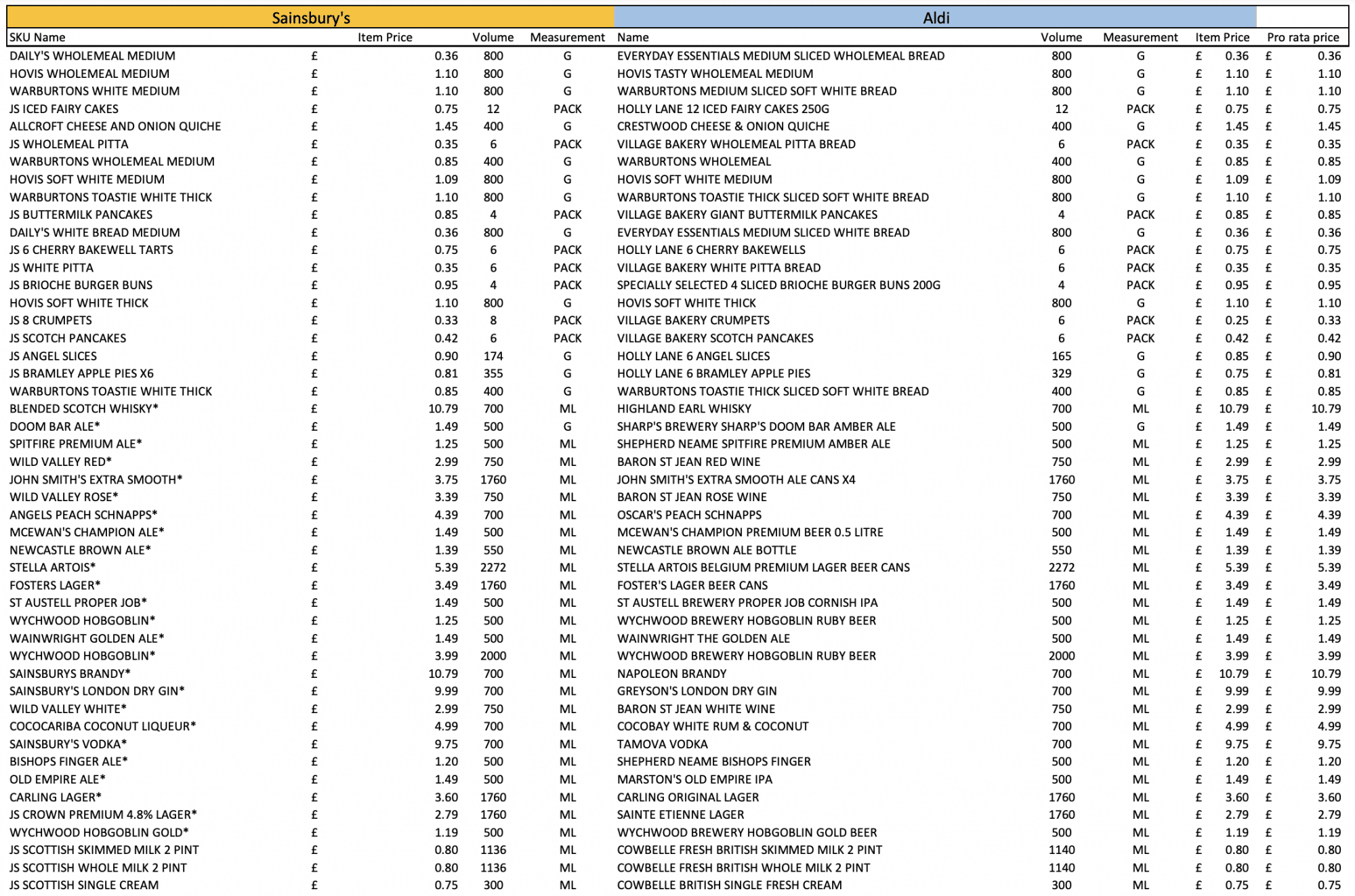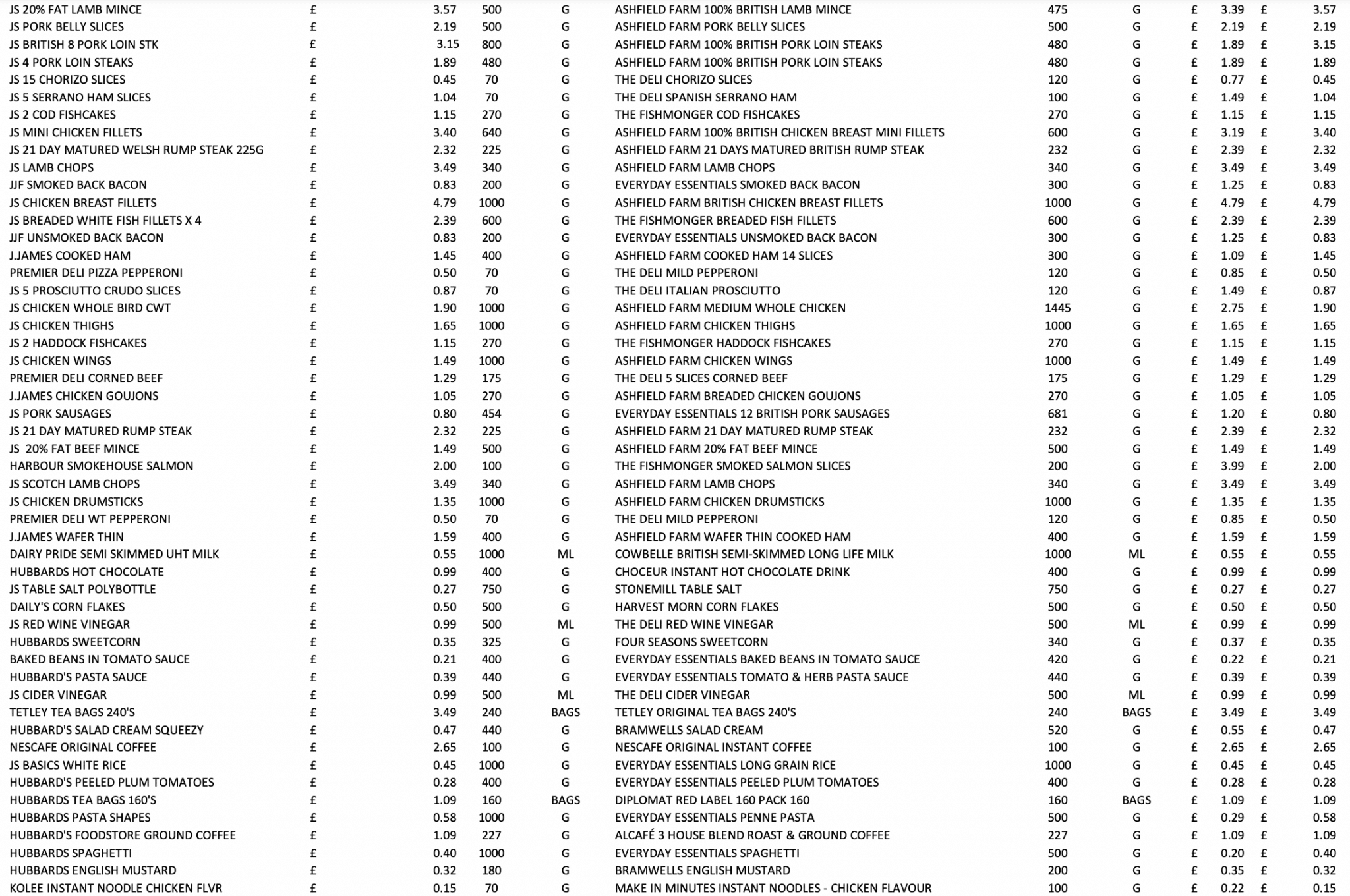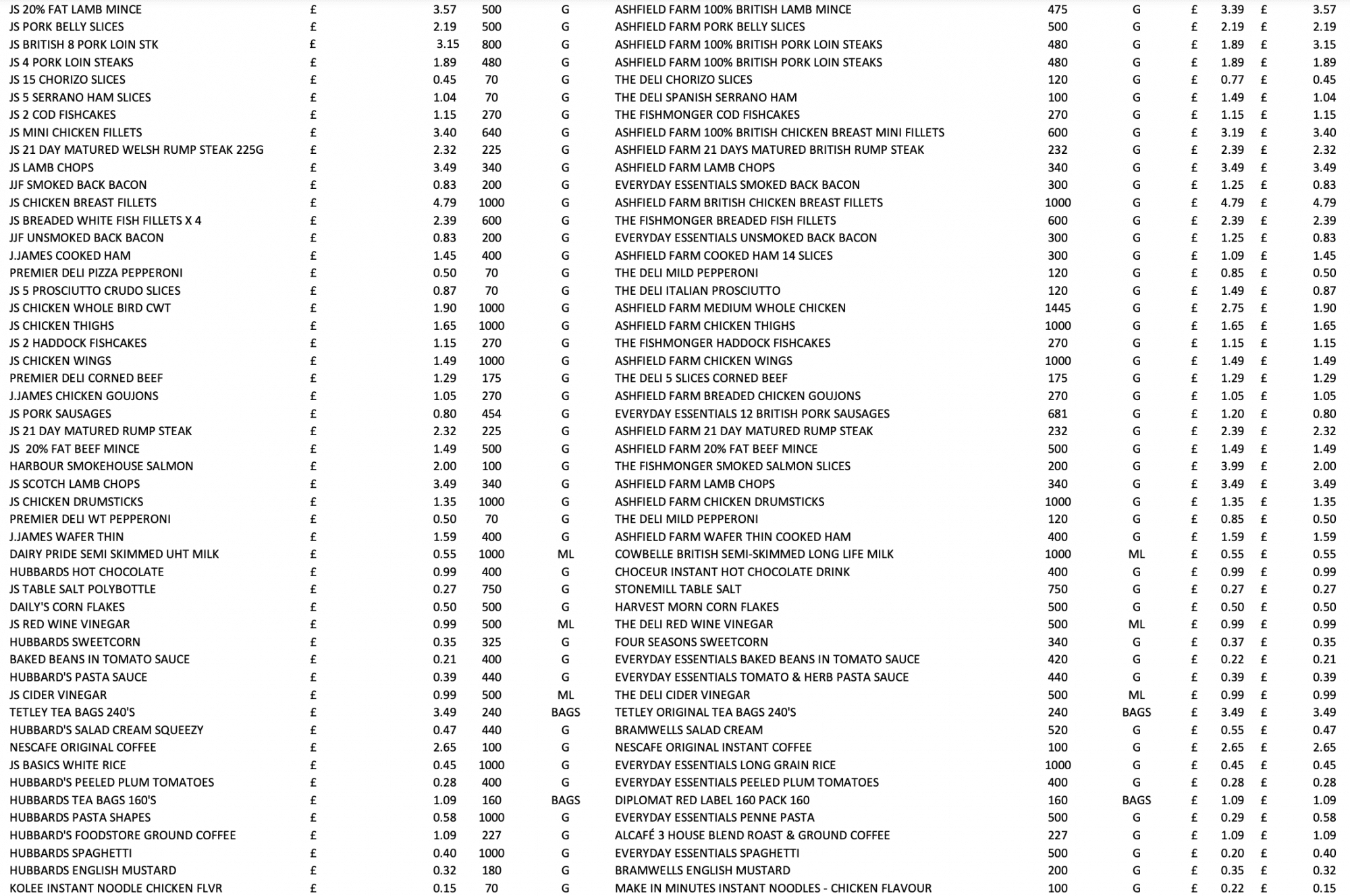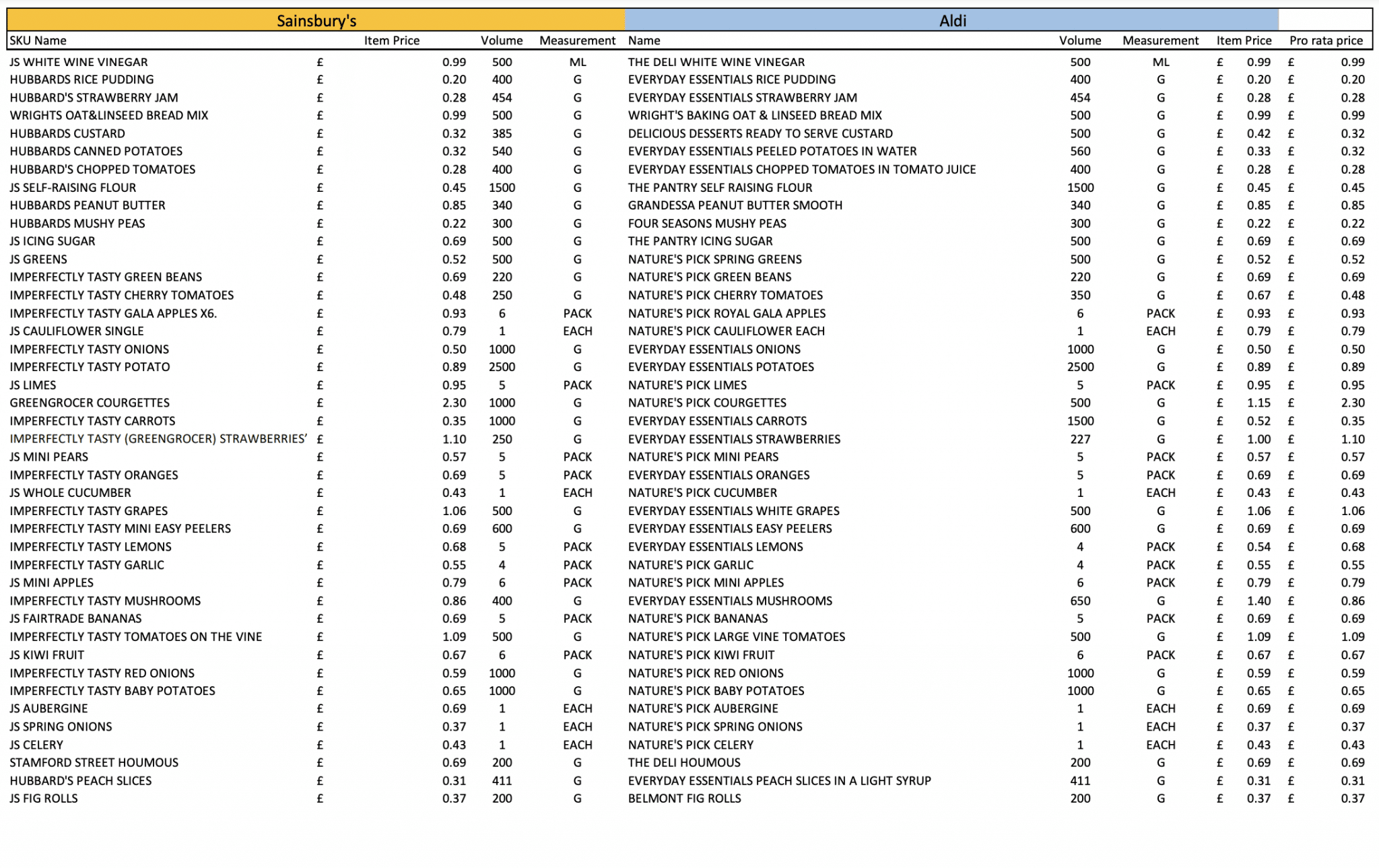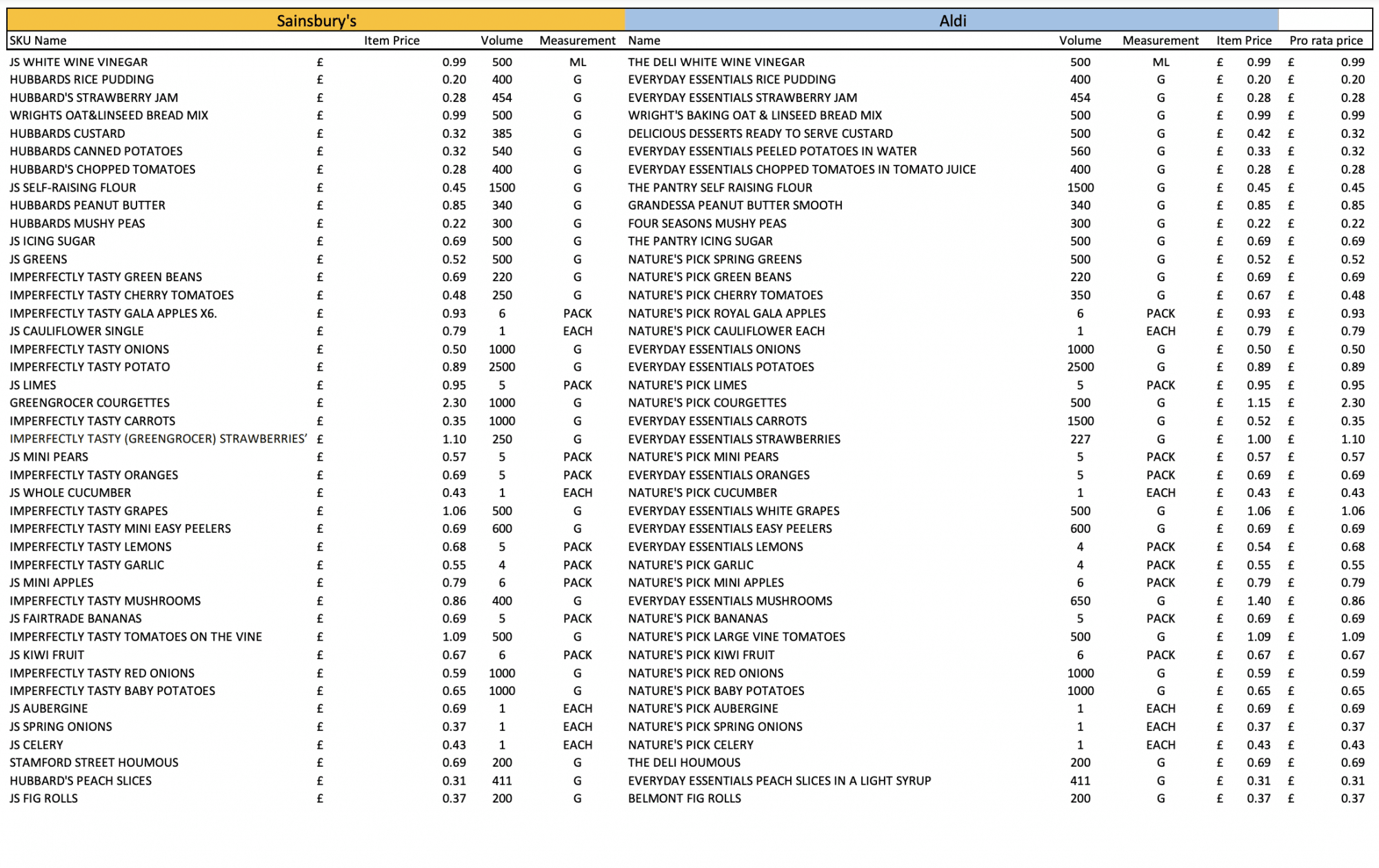 Sainsbury's TU sale
Check out details of the next TU 25% off sale.
Sainsbury's voucher code
There are no current voucher codes.
Tesco offers
Tesco offers and promotions
Clubcard Price gets you big discounts as a Tesco Clubcard holder.
Some of the current supermarket deals include deals to get a summer feeling:
All shoppers can find the finishing touches for barbecues and picnics, at affordable prices:

Add a kick to every barbecue meal, with Schwartz Brazilian Street Food BBQ Seasoning, just £1.00
Pick up Tesco 4 brioche burger buns for just 95p, and 4 brioche hot dog rolls for only £1.00
The Hearty Food Co Straight Cut Chips are just 90p for a 1.5kg pack, and the perfect accompaniment to any barbecue main
For those all-important condiments, Tesco BBQ Sauce is just £1.00, while ketchup is just 55p
Wash down the food with a refreshing Budweiser – pick up a 20 pack for only £9.99
Tesco Clubcard Prices
Clubcard holders can also enjoy exclusive deals:
Summon the sunshine with exclusive deals for Clubcard holders across meats, veggie options and beverages:

Save up to £3.00 with the any 2 for £7.00 Clubcard deal on selected meat products, including new additions to the Fire Pit range, and classic beef burgers and steaks
For meat-free cooking and barbecues, save £1.00 on Beyond Meat Beyond Plant Based Burgers, now just £3.40
Not forgetting the nibbles, buy any 2 selected Tesco Dips for £2.00 – range includes houmous, tzatziki, aioli, sour cream & chive, and roasted red pepper dip amongst others
Pick up an 18 pack of Foster's, now only £11.00, originally £12.97

Master the barbecue with 50% off handy tools, including the Landmann Stainless Steel Tongs, Burger Lifter, and Cleaning Brush, now just £3.00 each, down from £6.00
Round off the perfect picnic with sweet treats at even sweeter prices:

Save 40p on Tesco Chocolate Éclairs, Cream Slices, Doughnuts, Choux Buns, Scones and Cream Meringues, now just £1.00 for packs of two
For crowd-pleasing desserts, pick up the Tesco Vanilla, Lemon or Chocolate Cheesecake for just £2.75 each, or Raspberry Cheesecake for only £2.00, down from £3.25
Save 20% on the Tesco Raspberry Trifle, now only £2.00, originally £2.50
There are many other price reductions this week.
Don't forget to get free Clubcard points with Tesco Views. Take a look at this YouTube video which walks through how to get more points.
Tesco Loop
You may be able to save money – but you might not – on groceries in the reusbale Loop packaging.
Tesco Loop is a range of 88 products in tins and bottles you can give back to the store and it gets reused again, helping to reduce the use of packaging.
It's worth a comparison when you're shopping to see if you can save.
Free Delivery Saver – paused currently
If you are an online shopper with Tesco, then you are going to overspend if you're not using Delivery Saver.
For a set monthly cost (from £3.49) you can get free deliveries (plus early access to Christmas and Easter delivery slots).
Rather than just signing up straight away, you can give it a test drive with a free 30 day trial.
After this time you can cancel or keep it going.
One thing to point out, Tesco guarantee that it works out cheaper to use Delivery saver than paying for delivery charges as and when. So much so that, at the end of your plan, they work out how much you the delivery saver plan was versus how much you would have paid for delivery charges.
If you paid more for the Delivery Saver, they would give you a grocery eCoupon for the difference. Win, win!
Waitrose offers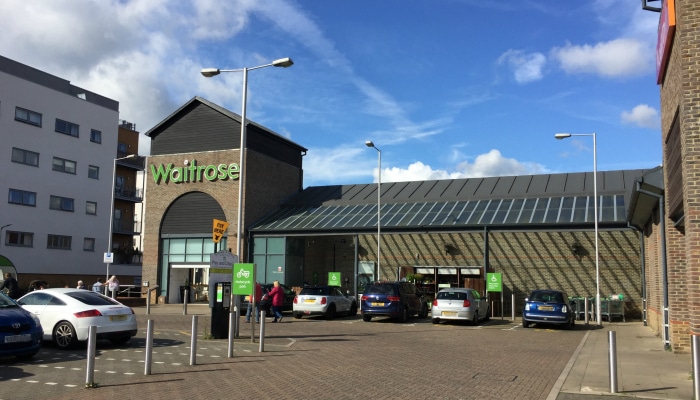 Waitrose first shop discount codes
Vouchers codes have been paused.
Other places to find supermarket offers
While you may do the majority of your shopping in a "normal" high street supermarket, you'll be missing out on deals if you don't shop about a little.
Check out:
Are you looking for more supermarket saving ideas?
For so many more tips and tricks to save on food and at the supermarket you need to read up on:
It may not be a supermarket, but it's still food. Poundland is selling a cheap meal deal for lunchtimes. You can pick a sandwich, drink, crisps and bar of chocolate for £2!
Poundland online store means you don't even need to go to the high street to shop for some of their most popular items.
Another way to save may be to avoid scanning your own shopping as the government could introduce a 1p charge for using self-service tills!
While these tips and supermarket deals should keep you going, be sure to come and check out our community Reduce Your Supermarket Spend where you can ask (or feel free just to read other's comments) about how to cut back more.
Latest posts by Naomi Willis
(see all)