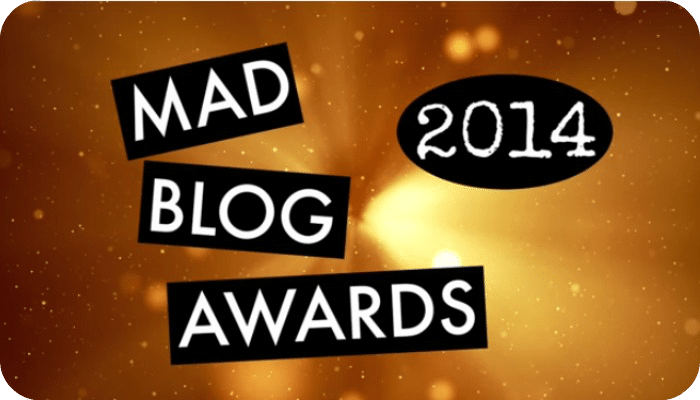 £10 BONUS OFFER: Earn easy cash by watching videos, playing games, and entering surveys.

Get a £10 sign up bonus when you join today.

Join Swagbucks here >>
I don't really go out much. It's not because I'm unsociable, I just don't like spending money (and don't have a lot of spare money to burn on myself). On Friday though I made an exception as it was the final of the Mad Blog Awards.
Back in March 2014 voting took place and I was amazed to be shortlisted in the Best New and Best Thrifty blog category along with some awesome bloggers.
In the Best New category I was up against:
Croque Maman
Don't be Sorry
Hurrah for Gin
Let's Talk Mommy
In the Best Thrifty category I was up against:
Frugal Family
Frugal Queen
Mortgage Free in Three
My Mummy's Pennies
With the Skint Dad Blog not being your typical parenting blog, I didn't think we had much chance of winning the new category and even less chance of coming away with the Best Thrifty award seeing I was up against four blogs which I believe are some of the best money-saving blogs around.
Anyway the awards were taking place at the Royal Garden Hotel in Kensington and I woke up on the Friday morning 40% excited and 60% nervous. It was weird as I am normally quite a confident person who doesn't get nervous but perhaps it was because deep down I didn't know what was going to happen.
I didn't do much in the morning, just pottered around doing a bit of housework and playing with Chloe. My train was due in at just after 4pm so I had plenty of time to get suited and booted.
Just after midday, Naomi came home from work which allowed me get ready. I was still feeling a little nervous but less so than I felt before.
As I laid out my suit and shirt my thoughts turned to this time last year. It was almost to the day I had wrote Surviving on the Breadline and thinking about that and the twelve months after, I felt like it wasn't real.
There we were at the end of September last year, with no money, suffocated by debt and the horizon was bleak to say the least. Life wasn't good. Every night going to bed wondering if another bill was going to drop through the letterbox or even worse, another bailiff turning up wanting to take our possessions.
We were struggling to survive and everyday felt like we were balancing on the cliff edge just waiting to fall.
People ask me what changed and it's simple really; we changed.
When being faced with that situation you have two options – survive or not survive. We took the first option.
I had been in such denial that we were struggling that when the bills did come or the phone wouldn't stop ringing, I just passed it off as nothing. I was stupid.
Surviving on the Breadline was the first time we had admitted there was a problem. It was the first time I had been honest with myself that things needed to change. That we needed to change.
We decided that we weren't going to hide away from the problems any longer. We weren't ready to give up. From that day things changed because instead of surviving we took back control of the situation and started living.
Instantly things started to improve. Of course we were still in debt and had no money but, we started sorting things out.
We set up payment plans, opened letters and answered the phone calls. We started being clever when it came to money. We were in control and every day we woke up ready to face the day head on and, even if things didn't go as planned, we always took the positive and made the best of a bad situation.
The last 12 months have been more than we could have ever imagined.
From cooking meals that we'd never thought of trying less than £5; to winning a competition which changed our lives again, to appearing on This Morning. It really has been a rollercoaster of a year!
More than that though; the last months have proven you don't have to live a life you don't want. You don't have to be faced with a difficult situation and feel there is nothing else you can do but allow it to ruin you.
What I have learnt is if you want to change, if you want a better life, all you need to do is go get it. Fight for it every waking second and don't back down. Yes, you will have setbacks but if you keep pushing and moving forward, you can change your life. You really are the maker of your own destiny.
Anyway, I digress.
As I got ready on Friday for the Mad Blog Awards my thoughts also turned to Naomi and the children. We'd been through so much together and knowing everything we'd been through and how things were changing, I was happy. Happy that the people in my life were the people I held closest to my heart.
So there I was, dressed in my best suit and looking forward to the night ahead. Win or lose really didn't matter to me. Just the fact I was in the final was enough.
I said goodbye to the family and headed to London.
Arriving at the hotel around 6ish my nerves had vanished. I was buzzing with excitement and determined to have a great time.
What followed was a fantastic evening. I met some brilliant bloggers, drunk lots of wine and eat food fit for a king. The team at Tots100 who put on the Mad Blog Awards had ensured everyone thoroughly enjoyed themselves. The whole evening was brilliant.
So brilliant in fact that I'd almost forgotten I was there because I was up for two awards.
So they started announcing the winners and after a few categories, the Best New Blog was to be announced. As they read out the five blogs including mine, it was surreal. I was in the final and a screenshot of my blog, along with the other four were being shown on the big screen.
And the winner is…….. Don't be Sorry!
I was of course not disappointed in the slightest. Don't be Sorry is a wonderful blog written by Sarah whose son Oscar has Down Syndrome. Sarah writes in an engaging way about Oscar and her journey with him from birth to now.
With that out the way what I didn't expect was the next award being for Best Thrifty Blog.
A few people throughout the evening had approached me and said they thought I had it in the bag. I, of course, dismissed this as the wine talking. Not for one minute did it cross my mind that the Skint Dad blog had a chance of winning.
As they read out the finalist's names, time almost stood still. There we were again, up on the big screen. I was calm.
And the winner is……..SKINT DAD!!!!!!
OMG!!!!
Total shock set in instantly. We had only gone and won the bloody award.
As I made my way across the floor to the stage, I was in total disbelief. I knew people read our blog. I knew that people enjoyed the content. Still, I never believed we'd ever win something like this.
Collecting my award from TopCashback who were sponsoring the category, I then needed to say a few words. This, to be honest, was the easy bit.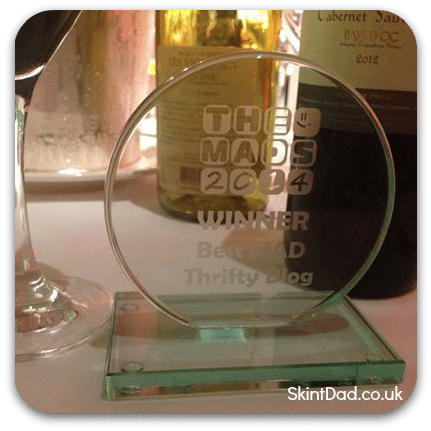 I said thank you and then dedicated it to Skint Mum. For all the success there has been, Naomi has had an equal part in it. Without her, there would be no Skint Dad. She is my partner in crime, love, life and laughter. She pulls me through when the focus fades.
Travelling back on the train with the award and a slightly fuzzy head, I once again started to think about the last twelve months and what we had achieved.
Life is full of ups and downs, nothing ever turns out like you expect it to and there will be times when you want to throw in the towel.
Twelve months ago we decided to make a better life for ourselves and twelve months later we can look back and know we are on the right path.
What's around the corner I cannot predict, but I'm looking forward to it.
Skint Dad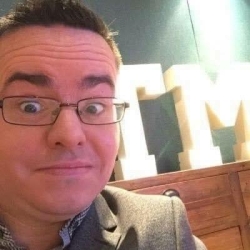 Latest posts by Ricky Willis
(see all)