Britain wastes more food than any other European country and most of that waste happens at home. If a restaurant owner carried on the way many of us do, their Michelin-starred establishment, tea-shop or chippie would go bust.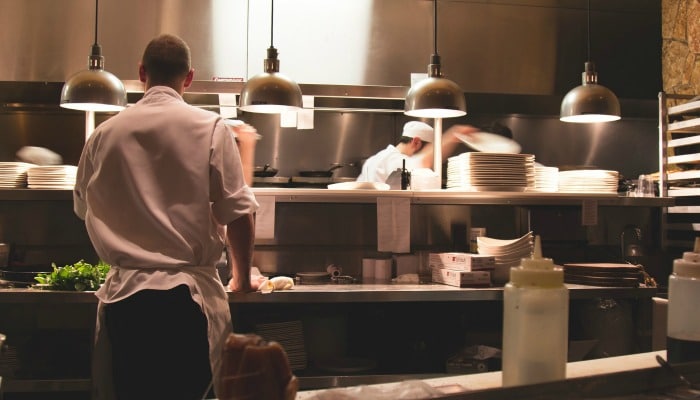 £10 BONUS OFFER: Earn easy cash by watching videos, playing games, and entering surveys.

Get a £10 sign up bonus when you join today.

Join Swagbucks here >>
Just as we scour the aisles of Lidl, Morissons and Asda for value, so they ring around different suppliers to get the best quality at the best price. But good 'sourcing' is only one trick to keeping food costs down.
Here are a few tricks from the catering professionals.
Buy bigger
Many restaurants buy animal carcasses – sometimes directly from the farmer – and whole fish to butcher or fillet themselves. I'm not suggesting you get out your hacksaw and start cutting up whole lambs in front of the kids, but buying meat in larger units will save you money.
This is what your canny great-grandmother did; she bought a ham or tongue, boiled or roasted it and sliced to order for meals and sandwiches all week. Or she minced steak and made her own rissoles. Yes, it's more work but more economical than, say, vacuum-packed ham slices or ready-made burgers.
When buying meat, fish and poultry, the more skilled labour, preparation and cooking that has taken place, the more you pay. You pay proportionately much more for chicken breasts than a whole chicken which is one reason I never buy them.
So google how to boil a ham or joint a chicken or treat yourself to a cookery course. Consider investing in a vacuum packing kit and making your own transparent parcels of sliced meats for the freezer.
Conduct a food waste audit
To ensure they make enough profit, restaurant owners will audit every aspect of their operation:
Are customers regularly leaving chips on their plates? Serve smaller portions.
Are burnt croissants regularly thrown in the bin? Get that sharp oven recalibrated or buy a new one.
At home, monitor what's scraped off your family's plates and what's chucked out generally. While leftover chips and pasta (not off people's plates) can be made into other dishes such as potato omelettes and pasta salads, it's better not to have the problem.
A 75g-100g portion of pasta is enough for an adult and WeightWatchers consider 60g a large portion so perhaps your waste audit will become a waist audit.
Bread and salad are the items we waste most
Bread, pittas, hot cross buns and the like freeze well, so slice up on day one and put half or more in the freezer. Use as required; pop in the defrost slot of your toaster or leave out to thaw.
Stale white bread makes great croutons. Chop into chunks, coat with vegetable or garlic oil and oven-bake for 10 minutes at 180C until golden. Put a timer on as they burn easily.
Firmer unwashed salads like cos, little gem, radicchio and chicory keep far better than expensive bags of ready-washed leaves. Cucumbers go squashy fast once cut. Maybe buy a half cuke instead of a whole one whatever the price. Experiment with frozen, rather than fresh spinach.
And today's special is…
At a restaurant, today's specials are planned around what needs using up. If you have onions, yesterday's baguette plus cheese, your special is French onion soup with cheese croutons.
Before bringing in more supplies, do what chefs do and check your stores. If you have a freezer full, don't go shopping this weekend. Start eating down that freezer by making a decision on what to defrost come Friday. Food keeps in a freezer but it doesn't improve.
Planning for the week
A restaurant will plan for the day it's closed and for extra covers on a busy Friday night and so should you. If your family contains teenagers whose comings and goings are unpredictable, never fill the fridge with just-in-case ready meals. Let them eat old-fashioned ready meals like eggs, cheese or beans on toast using bread taken from the freezer.
Related posts:
Stock control
It's not rocket science to make a note when something goes into the fridge or freezer and when something gets used up. I'm too lazy to label frozen foods (preferring to sniff them) but I know what I've got. Lidded jars or plastic cartons are better than mysterious covered containers because you can see what's inside.
Storage secrets
What kind of a restaurant chef would pay for the best produce then throw half of it away? Learn better storage. Put your spring onions root down into a tumbler of water (like cut flowers), wrap fresh herbs like parsley in moistened kitchen paper, then tightly in cling film and put in the salad compartment. Take anything that sweats out of the plastic.
It's a false economy to buy too many washed carrots and potatoes because they're often still wet. Remove from plastic and dry at once. If you can face the scrubbing, 'dirty' carrots or potatoes keep far longer.
Freezer savvy
The freezer is the restaurant's and your greatest friend. More foods will freeze than you might expect – butter, grated cheese, fresh yeast, bread dough, chunks of fresh ginger, half cans of leftover cannellini beans, fresh thyme, parsley stalks and leek ends for stock and those spare portions of spag bol you've lovingly shopped for and cooked.
How do you prevent food waste at your house? Any good tips?
Sally-Jayne Wright is a food journalist and freelance writer who loves to cook and loves a bargain. The credit crunch of 2007/8 had a knock-on effect on her income which is when she took a long hard look at her outgoings from hairdressing costs to food bills. Her frugal habits have stayed put.
Latest posts by Skint Dad Contributor
(see all)