A trip to the supermarket may seem like a harmless way to get your food shop but they are seducing us into spending. Don't let them catch you out.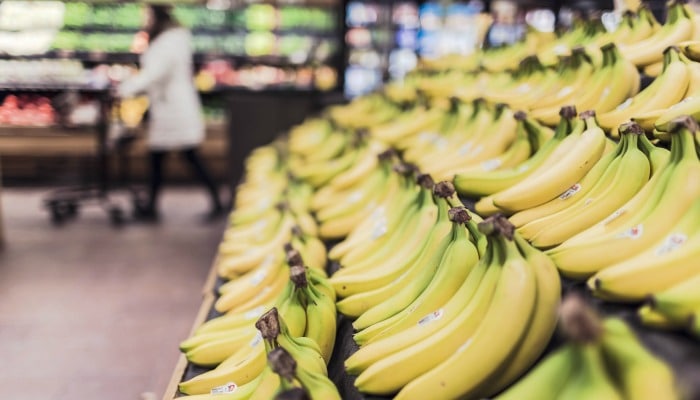 £10 BONUS OFFER: Earn easy cash by watching videos, playing games, and entering surveys.

Get a £10 sign up bonus when you join today.

Join Swagbucks here >>
How many times have you popped into the supermarket for a few bits?
How many times have you left the supermarket with more than a few bits?
I can usually spot people who have done this. They are the ones carrying an overloaded shopping basket and walking quickly to the checkout, before they lose all strength in their arms.
They are in denial that they need a trolley, as they know they only came in for bits!
Supermarket Tricks
As soon as we walk into a supermarket the marketing machine rolls into action and we are seduced by products we don't even need.
Supermarkets use various techniques to entice us to buy products they are particularly interested in selling. They want to change our shopping habits to maximise their profits.
Let's start at the entrance to the store:
A rainbow of colours for a healthy lifestyle
We all know we need our 5 a Day. A burst of colour attracts us to the fruit and vegetables. It makes us feel positive we are making healthy choices. This may become a negative further into the shop.
Packaged fruit and vegetables may cost you more
Packaging needs to be paid for. It is always better to buy loose items and weigh them on the scales provided. Check the price per 100g, or each, and work out if you are getting a better deal with the packaged version.
If you buy more than you need, there is more chance of waste.
Shelf seduction
Supermarkets often carefully position products to encourage the customer to buy one product over another. There are several ways this is done:
More expensive items tend to be at adult eye level.
Low cost items tend to be near the bottom shelf.
An item aimed at a child will be put at a child's eye level. This will encourage 'pester power' – I'm sure most parents have experienced it!
Aisle manoeuvres
Aisles are usually wide enough to walk down, but not for turning a trolley. If I turn a trolley I'm worried I'll injure someone, or feel guilty for not following the unwritten rule of walking down one aisle then up the other.
Bargains await you at the end of the aisle. Most of the time these products can be found elsewhere in the shop. From my experience, they are usually at the end of an aisle before their normal location in the store.
This makes the customer think that they must be the only ones and must be grabbed quickly.
Taster stands
You know, the person stood at the end of the aisle trying to lure you in with a free taste of some new product.
This has two outcomes for the supermarket:
They get to sell more of a new product. People like to try before buying. I'm not saying this is a bad thing, but you have to question whether you would have bought that product otherwise.
It slows us down. Maybe the stand is at a point in the store that people tend to rush past?
Musical trolleys
We all love a bit of supermarket music. It's up there with lift music.
Our pace around the store may be determined by the beat of the music. You wouldn't want to go for a run to slow music … or maybe you wouldn't want to go for a run!
I can't remember the last time I heard a bit of rave music in a supermarket.
Apparently, classical music tends to make us buy more expensive items. Although a bit of Beethoven in a supermarket is a rare thing, you get the idea.
Please Sir, can I have some more?
If someone gave me a fun size Mars Bar (other chocolate bars are available) I'd probably want a normal size one after it.
We quickly adapt to larger quantities of a product. Special offers with 33% extra may seem like a bargain, but they may make you feel that the normal size product is not enough anymore.
The way products are packaged may force us to buy two at once. A pack of three pieces of chicken is not enough for a family of four.
The 'Rack of Ruin'
Finally, we get to the checkout. We are met by a rack full of goodies. We put all our products on the conveyor belt.
As we get to the bottom of the trolley we find those healthy fruits and vegetables that made us feel so positive at the beginning of our shopping experience.
We look at the 'Rack of Ruin' and decide it's time to treat ourselves for being so good.
Related posts:
Loyal customer habits
Loyalty cards may act as a savings scheme for us, but they are also a way for the supermarket to collect data on our shopping habits.
It's no coincidence that coupons we get from them are related to previous products we have purchased.
However, there are ways to boost our points without paying too much back to the retailers and maximising your rewards.
Make sure you take a look at the tips to find more bonuses from loyalty cards such as Tesco Clubcard or even your Nectar card.
Prevention plan
Now that you know a few of the tricks you can be a savvy shopper.
Lists help to focus the mind. If you tend to get the same things every week maybe you could print it out and put it on your fridge and highlight things as you run out of them.
Do you know any other supermarket tricks? We'd love to hear about them.
---
Latest posts by Wendy Rogers
(see all)