Sainsbury's, one of the UK's leading supermarket chains, recently announced their new "Nectar Prices" initiative, promising big savings of up to 60% off for their loyal customers.
But what exactly are Nectar Prices, and will they really help you save money on your grocery bills?
Let's dig into the details and find out!
What are Nectar Prices?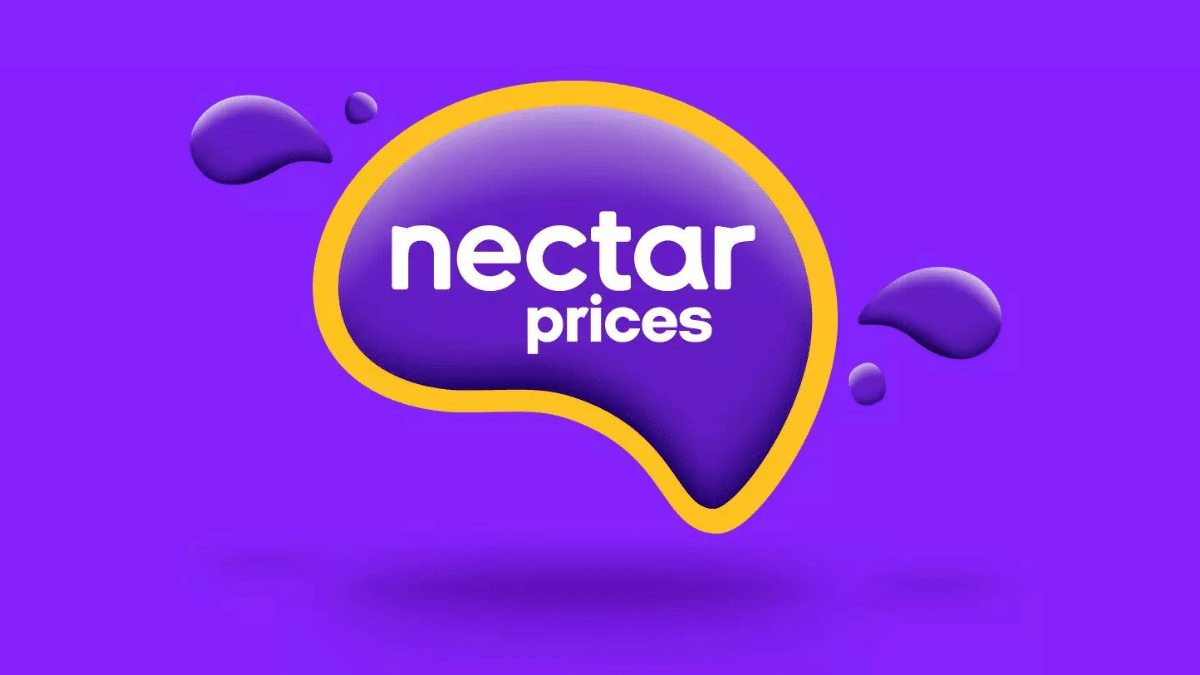 £10 BONUS OFFER: Earn easy cash by watching videos, playing games, and entering surveys.

Get a £10 sign up bonus when you join today.

Join Swagbucks here >>
Nectar Prices are exclusive discounts that are available to customers who have a Nectar card, the supermarket's popular loyalty card program.
Hundreds of items are included, and you'll see them marked online or with a label on the shelf edge in the store.
These discounts are applied to a wide range of products, including groceries, household items, and more, and are intended to offer customers significant savings on their everyday purchases.
How do Nectar Prices work?
To access Nectar Prices, you need to have a Nectar card and shop at Sainsbury's either in-store or online.
Other than swiping your card at checkout, you don't need to opt into anything.
When you shop, the discounted prices will be automatically applied to eligible items, and you'll see the savings at the checkout. It's that simple!
However, it's important to note that the savings will vary depending on your shopping habits and the products you buy.
Is it really a good deal?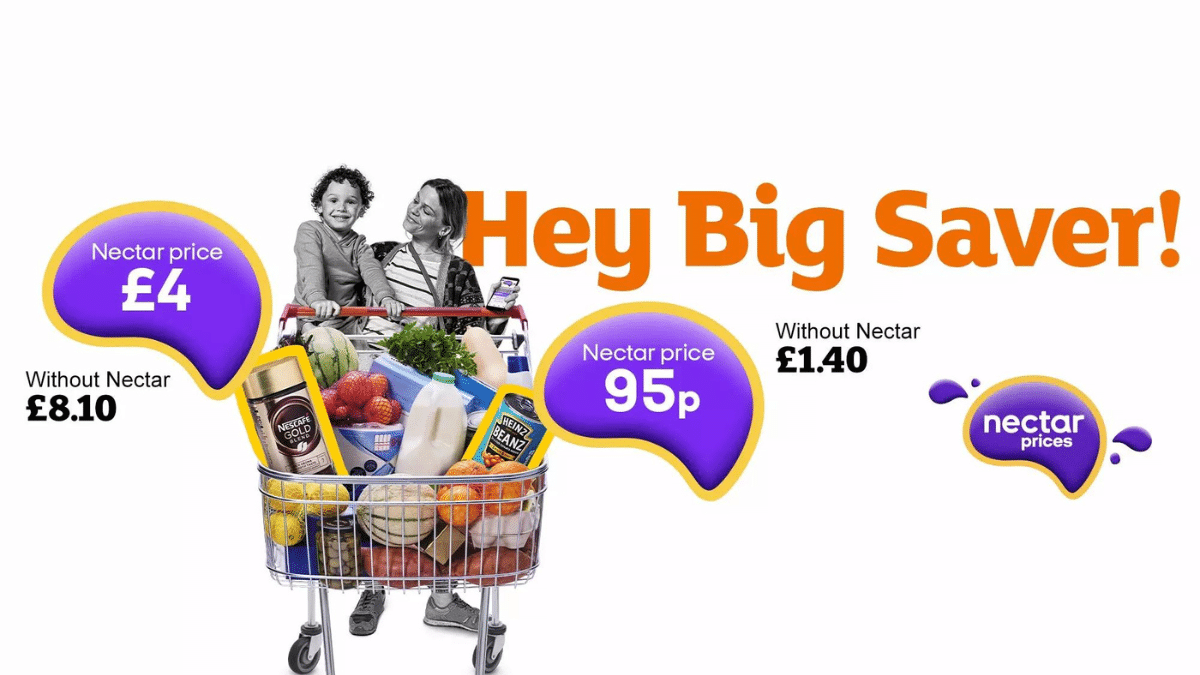 As with any promotional offer, it's important to do your homework and see if Nectar Prices will actually save you money.
They've given examples of savings – however, my guess is these are the ones they are proudest of.
So, I've looked into a few random examples and compared them with other retailers below.
| | | | |
| --- | --- | --- | --- |
| Product | Nectar Price | Usual Price | Discount |
| Aperol Aperitivo 70cl | £10.00 | £16.00 | 38% |
| Corona Extra 12x330ml | £9.00 | £14.00 | 36% |
| Ariel All-in-1 pods washing liquid capsules original (39 washes) | £5.00 | £10.50 | 52% |
| Coke Zero 24x330ml | £5.00 | £10.00 | 50% |
| Nescafe Gold Blend signature jar 200g GB | £4.00 | £8.10 | 51% |
| Elvive Colour Protect Shampoo 400ml | £2.50 | £4.50 | 44% |
| Elvive Colour Protect Conditioner 300ml | £2.50 | £4.50 | 44% |
| Kellogg's Crunchy Nut 720g | £3.75 | £4.80 | 22% |
| Heinz Baked Beans Tomato Sauce 415g | £0.95 | £1.40 | 32% |
| Oral-B Pro 3 3500 Cross Action Black (+Travel Case) | £45.00 | £100 | 55% |
Nectar Prices comparison
Let's take a look when comparing to a few other shops.
I would have liked to compare with Aldi, however all the Nectar Price items are currently only for branded goods, and Aldi don't sell branded stuff (on the whole).
However, even with the first examples of Pringles, if you swap to Aldi their Pringles tubes are smaller at 165g and cost £1.95. If you swap to their own brand, Snackrite 165g, they are still more expensive at £1.49.
That Pringles price is great, and I guess one they are leading with in their first set of discounts. I can't imagine it will stay at that price for long.
Product
RRP
Nectar Price
Tesco
Clubcard Prices
Asda
regular price
Pringles 200g
£2
 £1.25
£1.80
£1.85
Tanqueray Gin
1L
£27.50
£19
£22
£27.50
Viakal Spray 500ml
£3.50
£2.75 
£3
£3
 
Belvita Crunch 225g
£2.75
 £1.75
£1.75
£1.75
Soba Instant Cup Noodles
£1.90
£1.25 
£1.70 (standard price)
£1.70
Prices checked via trolley.co.uk on 18 April 2023.
RRP according to Sainbrury's.
Not all products were available to widely price compare as not all stores sell the exact same product/size.
Nectar Prices vs Tesco Prices vs Iceland Bonus Card Prices
How many different "Prices" are there out there?
Nectar Prices is essentially a spin-off of Tesco Prices and the soon-followed Iceland Bonus Card Prices.
Launched back in 2020, Tesco Prices gives Clubcard members exclusive access to lower prices.
In the same way, as a member of the Iceland Food Bonus Card scheme, you can also get access to lower prices when you shop.
In November 2022, Morrisons started to offer a small range of exclusive offers to their loyalty members too, known as My Morrisons Exclusives (at least they were being more imaginative with the name!).
A few years back, these offer prices would have been for anyone.
Without being too cynical of the whole thing, supermarkets want you to sign up for their loyalty scheme so they can track more data on their shoppers.
With Lidl and Asda also offering loyalty cards, they too may follow a similar approach at some point in the future.
Nectar Prices vs Your Nectar Prices?
It's all sounding the same…!
"Your Nectar Prices" is a longer-running personalised promotion which runs in store only, and claims to save you up to £200 a year.
This is different from Nectar Prices, where (after presenting your reward card) you get a monetary discount.
With "Your Nectar Prices", you need to use an in store handset to beep your own shopping or use the SmartShop app.
They give you instant discounts on items they've specifically picked just for you, based on your shopping habits.
The difference with Nectar Prices is that it's on offer for all Nectar Card holders, both online and in store, and the offers are not personalised.
You can use both discounts at the same time.
Final verdict – will you save money?
Overall, Nectar Prices could potentially save you money on your grocery bills, especially if you frequently shop at Sainsbury's and regularly purchase items that are eligible for the discounts.
While it's not difficult to compare online for the cheaper price, does the overall basket value become cheaper?
If you have the time and flexibility to shop in multiple places each week then perhaps look to split your shop and take advantage of all the different offers.
Or, why not just shop at the cheapest supermarket?
Here are some key factors to consider:
Compare prices
While Nectar Prices may offer discounts, it's still important to compare prices with other supermarkets and retailers to ensure you're getting the best deal.
Don't assume that Nectar Prices are always the lowest prices available.
Loyalty vs generic brands
Nectar Prices may not always be applicable to generic or store-brand products, which are typically cheaper than branded items.
So, if you usually opt for generic brands to save money, Nectar Prices may not offer much value.
Check your shopping habits
Nectar Prices may be more useful if you frequently shop at Sainsbury's and purchase items that are eligible for the discounts.
If you rarely shop at Sainsbury's or if the discounted items are not part of your regular shopping list, the savings may not be as significant.
You need a loyalty card
This overall offer is based on you signing up for their loyalty scheme. These reward schemes aren't a new thing in the UK, and they are a way to access our shopping habits and trends.
When shopping in store, you need to remember your plastic card or have the app ready at the till.
I know I'd kick myself if I forget to take my loyalty card with me (much like when I forget plastic bags for packing)!
So be sure to have the app downloaded (and signed in; mine kicks me out every 30 days!), or add the reward card to your Apple or Google Wallet.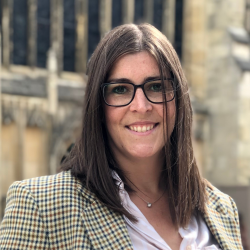 Latest posts by Naomi Willis
(see all)