You may be able to get up to £150 to help with the cost of school uniforms and PE kits with a school uniform grant.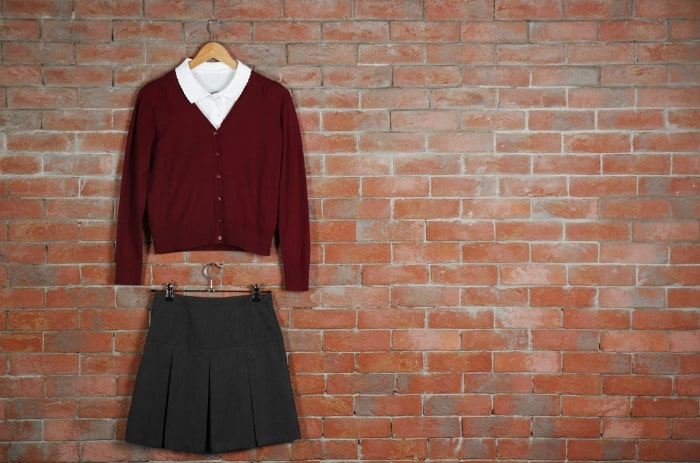 £10 BONUS OFFER: Earn easy cash by watching videos, playing games, and entering surveys.

Get a £10 sign up bonus when you join today.

Join Swagbucks here >>
Back to school – it's one of those bittersweet times! (Yes, I know they haven't broken up yet!)
I loved spending extra time with my kids, but a bit of time apart wouldn't go amiss 😉
However, what dreads me at this time of year is the additional costs we've got to fork out for.
With our youngest in primary school, things aren't that bad. Most of her uniform can be non-branded and picked up for a cheap enough price.
It's the bigger one that makes my bank account quiver! At secondary school, she needed sports kits, football boots, astroturf boots, plus the actual uniform including a blazer, jumper and school shirt – which has to be school branded!
As times are tough, there is help available.
Instead of forking out money you may not have, there are ways to get uniform mega cheap – or even for free!
School uniform grant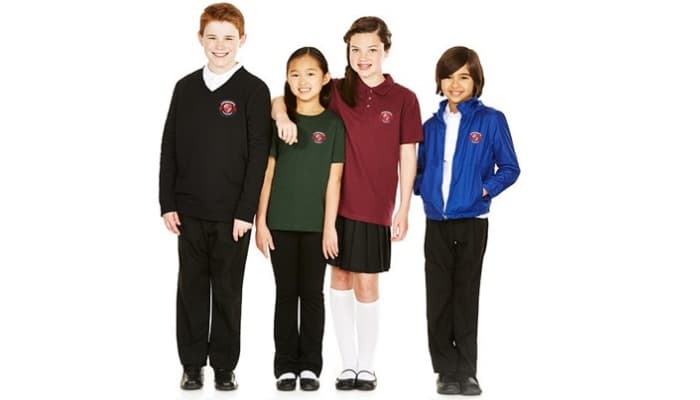 You're able to apply for up to £150 for your child's school uniform with a government means tested grant.
Depending on your circumstances, local councils can help families on low incomes with the cost of uniforms.
Not every council will offer this, so you do need to check.
Some offer the full £150, others may offer as little as £20, but some offer nothing at all.
If you're eligible, you're able to get up to £150 to cover the costs of the actual uniform as well as PE kits.
Are you eligible?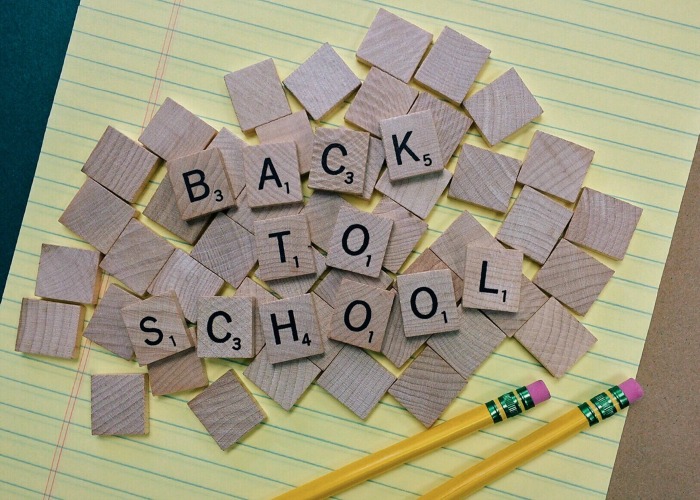 Usually, you will be eligible if you receive any of the following benefits:
Income support
Job seeker's allowance (income based)
Child tax credit (provided you are not entitled to working tax credit)
Employment Support Allowance (ESA)
State pension (this benefit must be your sole source of income)
Support under Part IV of the Immigration and Asylum Act 1999
Universal Credit
Remember, it's not just about benefits. Your local council also needs to support the grant, so if they don't, you won't be able to get any support.
How to apply for School Uniform Grant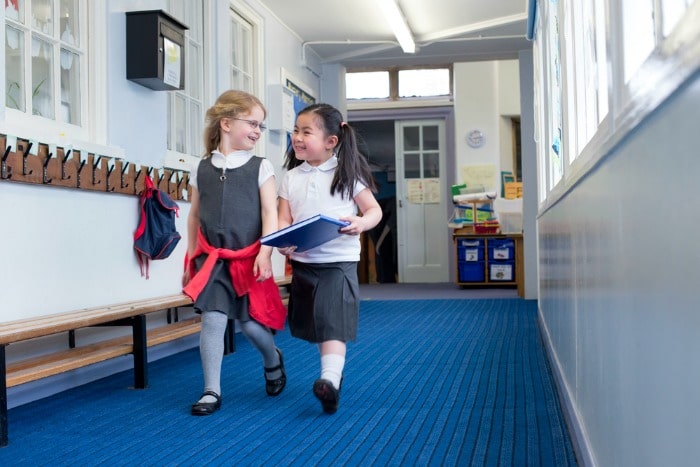 You're generally able to make applications between 30 June and 30 September, but each council runs differently so, it's best to check with them.
You will need to make a new application each year if you need it.
Some places offer better support than others:
England
You can check if your council provides support for school uniform costs on the government website.
Just enter your postcode, and it'll take you to your own council's uniform policy page.
If you are eligible for a school uniform grant, you will likely be paid the money via cheque.
According to The Mirror, the number of councils offering this benefit is going down.
In the last year, they say dozens of councils have withdrawn from the scheme. This means you may have received the school uniform grant last year, but you may not be able to get it this year.
Scotland – School Clothing Grant
In Scotland, you can apply for at least £120 in financial help with the school clothing grant (was £100 in 2021).
You need to apply to your local council and the eligibility criteria, and the amount you'll get is all decided by them.
The cash grant is available for primary and secondary age children.
You'll receive £120 to pay for clothing and shoes for primary school kids and £150 per child for secondary school age kids.
Most coucils accept applications from July each year through until March.
Wales – Pupil Development Grant
You're after a Pupil Development Grant if you live in Wales.
You can get £125 to buy school uniform, equipment, sports kit and kit for activities outside of school for your child.
For children entering Year 7, they get a grant of £200 as there are more costs when starting secondary school.
If you have a child who gets free school meals, you can apply if they are:
starting reception class at primary school
in school years 1, 3, 5, 7, 8, 9, 10 and 11
in a special school, special needs resource base or pupil referral unit and are aged 4, 5, 7, 9, 11, 12, 13, 14 or 15
a look-after child
You need to contact your local authority to apply. Applications for 2021 – 2022 are open from 15th July 2021 and close on 30 June 2022. New applications will reopen in the summer of 2022 for the academic year 2022/2023.
Northern Ireland – Clothing Allowance Scheme
In Northern Ireland, you need to apply to the Education Authority for the Clothing Allowance Scheme, if you're eligible.
This can give you a grant towards uniform for primary, post-primary and special schools, but will not give you grant funding for nursery schools, nursery units or reception classes.
You can get:
£42.90 for a primary school pupil
£61.20 for a post-primary/special school pupil under 15 years old
£67.20 for a post-primary/special school pupil over 15 years old
£26.40 for a post-primary/special school pupil physical education kit
A school pupil can usually only get one clothing allowance during the school year.
Other options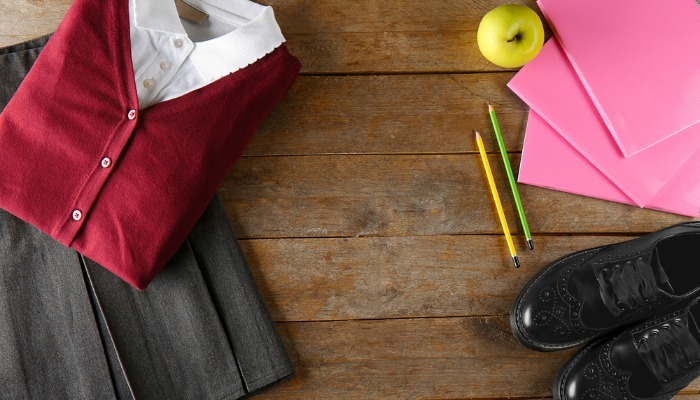 If your local council doesn't support the school uniform grants or you're not eligible to apply, there are a few different options to get cheaper school uniform.
Nearly new
Many schools offer nearly new sales.
It's best to reach out to your school directly to see if it's something that they, or the PTA, offer.
Their nearly new sales sell cheaper school uniform and PE kits that were donated by parents or if it's been in lost and found for too long.
Last year, we managed to get new school dresses for just £1 – like new!
Ask the school
Get in touch with your child's school directly as they may have some support they can directly help you with.
Online
Facebook Marketplace is a decent place to look at or other local Facebook selling pages.
Rather than sitting and waiting for something to pop up, put out a wanted advert. It could be that people have a second-hand uniform but didn't think about selling it before.
You'll find that eBay will also have lots of uniforms, but if you've got a school with branded jumpers or ties then keeping it local is a winner.
While the government school uniform grant can be a real lifesaver for some, there is no duty for the councils to help.
If you're really struggling with the costs of school uniforms, it's best to approach the school directly to see if there's anything else they can do to help.
Other grants
If you are a member of a union, they may offer some kind of support. Unison offers grants of between £50 and £150.
For anyone who works in a supermarket, there is also the GroceryAid school clothing grant which could help.
Turn2us has a grant finder and you can search for what's available to you or your family.
School Uniform Bill
The School Uniform Bill will change how expensive uniforms will be.
While the Bill has been approved, we will need to wait until parents can see lower and more affordable costs.
My guess is that the School Uniform Grants will be got rid of once the law comes into force.
Read next: Where to find grants for furniture and carpets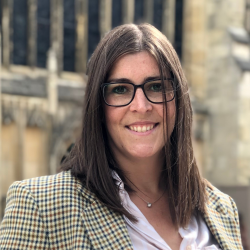 Latest posts by Naomi Willis
(see all)