If you're looking for places to sell your car, then be sure to read on.
We'll cover six reputable and trustworthy places where you can sell your car for cash.
While most of these places are online-only, a few have physical locations you'll have to travel to – let's begin.
£10 BONUS OFFER: Earn easy cash by watching videos, playing games, and entering surveys.

Get a £10 sign up bonus when you join today.

Join Swagbucks here >>
AutoTrader: large number of buyers
AutoTrader is an online-only service that specialises in helping people sell their cars profitably and quickly. With millions of qualified buyers visiting it each month, the website is an excellent step in the right direction toward selling your vehicle.
In addition, the website provides a vehicle history report, which, if good, can be used as a great selling tool. This report gives buyers information about the vehicle's past. That said, you'll have to arrange the car viewing, as well as the payment if they're interested, yourself.
The site boasts several fee levels, with the ultimate level costing £75.
We Buy Any Car: for easy sales
We Buy Any Car is an efficient service that you can use to sell your car. After entering your car's details, including its mileage, previous owners, service history and registration number, you can take it to a nearby We Buy Any Car outlet. The company also does a free valuation of your car privately in under 30 seconds; this is a no-obligation valuation.
Typically, they'll pay you within four working days; however, you can pay a fee of up £30 to hasten the process and for near-instant payment to your bank account. You'll also have to pay either a £50 or £75 transaction fee, depending on the value of your car.
Find out how does We Buy Any Car make money.
Gumtree: free to private sellers
The main selling point of Gumtree over other platforms is that putting up an ad on the website is totally free. You can pay to add features to your ad, but that's as far as fees go. Like AutoTrader, Gumtree also boasts a free basic car history check. If it passes, the ad will state that the car has not been exported, written off, scrapped, or stolen.
In addition, like AutoTrader, there is no online payment system, so you'll have to arrange the payment yourself (as well as the viewing, of course) as you'll be selling privately.
The only downside to Gumtree is that although its largest selling area is motors, it's still not specialised, and because it's so large, it may be difficult for people to see your ads.
eBay Motors: online payments
Explicitly focused on car listings, eBay Motors offers different packages for sellers, with prices ranging from £14.99 to £19.99. You can choose to either make a fixed-price listing, where you set your car at a particular price, or you can opt to make it an auction, where buyers bid for the vehicle until a specific expiry time, and the final price is set. There are also other fees if you want to upgrade your listing (add a reserve price/more pictures etc).
And, like the other online-only platforms we mentioned, eBay Motors offers sellers a free vehicle history report as long as you list fewer than seven vehicles each year.
The website has millions of visitors each month and even claims that they sell a car or truck every three minutes. Unlike AutoTrader and Gumtree, eBay has an online payment system, meaning the only thing you have to arrange is the viewing and collection. You'll get payment straight to your bank account through a bank transfer.
Facebook Marketplace: popular for cheap cars
Typically when most of us think about Facebook, we don't think about car listings; however, since 2016, Facebook's Marketplace has been gaining popularity. Most commonly, it's used as a place to list cheap cars for free (and no hidden fees such as admin fees either).
And if you already have Facebook, it's hassle-free to list the sale; all you need to do is select Marketplace and go to the selling section. From that point, choose vehicles and add photos of your car and details.
The only downside to Facebook Marketplace is that there's no security for buyers and sellers, so between fake sellers and fraudulent buyers, it can prove a bit risky. However, if you need clarification on someone, you can always view their Facebook profile to get an idea of who they are.
Motorway: selling directly to dealers
Instead of selling to private buyers, such as with Gumtree or eBay Motors, or selling to a single reseller, such as We Buy Any Car, Motorway connects you to dealerships who'll provide different offers for your vehicle.
As an added convenience, the dealer you select may do a free collection of your car from your home or request that you drop it off at a specific collection point. Even if your vehicle is in terrible condition, the website includes scrap merchants who'd be willing to pay you to take it off your hands.
And it's completely free; just enter your vehicle's details, such as its mileage and registration, and your contact details, and you're all set. Once the deal is complete, the dealer will pay you through a bank transfer.
And, of you're planning to get a newer car after selling your old one, take a look at the best used family cars to buy. Although, be sure to find out when is the best time to buy a car to get the most of your money.
FAQs
Where can I get the most to sell my car?
Well, it's hard to say where you could get the most to sell your car, and it'd require some shopping around. Finding a fair price requires that you list your vehicle on fee-free sites such as Facebook Marketplace and Gumtree, as well as see what a reseller such as We Buy Any Car offers.
Which is the best company to sell your car to?
Motorway has excellent online reviews at the time of writing this, with a rating of nearly 4.6 stars on Trustpilot and almost 40,000 reviews. We Buy Any Car has a rating of 4.7 stars and over 150,000 reviews. Both these companies would be good to sell your car to.
How do you not get scammed when selling a car?
If you sell your car to private buyers, it's essential to take precautions. Only accept payment either in-person or through approved payment methods. Avoid accepting cheques, as fraudsters will often sell a car through cheques which will later bounce. And know your vehicle purchaser, ask some basic questions about them – don't sell to a total stranger.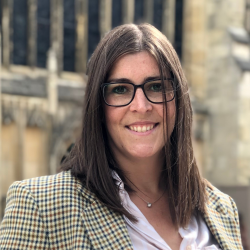 Latest posts by Naomi Willis
(see all)