You may normally roast your chicken, but it's cheaper and more delicious to cook your whole chicken in the slow cooker. Here's how.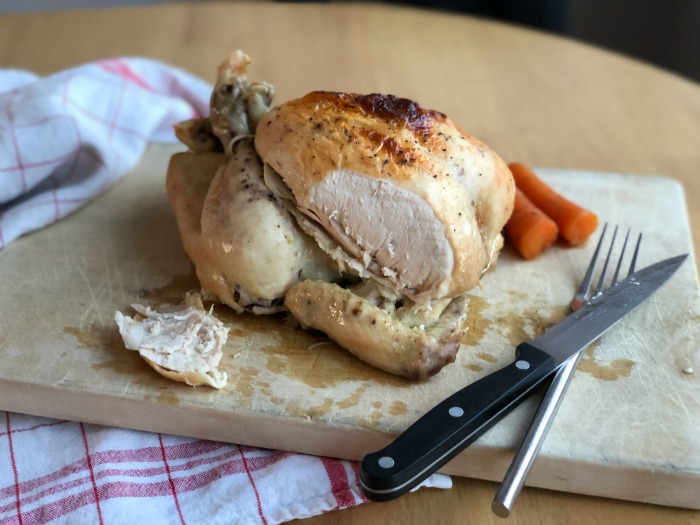 Never cooked a chicken in the slow cooker before?
You really should!
It takes less than a few minutes to prepare everything and you end up getting a tender, moist and delicious chicken (plus free chicken stock).
You'll never want to cook using your oven again!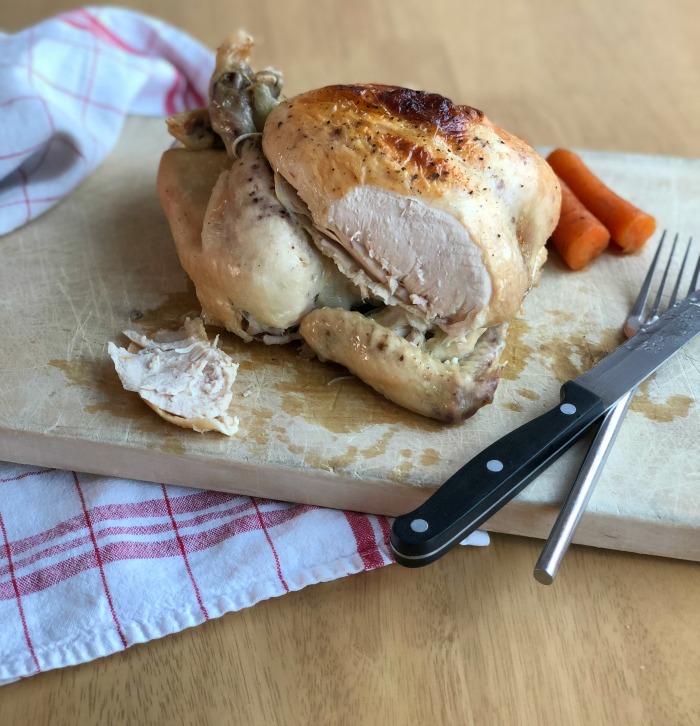 I usually make ours quite simple, with just a bit of pepper added on top. However, you could easily add a sprinkling of mixed herbs and paprika for a different flavour.
Looking for a decent (budget) slow cooker? Check these ones out.
I would actually say there's a lot less fuss when it comes to cooking a chicken in the slow cooker.
Once you've turned your slow cooker on, you can just leave it cooking. Whereas, when roasting your chicken in the oven, it's best to check it from time to time and baste the skin.
As an added bonus, although it takes longer to cook with a slow cooker, it uses less energy than your cooker so it will save money on your energy bill too :)
Slow cooker whole chicken
The chicken will give off a lot of juices while it cooks.
You want to keep your bird off the bottom (to avoid it sitting in the stock) while cooking. If you let it sit in the broth the chicken will just fall apart.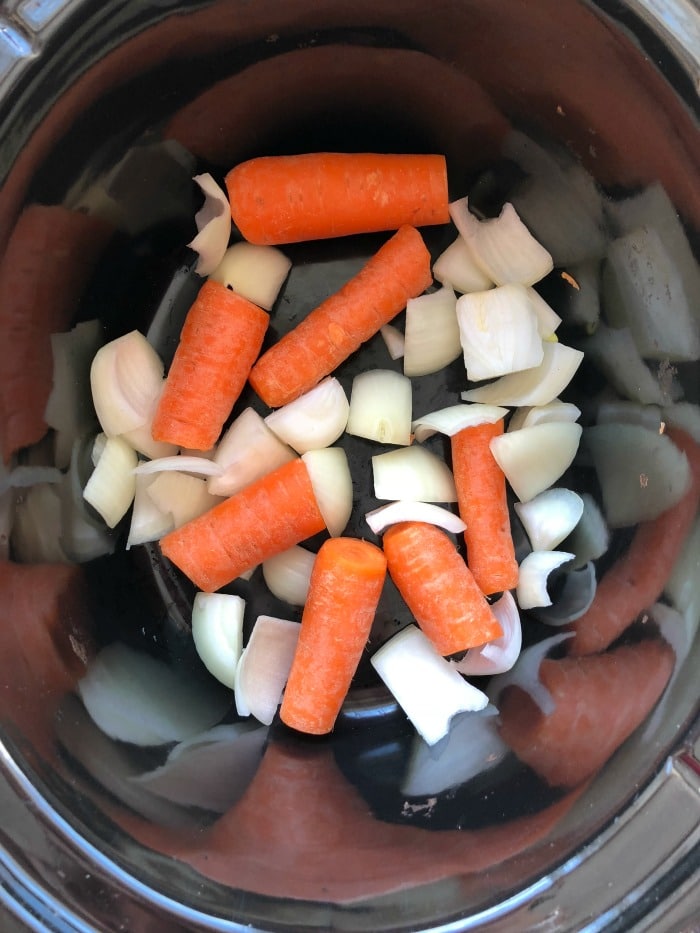 Keeping the chicken raised it really easy. You can either choose to use a couple of balls of tin foil to keep it raised. However, my favourite is to put some vegetables in the bottom. I must prefer this as it gives the stock (that you'll get at the end) even more flavour.
Carrots and onions are just fine, but you could add just about anything like garlic, swede, celery (or anything going a bit limp in the bottom of the fridge)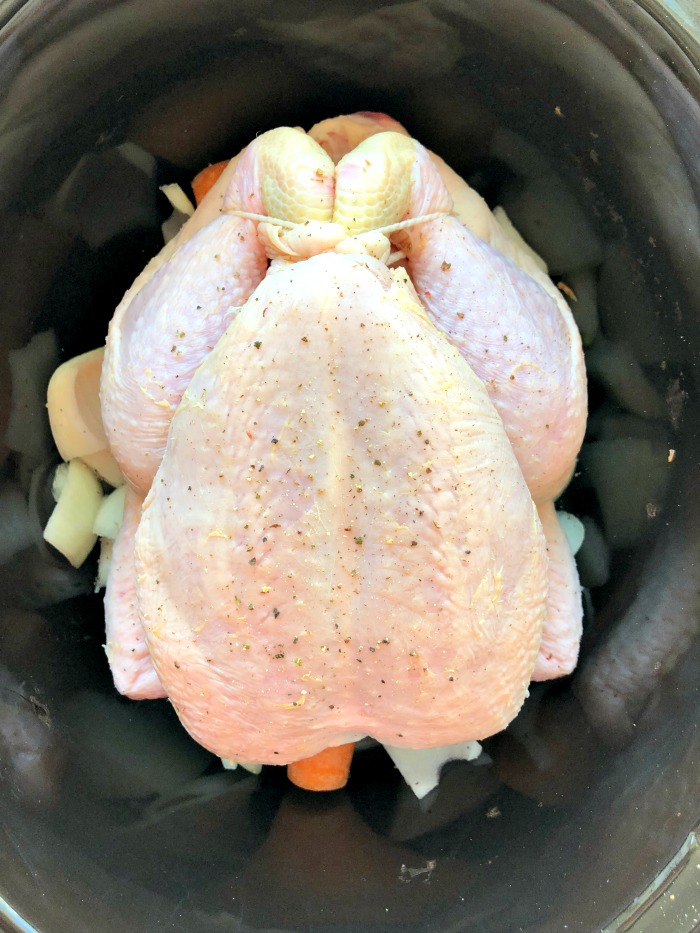 Add any seasoning to the chicken, pop of the lid of the slow cooker and turn it on.
For the size of the chicken (around 1.4kg), we cooked it for 5 hours on low.
In the last hour of cooking, the smell of chicken starts to waft through the house. This is when I start preparing mash potato and any vegetables, and also when I start getting very hungry!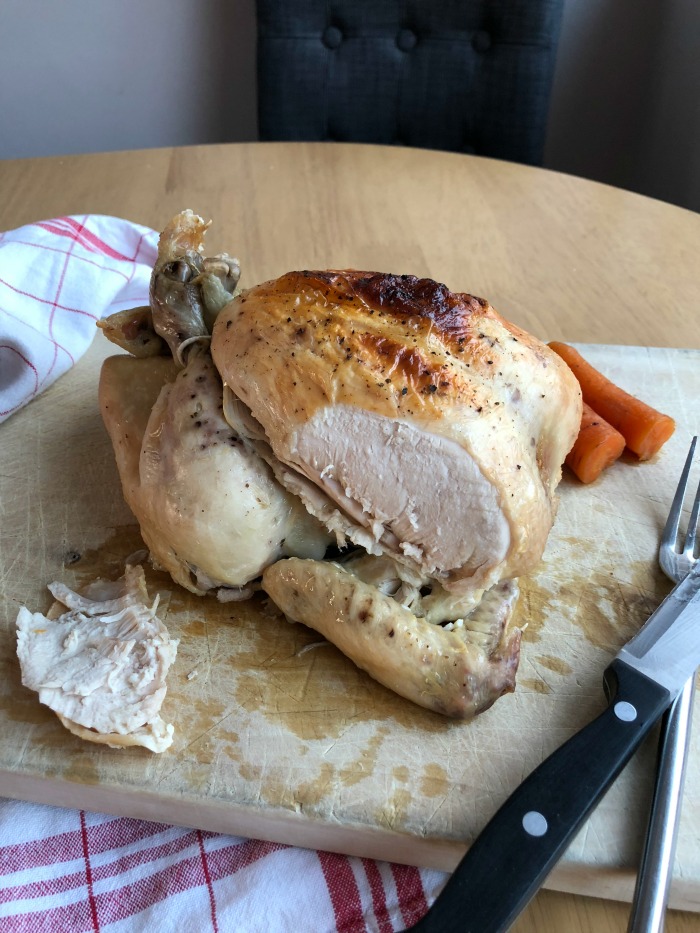 How To Cook a Whole Chicken in the Slow Cooker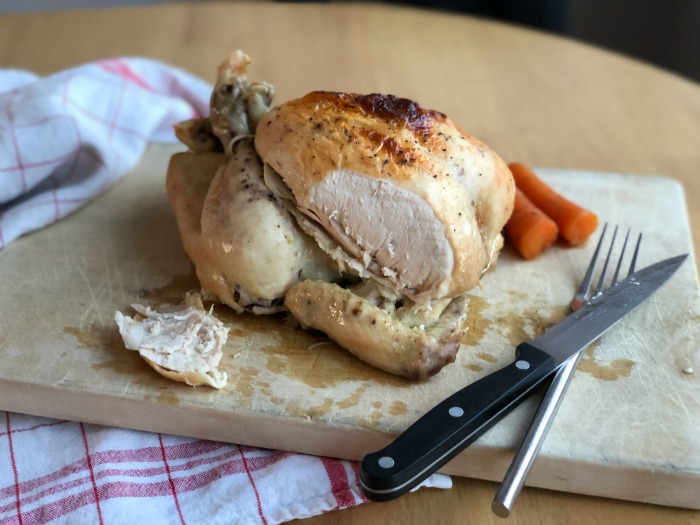 Ingredients
Whole Chicken
1 onion
3 carrots
pepper
Instructions
Roughly chop the onion and carrots and place them in the bottom of the slow cooker.
Place the chicken on top.
Season with pepper.
Pop on the lid and cooker on low for 5 hours (for a 1.3-1.5kg chicken).
Optional: Once cooked, place under the grill for 10 minutes to brown the skin
** Cooking times will need to be increased if you're cooking a larger size joint. Please do make sure to check that the juices run clear before eating.
Just to say, as quite a few people have already asked, you do not need to add water or any fluids when you cook the chicken. It will make its own stock while cooking that you can use later on.
When done, it's not going to look like a chicken you pull out of the oven.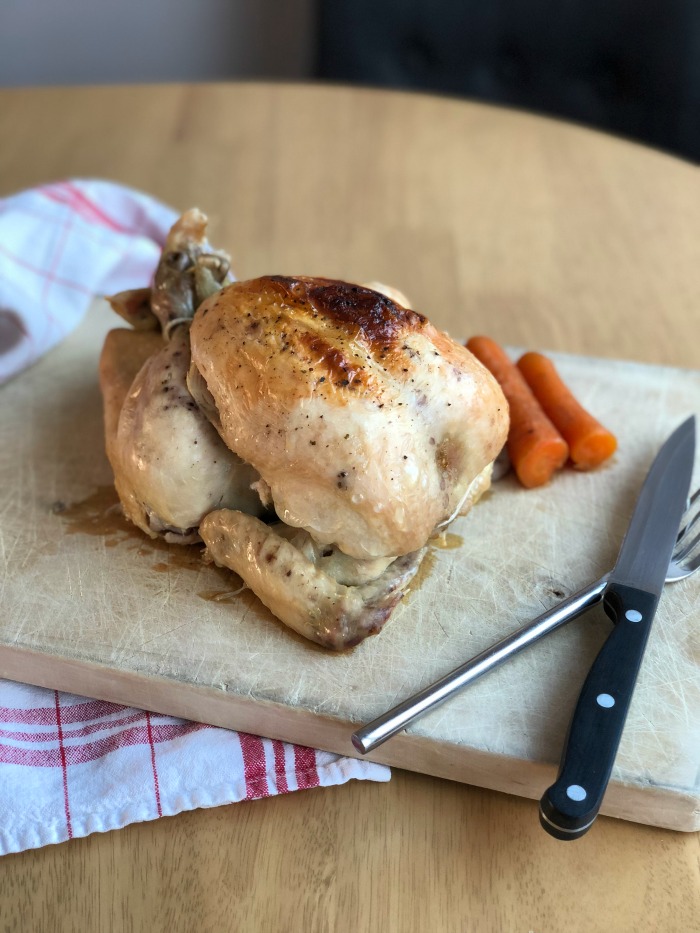 If you like eating the skin then, once you've taken it out of the slow cooker, pop it under the grill for 10 minutes. This will brown up the skin perfectly.
Remember that you're also left with liquid gold – the chicken stock.
Drain this off and use it to make a homemade gravy to go with your chicken or save it to make a soup.
A great accompaniment with a roast is a lovely helping of mashed swede. Try this no-prep singing swede recipe (you also don't need a cooker).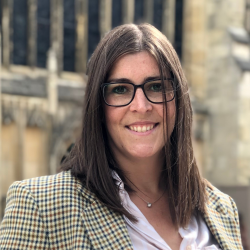 Latest posts by Naomi Willis
(see all)