Prices are going up. We've all heard about it.
We have been hit with price rises over the last few months. In April, our council tax bill increased 2.1% on last year. After a few payment-free months, we knew the payments would start again but had not considered the increase.
£10 BONUS OFFER: Earn easy cash by watching videos, playing games, and entering surveys.

Get a £10 sign up bonus when you join today.

Join Swagbucks here >>
We further got hit by Skint Mum's salary. While many people up and down the country got a little more because of the adjustment in the £10k allowance, the lovely people over at HRMC told her that she underpaid tax in a previous year so decided to change her tax code. Her salary went down.
No pay increase, no cost of living increase and no sight of either one on the horizon.
Hit with price rises and hit with salary decreases, it means a hit in our overall household budget. So we look to cut back even more.
Then, a month later, our energy company email to say that they are increasing our direct debit by another £30 per month. One of our water providers wants us to increase our standing order by another £2 per month and back in March, the mobile provider O2 increase our tariff by 2.7% per month.
Lots of numbers, lots of percentages, lots of working out to see that we are roughly £90 per month down compared to this time last year.
Where do we even start to look? We've cut back so much, and don't want the children to miss out, but it's all going to start impacting us as a family if we don't do something about it.
When playing with figures, I worry about cash flow, how we'll pay one bill, pay another donation requested by the school, pay off debt. I start to worry that I worry too much.
I think back a few years to 2009. Skint Mum had an OK job. It paid the bills. We lived comfortably. We paid for everything we needed and a little more. Then Skint Mum was made redundant.
We weren't overly worried at the time as we knew she would get another job. We were young, we were naïve, we were stupid.
We continued to live the same life using credit thinking that things would go back to normal soon. A job did come but with it came a huge pay cut. The salaries started to come in but rent also increased.
We began to realise that living off credit would not work but by that time the damage was done. Even a few months of building up credit debt, managing on lower incomes, watching prices going up and getting into other types of debt for rent and council tax and our gas bill had hit us hard.
Then the fridge broke, and the car broke, and we needed a new school uniform for Daniella. Then the car broke again, and again (then we got rid of the thing!). The damage was now irreversible.
Low salary, bigger bills, higher debt. We were stuck. Heads buried. The damage was done and it was upsetting that only after a few months we had screwed ourselves.
Five years later and here I am – with now a massive 100% increase in rent payments from 2009! The damage can still be seen when I track my debt from back then but it is now being cleared.
I don't have any credit cards or a catalogue account or payday loans, so won't get into new debt with them, but I still worry about how I will pay for my everyday living.
Rent, council tax, gas, electric, water, travel to work, debt, food – eat or heat. What takes priority? How can you choose?
Even though we are in this predicament, I am not taking it laying down. Since starting this blog, every day I am looking at ways to cut back, spend less, earn more without scrimping on life. It's not easy but it can be done. You just need to go for it and not let the bastards get you down.
Instead of feeling sorry for yourself try and look for the positives in things. Yes, prices are rising so try and raise your income. Yes, there are not enough hours in the day so try to be more organised. Yes, you don't want to get out of bed and face the world but the only way you'll move forward is if you do.
Changing Household Budgets
It's not just me in this position and that's even sadder. The Money Advice Trust has recently published a report that showed the true reflection of how price hikes on our everyday living are hitting people everywhere in the UK.
The Changing Household Budgets are forcing more people to seek debt help. They are getting into debt because they have a budget deficit. They have more bills than their salary covers and they can't pay everything so debt starts to creep in.
National Debtline has seen increases in calls from people relating to housing costs, council tax, energy bills, water bills, telephone bills, catalogue debts and the cost of borrowing.
Previously, households used to see debt problems following a change in circumstance (like losing a job) but this kind of debt concern is moving to a "budget deficit" where people just don't have the money to cover the basic household bills.
National Debtline has seen a huge rise in queries since 2007 asking for debt help relating to household bills and a decrease in debt help for loans and credit cards.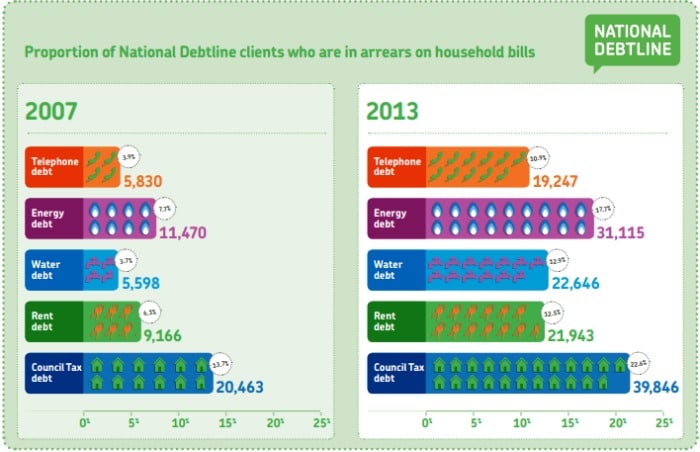 It's the energy bills that seem to be having a huge impact on people. While energy companies have increased their prices by 36% (!) since 2010, it appears that energy consumption in the UK is going down and is at its lowest point since the 1980s.
However, even with people using less energy, National Debtline saw the number of calls to support people who owe money to energy companies rise from 2,512 calls in 2005 to 31,115 calls in 2013. Let's just hope the bosses at the energy companies can heat their homes this winter.
If you've cut all you can cut, and you've shifted suppliers, and claimed what you can from everywhere, what else is there you can do to cover the household deficit?
Well, there are some things.
Firstly, it's always a good idea to get some advice from experts like National Debtline to see if they can make suggestions that you may have overlooked. Call them on 0808 808 4000 (free to call from landlines and mobile phones) or visit them online at www.nationaldebtline.co.uk.
Consider cutting out things that may not be totally essential. For instance, if you have a landline phone and a mobile do you need both?
Increase your income by looking for a new job that pays more or is closer to home so you don't have to pay for your commute. Look to take a second job or look to turn a hobby into an income.
There are ways out. It's not all doom and gloom and there is an end in sight. Since having my light bulb moment, I am actively looking for ways to get out of the rather large hole I'm in. Sometimes I feel that I'm taking one step forward and two back but other days I feel like I'm leaping ahead.
I'm setting realistic weekly goals and am trying my hardest to smash them. Although not everything is finance-related, just setting these goals helps me to focus.
It's not easy to cut your household budget but it can be done. The trick is to not try and do everything at once but to take small steps and give yourself small consistent wins. This will give you the motivation to push and achieve even greater goals.
Are you in the position? Are you trying to cut your household budget? If so, what have you done? Let me know in the comments below.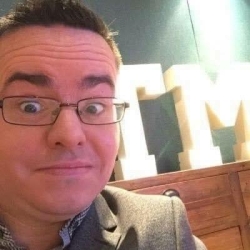 Latest posts by Ricky Willis
(see all)