Eat cheap with 50% off or 2 for 1 meals at over 6,600 restaurants across the UK when you use Taste card. Use their free trial before you part with any money for membership!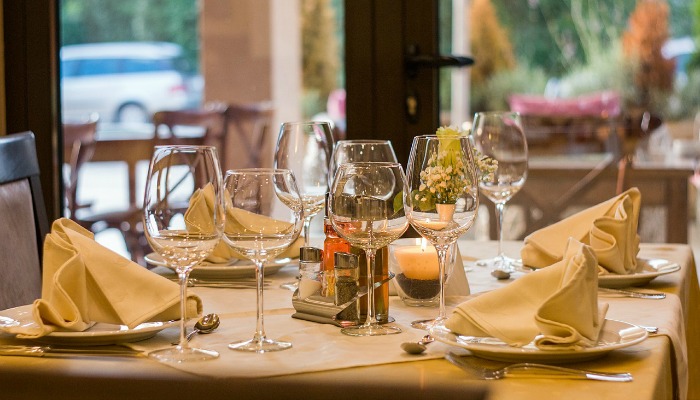 £10 BONUS OFFER: Earn easy cash by watching videos, playing games, and entering surveys.

Get a £10 sign up bonus when you join today.

Join Swagbucks here >>
We all enjoy a nice meal in a restaurant but this is, unfortunately, one of the luxuries that go out of the window when money is tight.
This is where the Taste card can really help you out! If you've never heard of this before, we're about to introduce you to a membership club that gives you the chance to eat out for less and get discounts on a much wider range of leisure and entertainment activities including trips to the cinema.
In short, it's a way to make those little treats a lot more affordable without feeling guilty about the costs!
Tastecard free trial
What's great with Tastecard is that you get to try the card out before you part with any of your own money.
Right now, you can get a free 90 day trial and you don't need to enter any payment details.
It's a perfect option for testing the card out and seeing how much use you might get from it before you pay for a monthly or yearly membership.
If you do decide to become a Tastecard member after using the 90 day free trial, monthly membership costs £5.99 a month or annual membership will cost you £34.99.
If you buy the membership straight out, it will cost you £79.99 per year. This probably sounds a lot but it's all about how much you plan to eat out now you know about these discounts. If you only eat out occasionally, it's probably not going to work as well for you.
Taste card offers
There are loads of Taste card offers and perks that you can take advantage of – with 50% off your total bill or two for one deal on dishes being great money savers.
50% off
The 50% off deal is exactly that – you only pay for half of your meal. Side dishes are included in this offer but sharing dishes aren't.
This is great if you're a table for one and it also means that if a group of you go out to eat, you can all get a discount on your food – as long as one of you has a Tastecard, of course!
Check in advance though if you're in a big party as some restaurants cap the number of people who can eat on a Tastecard booking.
2 for 1
The two for one offer works as you might expect, with the cheapest meal of the two coming free. It applies to starters, mains and desserts but side dishes and extras aren't included.
Think you must be limited in what you can order on either of these deals? Not so! You can pick from the "a la carte" menu at the restaurant you visit, which usually gives you lots of choices.
50% off pizza
If you prefer to stay in, you can get 50% off your next Pizza Hut delivery – 7 days a week.
Save time looking for discount codes that don't even work and just use a Tastecard free trial.
Stay in – 10% off delivery and collection
You can save at least 10% off on all order places via the Tastecard app.
The discount works 7 days a week.
How Tastecard works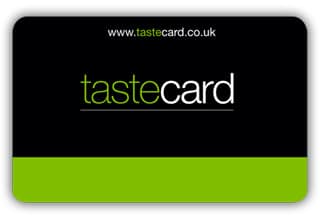 If you're thinking that Tastecard sounds too good to be true, looking at the bigger picture will help you to see why it's been such a big success over the last decade.
Tastecard was set up to make it more affordable to eat out but this isn't just to benefit us as consumers. It also benefits the restaurant industry in general if more people are able to enjoy meals out.
There are currently 6,600 restaurants signed up across the country that you can dine out at a hugely discounted rate!
It's very simple to use and there are usually just three key steps to get your deal:
Search for somewhere to eat on the site or via the mobile app and make your choice
Book in advance (for the most part) and let them know you have a Tastecard that you want to use
Show your Tastecard app when you get the bill
Taste card list of restaurants
You can use Taste card at thousands of restaurants in the UK, and this includes popular eating places such as:
ASK Italian
Banana Tree
Barcelona Tapas
Chimichanga
Chino Latino
Fine Burger Co
Marco Pierre White
Papa John's
PizzaExpress
Prezzo
rbg
Strada
Tiger Tiger
Zizzi
Is a Tastecard worth it?
Eating out can get very expensive and can be a real treat.
If you were to go to a local restaurant and spend say £50 on a family meal one Friday night that would put a dent in the budget, but not if you had a Taste card.
With 50% off your bill applied, this means you only pay £25 for your evening out.
If you were to go to that same restaurant 4 times in a year and spend the same amount, the card would pay for itself and leave you in profit.
If you only paid £34.99 for membership after the £1 trial then you'd make your money back after just two 50% off restaurant visits!
How to cancel Tastecard trial
If you want to cancel Tastecard trial or you want to cancel an ongoing subscription, you've got three easy ways to do it.
Cancellation form
The easiest way is by logging on to your account and using the cancellation form.
You need to be logged in to the site to do this. You'll get a confirmation email within an hour after you cancel Tastecard. If you haven't received an email confirming your subscription has been cancelled (check your spam box), then your subscription is not cancelled so contact the Taste card Customer Service Team by 5 PM the working day before your renewal date.
You need to complete the form up to 11.55 PM the night before your renewal date.
Web-Chat
There is a green pop bubble when their agents are available. Live chat is normally there on Monday to Friday 9 AM -5 PM.
Email
You can also use the Contact Us button if you want to cancel your Tastecard free trial.
Give them your
Full name
Membership number
Email address used to set the membership up
Full address details including post-code
The reason you'd like to leave
You'll get an automated email reply with a unique reference number (check your spam folder). They need to cancel this manually for you, so it won't be done straight away. If you are using this method to cancel your Tastecard free trial, be sure to do it before 5 PM the last working day before your membership is due to renew
Taste card app
Want to get all of the benefits of Tastecard on your mobile? You can use to app to search for a restaurant near you, see reviews from other members and choose your offer while you're on the go.
The Tastecard app lets you do all of this, and it's free to download.
It acts as a digital membership so you can present the app when you ask for the bill.
Tastecard plus
Discount dining isn't the only perk of becoming a Tastecard member. You can also get big discounts on hotel stays, fine dining, tickets for comedy and live music gigs and days out with Taste Card+.
Tastecard Cinema
Taste card members can get up to 3.% off when they go to the cinema. This includes Showcase Cinema, Cineworld and Empire.
Becoming a Taste card member is a great way to get discounts on meals out and take advantage of other entertainment deals. Why not give the free trial a go and see if you think it's worth becoming a member of the club?
With literally thousands of restaurants to choose from, you're sure to find something that appeals!
What can you do instead of Taste Card?
If you don't feel you can justify the spend on a Tastecard then you do have a few more options to make a saving on restaurant foods.
Gourmet Society free trial
You can get 2-4-1, 50% off food, or 25% off your WHOLE bill at restaurants across the UK.
It's free for a 60 day trial.
Meerkat Meals
Sign up for a days' travel insurance for £1 and get access to a year of Meerkat Meals and Movies.
Meerkat Movies gets you buy one get one free on starters, mains and puddings Monday – Thursday in thousands of restaurants.
Sign up for newsletters
Sign up for a new email address (to avoid constant spam to your mail account) and sign up to restaurant email newsletters.
They will contact you when they run special offers. In the past I've had emails offering cheap dishes over a weekend, free Prosecco and kids eat free.
You'll also find that many of them offer a special deal when it's your birthday. Perhaps share your birthday, your partners, your kids or anyone else's so all the birthday freebies deals don't come through for the same month.
Deliveroo
Rather than just getting a pizza, Indian or Chinese delivered, you are now able to get a wide range of restaurant food delivered to you.
Deliveroo is getting big across the country and deliver restaurant-quality food straight to your door.
Although it can be a bit costly, it's far, far cheaper than actually going out. You'll save on transport to and from the restaurant, expensive restaurant wine (how do they charge so much for a bottle!) and however much an hour for a babysitter.
It's definitely worth checking out for a treat. Plus, you can get £10 of credit to spend across your next 4 orders when you sign up through this link.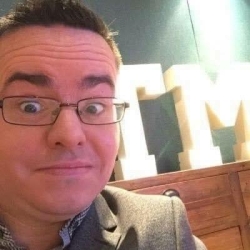 Latest posts by Ricky Willis
(see all)