For those of you who don't know, and in case you haven't heard me go on about it for the last few months, I'M ENGAGED. That's right, Skint Dad popped the question while down on one knee, in the rain, and asked to make a decent woman out of me. About time too, I might add.
After all the excitement comes a bombardment of questions from loved ones, friends and well-wishers who want to know when, where and how will the wedding take form. These questions can easily bamboozle anyone and they left me a little blurry eyed.
As the total romantic, that Skint Dad is, he surprised me on my birthday by confirming that we would book our wedding day a year from then. Just 365 days to plan the wedding, and my joint birthday to boot.
It certainly felt like a whirlwind so I stopped, took a step back, and decided not to look at anything wedding related until the festivities of Christmas were well out of the way.
Now, with Christmas back in the box with the tree and all the little bits of plastic pine that inevitably find their way into the smallest cracks by the skirting board finally vacuumed up and put in the bin, it was about time I started to think all things wedding.
Right, that's it then, let the budget wedding planning commence…..but…..where on earth do I start??
Website after website. Newsagent shelves after newsagent shelves stacked with similar looking blushing brides. Well wishing people dropping hints and tips here there and everywhere. It can all get a bit too much, especially when on a budget, and there's just so many places to look!
As there is so much going on, research must play a major part in everything. Yes there are flowers but what type and how many and what colour. Yes there are dresses but what type…this list is endless!
Research is key before any sharp decisions are made and I followed these steps to start making "the" wedding into "our" wedding.
1. Any ideas?
Before I did anything I did a lot of research to see what I like and what I didn't like.


£10 BONUS OFFER: Earn easy cash by watching videos, playing games, and entering surveys.

Get a £10 sign up bonus when you join today.

Join Swagbucks here >>

I used my old dear favourite Pinterest. Skint Dad (very kindly) shared his Pinterest account with me and I set up a new board tracking wedding stuff. And it's free.
Pinterest is a great place to visualise what you actually want, and get new ideas of things that you could craft yourself. The world is your oyster with Pinterest.
I've tried to use it as a place to pin ideas from websites I visit and from what others have pinned.
If you have some spare cash, you could pick up some wedding mags but they cover the same topics, just changing the colours and themes for the seasons. However, remember you can get the same information free online.
2. What's the budget?
It's all very well and good saying you want the latest dress off the catwalk or a 2 week honeymoon in the Maldives, but what can you actually afford?
We sat down and worked out how much we wanted and could afford to spend on a wedding, which was not a lot. But that doesn't stop me, or Skint Dad, wanting things to go our way on our big day.
With that in mind, we will adapt, and see what we can get for a bargain.
There is a great budget wedding planner tool on www.hitched.co.uk where you put in your total budget and it splits how much you can then spend on each "essential" item. I looked down the list and realised there were loads of things that were considered normal for a wedding that we didn't want like transport – we don't need a big fancy car – saving made already!
3. What was that excellent idea I had last week?
I have to admit that I'm a little forgetful that's why I love a good list.
There are so many things to think about and things I am still learning that I have forgotten about already, so I'm sure there's more that will spring up on us.
I needed to get the ideas that we've had down some where so I made a little wedding planning book to track everything and tick off things we've done.
Don't get me wrong, I love a spread sheet and we'll be tracking our expenditure but this is a way to try to co-ordinate everything. If nothing else, it gives us a plan to share ideas when we are not together and a place to look back to see some of our thoughts. I'm sure in a few years time we'll look back and think we were nuts with some of them.
I gathered a few sheets of plain paper for each section and then cut my own dividers using coloured paper. A quick hole punch later and some wool through the holes, a new book was made.
The sections I created are: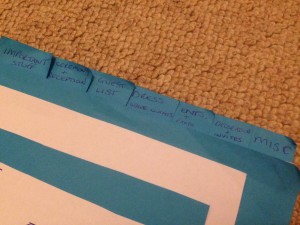 Important Stuff – to note phone numbers, dates we mustn't miss, the timeline and countdown
Ceremony and Reception –for the running order of the ceremony, our anticipated music, food
Guest list – a place to note who we want during the wedding and who'll be invited to the party afterwards
The Dress (and other outfits) – with ideas of where to get some accessories
Entertainment and photography – ideas, ideas, and other crazy ideas for the day and night
Decorations and Invites – what do we want to have on the tables? what are our invitations going to look like, or what will they say?
Misc – for anything else which I'm sure I've forgotten
4. Who do you know?
I have a lovely family member-to-be who is a fantastic hairdresser and stylist. I used to work with a very talented photographer. Skint Dad has some contacts who he can call upon.
If you have a look in your phone book, ask your Facebook friends or branch out on twitter, it's amazing how many people you, or your friends actually know who will (hopefully) provide a discount mates-rate.
Always branch out before committing to an expensive private quote. You'll save yourself a fortune.
5. Is that the best you can do?
Do not settle on the marked price. When you have started to finalise what you want barter, barter, barter. Or if you can't, or they just won't budge, have a look somewhere else.
Most places will easily give 10% off the price. 10% isn't a lot really but it quickly adds up when you plan to buy a lot of stuff.
If they refused to move on the price, keep looking around, or for something similar. A little persistence and you'll be able to find a bargain.
There are lots of elements to a wedding and, although we are not planning to spend huge amounts of money, we are going to make sure that we follow the Skint Dad motto – we will spend less, cut back but without living without. So, we will have a fabulous wedding that looks and feels expensive but (hopefully) no-one will know we've done it on the cheap – apart from everyone who reads this. But you won't tell. Will you?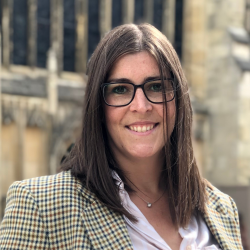 Latest posts by Naomi Willis
(see all)