Got a 50p Beatrix Potter coin? Not sure if it's worth anything? We've researched their value to see if you want to sell your coin, spend it or add the valuable coin to your collection.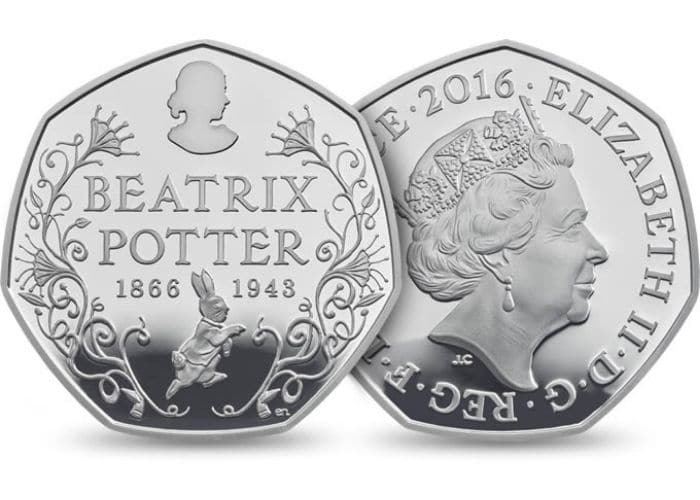 £10 BONUS OFFER: Earn easy cash by watching videos, playing games, and entering surveys.

Get a £10 sign up bonus when you join today.

Join Swagbucks here >>
Beatrix Potter 50p coins are some of the most sought after coins by collectors. They are so popular that the Royal Mint made different collections over the years.
Some have lower mintage figures than other coins, so their worth can be a lot higher than their face value.
But how much could you get for a Peter Rabbit 50p? And what about his friends?
Let's look at their estimated values and how much you could make from the Beatrix Potter coins.
Beatrix Potter 50ps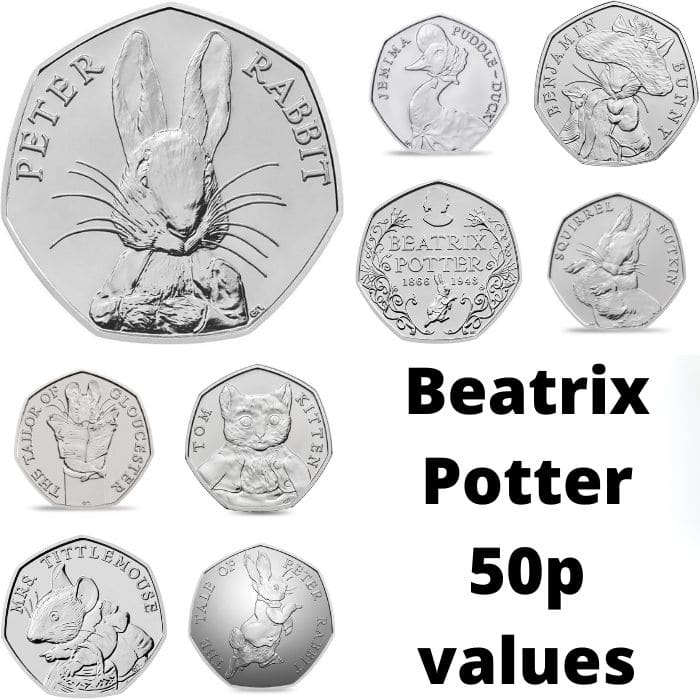 The Royal Mint first issued Beatrix Potter 50ps, designed by Emma Noble in 2016 to commemorate the 150th anniversary of Beatrix Potter's birth.
Here we cover Beatrix Potter coins in circulation, rather than the higher standard Brilliant Uncirculated Coins (BU) that are only available to buy brand new.
Benjamin Bunny 50p – 2017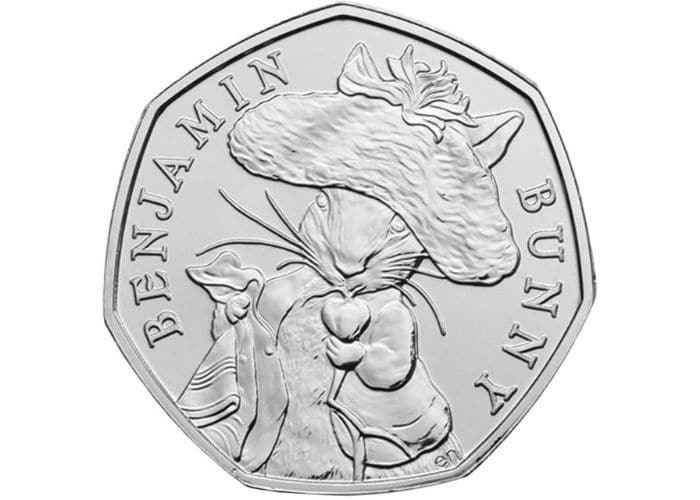 This isn't a very rare Beatrix Potter coin at all, with 25,000,000 having been put into circulation.
You'll likely get around £1 if you sold a Benjamin Bunny 50p coin.
50p Peter Rabbit coin – 2017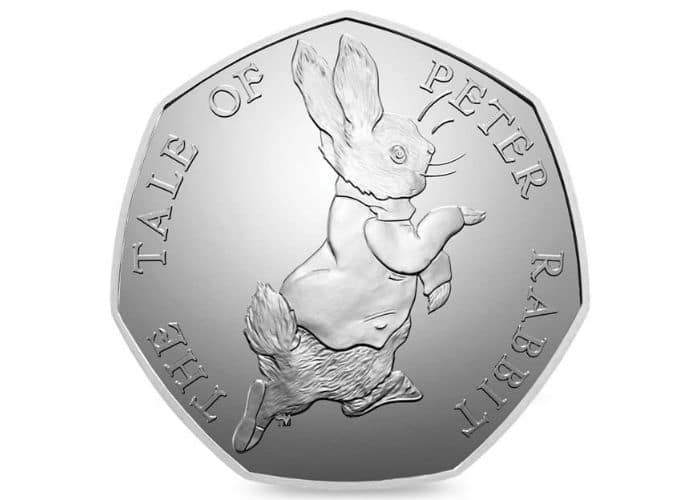 There were lots of the 2017 Peter Rabbit coin in circulation, with 19,900,000 out there.
You could likely get £1.50.
Mr Jeremy Fisher 50p – 2017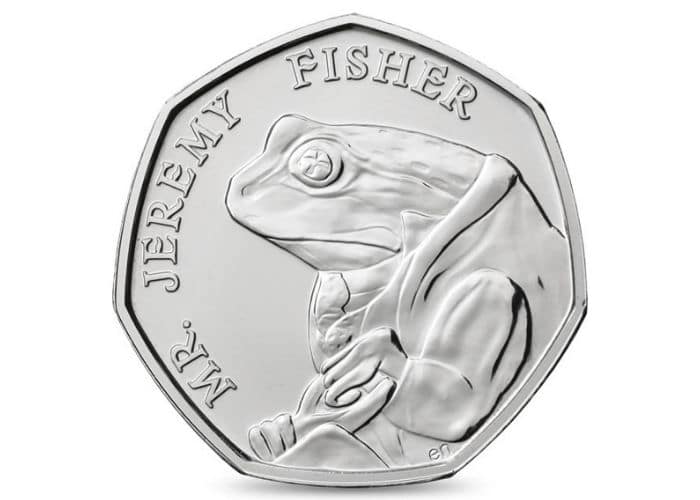 This is the first and only Jeremy Fisher in the Beatrix Potter 50p coins collection with 9,900,000 minted.
You could realistically get £1.50 for a new coin.
50p Peter Rabbit coins – 2016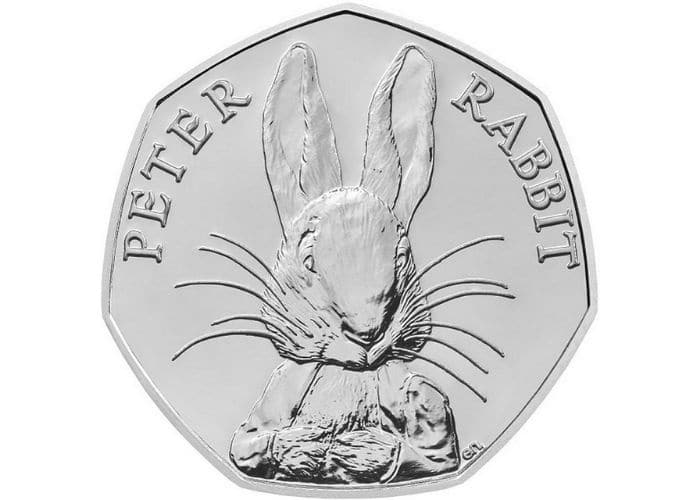 The first of the Peter Rabbit 50p coins was from 2016, in which there were 9,700,000 minted.
You could get around £3.50 for the same on eBay.
If you have a coloured silver proof coin of Peter Rabbit from the same year, only 15,000 printed. They did not enter circulation (in fact, they crashed the website when they first went on sale).
If you are planning to invest in a coin and see coloured coins selling for very cheap, a decal has likely been applied over circulated coins so that it won't hold a good value. Check any listing carefully.
Beatrix Potter coins aren't the only rare coins worth any money.

Take a look at some of the rarest 50p coins (like the Kew Gardens) in your spare change to what they're worth.
Tom Kitten 50p – 2017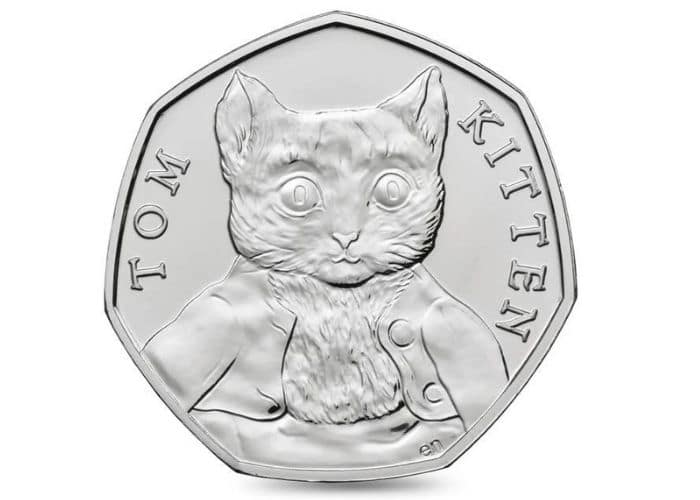 There were 9,500,000 Tom Kitten 2017 coins minted.
Some reports say this coin is very rare when it's unfortunately not.
Some listings show it selling for hundreds, but the 50p coin is worth closer to £1.60.
Mrs. Tiggy-Winkle 50p – 2016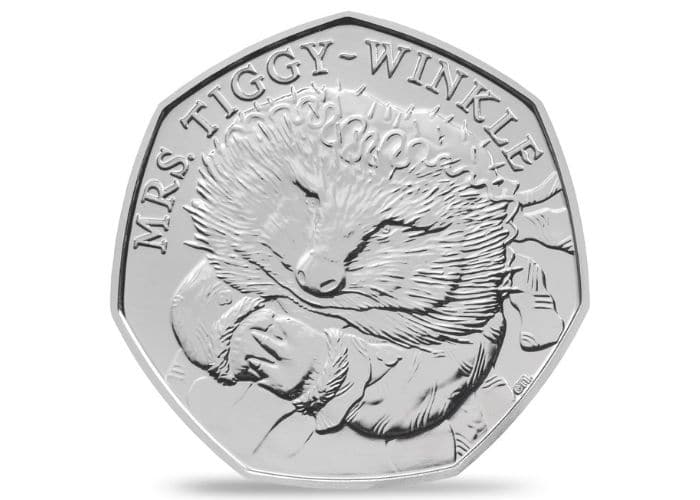 From the original anniversary 50p coin collection, there were close to 8,800,000 coins minted.
They are now worth around £1.50.
Beatrix Potter Portrait 50p – 2016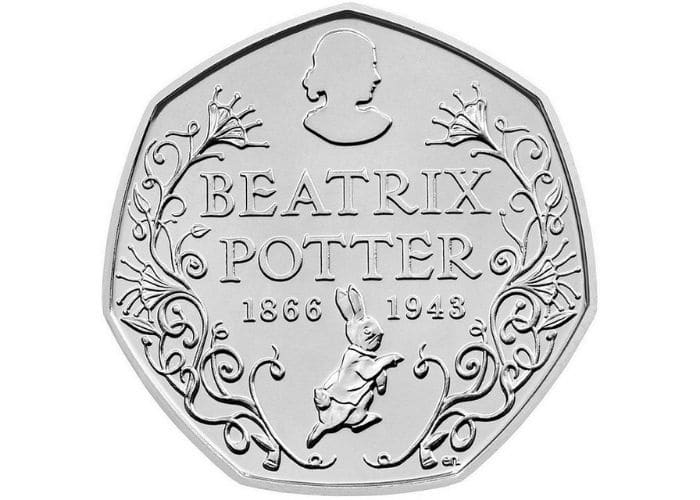 The first coin as part of the 2016 set, the portrait coin shows a bust of Beatrix Potter, Peter Rabbit, perhaps branches of plants from Mr McGregor's vegetable garden. There were 6,900,000 minted.
The Beatrix Potter 50p coin is now worth around £2.
Squirrel Nutkin 50p – 2016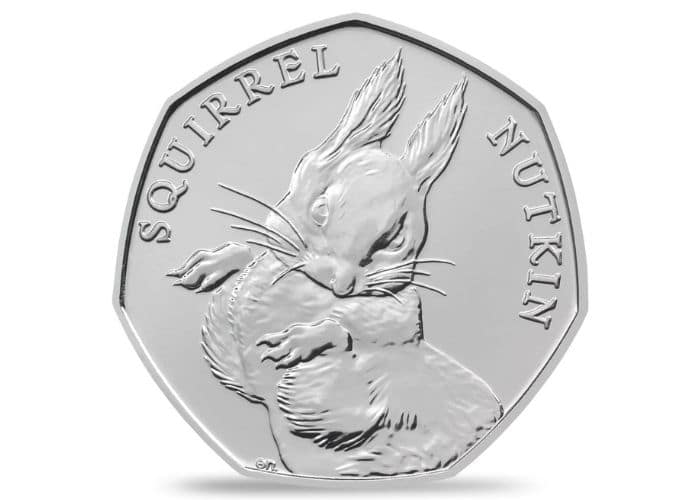 The Squirrel Nutkin coin from 2016 will get you around £2 if you sell today.
There were around 5,000,000 of the coins minted.
Tailor of Gloucester 50p – 2018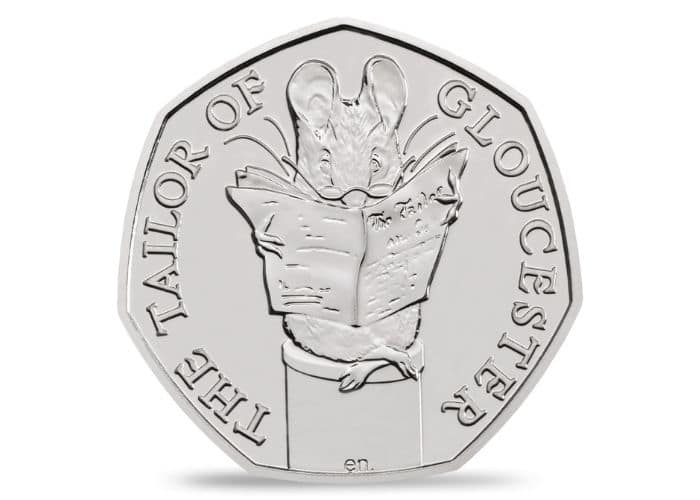 While the mintage figure is the 5th lowest of all the Beatrix Potter 50p coins at 3,900,000, this one doesn't price well.
Coins sell for £1.80 at a push.
It might be best to hang onto it in your collection for the time being as the mouse may build in popularity.
50p Jemima Puddle-Duck coin – 2016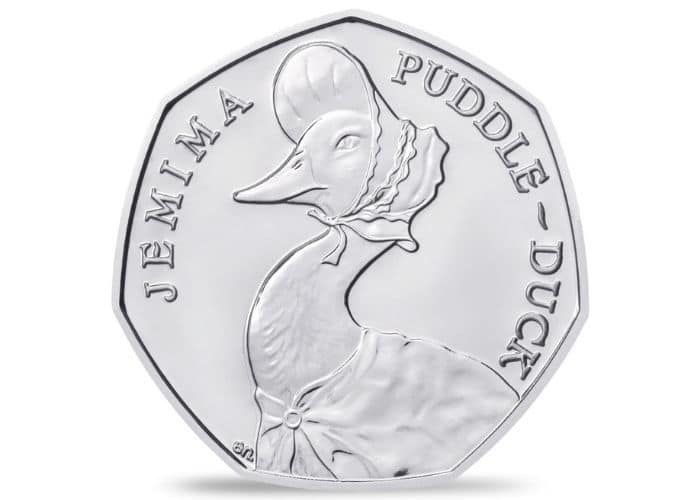 With a low mintage of 2,100,000, the Jemima Puddle Duck 50p coin is popular.
You'd likely get £10 for the 50p coin.
Mrs Tittlemouse 50p – 2018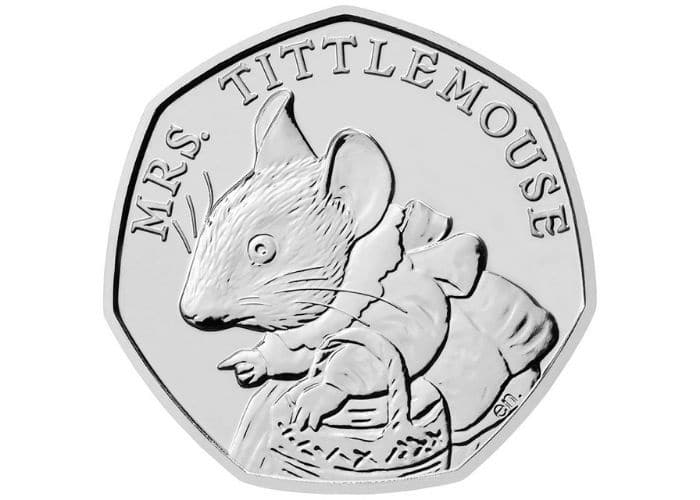 The third lowest mintage of 1,700,00, the Mrs Tuttlemouse 50p coin doesn't do that well.
The 50p coin values at around £4 on eBay, so it's likely worth holding onto it for a few years as it will probably go up in value.
Peter Rabbit 50p worth – 2018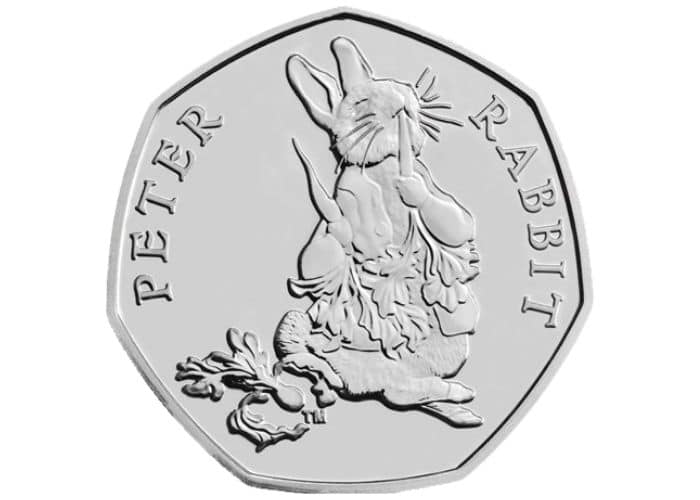 With a circulation of 1,400,000 this mischievous character on the 50p coin, you could get up to £8.50.
In the 2018 Peter Rabbit 50p coin design, he's eating radishes.
Flopsy Bunny 50p – 2018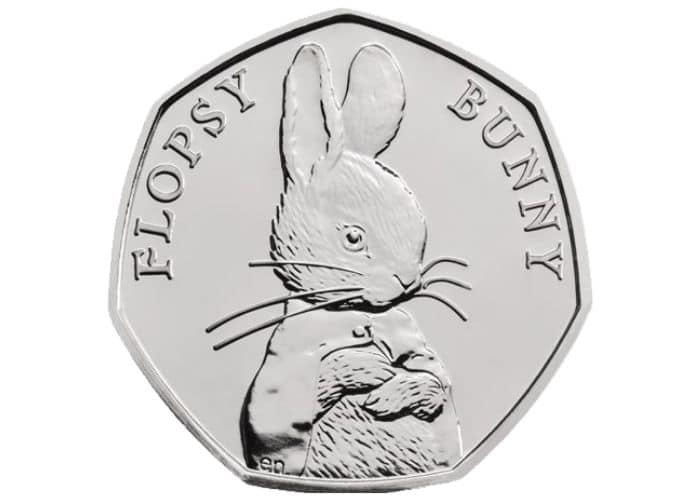 While this has the same mintage as the 2018 Peter Rabbit 50p coin at 1,400,000, we consider it the most rare coin of the set.
For all the years, this was the only time Flopsy Bunny was featured on a coin.
We estimate you could currently get around £9. The value will likely go up over time.
Mintage figures for the collection have been provided by the Royal Mint and selling prices from research on eBay.
Why are some coins sold for hundreds of thousands?
While the coins are worth more than their face value, you won't get thousands and thousands of pounds unless they are error coins (had an issue during minting).
When you see a coin reported in the press or have found completed listings on eBay where it sold for hundreds of pounds, it doesn't mean that price was paid. The seller could have pulled out.
And, where there are listings selling coins for a lot more, this is generally where someone is trying to make their sale look more attractive. (Perhaps using capital letters for VERY RARE to make it stand out).
At the end of the day, anything is always worth as much as someone wants to spend on it.
Royal Mint Peter Rabbit £5 coin and proof coins
As well as coins that enter everyday circulation (and you could get back from a cashier as change), there are brilliant uncirculated and proof coins you can buy.
These special Tale of Peter Rabbit coins have a new design that features all the family in special packaging.
Brilliant Unciruclated Peter RabbitUK £5 Brilliant Uncirculated Coin – this is a brand new and never used £5 coin (but you pay £15)
Silver proof Peter Rabbit design
UK one-ounce silver proof coin – 3,500 created only
Gold proof Peter Rabbit 50p coin
UK one-ounce gold proof coin – very valuable – 250 created only
As these are brand new coins, you can only buy them directly from the Royal Mint website or second hand through a private seller.
Rare coins (UK) – look out for the rarest coin and coins issued that are hiding in your change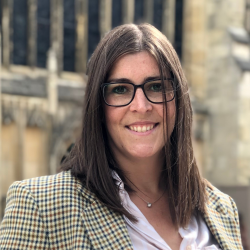 Latest posts by Naomi Willis
(see all)