How much is your pocket change really worth? Find out the rarest 50p coins you might have hiding in your spare change and how much you could get for selling them.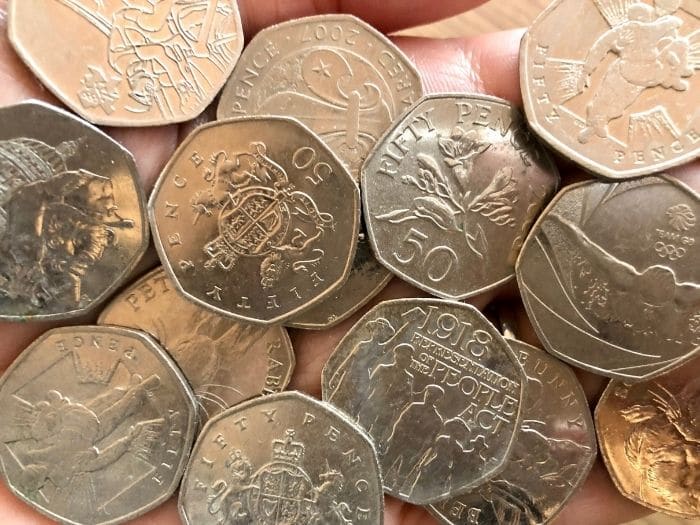 £10 BONUS OFFER: Earn easy cash by watching videos, playing games, and entering surveys.

Get a £10 sign up bonus when you join today.

Join Swagbucks here >>
A 50p is worth 50p – but to someone who likes to collect coins, their value can be a whole lot more.
The 50p coin is over half a century old, and the Royal Mint has revealed which rare 50p coins you need to look out for.
We've also researched how much money you'd get if you chose to sell it.
Why are some 50p coins more rare?
When coins are minted, a certain amount is put into circulation for the general public to use and spend.
There are loads of the British coins in a standard design.
But, some of the more special, commemorative designs are worth a lot more as they have low mintage figures (not as many were made).
What do you need to look for?
There are two sides to a coin, with the obverse showing a portrait of Her Majesty the Queen.
The coins you need to look for have different designs on the reverse side.
The current design on standard coins is part of the Royal Arms – so it's anything other than that.
Rarest 50p coins
In reverse order, here are the top 10 valuable coins you want to check in your purse, wallet or pocket as they are worth a whole lot more than other coins.
We've taken a look at scarcity and mintage figures plus researched what the coins would likely sell for.
List of rare 50p coins worth money
In short, here is a list of the rarest coins that are more highly valuable. Scroll down for more information on their estimated value.
Kew Gardens (2009), 210,000
Olympic Football (2011), 1,125,500
Olympic Wrestling (2011), 1,129,500
Olympic Judo (2011), 1,161,500
Olympic Triathlon (2011), 1,163,500
Peter Rabbit (2018), 1,400,000
Flopsy Bunny (2018), 1,400,000
Olympic Tennis (2011), 1,454,000
Olympic Goalball (2011), 1,615,500
Olympic Shooting (2011), 1,656,500
10. 2011 Olympic Shooting 50p
Circulation: 1,656,500
Value: £2 – £4.50
The first coin in the list shows the London Olympics Shooting.
Most coins trade quite well, and you'll likely get around £4.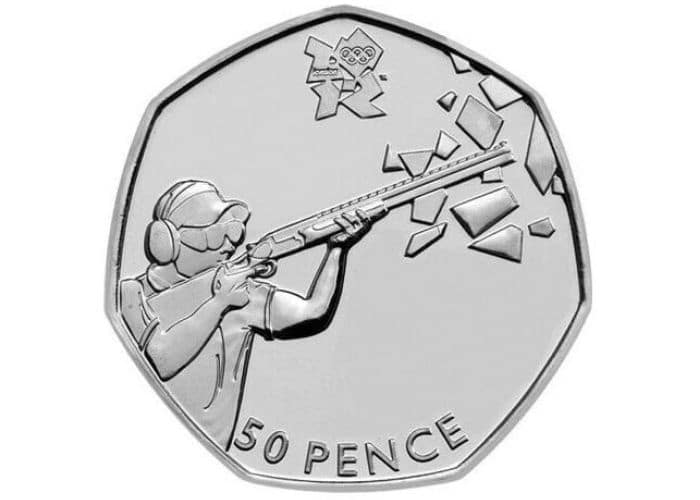 Take a look at other Olympic 50p coins to see their value.
9. 2011 Olympic Goalball 50p
Circulation: 1,615,500
Value: £2 – £5
You could get up to £5 for a Goalball 50p coin if you auction it on a sales site.
Considering its face value is 50p, that's still not a bad return.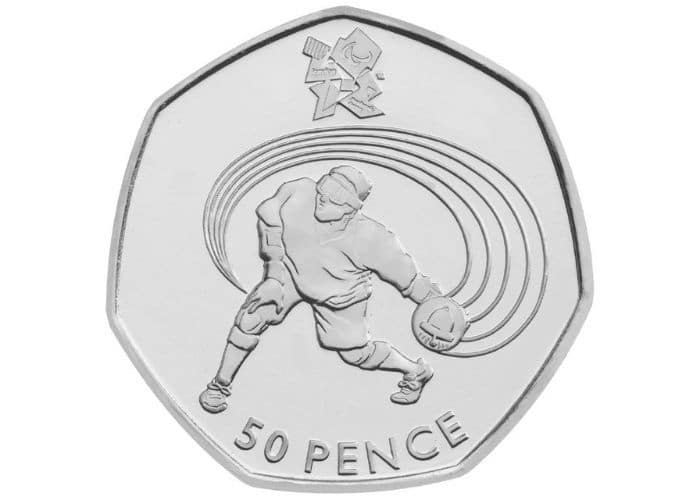 8. 2011 Olympic Tennis 50p
Circulation: 1,454,000
Value: £2 – £5
I quite like this coin showing a tennis ball flying over the top of a net.
It's not a huge seller, but you could still get up to £5 for a very new coin.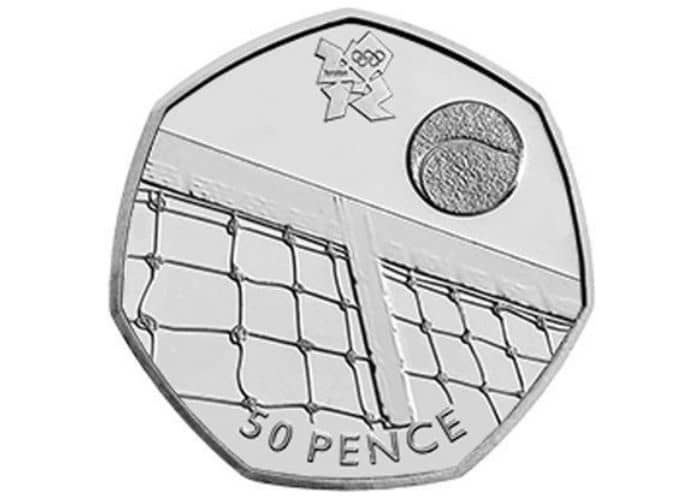 7. Beatrix Potter 50p 2018 Peter Rabbit
Circulation: 1,400,000
Value: £4 – £8.50
Beatrix Potter collection of coins are beautifully designed and were first minted in 2016. They proved so popular that the Royal Mint continued to make new designs each year.
This particular Peter Rabbit coin you're looking for was minted in 2018.
The 2018 50p coins in circulation can get you up to £8.50, but it can fetch more if you have a commemorative one.
The designs have changed over time, and the rabbit you're looking for is eating radishes.
I have a 2016 Beatrix Potter 50p Peter Rabbit with a circulation of 9.7 million, which is still worth £2.50. There is also a 2017 Peter Rabbit, but that has a mitage of 19.9 million so it also not very rare.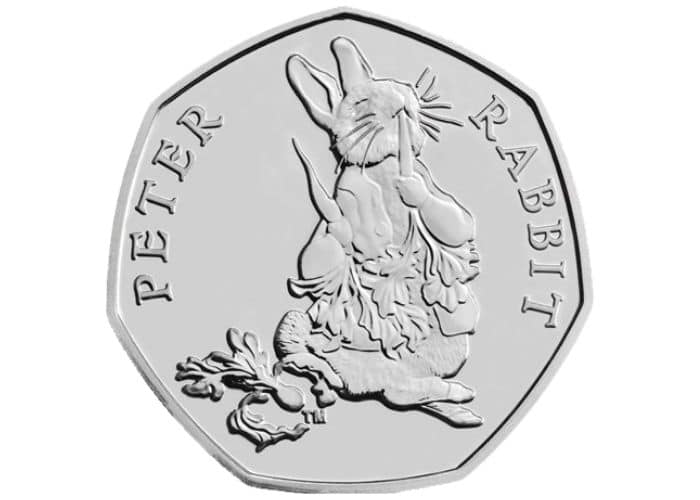 Check out how much you'd get from these other Beatrix Potter 50p coins
6. Beatrix Potter 50p 2018 Flopsy Bunny
Circulation: 1,400,000
Value: £4 – £9
Beatrix Potter 50p coins are very popular, which is why this is the next on the list.
This is the first and only time Flopsy Bunny is minted on a coin, and they are the rarest 50p coins in the Beatrix Potter set.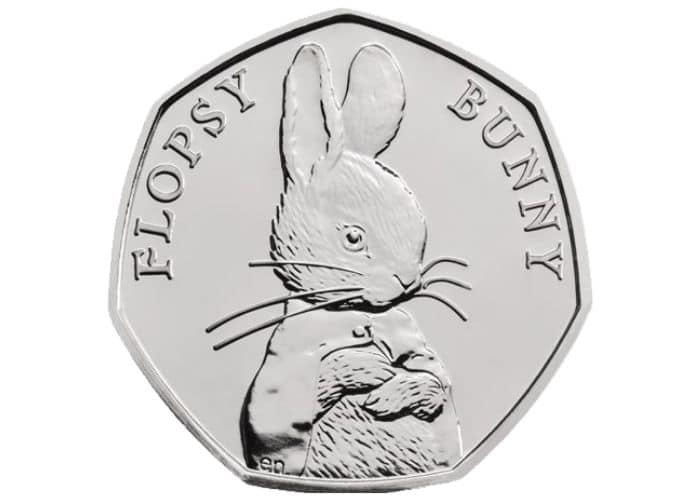 5. 2011 Olympic Triathlon
Circulation: 1,163,500
Value: £10 – £15
The 2011 Olympic Triathlon coin shows three different people; one swimming, one cycling and the other running.
In really excellent condition, you can get £15+ for selling the coin.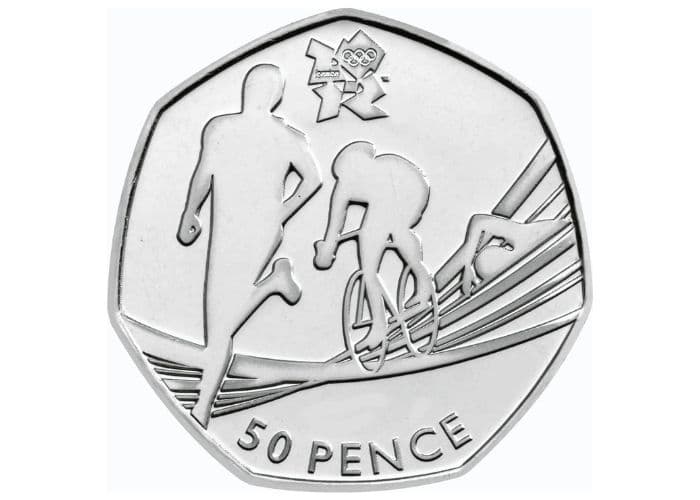 4. 2011 Olympic Judo
Circulation: 1,161,500
Value: £7 – £18
The Judo coins are pretty popular versus the other London Olympics, and it shows two people in the middle of a throw.
You could likely get £15 for these valuable 50p coins.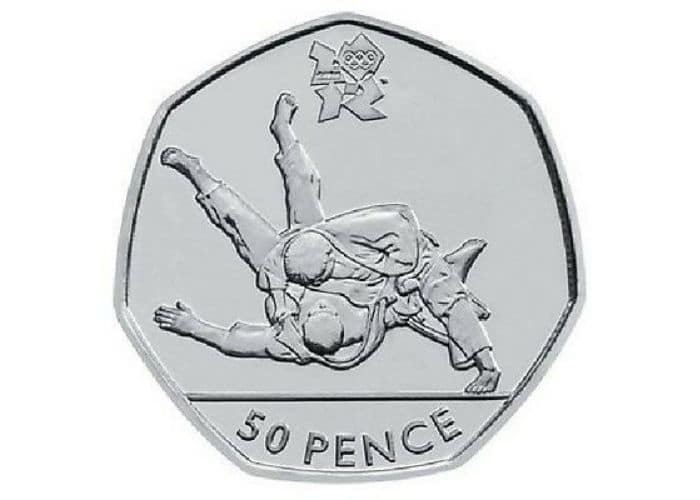 3. 2011 Olympic Wrestling
Circulation: 1,129,500
Estimated market price: £7- £13
Part of the 2011 Olympics 50p coins, this is the rarest coin in the set.
Although it's one of the rarest, other Olympic coins go for a bit more.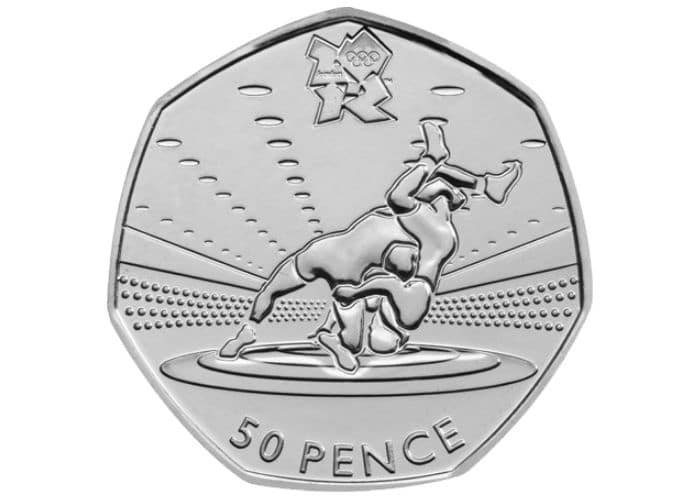 2. 2011 Olympic Football 50p
Circulation: 1,125,500
Value: £13 – £25
The football 50p coin is one of the most popular in the Olympics Games set.
The coin explains the offside rule very clearly.
Perhaps the more tongue in cheek approach to the design is why it gets more than face value?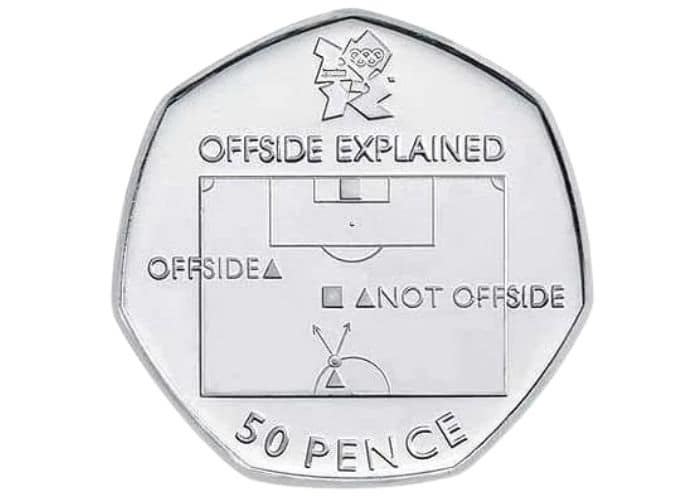 1. Rarest 50p coin – 2009 Kew Gardens 50p
Circulation: 210,000
Estimated value: £150
Kew Gardens is the rarest 50p and most coveted coin in circulation.
It is the rarest collected coin as the Royal Mint didn't create as many of them, making them a lot harder to come by and make the coin valuable.
They first appeared in 2009 to commemorate the 250th anniversary of the Royal Botanic Gardens in London. The Kew Gardens 50p coin was the only coin minted in 2009.
Looking at eBay, sales for the coin have been as low as £9.50 (which was very low!), with other listings selling over £200.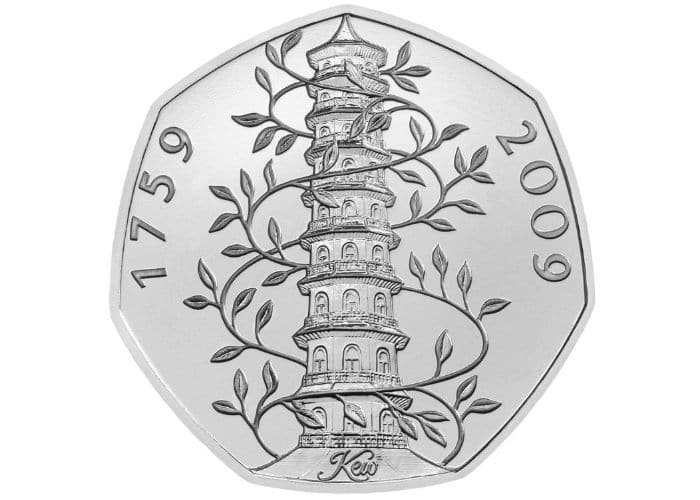 Do I have any chance of finding one?
In 2020, the Royal Mint released 338 million coins into circulation, including two new 50p pieces.
For just 50 pence pieces, there were 10 million coins circulated, which means anyone has a chance to get them.
The Diversity 50p and Withdrawal from the European Union 50p are not the rarest 50p coins in circulation you'll find.
However, the other coins with lower mintage figures will be harder to get hold of.
How much can I really get for my coin?
Coin values can depend on who is willing to part with their money.
As more people want to collect them, the money gets removed from circulation, making them scarcer.
Also, if someone were to buy a coin from eBay, just thinking it was worth more because someone asked for a high Buy It Now Price, it could shift the general price of that particular coin.
If you are planning to list your coin on an auction site, be sure to set a reserve so your coins don't go for less than what it's worth. You will also pay a small commission when it's sold.
Other rare coins
While we've just been talking about 50p coins in circulation here, there are loads more other rare coins that you could have in your spare change or down the back of the sofa.
It's always worth keeping an eye out to look for the rarest coin about.
In terms of other valuable 50ps, check for:
2018 Mrs Tittemouse with 1.4 million minted
2017 Royal Shield with 1.8 million
2017 Sir Issaac Newton with just over 1.8 million and
2016 Jemima Puddle-Duck coin with 2.1 million minted
Here are a few coins that are still worth more than 50p, but not as much as some of the ones above.
If you've been collecting them, it's still nice to have them in your collection:
Olympic coins
When released, the 2012 Olympic coins shifted the rare coin list, pushing several other 50 pence coins off their chart places.
As a set of 29, most of them had less than 2 million 50p coins in circulation.
Around 75% of the coins have been taken out of general circulation by collectors, so they are much harder to get hold of now.
I've only been able to find a 2011 Cycling 50p coin to add to my collection (2,090,500 mintage, if anyone wants to buy it?)
The Royal Mint
The Royal Mint has been minting UK coins for over 1,100 years.
As well as making coins for the UK, the Royal Mint is a huge exporter and produced around 3 billion coins for 30 countries in 2019/2020!
You can also shop for coins on the Royal Mint website. Rather than their street price, you will spend a lot more as they are brilliant uncirculated coins.
Have stamps instead of coins? Check out these rare stamps.
---
FAQs
How long has the 50p been in circulation?
The 50p entered circulation in the UK on 14th October 1969.
Are there two versions of the 50p?
There is a larger version from when it was first introduced but it was demonetised in 1998. The smaller version we currently use launched in September 1997.
Do you keep the coins or sell them?
If you find a rare 50p coin, you can keep it safe and maybe start collecting them as a hobby. However, other collectors may want to buy them from you.
Where can you sell rare 50ps?
A lot of people list their finds on eBay.
Can you really sell a 50p for thousands of pounds?
You may see news stories telling you of 50 pence coins that sold for thousands of pounds. Some of these stories can be clickbaity and don't truly represent how much the coins go for.
And, although the coin "sold" for a high price, it doesn't always mean the sale completes.
Can you get uncirculated 50p coins?
For collectors, you can buy uncirculated coins, including 50ps. There is limited stock available on the Royal Mint site.
What is a 50p made from?
A 50 pence piece is made of cupro-nickel – it's 75% copper and 25% nickel.
What design was on the first 50p?
When the coin was first introduced, it had a portrait of Her Majesty the Queen on one side and a symbol of Britannia on the reverse.
Why are there different designs on a 50 pence coin?
The Royal Mint has used to 50p to commemorate important events in the UK since 1969, such as the 50th anniversary of the D-Day landings, the 50th anniversary of the NHS, and the 2020 Tokyo Olympic Games.
What is the rarest 50p worth?
The Kew Gardens 50p continues to be the rarest 50p coin year after year and one seller got as much as £700 on auction sites, although most sellers get around £100.
What is a numismatic?
A numismatic is someone who collects coins or is a coin dealer. Coin collectors don't just collect coins; they also like paper money or even tokens and medals.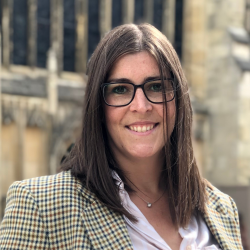 Latest posts by Naomi Willis
(see all)