Boom25 closed down around April/May 2021 and you can no longer sign up.
However, there are plenty of other cashback sites to earn decent money back on your shopping.
---
We've all heard of cashback, but Boom25.com are taking things to the next level! They give you the chance to get a FULL refund on your next online shop!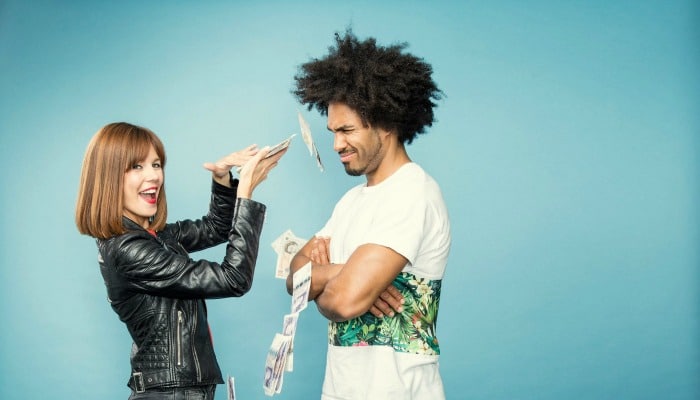 £10 BONUS OFFER: Earn easy cash by watching videos, playing games, and entering surveys.

Get a £10 sign up bonus when you join today.

Join Swagbucks here >>
There isn't much that can't be bought online anymore! People shop for their fast food, a new pair of shoes, furniture, the family holiday and more!
Spending money online is happening at every minute of the day with people looking for their next bargain.
And those bargain hunters are keen for a way to save a few quid on each and every purchase.
Whether that be cutting costs on delivery or a couple of per cent cashback.
While the savings may be low, a small saving is ok – but not anymore!
Get refunded for your shop
Maybe you bought a toy in a half-price sale at Toys R Us and it cost you, say, £10.
If you get a generous 4% cashback (from another cashback company) then you'd get 40p back on the toy. Just 40p! While a discount is a discount I suppose, but what if you could get the whole £10 back?!
With Boom25 you can!
No matter how small or how big, you will get your money back.
100% refund!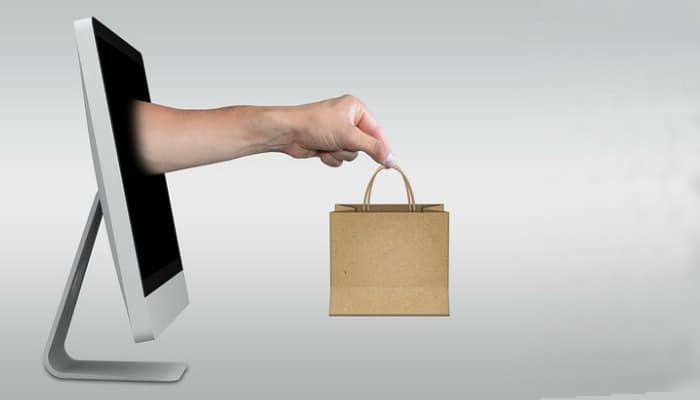 Boom25 gives you the chance to get all your money back on a purchase you make via their site.
Instead of offering a tiny percentage of your spend back, they give every 25th shopper 100% back – no matter how much you spent!
So, for that £10 toy, you'd get £10 back. Not too shabby, hey?!
Join Boom25 today and get a free 50p bonus.
But let's scale it up.
If you spent £4,000 on a family summer holiday to Greece (and you managed to be the lucky 25th shopper) you'd get the whole £4,000 back!
Now, if you're very lucky, and you get the timings perfectly right, you could try to win every single time you shop!
There is no limit on the number of times you get your money back, so you could be the 25th shopper over and over again.
How Boom25 works
Sign up for a free Boom25 account and get a £1 welcome bonus added straight to your account – winning!
Then, when it comes to needing to buy something, have a browse through the 630+ retailers on their site, click through and shop like normal.
It doesn't cost you any more to shop and there are no hidden charges – simply the chance to win back the money you spend if you are the 25th shopper.
The whole thing works on an affiliate basis. This means that Boom25 are paid a fee for referring you to the retailer (if you make a purchase). They save the commissions in a pot and share them with each and every 25th shopper, meaning that you get a chance to make your money back.
To get your refund, you simply need a PayPal account (which is also free). Your winning money will be paid back into your PayPal account for you to withdraw straight to your bank.
Boom25 Black Friday bonus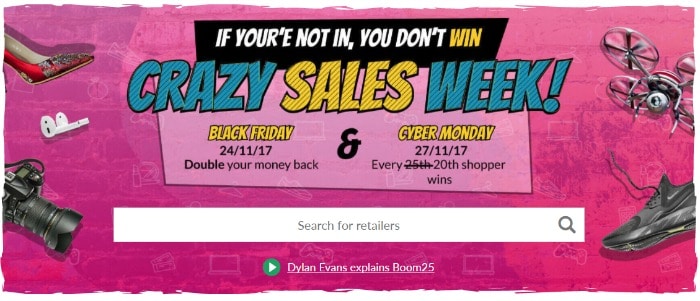 As an added bonus this Black Friday, Boom25 are offering even more!
Instead of the usual 100% of your money back, each 25th shopper will make DOUBLE your money back.
So, if you spend £200 on a new TV in the Black Friday sale, and manage to get the 25th sale, you'll get given a whopping £400!
Nice!!
For Cyber Monday, Boom25 are changing things up. Instead of every 25th shopper getting their money back, there will be more chances to win!
On the 27th November, Boom25 will be paying out 100% refunds to every 20th shopper.
This'll give everyone loads more chances to get even more money over the crazy Black Friday sales weekend!
Not sure what we're on about? Read our full guide on what is cashback.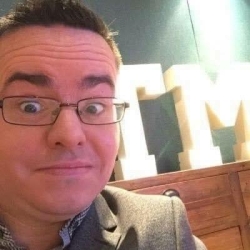 Latest posts by Ricky Willis
(see all)