Cashback sites enable you to earn money while shopping online. Here are the best cashback websites in the UK, as well as ways to earn free money.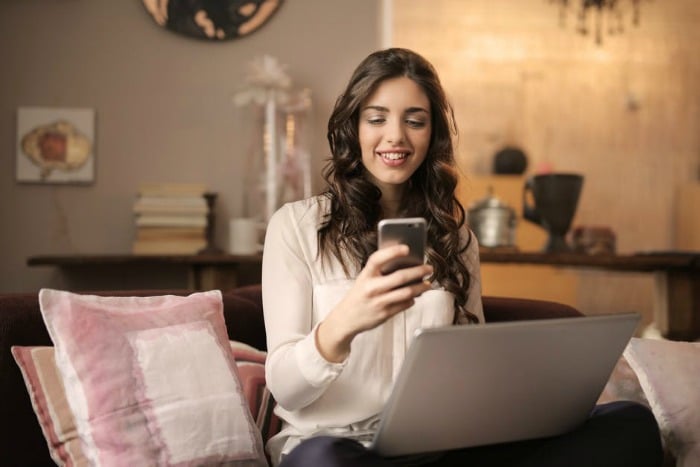 £10 BONUS OFFER: Earn easy cash by watching videos, playing games, and entering surveys.

Get a £10 sign up bonus when you join today.

Join Swagbucks here >>
Very simply – cashback sites will pay you money when you click through them and make a purchase at a retailer or service provider.
This could be for everyday items, like your food shop, or buying clothes. Or, it could even be for one-off purchases like a holiday, car insurance or an ISA.
If you can get something for cheaper so easily, then there is no reason not to use a cashback site.
Some purchases will make you a few pennies back, but others can earn you hundreds in one shop. Overall, you can easily make £100s a year by shopping via a cashback site, instead of going to a retailer directly.
It's a very easy way to make free money from something you do anyway.
How do cashback sites work?
This is how you would shop (and earn cashback) with a cashback site.
Search on the cashback site for the company you want to shop with
Click through the link and shop as normal
Cashback will be tracked in your account with the cashback provider.
The money will first be tracked, and it can take from a few hours to a few weeks for the cashback to be confirmed. At this point, you're able to transfer the money to your bank account, cash out via PayPal, or get a top-up bonus when you choose a voucher with a retailer.
While that's a brief summary of how it all works, take a look at our guide what is cashback for more detail.
Best cashback sites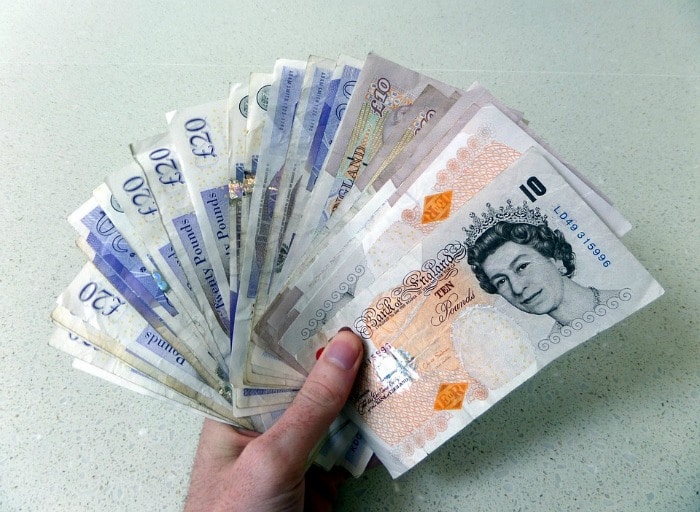 There are loads of cashback sites.
I find it best to register with a few different ones as some retailers appear on one but not on another.
This way, you can make sure you don't lose out.
Here are the best cashback websites in the UK.
Quidco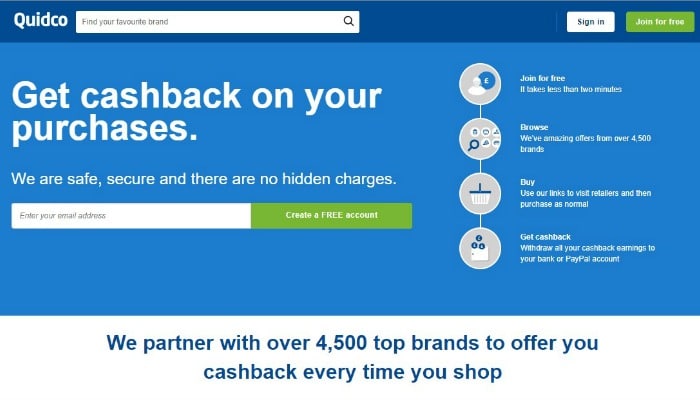 Quidco is one of the best sites to make money using cashback deals, and they say most members make £280 a year.
For new members, we've blagged an exclusive offer to get £16 cashback for new Quidco members.
Sign up to the Skint List newsletter to receive our weekly money saving newsletter, and we'll also give you access to the £16 free cashback deal.
Alternatively, you can go for a £10 new member cashback offer instead if you don't want to join the Skint List (but it's a super-awesome newsletter :) so you'll be missing out).
It's free to join, and you've got access to over 4,500 retailers.
Is it free?
If you want to make more money, you could choose the Premium membership for £5 a year, which gets you cashback promotions worth around £50 a year. You don't pay upfront. Quidco just retains the first £5 of your annual cashback earnings each year. Really, it's all about getting access to higher cashback bonuses, and, in 2017, members earned 40% more cashback than Basic members.
Cashing out
When it comes to getting your money out, you can have it sent straight into your bank account via BACS, pick PayPal or pick gift cards from shops like Amazon, Argos, M&S and more.
There are loads more Quidco new member offers here.
Click Snap
As well as getting cashback online, you're also able to get cashback with shops on the high street, and you can even get money back on your food shop with their Click Snap app.
TopCashback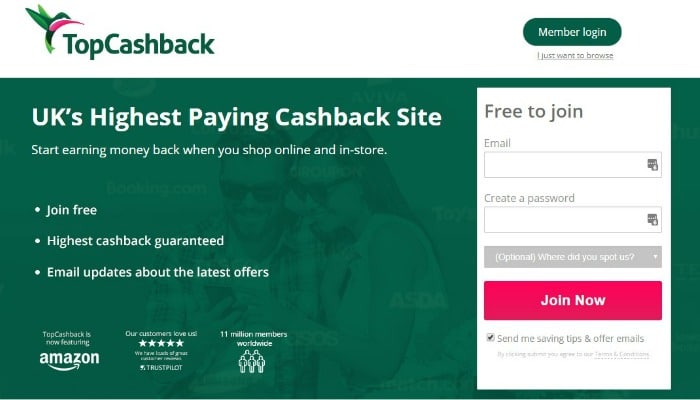 TopCashback is the highest paying cashback site (although remember that Quidco price matches with the cashback guarantee).
There is plenty of Topcashback new member offers like free products as well as getting £15 cash back on spending.
TopCashback is also the largest cashback site with over 5,300 merchants, allowing you to get cashback from things like car insurance to grocery shopping and even mobile phone contracts.
When you sign up, you will be automatically put on their Plus membership which costs £5 a year. All new members get Plus free for a one month trial (so remember to downgrade your membership to Classic if you don't want to keep it).
Having a Plus membership means you'll earn more. You don't pay for the membership upfront as Topcashback retain the first £5 cashback you make. With Plus membership, you will get bonuses of up to 10% on top of your payouts.
Snap & Save
It's not just for online shopping.
You're able to register your bank card and also earn money when you shop on the high street.
You can even get free or cheaper food when you scan receipts for money and upload them to the site or the Snap & Save app.
Cashing out
The minimum payout level is just 1p, and you can choose BACS payment, PayPal or pick from gift cards from major retailers (which can see you earn even more).
Swagbucks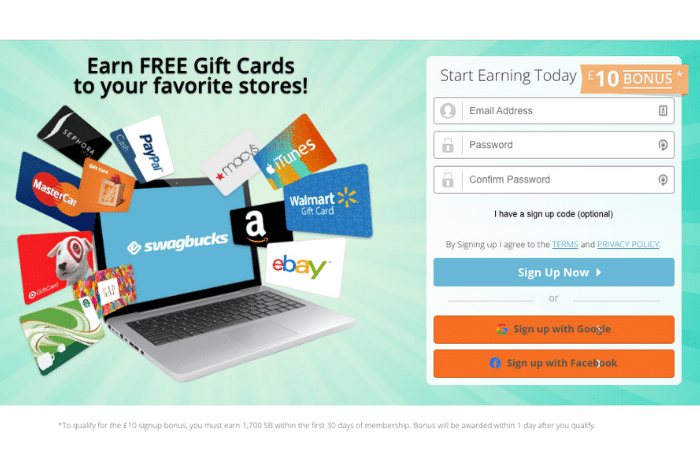 Swagbucks UK is free to join, and you can immediately qualify for a £10 welcome bonus by signing up here.
As well as earning cashback when you shop online, you're able to make extra points by watching videos, listening to the radio, playing games and taking surveys.
If you download the free SwagButton, you will get notified when you're on a shop that can earn you cashback with Swagbucks
Swagbucks allows you to make points that you can transfer over to cash out via your PayPal account or get gift cards from major retailers.
Airtime Rewards
Airtime Rewards pays you cashback on your high street and online shops every time you shop with one of their recognised retailers.
You need to link and debit or credit cards you want, and you get a percentage back from a wide range of retailers.
Instead of paying out as cash, the app pays credit off your phone bill.
You don't have to use the credit towards your own bill but can share it with other people you know (so you can try to have your whole household with a zero mobile phone bill!).
Use the Airtime Rewards promo code J3TNHCG9 to get a free £1.50 in airtime credit.
Rakuten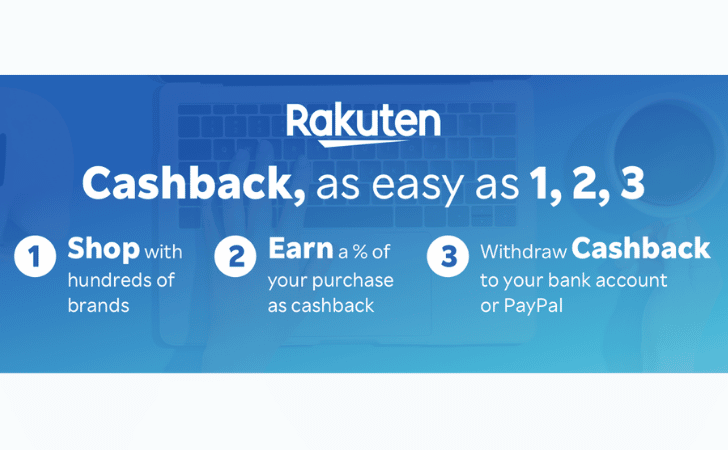 Rakuten is a simple-to-use site that can earn you up to 30% cashback with your favourite retailers and service providers.
If you have a problem forgetting to check if you can get cashback before you shop (then miss out!), you won't have that issue with Rakuten.
Download their toolbar extension, and you'll get notified when you're on a site where you can get cashback. You can then just click to activate cashback – simples!
KidStart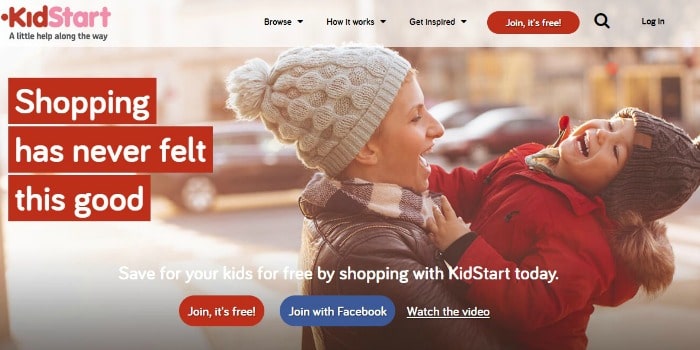 If you've got kids, grandkids or even one on the way, KidStart may be a cashback option you want to consider.
KidStart is smaller than some of the other cashback sites, but it works differently.
Instead of giving you the money back, any cashback you earn has to be put towards a child's savings.
KidStart says you could earn around £250 a year in a child's savings account.
That is the one catch – it does need to be a child's savings account. It could be with any bank or building society, a child trust fund or a JISA.
If you don't have kids or have kids in the family you want to transfer the money to, you can choose to donate your cashback to a school or a choice of children's charities.
20Cogs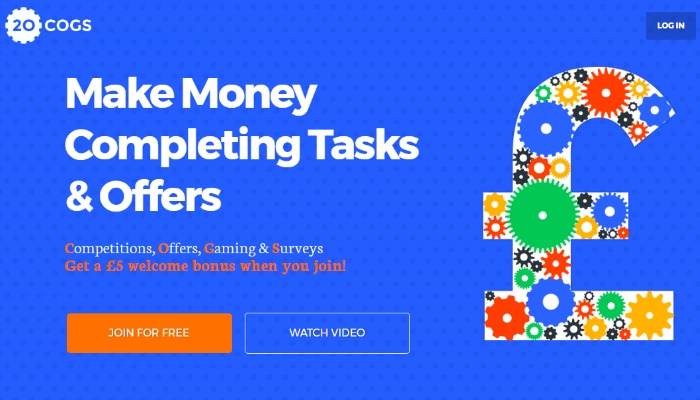 20Cogs is not just about cashback but pays you for other tasks too.
It's free to join, and you're able to earn money taking tasks, surveys, completing competitions, offers and games.
An average member earns just over £200! But some members have been able to make £700!!
So, while you can get cashback buying products, a lot of the earnings will come from tasks.
When you join, you get a whopping £10 welcome bonus, and they payout via PayPal or bank transfer.
QuickRewards
QuickRewards is another site that is not just about cashback.
It's a 'get paid to' cashback site where you can earn money through shopping, surveys, playing games and watching videos.
It's only open to people living in the UK, USA or Canada.
You're able to earn up to 25% cashback at over 1,000 brand name stores. You can also make extra by reading emails and visiting other websites.
Complete Savings
You can earn a minimum of 10% cashback with Complete Savings, which is far higher than a lot of the other providers.
However, it has a high cost to join, whereas the others are free to use sites.
It is free to join for the first 30 days, then you need to pay £15 a month to access their offers.
I suppose you need to weigh up if the membership fee is worth the additional cashback percentage to you.
Is Complete Savings legit?
I've heard from a lot of people that Complete Savings appears on their bank account, and they've no idea they signed up in the first place.
It will either show as 'WLY*COMPLETESAVE.CO.UK' or 'completesave.co.uk' on your bank statement.
While the site is legit, not knowing you've signed up is a bit of a concern.
People usually would have signed up after making a purchase on another site, and being offered cashback. Although, you might not know what you are signing up to.
Luckily, it does appear you can request a refund if you didn't know you signed up.
Contact them by emailing customerservice@completesavings.co.uk or calling their Customer Service team on 0800 389 6960 (Monday to Friday 8:00am – 8:00pm and Saturday 9:00am – 4:00pm).
How can cashback sites give away money?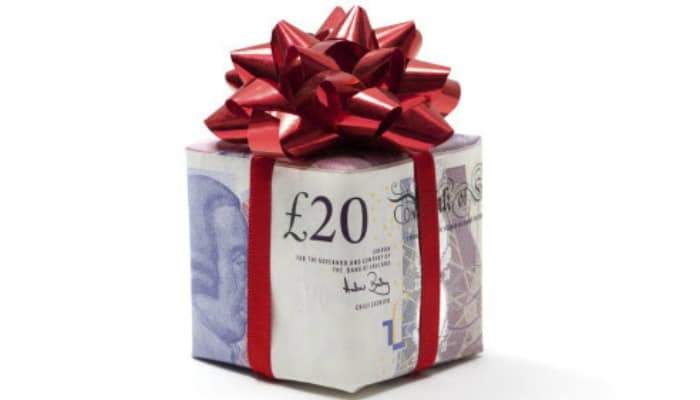 Cashback sites make their money using affiliate marketing and then share their profits with shoppers.
In simple terms, the cashback website earns a commission every time you make a purchase through their links. It's this that you earn in your account.
Are there any catches?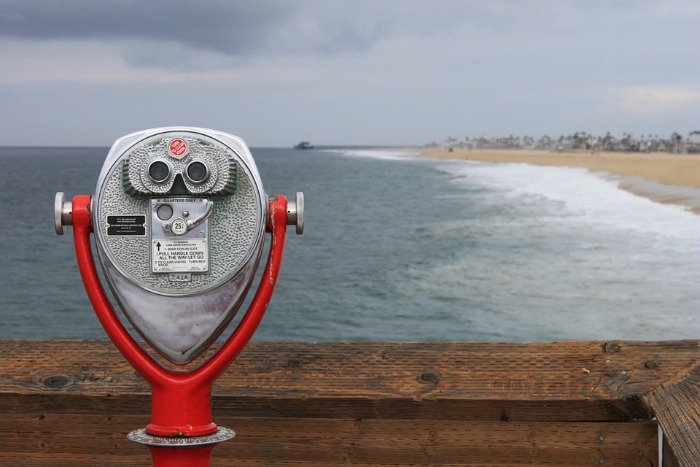 There are just a couple of things to consider when using cashback websites.
Firstly, it's always best to make sure you shop around first.
Just because you're getting some money back, it doesn't mean it's the best overall bargain.
For instance, most cashback offers don't work if you use a voucher code (check the terms for each retailer). You could be losing out on savings if you've got a 10% off voucher code, but only getting 4.5% cashback.
Also, it's worth checking to see if you can get the item or service cheaper somewhere else. The same product could be on offer without cashback, so you could save more.
One last thing to be aware of is that your cashback is not protected like your cash in the bank. If one of the cashback sites were to go bust for whatever reason, you could lose the money.
It's, therefore, always worth cashing out as soon as you're able.
Tips to earn the most
To get the best overall benefit from cashback sites, here are a few tips:
Clear your cookies
Before you plan to make a purchase, clear the cookies on your browser so the cashback site can fully track where your purchase has come from.
Otherwise, it may get mixed up with another provider, and you may not track or earn cashback.
Cash out regularly
Cashback sites aren't a bank, and any money you hold in your account isn't regulated under FSCS guidelines.
Although it's nice to save it up to use for a special occasion, cash it out regularly to another account (just in case the provider goes bust).
Refer a friend
When you refer a friend to the site, you can earn additional credit – sometimes as much as £25!
Take part in giveaways
There are regular cashback giveaways like the Topcashback treats or the Quidco Squid Game (it was named well before the Netflix show!).
Use these giveaways to score free cashback or up to thousands of pounds!
Price match
Topcashback and Quidco both have price match guarantees against each other.
If you see one price, you can claim the difference with the other provider.
FAQs
Can you get cashback in store as well as online?
A few of the sites allow you to register a debit or credit card so they can reward you with cashback for high street shopping.
Does cashback ever get declined?
There are terms and conditions with each provider. Most of them don't allow you to use a voucher code at the same time as cashback, so it's worth checking out which will get you the most overall saving.
How long does cashback take to pay out?
Each retailer or service provider takes different times to track. For instance, a retailer needs to wait until after the returns period (as you won't get cashback if you send an item back), so it could be a few weeks. For something like new insurance, they may wait until a cooling-off period has passed or a new member offer has kicked in.

You can track the pending transaction and get an estimate of how long until you can cash out in your account.
Do you need to pay to join a cashback site?
Cashback sites are free to join and use. Some offer a paid membership which gets you enhanced benefits such as exclusive and higher cashback rates.
What's the best cashback site?
I've got my favourites and have active accounts with most of the providers to take advantage of their exclusive deals. However, I don't pay for the service (although I'd likely earn more and receive cashback quicker if I did).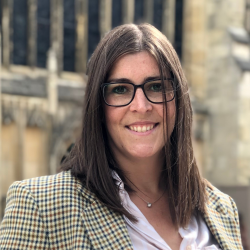 Latest posts by Naomi Willis
(see all)