£10 BONUS OFFER: Earn easy cash by watching videos, playing games, and entering surveys.

Get a £10 sign up bonus when you join today.

Join Swagbucks here >>
As Skint Dad was packing for his trip to Austin, he left me and the girls to cook up this week's cheat recipe.
Skint Dad isn't the biggest fan of cheese sauces so this was probably a good one for him to skip. I got the girls to do pretty much all of this actually (it is very easy) and they devoured most of it too!
I like to get the girls to help out as much as possible (although I get a bit scared when they use the knives!)
We've not bought Macaroni and Cheese pre-made from a supermarket before and have just always cooked it with the bits we have laying around in the cupboard and fridge. This is probably why I love this recipe as even when we think we've got nothing left, we can get a batch of mac and cheese in less than 30 minutes.
Having a quick look on mySupermarket, there are quite a lot to choose from (but not all of them look that appetising…). Prices for the basic range start from just 30p for a can, which feeds two people (not sure what they put in it (not sure I want to)). The price goes up to £3.50 for a ready meal for one!
I popped some ham and tomatoes into our mac and cheese to make it a little more exciting but you don't have to add anything extra if you don't want to. Or, you could add in other things that you have laying around like cut up sausages, leftover chicken, mushrooms, sweetcorn, peppers – the choice is yours.
Budget Recipe: Macaroni and Cheese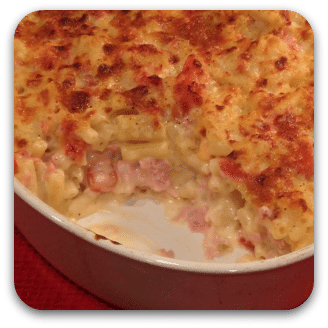 Ingredients
300g macaroni (30p)
25g margarine/butter /spread (4p)
25g plain flour
500ml milk
250g grated cheddar cheese, plus 50g for topping
100g chopped ham
4 tomatoes, chopped
Instructions
Cook the macaroni as per packet instructions. This usually takes about 12 minutes.
Start to melt the butter in a large pan, then mix in the flour until it turns into a paste.
Cook for about a minute then add the milk, a little bit at a time, and mix into the butter and milk paste until it starts to absorb the milk. Add a little more and continue to stir in the paste.
Continue this until all the milk is used then keep stirring until it starts to thicken.
It should take about 10 minutes in total.
Once it's thick, remove from the heat and stir in the cheese.
Stir in the tomatoes and ham, then mix the cooked macaroni in.
Add to an oven proof dish and sprinkle with the last of the cheese.
Pop under the grill for no more than 10 minutes, or until golden brown on top.
Each week another recipe from the top 20 list of cheaters food will be added to the site. Sign up here for the recipes to land straight in your inbox or send a tweet if you made your own meal from scratch to @skintdad.
Why not share your budget recipes to the budget recipe board on Pinterest too.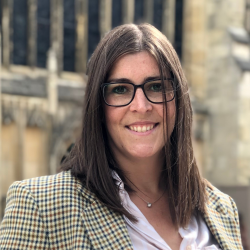 Latest posts by Naomi Willis
(see all)