Important Information: The information in this article is not a personal recommendation for any particular investment. If you are unsure about the suitability of an investment you should speak to an authorised financial adviser. Please also be aware that the value of investments can go down as well as up, and so you may get back less than you invest. Tax treatment depends on individual circumstances and all tax rules may change in the future.
£10 BONUS OFFER: Earn easy cash by watching videos, playing games, and entering surveys.

Get a £10 sign up bonus when you join today.

Join Swagbucks here >>
Sponsored by Fidelity
We started saving a few years ago but struggled.
The problem was simple – we didn't have a goal.
We knew we had to save and that it was important, but we didn't really know why we were doing it.
That's when we started to think about savings goals.
Even if you're starting to save for an emergency fund, you still need to have a goal in mind.
Otherwise, you'll be saving with no end amount in sight, and you won't even know what to use your savings for.
And, for us, we were putting some money into a savings account but didn't really know why.
So, we started breaking down what we wanted, and worked out there were three things we needed to save for:
Short term
Long term
Fun stuff
Remember: if you're saving to invest into an ISA, there is a cut-off date each year to take advantage of the yearly tax-free ISA allowance.
Even small savings here and there can help you to save enough to start you investing into a Stocks and Shares ISA, so use the allowance before 5 April and don't lose it.
First off, we put money aside for the short term.
We wanted money for an emergency to cover the costs of unexpected things.
This is (in my eyes) a bit of a boring thing to save for. We aren't able to touch the money or use it for any reason, other than boring stuff, like if the washing machine stops working or there's a car breakdown we haven't budgeted for.
We also started saving for a long-term goal.
Something that we've been talking about for a long time is wanting to buy a house.
Where we buy is another big question that has led to years of discussions, as well as visiting new places to see if we'd feel comfortable settling there.
Our long-term goal is to save for a house deposit, plus other costs like solicitor's fees, a moving van, new stuff we might need in a new home.
Saving for this goal will take a fair bit of time because it's a larger amount. However, as we don't need the money straight away, using an account like an ISA is worthwhile for us as we can take advantage of tax-free savings.
Then, best of all, we started saving for fun.
We decided to save towards something fun; to buy stuff that we didn't necessarily need, but wanted.
We could have picked to put all our savings into the long-term goal, but we felt we'd end up getting bored as we wouldn't see the benefits for years.
When we had enough saved, we could each start to spend the money on something we wanted.
The first thing on my list was learning to drive.
I didn't learn to drive when I was 17 as we didn't have a family car, and I was so used to walking or getting public transport.
Then, as I got older, and got into debt, I thought any spare money was better spent on clearing debt than paying for lessons.
But, as I've got older, I realised how useful it would be, so I decided that I would start saving up to pay for lessons and my test.
I could have paid for lessons here and there but thought if I didn't have lessons booked then they'd end up being phased out. Plus, if I paid for lessons up front, I could save money as they added a bulk-buy discount.
How to save for everything!
We had to work out how we could save for three different things at the same time!
Instead of saving for one thing, we'd need to split what we could afford three ways, which would take even longer to reach our goals.
We looked to see how we could cut back on spending so we could save quicker to reach our goals.
The best thing about our short-term savings goal is when we hit the target, we can stop (unless we need to spend, then refill it) and can use the money to save towards something else.
We still wanted to save quicker, especially as it meant we get to do something fun with our savings too.
So, we decided it was so worth sacrificing a few things to be able to pay for something we wanted.
Cutting back without missing out
What's great is that cutting back on a few small things makes a big difference.
And, not wanting to miss out, we looked to carry on doing things that we usually do, but tried to save money too.
Like cinema trips with the kids – instead of paying full price, we got a deal to get 241 tickets or used offers to get cheaper cinema tickets.
Instead of keeping the saving we made in our bank account, we'd move what we would have spent at the cinema into a savings account.
We did similar things with days out. Instead of spending money doing something on a Saturday afternoon, we'd go Geocaching for free and transferred what we could have spent again.
On top of this, we did other things like cut back on TV (most of the stuff we didn't watch anyway) and picked a few streaming subscriptions.
If we would have been spending the money anyway, it was already being accounted for in our budget.
Instead of the money being swallowed up by random spending, this became an easy way to save faster.
A study by Fidelity found you can save £50 a month if you ditch a daily shop-bought coffee.
Yes, £50 doesn't sound a lot, and nor does the saving we make at the cinema, but it all adds up.
Fidelity worked out that by investing that £50 a month, which you've saved on coffee, into a Stocks and Shares ISA, you could turn it into more than £7,000 after 10 years and more than £17,000 after 20 years*!
A small saving can make huge savings!
Whatever you're saving for, remember that you should take advantage of tax-free saving in your ISA.
There is a cut off each year (5 April), and if you don't use the ISA allowance, then you can lose the amount of tax-free savings you can make. Making a few small changes can easily help towards saving into a stocks and shares ISA.
It's worth looking through your budget, and your bank account, to see what you spend out on.
What small things could you give up that can go towards what you're saving for?
Come and join thousands of other savvy savers in the Skint Dad Facebook community to share your savings goals.
*Source: Fidelity International, February 2019 – based on a hypothetical illustration assuming a rate of growth of 5% a year, no initial charge, a platform service fee of 0.35% and an annual management charge at 0.75%.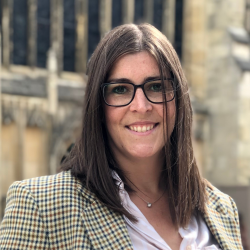 Latest posts by Naomi Willis
(see all)