Here's the very best of the latest Iceland offers and deals this week so you can save money on your food shop.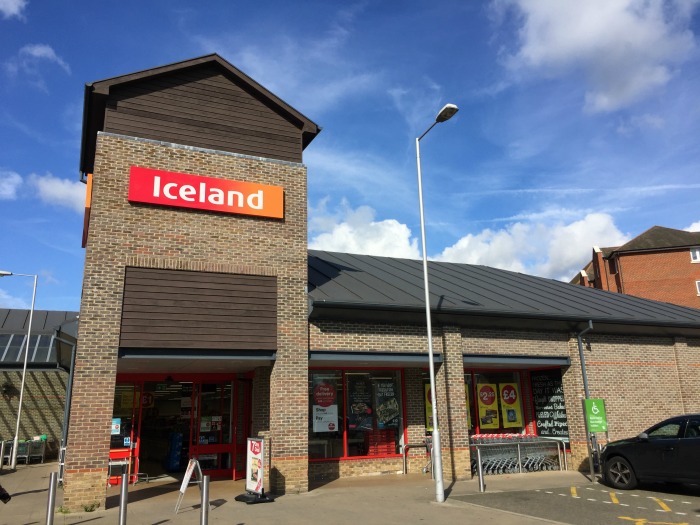 £10 BONUS OFFER: Earn easy cash by watching videos, playing games, and entering surveys.

Get a £10 sign up bonus when you join today.

Join Swagbucks here >>
Iceland Foods is the leading frozen food specialist supermarket in the UK.
However, they don't just sell frozen foods, and you can pick up everything you need for a week's food shop, including fresh meats, fish, dairy, fruit and veg, and store cupboard essentials.
Plus, they offer incredible value with great deals from week to week, including making half prices savings and huge multi-buy offers.
Here are some of the latest offers from Iceland
Iceland offers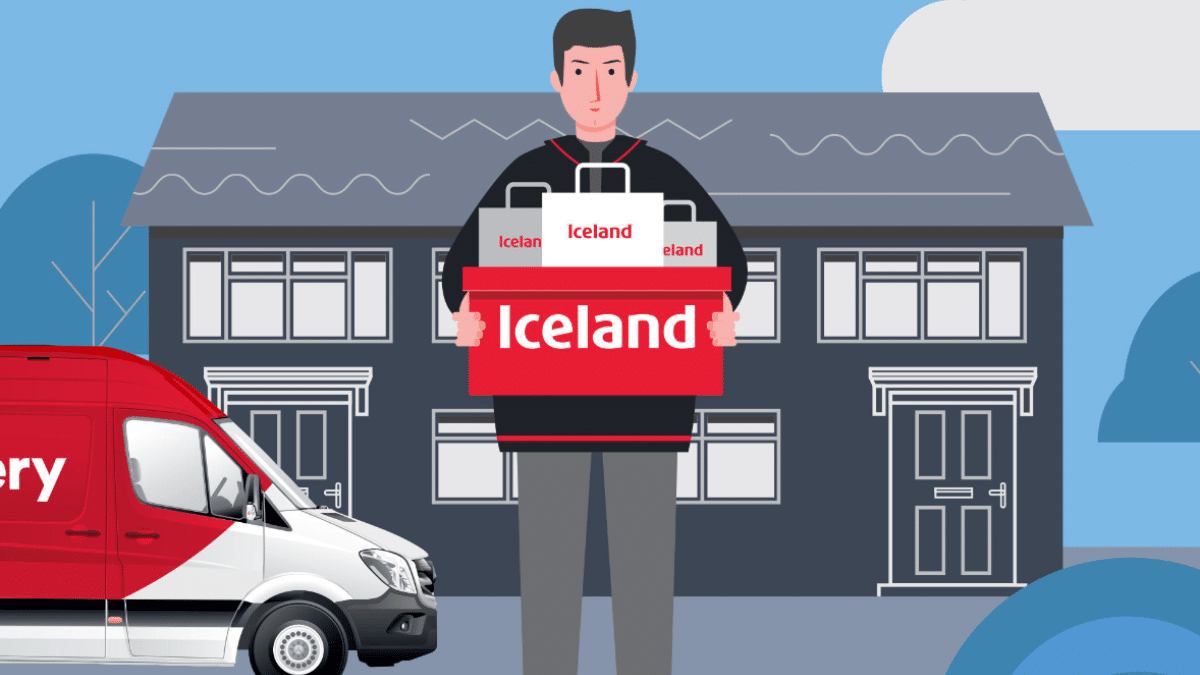 Let's take a look and see the latest offers running at Iceland (and The Food Warehouse, as they are part of the same company).
Iceland online exclusives – 4 for £10 Easter Eggs
Usually priced at £4 each, you can pick from a selection of large Easter Eggs for £2.50 each when you buy four.
This is an online exclusive, so you won't find the deal in stores.
You'll save £6 on this deal.
You can choose from favourites, including Kit Kat Chunky, Rolo, Bounty (cause someone loves them!), Galaxy Enchanted Eggs and more.
This is a limited time offer, and you can order a maximum of 8 per person.
Half price on Lewis Capaldi Pizzas
Lewis Capaldi fans are in for a treat!
His pizza are selling for now only £2 each. They are available instore and online.
Offer includes:
Lewis Capaldi's 507G The Meaty One Pizza (was £4.00, now £2.00)
Lewis Capaldi's 450G The Cheesy One Pizza (was £4.00, now £2.00)
Aunt Bessie's Roast Dinner for 4 – £3 a head
In a new exclusive offer, Iceland is offering a deal to get a joint, and three sides or desserts for £12, saving up to £3.95.
In the meal deal, you can pick from a topped chicken crown, turkey joint, gammon or pork joint. Then, you have a choice of veggie sides, Yorkshire puds and potatoes, and a selection of puddings.
3 for £10 takeaway style chicken
Ready for a takeaway night?
Iceland is offering three for £10 on a range of tender wings, legs and thighs coated in either a Peri Peri dressing or Lemon and Herb dressing.
You save £2 with this deal.
Offer includes:
Iceland Peri Peri Chicken Breasts (£4.00, 400g)
Iceland Lemon & Herb Chicken Breasts (£4.00, 2pk)
Iceland Lemon & Herb Chicken Thighs (£4.00, 400g)
Iceland Peri Peri Chicken Wings (£4.00, 600g)
Iceland Peri Peri Chicken Legs (£4.00, 600g)
Iceland Peri Peri Chicken Thighs (£4.00, 400g)
£5 meal deal
Iceland meal deal for four for £5 includes options for pizza, chicken, fish, vegan option, and sides.
Instead of having to take set picked meal deal, you can choose any 4 for £5, based on what you prefer.
You can save up to £8.60 on their current deal, so better than half price.
It's running in store and online.
Free same day delivery – save up to £6
New customers shopping at Iceland Foods online can get free same-day delivery.
Delivery arrives in as little as two hours!
Simply spend at least £40 or more to qualify for the discount.
Multibuy Madness!
Iceland
Iceland's Multibuy Madness offer is running online only.
You can get two for £5 on Greggs, four for £9 on cerealand two for £4 on ready meals.
Offer includes:
Greggs: Two for £5, save £1:

Greggs Corned Beef Bakes (£3.00, 2pk)
Greggs Steak Bakes 280g (£3.00, 2pk)
Greggs Bacon & Cheese Wraps (£3.00, 2pk)
Greggs Cheese & Onion Bakes (£3.00, 2pk)

Cereal: Four for £9, save up to £6:

Quaker Oat So Simple Golden Syrup Porridge Sachets (£3.75, 10pk)
Kellogg's Coco Pops (£3.29, 480g)
Kellogg's Corn Flakes (£3.29, 720g)
Nesquik (£3.25, 375g)

Ready meals: Two for £4, save up to £4:

Iceland Creamy Butter Chicken (£3.00, 375g)
Iceland Luxury Beef in Blackbean (£3.75, 400g)
Iceland Chicken Tikka Masala (£3.00, 375g)
Piccolino Salmon and Broccoli Pasta (£4.00, 400g)
Piccolino Cannelloni With Salmon and Broccoli (£4.00, 450g)
The Food Warehouse
At The Food Warehouse, their offers are in store and running until 3 April.
You can save £7 on their ten for £10 deal!
Heinz: Ten for £10, save up to £7:
Heinz Tomato Soup (£1.70, 400g)
Heinz Chicken Soup (£1.70, 400g)
Heinz Potato & Leek Soup (£1.70, 400g)
Heinz Beef Broth Soup (£1.70, 400g)
Heinz Vegetable Soup (£1.70, 400g)
Heinz Baked Beans (£1.40, 415g)
And More
Robinsons: Two for £5 on squash, save £1:
Robinsons Summer Fruits (£3.00, 3l)
Robinsons Apple & Blackcurrant (£3.00, 3l)
Robinsons Orange (£3.00, 3l)
Vimto: Two for £6, save £1:
Vimto Squash (£3.50, 3l)
Vimto No Added Sugar Real Fruit Squash (£3.50, 3l)
Spend £40 at The Food Warehouse and get a Fine Elements Heated Airer for £35
The winged heater usually sells for £49.99, and you can make a £15 saving on this deal.
When you spend over £40 at The Food Warehouse, you can pick up the Fine Elements Heated Airer for just £35.
This offer is running in stores until 3 April 2023.
Other offers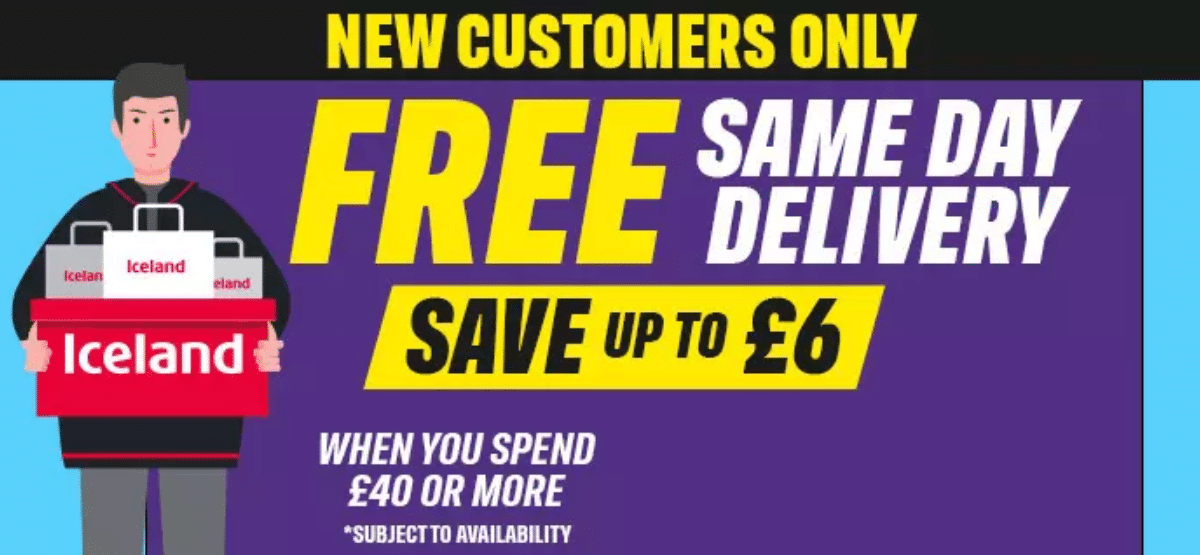 Other offers running in Iceland include:
Their famous 3 for £10 offer where you can save up to £5. It's a mix and match deal, so you can pick and choose what you want.
Offer includes:
Iceland Crispy Chicken Breast Dippers (£3.75, 50pk)
Iceland Southern Fried Chicken Breast Breasteaks (£3.75, 680g)
Iceland Lean Beef Steak Mince (£5.00, 475g)
Iceland 100% British Beef Double Cheese Burgers (£3.50, 4pk)
Iceland Battered Cod Skinless Boneless Fillets (£4.00, 440g)
Cathedral City Cheddar Cheese Croquettes (£3.75, 500g)
Cathedral City Mac 'n' Cheese (450g, £3.75)
TGI Fridays Loaded Bacon and Cheese Skins (£3.50, 270g)
And more
They are also running a 3 for £5 promotion, saving up to £2.50 on a range of mix and match fridge fillers.
Offer includes:
Iceland Cumberland Sausages (£2.40, 8pk)
Iceland Strawberry Trifles (£2.00, 375g)
Iceland Sticky Chicken Skewers (£2.50, 8pk)
Iceland Blueberries (£2.25, 125g)
Iceland Mozzarella Sticks (£2.50, 16pk)
Iceland Duck Spring Rolls (£2.50, 15pk)
Muller Light Chocolate Fix Layers Milk Chocolate & Caramel Dessert (£2.29, 4pk)
And more
Another favourite is a deal to get three bakery products for just £3, so you can get breakfast essentials as well as treats.
Offer includes:
Starbucks Cappucino Chilled Coffee (£2.00, 220ml)
Don Simon Mango & Passionfruit Juice Drink (£1.50, 1.5L)
Hoppers Farmhouse Bakeries Iced Fairy Cakes (£1.50, 12pk)
Warburtons Soft & Sliced White Rolls (£1.40, 6pk)
Warburtons Large Sliced Rolls (£1.70, 4pk)
Cadbury Raspberry Mini Rolls Cakes (£2.25, 5pk)
Iceland Syrup Sponge Pudding (£1.25, 100g)
Iceland Chocolate Sponge Pudding (£1.25, 100g)
And more
There are plenty more multi-buy offers, deals, and price reductions here.
This includes lower prices on store cupboard essentials, bakery, household products, fresh food, drinks and frozen foods.
Iceland Bonus Card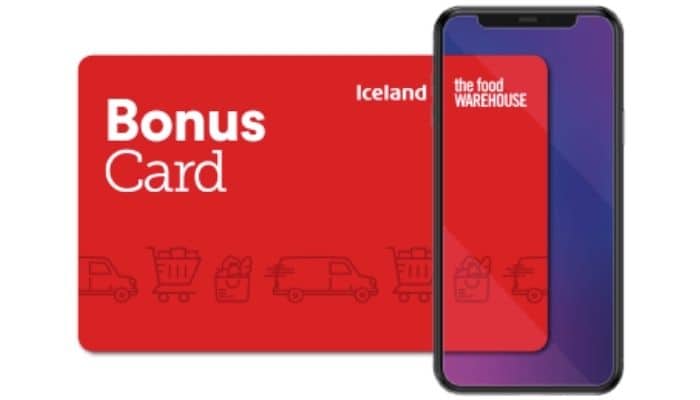 The Iceland Bonus Card is a must-have for anyone who shops at the frozen food specialist.
You unlock exclusive offers and bonuses with their loyalty card.
This includes getting £1 back for every £20 you save, free home delivery in store and online and special chances to win prizes.
You can either join for free in-store when you check out (and get a physical card) or register for a free digital Bonus Card online.
Bonus Card Prices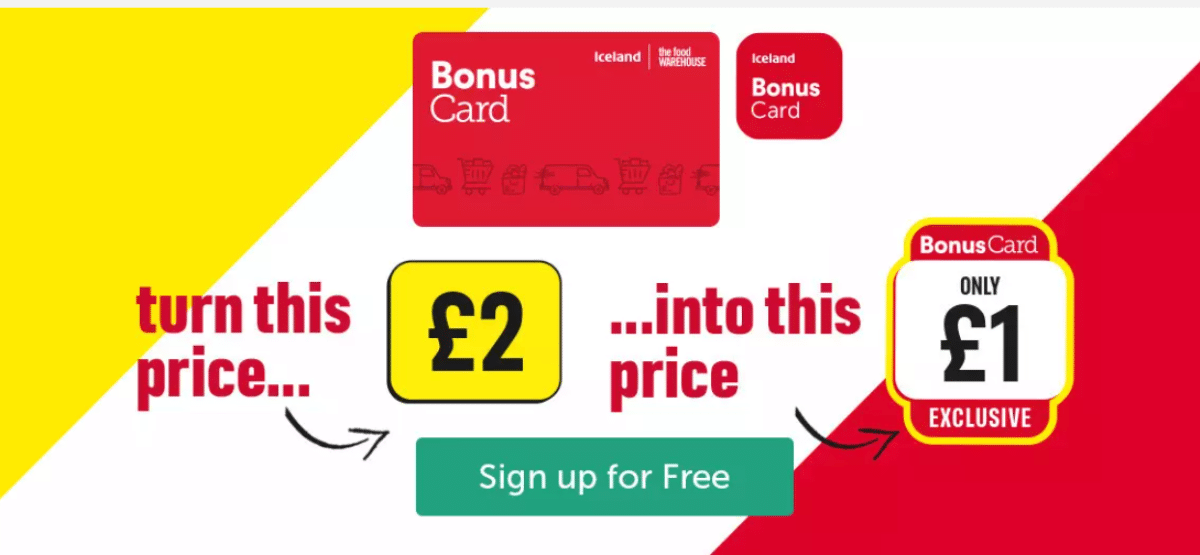 As a member of the Iceland Bonus Card, you unlock exclusive Bonus Card Prices.
Favourite foods are on offer to customers with a Bonus Card.
There are savings of £21 this week alone for Bonus Card members.
10% discount for over 60s
Iceland and The Food Warehouse have announced they are cutting food prices for people over 60 years of age to help with the soaring cost of living.
They introduced the offer in May 2022, giving people over 60 a 10% discount when they shop on a Tuesday.
There is no minimum spend, and stores nationwide are participating.
The offer is not valid online, and you may be asked for ID if you look too young.
The ID you could use includes a Senior Bus pass, a driver's licence, a Senior Railcard or a Freedom Pass.
Free delivery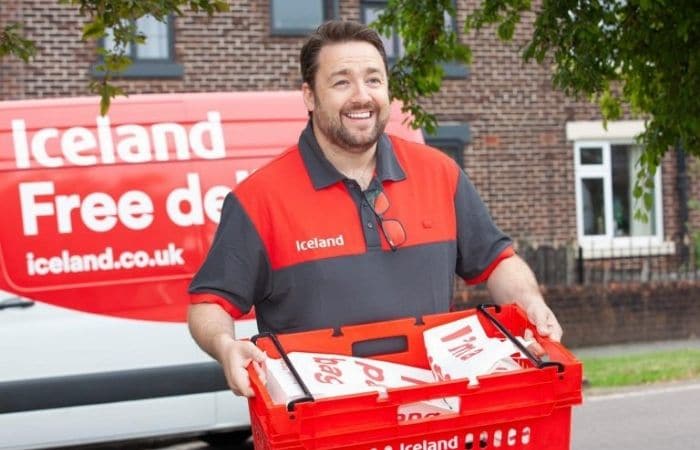 You get free delivery when you shop online or in-store, provided you live within 10 miles of the store.
It's great for in store shopping as you don't need to worry about carting the lot back home – especially useful if you try and get a week's food shop on the bus!
Free delivery online
For online shopping, you must spend at least £40 to get free delivery.
You don't need a delivery pass like other supermarkets, and there's no voucher code to enter – simply free next-day delivery.
Free delivery in store
For in store shopping, you need to spend at least £25.
Shop as normal in store, getting any fresh and frozen food you need. When you get to the checkout, ask them for your shop to be delivered to your front door, and they'll help you pack your shopping and offer you a delivery time.
Your food is delivered chilled/frozen for free on the same day.
Iceland discount code
We cannot find any active Iceland discount codes at this time.
They occasionally run offers to get £5 off a £45 spend, but the codes don't appear to work.
Let me know if you have found a valid code.
Win your shop
When you spend a minimum of £65 online, you can win back the cost of your shop.
Each day, Iceland picks one winner at random to win!
They will reimburse you directly to the payment card you used for your shop.
That's it – simples. Good luck!
Free food at Iceland
Iceland gives away free food for online shoppers as part of its Free on Last Day of Life initiative.
If the last food left on the shelves is within a day of its use by/best before, they give it away for free.
So, you'll get the food, plus a refund of what you could have paid.
Get paid to recycle
Iceland pays you to recycle plastic bottles using their reverse vending machines.
They were the first supermarket in the UK to introduce plastic bottle recycling in this way.
For each bottle you feed the machine, you get a 10p voucher to use in Iceland.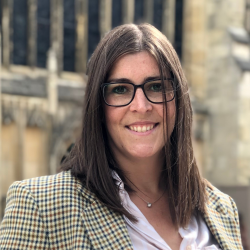 Latest posts by Naomi Willis
(see all)