Luxury gift hampers make a great gift, but they are really expensive. Instead of buying expensive gift hampers it's far cheaper to make a luxury one yourself.
£10 BONUS OFFER: Earn easy cash by watching videos, playing games, and entering surveys.

Get a £10 sign up bonus when you join today.

Join Swagbucks here >>
Rather than getting a traditional gift, many people love to give and receive a hamper full of smaller gifts instead.
Some shops charge a small fortune selling gift hampers, especially around Christmas time!
Now if you're after total luxury, then Fortnum and Mason are an obvious choice for their range and various collections.
However, if you're working to a tight budget, their hampers don't come cheap. Starting at £60 for a set in a wicker basket for a few treats, you could look to pay well over £300 for a jam-packed hamper!!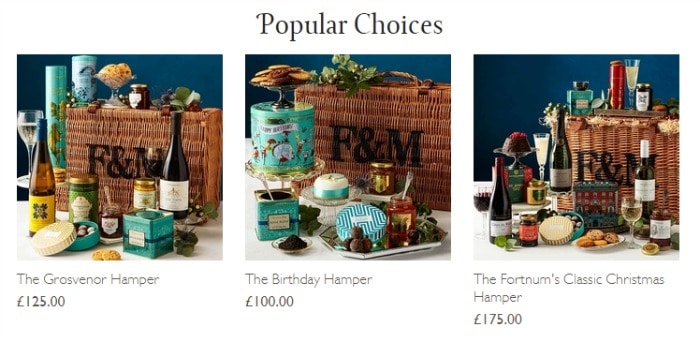 Fighting the corner of the savvy shopper, Aldi offers their own range of hampers, but they are still a few quid! However, they're not doing them this year! Boo!
In previous years, they're hampers started from £19.99, up to £89.99.
They are selling quite a few different kinds of hampers.
The more expensive of the two came in a box, rather than a wicker basket.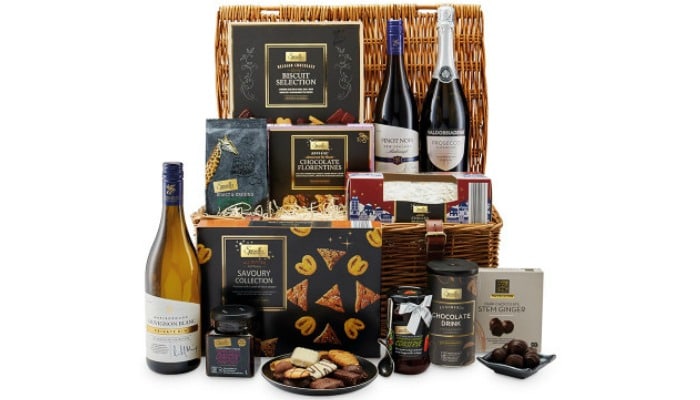 I decided to have a bit of a comparison between the Aldi Luxury Hamper and what you could get at Fortnum and Mason for about the same money.
Fortnum and Mason's lowest price hamper for £60 is The Merrymaker's Hamper.
The Merrymaker's Hamper (£60) contains: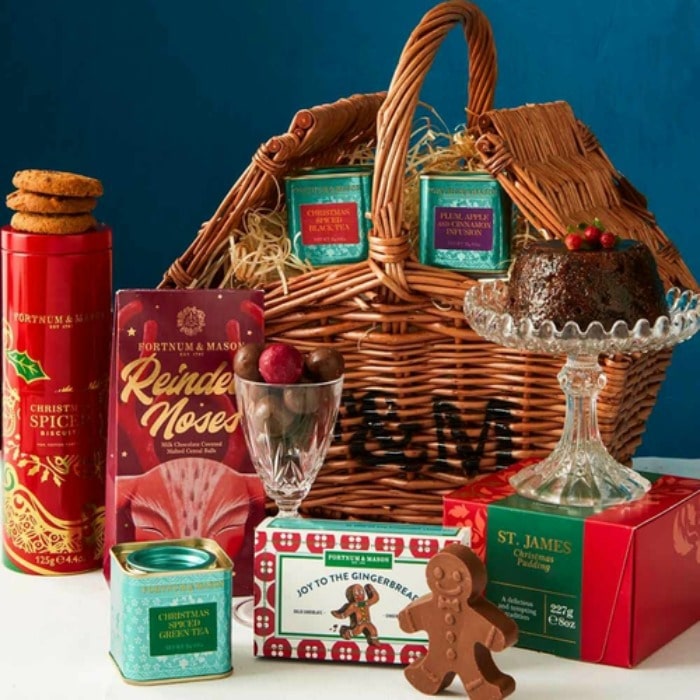 St James Christmas Pudding, 227g
Christmas Spiced Biscuits, 125g
Christmas Green Loose Tea Tin, 25g
Christmas Spiced Loose Tea Tin, 25g
Plum, Apples and Cinnamon Infusion Tin 25g
Chocolate Gingerbread Man Matchbox, 35g
Christmas Reindeer Noses, 150g
Now, while these hampers obviously hold very high end and luxury items, you don't really get very much – 7 items in total.
But, they do make clear on the site that the contents of the hamper work out cheaper than buying those particular items individually.
Aldi Luxury Collection Hamper (£59.99) contains: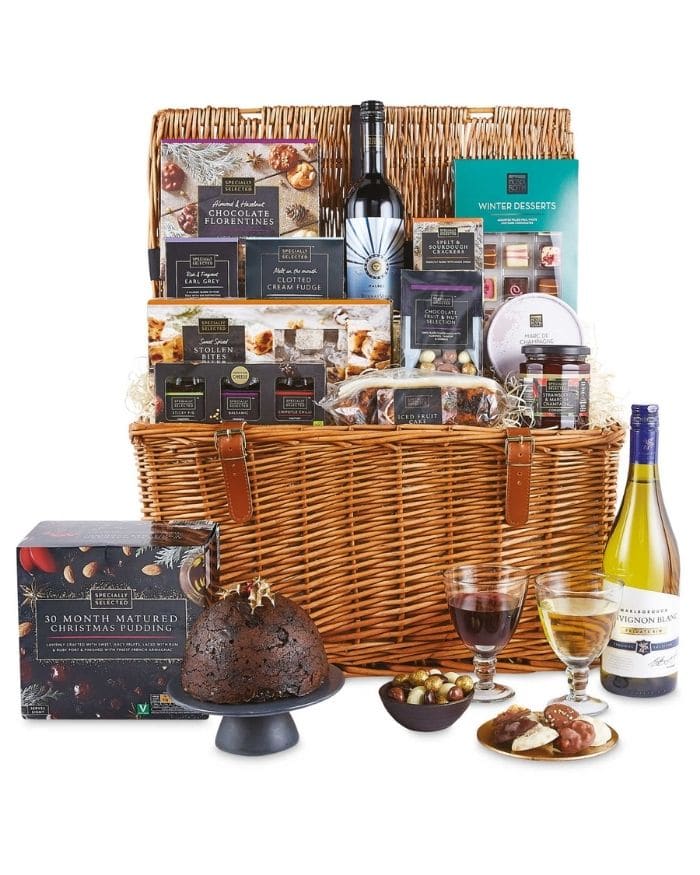 Earl Grey Tea Bags
Strawberry & Champagne Preserve
Clotted cream fudge
Spelt & Sourdough Crackers
Chocolate Florentine Selection
Chocolate Fruit & Nut Selection
Iced Fruit Cake
Stollen bites
Marc de Champagne Truffles
Fig, Balsamic & Chilli Chutney Trio
Chocolate Winter Desserts
Argentinian Malbec
New Zealand Sauvignon Blanc
30 Month Matured Christmas Pudding
Medium Wicker Hamper
While you do get more for your money with Aldi versus Fortnum and Mason, it's still a fair bit to spend out on.
However, there is a third, more thrifty version – you can make one yourself.
How to make a budget hamper
While I'm not a fan of making a massive fuss over Christmas, I do like to actually enjoy myself. I don't want to be spending hours and hours sourcing and wrapping gifts, so something like a pre-made hamper sounds like a great idea to me – other than the cost!
So, I want to find out if I can replicate a similar hamper, for little effort and save some money too.
Plus, if someone has food allergies or intolerances, you can make sure to get treats they'll be abe to enjoy
Bargain luxury gift hampers
First up, you need to work out what to put the contents into.
If you are making a few hampers, you can bulk buy baskets (these smaller ones work out at less than £2.50 each), then purchase extra bits separately.
Check out The Works, who have a great budget range of DIY sets for hampers from £4, so you can buy make-your-own kits.
Now, this isn't cheating as it comes with everything you need, bar the actual gifts. It means that you'll have the actual hamper, tissue paper and cellophane.
The best ones I've seen are either this bargain hamper with all the packaging and ribbons or this cheap wicker hamper.
What to put in a food hamper
To make sure the hamper is like the Aldi one, I've looked to find the same or very similar products that are readily available at the supermarket.
Kuchenmeister Marzipan Stollen Bites (275g)
Thomas J. Fudge's Belgian Dark Chocolate Florentines (6)
Lotus Biscoff Caramel Biscuits – Belgian Chocolate (154g)
Tesco Finest Farmhouse Cheese Straws (100g)
Bonne Maman Blackcurrant Conserve (370g)
English Provender Co. Caramelised Red Onion Chutney (325g)
Border Biscuits – Dark Chocolate Gingers (175g)
Lavazza Qualita Rossa Caffe Espresso (250g)
Green & Black's Fairtrade Organic Cocoa Powder (125g)
Tesco Australian Red (750ml)
Tesco Australian Dry White (750ml)
I used Tesco for price comparison; others may work out cheaper.
The total cost of a supermarket (mostly high-end products) comes in at short of £30. Even with the cost of a DIY hamper kit, the total cost of the hamper works out at a maximum price of £36.
Branding down would save more but, it's meant to be a luxury hamper!
Making your own hamper will save you money
Making your own hamper will give you a massive saving of £17 versus buying a (budget) supermarket's own.
It wouldn't even take that long to add the items to your online order or add a few extra items to the trolley during your regular food shop. Plus, the whole thing would be personal and homemade.
Related: 7 Tips to Take Christmas Back from the Retailers
Tips for how to make hamper
If you are planning to put together your own gift hamper it certainly feels a lot more personal if you make it yourself.
It shows that you've really given consideration to the person you're buying it for.
Christmas hamper ideas
A DIY gift hamper isn't just about putting stuff into a box; it's all about a theme.
For some ideas, how about creating:
Cheese and wine lover's hamper (you need to make sure you can keep this chilled)
Cinema hamper – like this movies lovers one – add cinema tickets, sweets, popcorn
Film night hamper – add a DVD, sweets, make your own popcorn, fluffy blanket
Chocolate lover's hamper- like this one
Sweet tooth hamper – like this retro one, or pick American sweets, or grab a half price Wilko pick and mix cup
Tea or coffee hamper – like this great teacup shaped one
Spa/pamper – like this mini bath tub
Date night hamper gift box – with candles and a gift voucher for a takeout (take a look at more at home date night ideas here)
Uni survival kit hamper – uni essential foods, supermarket voucher
Hanover survival hamper!
It's best to think about who you're giving the hamper to and settle on a hamper that suits their taste.
What's your budget?
Decide on a budget upfront and stick to it.
If you are at the low end of a budget, then you could consider making some of the things to go inside it yourself, like jams, chutneys or shortbread (like this shortbread recipe, costing 6p per biscuit).
With a bit of forward planning, you can collect a few things each week, meaning you'll spread the costs too.
Doing this allows you to take advantage when there's a sale too, like grabbing packs of sweets on offer if you're making a sweetie hamper or picking up bargains in the 70% off Boots sale.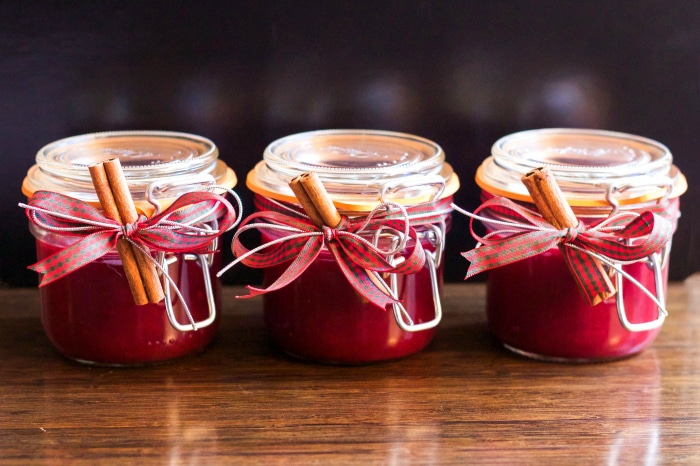 What will the hamper be?
Now, a hamper doesn't just have to be a wicker basket. You could look to get an alternative for cheaper.
If you are making a few hampers up, buying them in bulk will also work out cheaper (these ones work out at less than £2.50 each).
Why not consider placing the contents of the hamper into a decorated or wrapped cardboard box (pick one up from the veg section at Lidl or Aldi), or use a small wooden crate or a metal basket?
Look in charity shops for large fruit bowls made from wood or metal, which can also work out cost-effectively and can be reused.
What will you fill it with?
On top of putting the actual gifts inside the hamper, you also need to add some kind of filler to keep everything safe and in place.
If you're not going for a make your own kit, you could buy your own hamper filling, which works out quite cheap or create your own with a mini shredder you'd usually use to get rid of your (paid) bills.
Alternatively, scrunch up crepe paper, or even newspaper, then tuck a tea towel over the top to hide the print.
Once you've spent time getting everything in place and looking neat, most people would wrap the hamper in cellophane, as you can see through it. It also makes sure everything is kept in place.
Pop on a ribbon (every household has a bit of ribbon lying around) and use one of last year's recycled Christmas cards for a gift tag.
Making a hamper from scratch yourself can definitely work out cheaper and can make a nicer, better thought-out gift than if you just buy one from a store.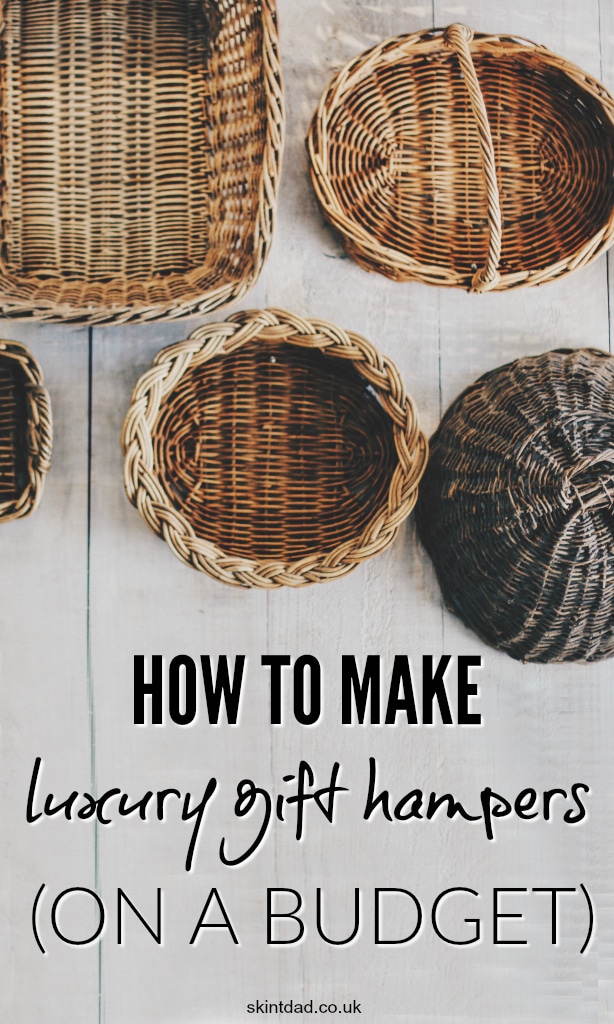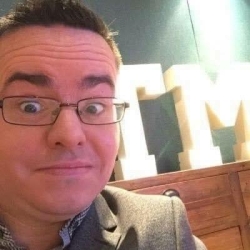 Latest posts by Ricky Willis
(see all)