Morrisons has started selling a meat pack for £10 and claims it can feed a family of four for two weeks. But can it really?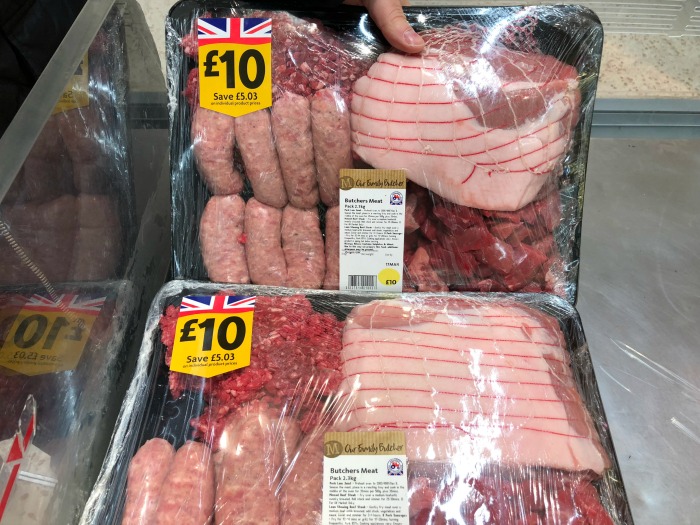 £10 BONUS OFFER: Earn easy cash by watching videos, playing games, and entering surveys.

Get a £10 sign up bonus when you join today.

Join Swagbucks here >>
We are a house of meat eaters. I know we probably eat too much, but we do enjoy eating it.
We could certainly save money if we ate fewer portions each week, and do try to have meat-free at least once per week.
So, when there's a good deal to be had on meat, we are always keen to have a look.
Scroll down to see Naomi talk about the Morrisons meat pack and what she really thinks of it.
Morrisons £10 meat pack
Did you know it's National Butchers Week?
Well, it is. And to coincide with this, Morrisons are selling a meat pack for just £10.
It includes 2.13kg of meat:
Pork loin joint
Minced beef
Diced beef, and
8 pork sausages
But, is this enough to feed a family for 2 weeks?
What are the packs really like?
The meat is all very fresh in the packs we bought and there is far more meat than we expected.
You get:
800g pork joint (but, last year, ours weighed 300g more than advertised)
420g steak mince
450g lean diced beef
8 pork sausages
This is 100g less than than last year, but it's being sold at the same price
Is it enough for two weeks?
Now I personally know that our portions are too much.
Recommendations are that you should aim to have an 80g portion of meat (the same size as a deck of cards). For a family of 4, this works out at 320g of meat.
Using this recommendation it means there is only enough meat in their £10 pack for 7 dinners.
You could make it stretch if you properly portion control, don't eat meat every day and stretch out your foods (like adding lentils/pulses to stews).
But…I cannot see the majority of households would find this enough (even the Morrisons cashier admitted it wouldn't last a week in her house).
When they released their veg boxes they said that the veg boxes could feed a family of 4 for 5 days.
Back then, people weren't so sure either.
It's still good value
So the hype being blown up in the press that you can feed a family for two weeks may be a bit far-fetched, but there is potential it could be done.
If you bought all the meat separately at Morrisons it would cost around £14 so you're saving about 30% on the price.
The meat is all perfectly fine to go into the freezer as well, which means you don't need to worry about any food going to waste.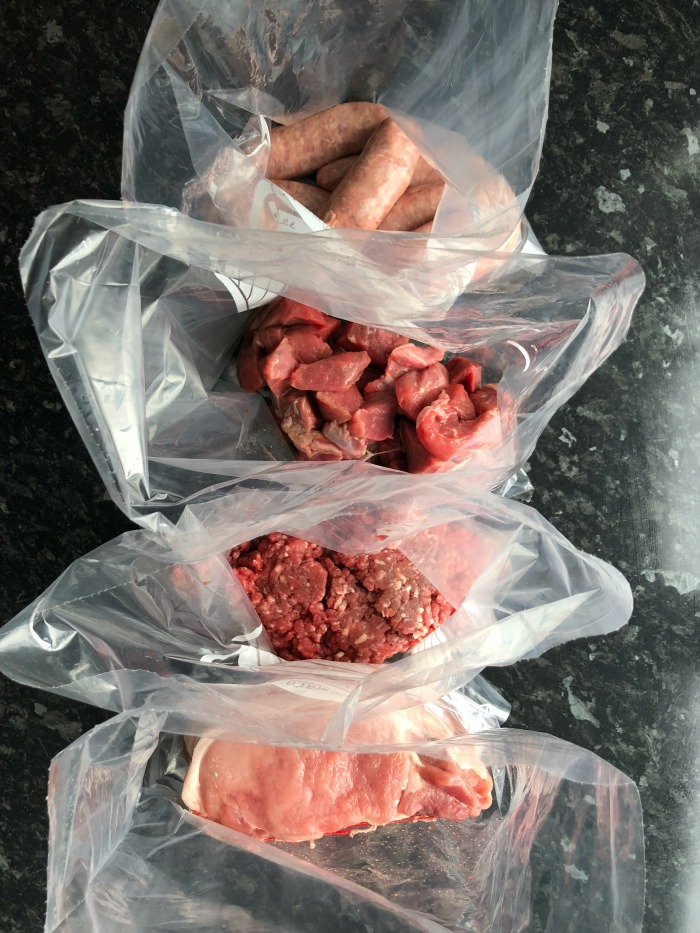 It's easy to portion it up, pop it into freezer bags and pull it out when you need.
In fact, why not try making some dump bags to save yourself time later?
What could you make?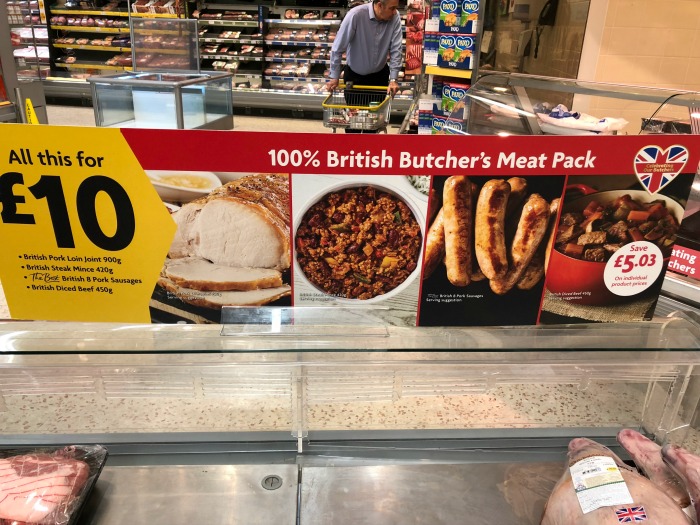 I've seen mentioned that Morrisons are offering customer advice on what to do with the meat.
Slightly dubious about how to make it stretch, I asked at the butcher counter. Unfortunately, they weren't able to suggest anything to me and pointed me in the direction of the poster.
The poster from 2018 showed four potential meals to make are a roasted pork, chilli con carne, bangers and mash and a beef stew.
Where can you get it?
Sorry for any online shoppers, the £10 meat packs are available in store only during National Butchers Week.
Other meat packs
Morrisons is not the only place to get a good deal on meat.
Take a look at your local butcher and see what offers they have. Many of them have similar meat boxes for very similar prices so you could be pleasantly surprised.
Muscle Food also has really good prices on meat (check out our Muscle Food review) and do some brilliant offers to keep the costs low.
Be sure to give us a follow for more money-saving adventures and behind the scenes of Skint Dad.
Read next:
Marks & Spencer Meat Boxes Are Cheaper Than Other Supermarkets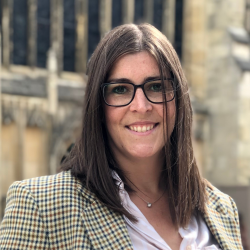 Latest posts by Naomi Willis
(see all)