Hungry on a budget? There's always a deal or a way to eat cheap at Morrisons cafe. Here are the current offers and ways you can save.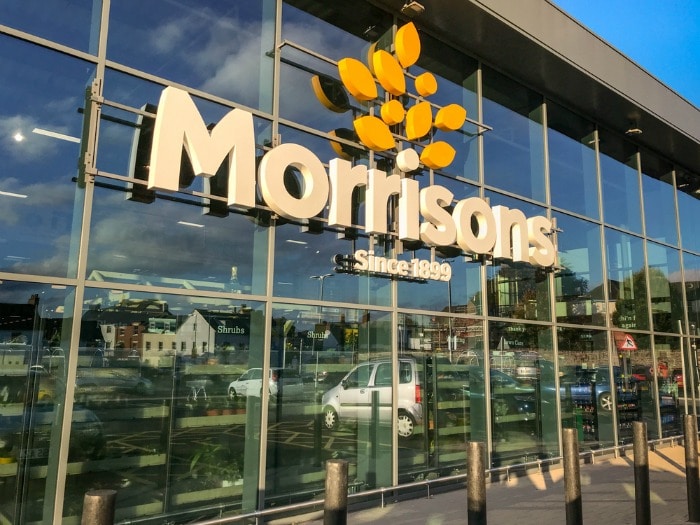 This site contains affiliate links. We may receive a commission for purchases made through these links.
[Learn more]
Morrisons Cafes are back open for indoor dining with a new menu.
You can choose to eat or drink inside or outside and there is still a takeaway menu.
Kids eat free at Morrisons cafe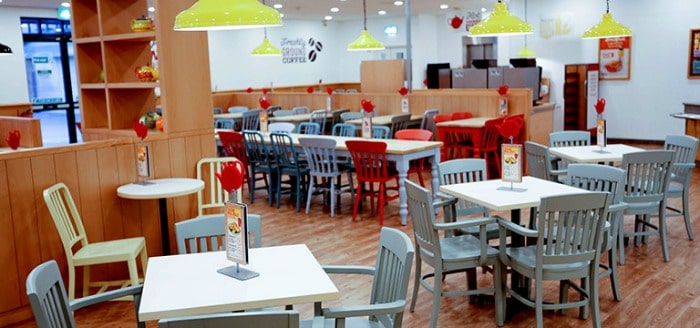 From 3 pm onwards every day, your child can eat for free when you purchase an adult meal over £4.50.
You can either pick a free meal from the Café kids menu or a chilled kids snack pack.
The kid's meal includes a piece of fruit and Tropicana Kids Orange or Apple drink or bottle of water.
There are some 400 Morrisons cafes where your kids can eat for free.
(It's not just Morrisons – there are loads of kids eat free offers running at other restaurants too.)
Half price breakfasts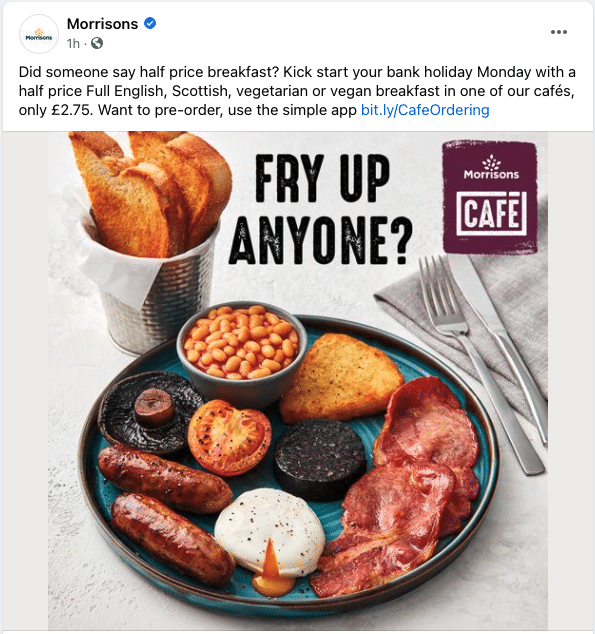 Morrisons is currently running a deal to get half price breakfast from the Bank Holiday, Monday 30 August 2021. Although, it's not just a one day offer.
The Morrions half price breakfast offer is expected to run for a month.
Their full English, Scottish, vegan or vegetarian breakfasts are usually £5.50, but you can get one for just £2.75.
If you have a smaller appetite, you can choose a Small English Breakfast which was £3.75 and is now £1.87
Takeaway afternoon tea
You can pick a takeaway afternoon tea for either one or two people. There is also the option of doorstep delivery.
Tea for two costs £10 and afternoon tea for one is £5.
You get a selection of sandwiches, pork pies, fruit scones, clotted cream, jam and cakes, all served with Yorkshire tea.
If you want to order with doorstep delivery, call 0345 6116111 and press option 5.
Teatime meal deal
You're able to get a cheap meal deal from Morrisons cafe every day of the week.
From 3 pm, you can use their Teatime Meal Deal to get a meal and a drink for £6.
You're able to choose any meal from the menu priced at £4.50 or more.
For the drink, you're able to pick any regular hot drink, regular fizzy drink or bottle of water per meal.
Free coffee grounds
Instead of allowing waste, Morrisons allows you to take away their rubbish. It's not as silly as it sounds.
Some believe coffee grounds can be used as mulch or fertiliser so great if you're a keen gardener or have an allotment. I've also heard ants and slugs are too fond of the grounds either.
Just ask a member of staff who will be happy to give you the used coffee grounds for free.
The offer is subject to availability.
Morrisons cafe vegan menu expanded
Morrisons has expanded its menu and has added several new vegan choices.
You're now able to order a Vegan Breakfast which includes three meat free sausages, two hash browns, Heinz Baked Beanz, two halves of tomato and one slice of white OR brown toast.
The vegan breakfast costs £3.80 and is served until 3 pm. For kids, you can choose three items for £1.50.
They have also added a Meat Free Burger for £5 which is served in a bap with lettuce, tomato, battered onion rings and sweet potato fries.
You can choose to add extra BBQ sauce for 50p or an extra meat free burger for £1.
Naked Glory supplies the meat free burgers and sausages in the meals.
For pudding, Morrisons has added a Chocolate Sponge Pudding, priced at £2, which can be served with vegan ice cream.
These additions are on top of what they already offer.
You can also choose from a Sweet Potato and Chickpea Korma (£5.50) or a Butternut Squash and Lentil Lasagne (£5.50) from the main menu.
:: Check on the store finder to see if your local Morrisons has a Market Street cafe.
Ok, so it's not in the cafe, but if you're after a bargain, be sure to take a look at the cheap Morrisons food boxes where you can get £10 worth of food for £3.09!
---
** EXPIRED **
Morrisons cafe Family Teatime £10 Meal Deal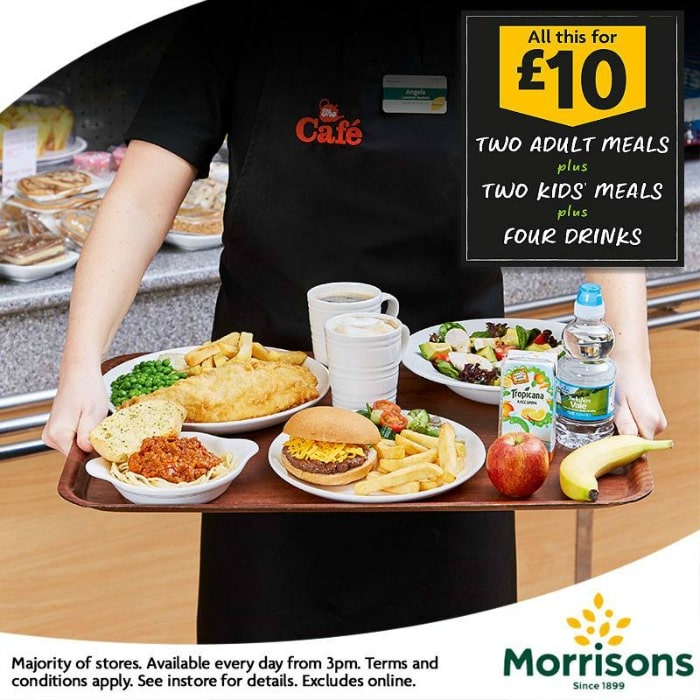 In January 2019, Morrisons cafe is running an offer so you can feed a family of 4 for £10.
In the family Teatime Meal Deal, you're able to get two adult meals, two kids meals and four drinks for only £10 from 3 pm.
This deal is being run in the majority of stores, so do check before ordering.
Morrisons Weekend Breakfast Meal Deal for Two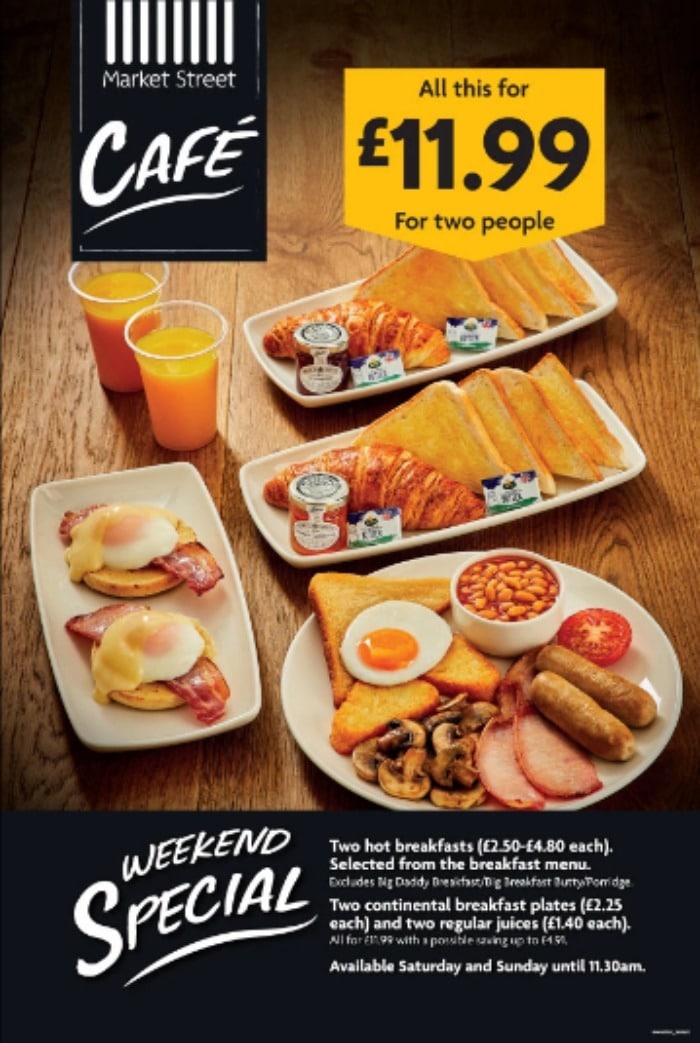 Eat like a king at Morrisons!
Morrisons is currently running an offer at the weekend which can feed you (and a mate) for £11.99.
Running in mist cafes until 11:30 am, the Weekend Breakfast Meal Deal gets you two hot breakfasts and two continental breakfasts..
For a hot breakfast, you can pick anything from the menu, excluding the Big Breakfast or the Builder's Big Breakfast Butty.
The continental breakfast gets you a croissant each, two rounds of toast, plus butter and jam.
Cheaper Big Daddy Breakfast for Father's Day
Usually priced at £6, for Father's Day 2019, you can treat dad (or yourself) to a Big Daddy Breakfast for £5.
You get a lot for your money with three rashers of bacon, three pork sausages, three hash browns, two slices of fried bread, two fried eggs, two half tomatoes, two black puddings, baked beans and sliced mushrooms.
The deal is available in all Morrisons cafes on Father's Day only until 3 pm.
Free mince pie and coffee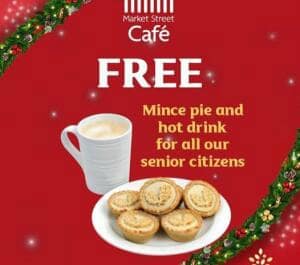 Senior citizens can get a free mince pie and hot drink at Morrisons cafes in the run-up to Christmas.
On Tuesday 3rd December 2019, from 2.30 pm to 5 pm, senior citizens just need to mention the offer at the till.
Cheap Christmas dinner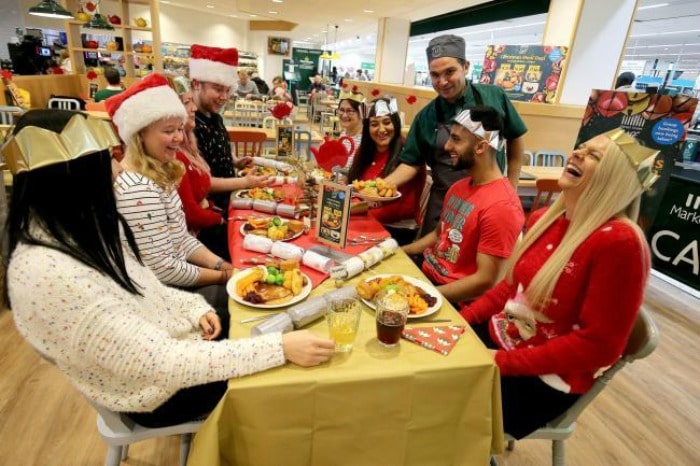 This may be perfect for your work Christmas party!
Morrisons may not come to mind as the first choice for your Christmas do, but you can get a Christmas Meal Deal from £6.50 for two-course, or £7.50 for a three-course meal.
You're able to book for parties of up to 20 people, so this may work for a team afternoon out (work budgets are getting tighter!).
The Christmas meals come with all the trimmings. You get to choose from paté and melba toast, soup or prawn cocktail to start.
The main meal is a traditional turkey dinner. However, you can choose salmon filet with hollandaise sauce or mushroom wellington with roast potatoes and brussels sprouts if you prefer.
If you're after a pudding as well, you can pick from Christmas pudding with brandy sauce or custard, or chocolate or strawberry ice cream.
Bookings are being taken by the Café Manager or Community Champion between 25 November and 23 December 2019, and the offer is running in all Morrisons cafes.
Latest posts by Naomi Willis
(see all)