Running out of money before the end of the month? Had a sudden emergency and need cash quick?
A quick and immediate salary advance may sound like an easy get out of jail free card, but you could be getting yourself into financial trouble.
A survey has found that 64% of people run out of money before payday. To help, companies have come up with an ingenious way to help, but it's not out of the goodness of their hearts. They want to make money out of this, which means you will pay.
Take a look at what a salary advance is and whether you can avoid one with some alternative ideas to see you through until the next payday.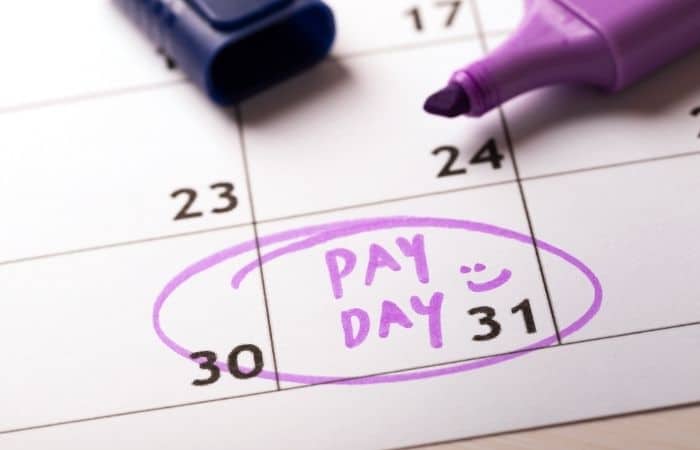 £10 BONUS OFFER: Earn easy cash by watching videos, playing games, and entering surveys.

Get a £10 sign up bonus when you join today.

Join Swagbucks here >>
What is a salary advance?
The idea of a salary advance is that – for a fee – your employer gives you up to 50% of your paycheck in your bank account before your normal payday.
You can request as many advances in a month, up to a limit, and are charged a fee each time.
You then need to repay the money and fee the next month.
It's essentially a high cost, short term, unsecured form of credit with another name.
A salary advance is also known as an Employer Salary Advance Scheme (ESAS).
Several companies are offering this form of high-cost credit via employers (although they ironically promote it as an alternative to other forms of high-cost credit).
These scheme operators are unregulated businesses. They sell it like an employee benefit or a perk and as a way to keep employees happy and retain staff.
A salary advance is usually promoted to people who are experiencing financial difficulties. But, if you take a lump sum of your pay early, you may find you're short the next month and get into more money trouble.
It's easy to get trapped in a cycle of borrowing from yourself early, believe me – we've been there, it wasn't fun!
This kind of debt is not something you should rush into.
What is the difference between salary advance and loan?
A salary advance is for short-term needs, and you will need to repay the whole sum the following month.
There is no interest on a salary advance, so it's not classed as a loan, but you are charged an administration fee.
With a loan, it's either for short or long-term financial needs, and you will have an agreement to repay what you borrowed with interest over a set number of months.
Disadvantages of a salary advance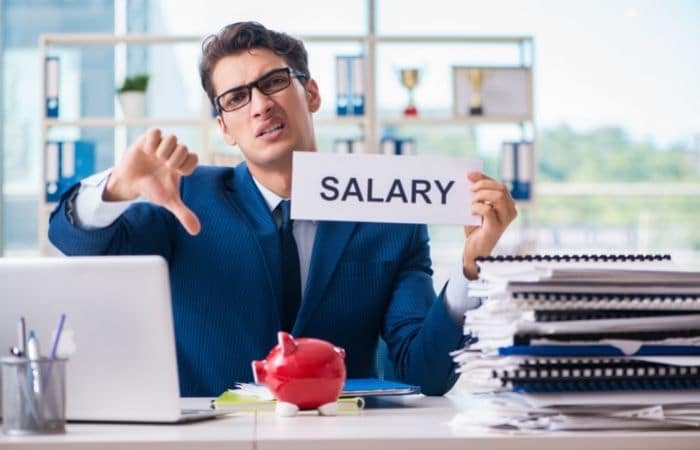 A salary advance might seem like a quick and easy way out of emergency money problems, but consider issues you might run into.
There are fees
Remember that as well as paying any money back you got from your paypacket early, there are also charges on top.
Each time you draw down money, you have a fee to pay.
Before agreeing to a salary advance, check your budget for the following month to ensure you can afford to live with a reduced salary.
If you're not able to meet the repayments, contact Citizens Advice for support on your financial circumstances. Getting a salary advance may only make things worse.
The fees may be higher than payday loans
A couple of quid for a salary advance charge might sound tiny, but it potentially isn't.
What you might not realise is the true cost of these types of borrowing. The companies aren't transparent about costs (other than telling you of a fixed cost).
How much is the borrowing costing you versus the interest rates/APR of loans, credit cards, or overdraft?
Depending on how much you borrow and over what time frame, the salary advances could cost you more than payday loans or other high cost short term credit.
For instance:
With a short term loan, if you borrow £100 for 1 month with a 10% interest rate, you will pay 83p in interest charges
With a salary advance, you are looking to pay nearly double that in fees
If you start to use salary advances regularly, it's going to cost you even more.
You can get trapped in a cycle of debt – very easily
The following month, there is a deduction from your wages of what you borrowed, and you then have a chunk less money than you normally do.
Although the charges seem low, you are still left with less funds in your bank come payday.
The first one was so easy that it is just as easy to get the next one. Then you have a payment again.
It can become very comfortable to rely on these fixes, and the repayments become a massive burden.
You might get stuck with your employer
If you find you are becoming reliant on a salary advance each month, it may make you get stuck in your job.
Being trapped in the debt may make you feel that you can't resign as you need to keep up with the salary advance repayments.
There is no regulation
You don't get any kind of consumer credit agreement and an ESAS happens outside of any credit regulation.
While the Financial Conduct Authority (FCA) cares about these kinds of agreements and monitors them, there is nothing they can do. Salary advances are not regulated.
This means, if you have an issue or a complaint, the FCA and Financial Ombudsman Service won't be there to help you.
With all other types of credit, there is a price cap on charges. With salary advances, these price caps don't apply.
Today, you may think there is one fee, but it could change at any point.
There are no credit checks
You may think this is a good thing, especially if you have a bad credit file. However, this isn't actually a great thing at all.
They can let you have access to money that you may not afford to repay.
Although having a credit check may seem annoying, they are there to protect us and ensure that borrowing money won't leave us in a worse place.
If and when you apply for any other kind of loan, they won't see salary advance borrowing on your file and may think you can afford their product, when you can't.
Advantages of a salary advance
If you really need a lump sum of money fast and having less wages the following month won't be an issue, a salary advance could work for you.
One example where it could come in useful is if you are renting and need an upfront rental deposit while you are waiting on the other to be returned from the Deposit Protection Service.
If you have done a lot of overtime one month, getting paid early could also be one time these schemes come in handy. If you don't usually factor in additional overtime, getting the extra wages early won't make any difference to the following month.
Sometimes, your employer might agree to take on the administration fees, making it cheaper for you. You'd need to check the terms and conditions (please do read them if you're considering this as it's essentially changing the terms of your employment contract by agreeing for your company to pay you less).
Related: How to stop spending money you don't have
Salary advance alternatives
Instead of using a company, you could ask if your employer would do this directly.
However, if they have asked a company to provide this service, it's likely they don't want to, or don't have the resources to manage their own scheme.
It may be a difficult conversation and one you might not want to have, but could any friends or family members lend you some funds for a short period of time? You may feel like it's an embarrassing question to ask, but they'd prefer you to talk to them, than getting into more trouble financially.
If you are on benefits, you may be able to access a Budgeting Loan (or Budgeting Advance).
What do you actually need the cash for?
If you have a broken down appliance, like a cooker, washing machine or fridge freezer, you may be able to get a white goods grant to support you instead of spending cash.
There are also grants for furniture and carpets if you need household items.
For food, there are places to get free food to tide you over, or it may be worth considering a food bank for short term needs.
These are just a few examples of services to help you, so it's better to use them rather than getting more financially vulnerable.
If you can access a zero-interest credit card for thing you need to buy, it can work out as a cheaper option. However, you need to make sure you pay the full amount back before the zero period comes to an end. You will need to have a good credit score to access these types of credit cards.
Joining a credit union can be a good option for cheaper borrowing, and good savings too.
Extending your overdraft might be an option, but this can be an expensive way of borrowing.
Are Salary Advances regulated by the Financial Conduct Authority?
As a salary advance is not officially classed as a loan, they do not meet the definition of credit under current legislation.
This means that the schemes are not authorised and regulated by the FCA.
You, therefore, have fewer rights than you would with credit products like payday loans.
How can I get a salary advance?
Your employer needs to be signed up with a scheme operator that offers this.
However, even if they don't, there is nothing to stop you from asking HR or payroll if they can help with it.
If you have worked with your employer for some time, it could be something they can support.
And, if your employer offers this to you directly, there will likely be no administration fees.
What companies offer salary advances?
The companies operate as a bridge between you and your employer. Your employer must be signed up to the service for you to access any withdrawals.
They usually have some kind of portal and an app, so you can manage and request your wages sooner than payday.
Many of these schemes also offer users "financial wellbeing", giving financial education, and the app allows users/workers to track their salary.
Salary Finance
You need to pay a £1.49 fee for each advance, which you pay back on payday.
As well as offering advances, they also offer loans, so if you apply, make sure it's for the right thing.
Wagestream
With Wagestream, there is a £1.75 charge for each time you borrow, which you repay on payday.
FlexEarn
They charge £1.50 per withdrawal against your wages.
Hastee Pay
Instead of charging a fixed cost, Hastee gives you £100 in withdrawals free per month; then, you need to pay 2.5% on what you borrow.
borofree
Instead of getting your cash wages, you get up to £300 of high street gift cards.
For a real emergency, you can't spend this as cash anywhere, so you are limited with its spending.
There are no fees for this as borofree will earn a commission on the gift cards.
Neyber
Touted as a financial wellbeing employee benefit, you can borrow up to 50% of your wages and pay £1.50 per transaction when you get paid.
Not a salary advance – wage day advances
Seeing that this kind of borrowing with employers are getting more popular, some more traditional shorter-term lenders have spotted a hole.
They are now also offering "wage day advances", which are still pay day loans, just under a different name.
---
Need help with money?
If you struggle and need advice with debt and budgeting, get free impartial support from Money Helper.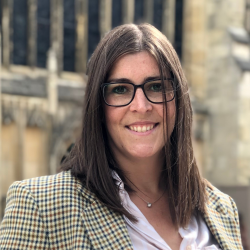 Latest posts by Naomi Willis
(see all)