So, you're considering starting up a business in the Amazon UK marketplace? Great news! With upwards of £12.8 billion in sales generated in 2020, you could certainly do worse than claim your piece of real estate on the UK's top eCommerce platform.
However, like most eCommerce ventures, to the uninitiated, the selling process on Amazon isn't without its complexities. So, just how do you set your stall out for success on Amazon UK, and what's it going to cost?
Fear not because we've got the following guide to setting up your seller account on Amazon UK.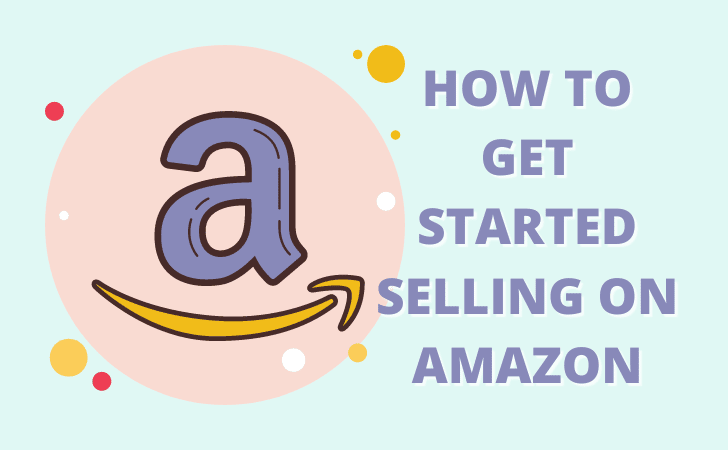 £10 BONUS OFFER: Earn easy cash by watching videos, playing games, and entering surveys.

Get a £10 sign up bonus when you join today.

Join Swagbucks here >>
What can you sell on Amazon UK?
Amazon UK hosts an incredibly broad range of sale items including, but not limited to, the following:
Automotive
Books
DIY equipment
Electronic equipment (computers, gaming, household electronics, etc.)
Homeware
Kitchenware
Garden-ware
Clerical/office equipment
Musical instruments
Shoes and clothing
Sports equipment
Toys and games
Products you can't sell on Amazon Marketplace
Naturally, as a legitimate marketplace, Amazon's sell list abides by national and international law. As such, common sense dictates which items you cannot sell on the Amazon Marketplace. For example:
Illegal drugs, guns and ammunition
Prescription medicines
Real fur
Tobacco
Used clothing
And much more
Best side hustles you can start this year to make money
How much does it cost to use Amazon UK?
Plans
Individual / Basic
Professional
How many items can you sell?
35 maximum per month
36 or more a month
What do you want to sell?
Set categories
Any category plus you can sell with programs like Launchpad or Handmade, and restricted categories
Extras?
No advanced selling tools
Access to APIs, selling tools, advertising
Costs
75p fee for each item sold

(plus additional selling fees)
£25 per month flat fee, with no per-item fee

(plus additional selling fees)
Basic plan
Amazon's Basic or " Individual " plan should be sufficient for sellers who wish to sell 35 or fewer items a month; Amazon's Basic or "Individual" plan should be sufficient. The cost of selling items will amount to £0.75 per individual item sold plus additional fees.
Professional plan
The Professional plan should cover the needs of those who wish to sell 36+ products a month. This package dictates a monthly subscription fee of £25, excludes VAT exclusive fees and is to be paid regardless of the number of transactions your online shop completes.
Fulfilment by Amazon
Fulfilment by Amazon (FBA) references whether or not a seller decides to package, post and ship their products themselves. If they do, when a sale is made on their channel, Amazon will notify the seller, and they will then be expected to fulfil delivery of the order alone.
Naturally, this means that deliveries of a seller's products will not qualify for Prime delivery.
If, however, a seller signs up to Fulfilment by Amazon, the company will store their products in its "fulfilment centres" and ship the product on their behalf. The shipment itself will not incur any additional fees for the seller. However, they will be expected to pay for the storage of their products at the Amazon fulfilment centre.
* Prices for fulfilment storage vary depending on the size, weight, and type of product you wish to have stored and the mode of shipping it requires.
How to get started selling on Amazon UK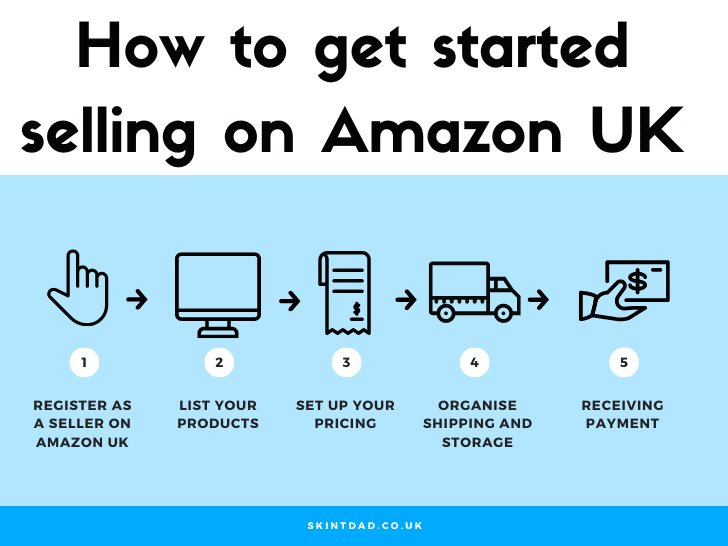 1. Register as a seller
In order to register as a seller on Amazon UK, simply head over to the company's seller setup page. From there, you'll be prompted to provide the following information (so have it to hand):
A Credit card (complete with a valid billing address)
Bank account information
Business name and registration information
Valid email address and contact number
Your company's VAT number (if applicable)
2. List your products
Once you've entered all pertinent information, it's time to turn your attention to product listings. If you're a casual seller, this will involve selecting the "Sell Yours Here" button, located in the "More Buying Choices" blue box, and entering your product details.
For those registering as professional sellers, you can list products individually by inputting your product's name, price, and stock quantity into the website's interface. Similarly, you can also use Amazon's bulk listing tools, where you'll be prompted to provide your product's EAN, UPC or ISBN barcodes.
If you find that your products don't already exist within the Amazon marketplace catalogue, you'll need to supply further information such as product title, description, image price, and stock.
*Need to add images to the marketplace? Then make sure that they meet the following criteria:
They're either .JPG or .TIF
sRGB or CMYK colour mode
1280 pixels (longest side)
File names contain the product identifier, a full stop and the correct file type/extension, e.g. 109876543210.jpg
3. Set your pricing
Next, it's time to set your product pricing and determine the appropriate price; you need to consider the factors covered above (condition, age, shipping and referral fees, etc.). Similarly, Amazon's pricing tools are available should you need them.
Once you have settled upon a price, simply type it in when prompted.
4. Organise shipping and storage
Once you've successfully registered your seller account and listed your products, it's time to establish your shipping process and storage preferences.
If you choose to fulfil both shipping and storage yourself, you'll have two days to dispatch the product to your customer following notification of purchase. On the other hand, if you choose to use the Amazon FBA service, the company will complete all elements of shipping on your behalf.
Shipping and payment for selling on Amazon UK
We mentioned this briefly above, but it's worth reiterating. In order to maintain high standards of customer experience, Amazon UK requires that sellers ship the products within two days of notice of purchase.
Clearly, sellers using the company's FBA service needn't concern themselves with this protocol. However, if you intend to store and ship products yourself, you'll also need to notify Amazon when you have dispatched the item to receive payment.
Shipping and storage for selling on Amazon UK
The Amazon seller central account is the hub where you can track shipments and transactions and respond to customer service inquiries. With that in mind, while you'll receive an email from Amazon declaring that an order has been placed, you'll also receive a notification through your seller account.
If, however, you've decided to use the Amazon FBA service, the company will store your products for you at one of its fulfilment centres. Hence, no further action is required.
Fulfilment by Amazon
Fulfilment by Amazon (FBA) is the additional service that sellers can use, whereby the company stores and ships products on a seller's behalf.
Happily, there's no direct or monthly subscription fee for Fulfilment by Amazon. However, sellers are asked to pay fulfilment fees for the storage of their goods, the cost of which will vary depending on type, weight, dimensions and the shipping method.
5. Receiving payment
Any profits you make through the Amazon UK and European marketplaces will be sent through to you on a rolling, 14-day cycle. This payment cycle begins when you set up your account and start selling.
Needless to say, you will receive a notification when payment has been made.
What are the rules and regulations for selling on Amazon UK?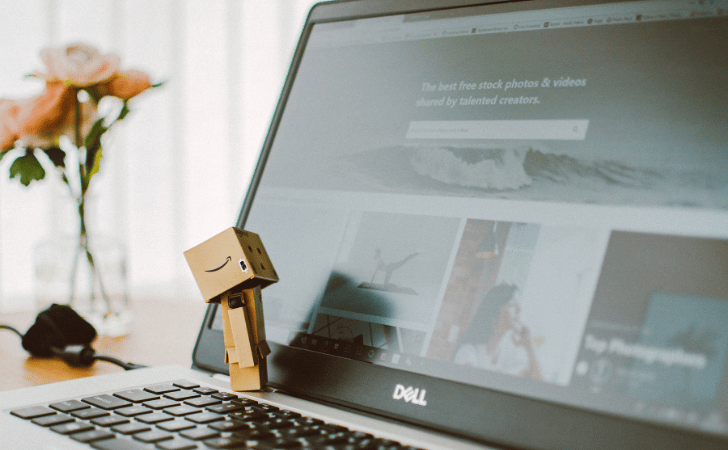 The rules and regulations for selling on Amazon UK focus on two particular aspects: whether your product(s) is permissible and also the price at which you sell it.
Amazon Product Permissibility
We've already reeled off a list of items you cannot legally sell on Amazon UK; tobacco, alcohol, guns, ammunition, prescription meds etc. Clearly, any products within these categories fail to meet the Amazon seller community rules and regulations.
Admittedly, some legal products still require authorisation, such as watches and beauty products. However, as a general rule, if your product(s) qualify within the rules and regulations, you can start selling just about anything on Amazon.
Crucially, though, the item must be able to register within the company's established online catalogues. That is to say, you can't create and add new product types and ranges.
Amazon Seller Product Pricing
To determine an appropriate price for your products, there are various factors that you should take into account. These include:
Condition
Competition prices
Delivery costs
Other variable fees (Amazon referral fees etc.)
Likewise, Amazon provides pricing tools, such as the Match Low Price feature, which directly compares and aligns your product with similar items, and the Listing ID. On the latter page, you'll view a "This Item Also Available To Buy" section, which shows similar competitor items with the lowest price.
Can you sell internationally with Amazon?
You certainly can! The European marketplaces on Amazon have been unified to allow sellers to fulfil sales across the company's French, Spanish, German, Italian, and UK marketplaces simultaneously.
It's worth noting, however, that the additional fees, taxes and administrative obligations that come as part and parcel of selling internationally can add extra complexity and expense to the sale process.
*If you're keen to sell internationally but cannot set up a local bank account, using multi-currency accounts such as that provided by Starling bank can aid the process.
Why sell on Amazon UK?
As we stated above, the revenue generated alone makes Amazon UK a beautiful marketplace to set up a business. And that's without contemplating the company's other European marketplaces. So, what makes it such a lucrative platform for online shop owners?
1. Ease
Over the years, Amazon has streamlined its seller setup process. Thus, registering a seller's account and adding products to your new online store could not be easier. Add Name – Add Price – Add Condition – Click "Yes". Once confirmed, most listings go live within 15 minutes.
2. Brand Exposure
Amazon's 2021 Small to Medium Enterprise (SME) Community Report concluded that sales exceeding £100,000 were achieved by upwards of 14,000 sellers in its marketplace. That figure includes 1000 shop owners who reached £1 million in sales! Essentially, there is scarcely a better eCommerce platform upon which to gain exposure.
3. Trust
Completely tied to this positive brand exposure is the trust that the company dictates. Yes, Amazon's authority as a trustworthy resource is seen as a mark of legitimacy for unknown sellers. This trust effect is enhanced, in no small part, by Amazon's secure payment system.
4. Cost
While many online eCommerce platforms charge shopkeepers for the privilege of hosting their products, Amazon UK has no such subscription fees. Moreover, combined with personalised shipping and handling costs, sellers with an Amazon marketplace business retain full autonomy over their business.
5. Competitor Analysis
If you're new to the eCommerce game, you'll soon learn that competitor and market analysis is conducive to success. You'll also find that it is a complicated attempt… but not if you sell products through Amazon.
All Amazon-based marketers need to do to analyse the market is search for a product on Amazon itself. This will instantly retrieve rival listings, prices and shipping methods for personal review.
If the product isn't suitable, it may be better to consider selling on Etsy UK.
FAQs
How much do Amazon sellers make in the UK?
In the UK market alone, Amazon business sellers made £12.84 billion from sales in 2020.
Do you have to pay monthly for Amazon UK FBA?
No, there's no monthly subscription for FBA. However, sellers are required to pay fulfilment and storage fees. With that in mind, sellers can expect to pay £0.30/month per cubic foot occupied in storage and this price rises to £0.40 over the festive period (October-December) due to extra stock.
Is selling on Amazon worth it?
Absolutely. Amazon marketplace is the most profitable eCommerce platform for digital marketers thanks to the exposure, brand identity and trust it generates for its shop owners.
Do Amazon sellers pay for shipping?
Yes, if they conduct shipment autonomously, Amazon's sellers pay for their shipping. However, the vast majority will add shipping costs to the price of their product. Conversely, if shop owners use the FBA scheme, then the only costs they incur are storage fees.
What products sell best on Amazon UK?
Amazon has a wealth of best selling items within each product category that it hosts. Some of the most popular include books, film and tv (through its Prime Video feature), automotive accessories and equipment and electronic goods.
Check out some of the best things to buy and sell for profit.
How do I find suppliers for Amazon?

To find suppliers for your Amazon business, you can use Google or an online wholesale directory.
You can also find and source goods directly from manufacturers.

Alternatively, you can use a UK-based dropshipping supplier to start selling goods on Amazon immediately without spending anything on inventory.
Final Thoughts
Ultimately, there is scarcely a better eCommerce platform upon which to build your business than the Amazon marketplace. As a result, store owners of all levels of experience flock to the Amazon marketplace to capitalise on the company's brand identity, exposure and vast customership.
So, if you're looking to get sell online, the Amazon marketplace is the place to be.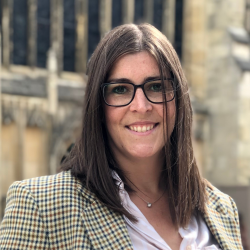 Latest posts by Naomi Willis
(see all)