Do you have a creative streak? Are you a master when it comes to design? Whether you're a ceramicist or create beautiful wedding invitations, selling on Etsy UK is a great way to show the world your products.
Do you want to know how to set up a successful Etsy shop? If so, read along as we break down the steps to create your own online store and start selling your designs!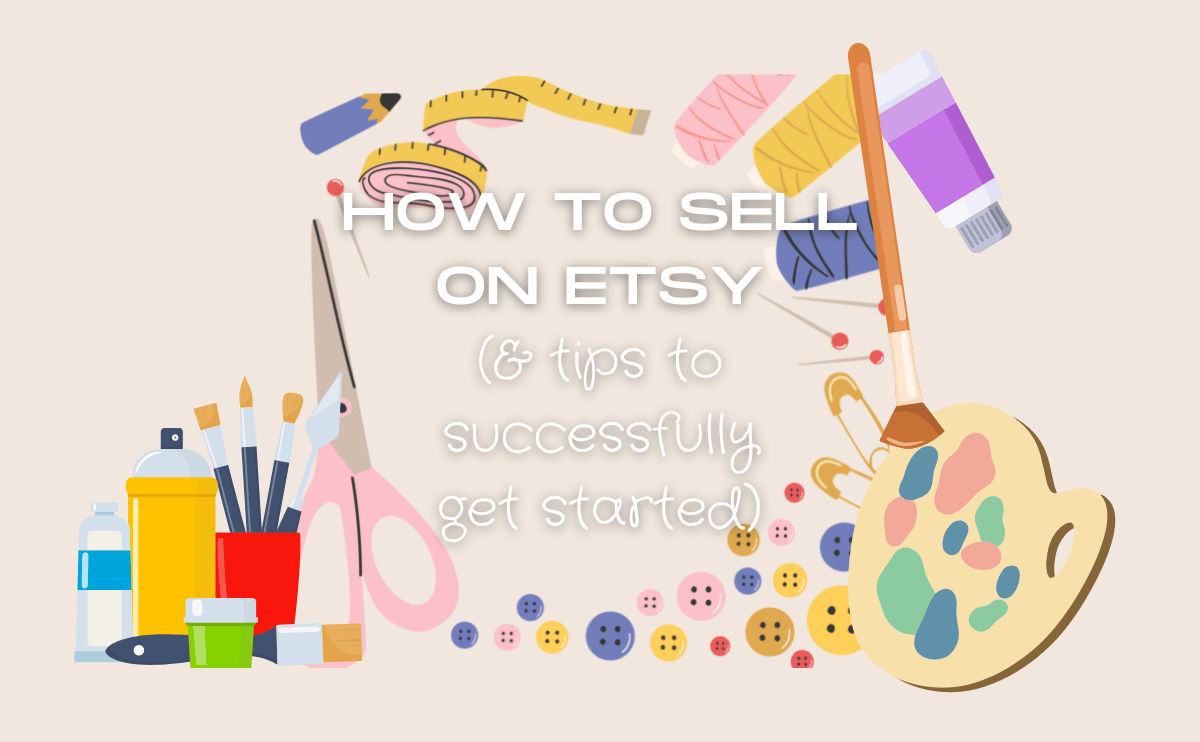 £10 BONUS OFFER: Earn easy cash by watching videos, playing games, and entering surveys.

Get a £10 sign up bonus when you join today.

Join Swagbucks here >>
How to set up an Etsy shop in the UK – Follow these six simple steps
1. Register an account with Etsy
The first thing you'll need to do is create your Etsy store by registering an account. To do this, simply go to the website and click "Register". You'll have to provide some personal details such as your email address and name.
2. Set your shop preferences
Next, you'll need to choose your preferences for your shop. It's essential to provide all the information, as this is what Etsy will use to show your products to the relevant people. Preferences you'll need to set include your country, language, and currency.
3. Add listings to your Etsy shop
Next, you'll need to stock your shop; after all, that's why you've created your Etsy account! This is a very straightforward process, and you'll be guided the whole time. You'll be able to add a description, photos, videos, and tags to help potential customers find your products.
4. Receiving payment
Next, you'll need to set up your payment preferences when a customer purchases in your shop. The great thing about Etsy is that you can choose from various options for both sellers and buyers.
The sales are transferred to your bank account in your chosen currency regardless of how your customers pay. All of the sales also have the Seller Protection Policy, which has anti-fraud systems in place.
5. Set a billing method
To set up your own Etsy shop, you'll need a debit or credit card. This is so your fees can be taken from your account.
6. Open your shop
Once you've set your preferences, it's time to open your shop! Once your store is live, you'll be able to make as many customisations and changes as you want.
What to know before setting up an Etsy Shop in the UK?
Adhere to the company's guidelines
Etsy's user policy says that everything for sale must be vintage, craft, or handmade items. Additionally, it has to be designed by you, using photos you've taken to advertise them.
Because Etsy is primarily focused on independent sellers and small businesses, there's a huge emphasis on trust and honesty – that the products are genuinely made by you.
Make a decision about what you are going to sell
This is probably the most exciting but hardest part of becoming a seller! But, if you choose your items carefully, it could be the beginning of a brand new business.
You don't even need to sell physical items, as many Etsy shops sell their creations for buyers to print out at home. Or they may create images for buyers to use on their own website or social media pages.
If you're stuck for ideas, take a look at what other Etsy sellers are doing to get some inspiration. Just be sure not to copy anyone else's idea!
If your idea isn't suitable, perhaps look at selling on Amazon UK instead.
Consider postage fees
Next, you need to decide on a postage plan. Research the most affordable ways of packaging and posting your items. Although it may be easier to just go to the Post Office, this may not be the most cost-effective option for big bulky items.
Make sure you're aware of the postage fees before selling too. The last thing you want is to charge £3.99 for postage and pay an extra £2 out of your own pocket because you miscalculated it!
Take note of the seller fees
Before you start selling on Etsy, remember that you'll need to pay the seller fees. Although it's free to create an account, to use the selling function, you'll need to pay Etsy's charges.
In 2018, Etsy amended its packages and fees. As well as a listing fee for each item, there are now charges that apply to the fees and shipping costs for Etsy payments.
Consider taxes
As a UK Etsy seller, you'll be responsible for paying income tax before the Etsy fees once your earnings exceed £1,000. The easiest and fastest way of doing this is to register yourself with HMRC as self-employed.
Find out more about how much money you can earn from a hobby before paying tax in the UK.
Tips for starting an Etsy shop in the UK
Ensure your listings are keyword-rich and well-written
A well-written listing with a clear title will always gain more attention than a listing with next to no information about the item for sale. If you can, telling a story about your item will help to hook potential buyers – they're sure to appreciate your uniqueness.
Also, make sure you include the keywords that buyers are likely to use when they search the site. This means your products will appear in many search results, increasing the chance of them being seen and purchased!
Include high-quality photos
Using high-quality and clear photos for your listing is crucial for attracting buyers – as you can imagine, no one will be intrigued by a blurry picture!
Be sure to include as many photos as possible, in good lighting, at different angles, so people have a clear idea of what they're buying.
Personalise the look of your shop
Adding a custom logo and banner to your shop will give you a unique and personalised look, helping you build a brand that people will recognise and remember. Use eye-catching colours, fonts, and high-quality graphics to give a professional and polished finish to your brand.
Etsy ads can help you promote your shop
Etsy Ads is a great tool that can help you target specific customers who are likely to be interested in your items, helping to boost the traffic to your store and increase sales. Building a social media presence is another fantastic way of reaching those customers.
Make sure you offer great customer service
When you sell on Etsy, one of the best things you do to build a successful shop is to offer exceptional customer service. This includes answering emails promptly, dispatching orders quickly, and providing high-quality items.
Going the extra mile will always result in happy customers, such as a handwritten thank you note inside their parcel. Satisfied buyers are more likely to come back to your store and recommend it to others!
Analyse your competition
Researching your competition will help you to find out which items are selling well and how to make your shop stand out from the crowd.
Browse the shops in your chosen niche, whether that's handmade children's party toys or vintage items, and see how they're being marketed. From there, you can discover areas where you can provide something that's appealing and unique.
FAQs
What counts as craft supplies on Etsy?
Craft supplies can be classed as ingredients, tools, or materials that are used for creating items or as decorations for special occasions. They can be vintage, handmade, or commercial. Some examples of craft supplies include:
Paints
Beads
Patterns
DIY kits
Fabric yardage
Is selling on Etsy in the UK worth it?
There are differing opinions on whether it's worth it to sell on Etsy or not. Some people believe that the money you can earn back in advertisements and listing credits per month makes the subscription great.
Other people feel that the personalised domain name and marketing material discounts don't offer the best prices, so they aren't worth investing in. For this reason, be sure to carefully read the terms and conditions before you purchase a subscription. If you know you aren't going to use every feature that it offers, it may not be worth the expense.
Is there an app for selling on Etsy in the UK?
Yes, there is an Etsy app that you can download for both Android and iOS devices. The app means you can run your shop whilst you're on the go, including access to new orders.
Do I need a website if I'm selling on Etsy in the UK?
Even if you become a seller on Etsy, you may need to have a website too. This is because not everyone has an account with Etsy. If you don't have a website, you'll be relying solely on Etsy orders, and you could be missing out on reaching lots of other buyers!
Although Etsy is a good way to launch your business, you may need to migrate to a website of your own if it becomes successful. If you want to turn your store into a successful business, a website will ensure you look professional.
Do you need a license to sell on Etsy UK?
No, you don't need a license to open your store. But you will need to register your business with HMRC and pay taxes if you earn more than £1,000 per month.
Final thoughts
Hopefully, this guide has provided all the steps you need to open your new shop. We've covered all the essentials, such as choosing a shop name and payments and getting your store noticed by more buyers.
Although Etsy is a great place for budding creative entrepreneurs to get their products seen, it does require time and effort for your store to get off the ground. So, have patience, work hard, and don't forget to have fun!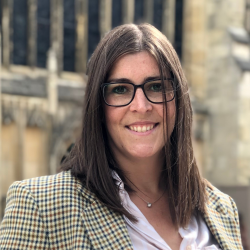 Latest posts by Naomi Willis
(see all)