We've been testing out eco-cleaning and washing up products sold at great value pricing from SaveMoneyCutCarbon.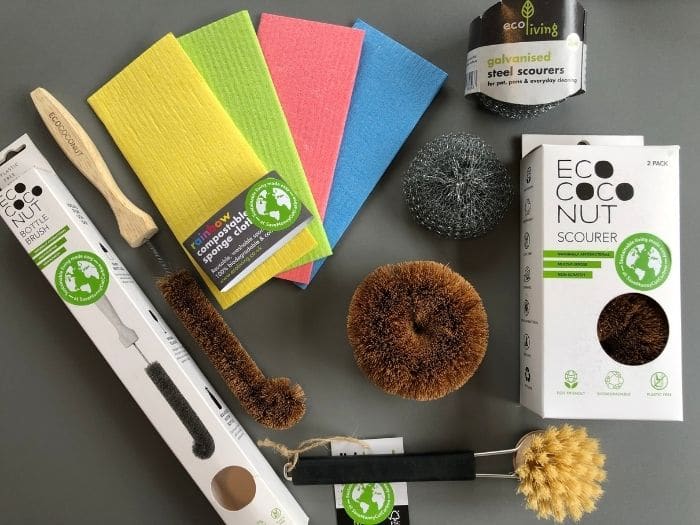 £10 BONUS OFFER: Earn easy cash by watching videos, playing games, and entering surveys.

Get a £10 sign up bonus when you join today.

Join Swagbucks here >>
SaveMoneyCutCarbon sent us the products for review
Although spring hasn't made much of an effort this year, it doesn't stop the need to have a decent spring clean.
Plus, with our recent house move, we want to give things a decent deep clean.
Eco cleaning
I'm not going to lie – cleaning is not my favourite hobby! But I know it has to be done.
To save money, we don't usually buy branded stuff and stick to the supermarket own or something from the pound store.
Unfortunately, this can mean us having bottle after plastic bottle in the cupboard.
So, I was interested to see how we could make sustainable swaps to how we clean and wash up.
All these products are available from SaveMoneyCutCarbon.
As well as being better for the environment, you won't have to spend out as much too. As a SaveMoneyCutCarbon Club Member, you will make huge savings on the products.
So, here's what we've been testing out this month.
Ocean Saver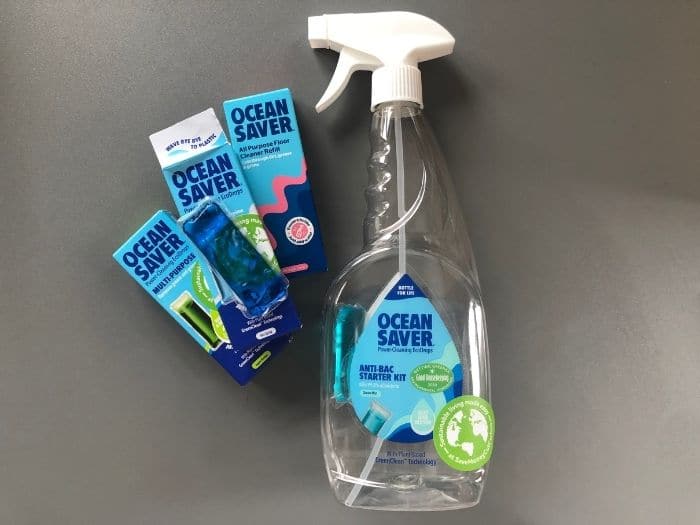 Whether it's glass cleaner, anti-bac or grease and grime remover, all cleaning bottles we buy are essentially diluted cleaner, and the rest is full of water.
Why bother buying a bottle like this when you can dilute it yourself from the kitchen tap?
You can then buy a small refill and reuse a plastic bottle over and over again.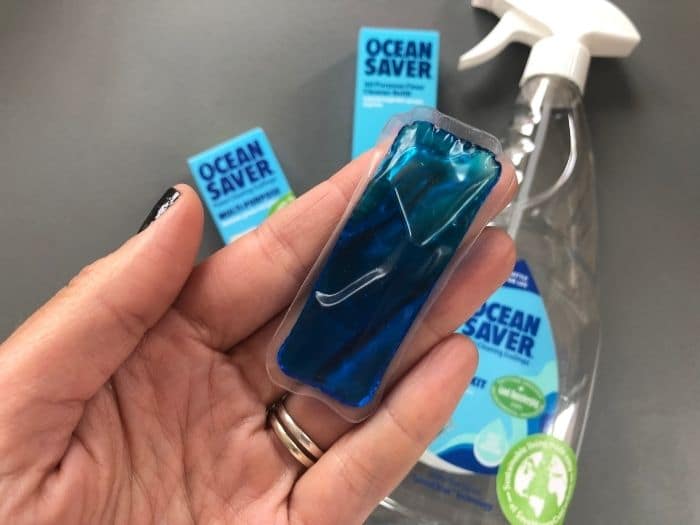 To use them, drop the refill in a bottle, top up the bottle with water, and give it a good shake.
I was really surprised by how lovely the product smelled, plus most importantly they really work.
From a storage point of view, we also don't need to worry about having extra cleaning bottles in the cupboard as the refill pods are small, so they can easily be kept in a drawer until needed.
Washing up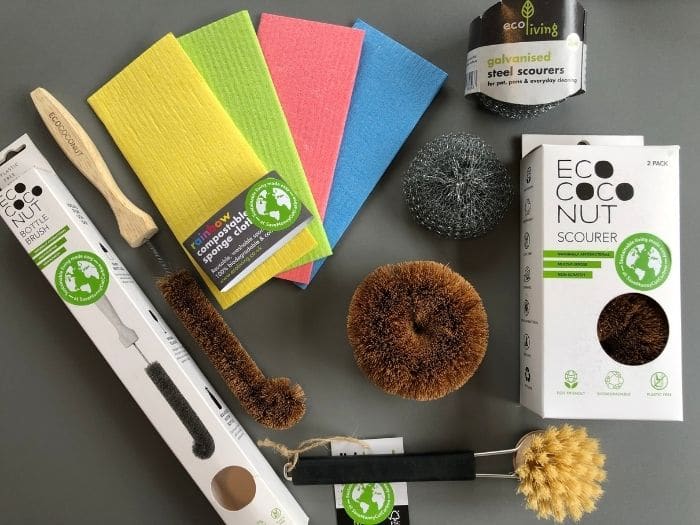 We were sent a selection of products to help with our washing up.
The items are reusable or are made sustainably.
Sponge cloths
While they appear tough and rigid, with a bit of water, these cloths are perfect for washing up dishes or wiping down the kitchen side.
We wash our dishcloths and reuse them as long as possible, but they need to go to the landfill when they're no good anymore. So I feel good on the one hand that we try to reuse them, but cannot avoid them needing to be put in the rubbish bin.
These sponge clothes are different.
As well as being dishwasher and washing machine safe they are made from natural materials.
So, use them, wash them and keep them going. But, when they reach the end of their cleaning life, the ecoLiving cloths are compostable from home.
Steel scourers
You get three galvanised steel scourers in a pack to use on pots, pans and for everyday cleaning. However, you cannot use these scourers on non-stick surfaces (see the coconut scourer below instead).
The scourers are tough to remove dirt and are very long-lasting. They also don't rust.
When you're done with the scourer, as it's galvanised steel, you can recycle them.
Eco coconut scourer
Instead of using a plastic or metal scourer, the eco coconut scourers are made from sustainably sourced coconut husk.
They are a far eco-friendlier alternative to other products out there, and you can get them at a great price for being a member of the SaveMoneyCut Carbon Home Club.
The scourers are safe for non-stick pots and pans and won't scratch. They are also naturally antibacterial.
You get two in a pack, and I'm sure they will last us for years!
Washing brush
Made with natural plant bristles and FSC wood, you can pop out the head and replace it when this dish brush has worn out.
The brush is non-scratch and great for cleaning washing pots, pans, trays, dishes and glass.
Eco coconut bottle brush
The shape of this bottle brush is great and very well thought out.
Not only is the bottle brush naturally antibacterial, biodegradable and sustainable, but it's also great for using on all sorts of longer items that need a good clean.
Maybe you need to clean baby bottles or perhaps a tall wine glass; the bottle brush can get to those hard areas easily.
Ecoegg Bamboo Towels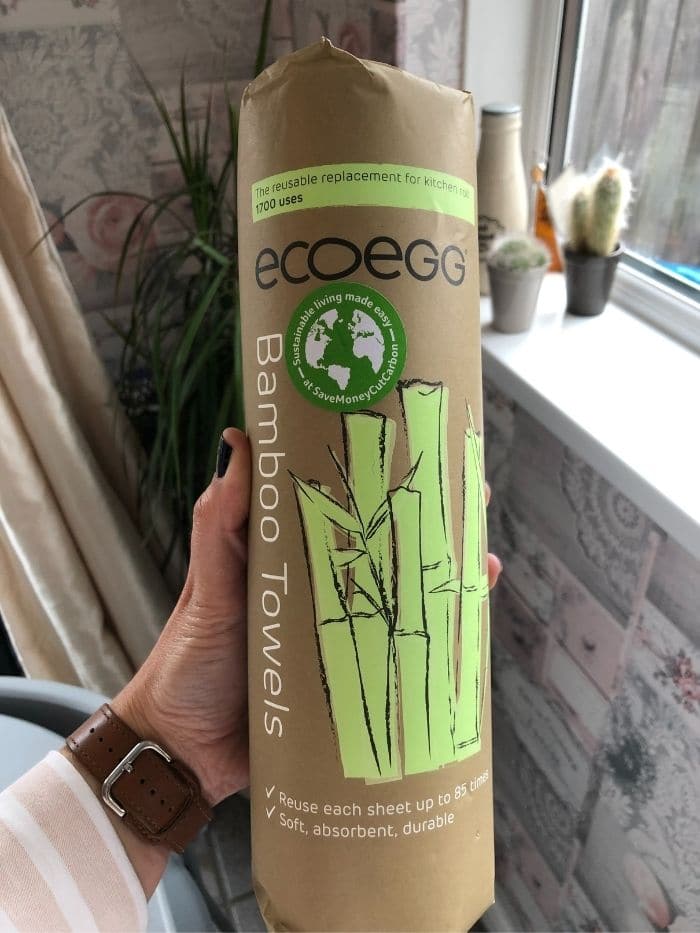 I love our new bamboo towels.
We usually always have disposable kitchen towels in the cupboard and are great to tidy up a quick spill.
However, they are useless when wet and (even if I wanted to be ultra-thrifty) cannot be dried and reused.
These ecoegg bamboo towels can change everything and be used again and again, saving you £67 a year.
Each roll has 20 sheets. Now that might not sound like much, but you can use each one 85 times.
The sheets are super-soft, much bigger than disposable towels. Wash them at 40°C in your normal white load of washing then away you go.
We take part in reviews each month to test out products sold by SaveMoneyCutCarbon to see how they compare to other not-so-green alternatives. Follow what we've done so far and check back to find out about what's coming next: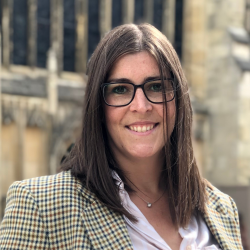 Latest posts by Naomi Willis
(see all)