An easy way to make money online from home and in your spare time is with Swagbucks UK. There are lots of ways to earn more, and you'll start seeing the bucks add up.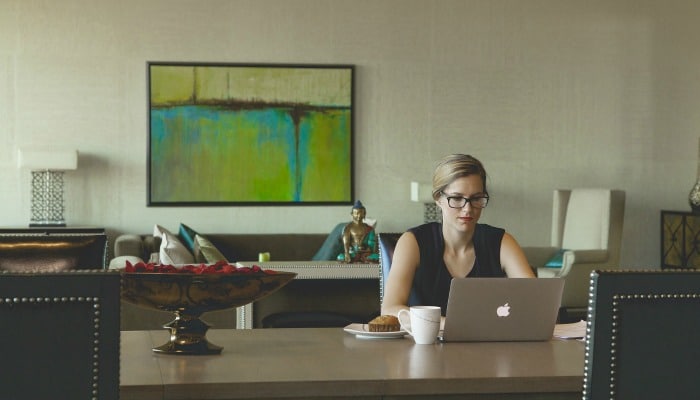 £10 BONUS OFFER: Earn easy cash by watching videos, playing games, and entering surveys.

Get a £10 sign up bonus when you join today.

Join Swagbucks here >>
Like more and more people in this increasingly technological world, I spend a lot of time with my eyes glued to a screen.
The lure of Facebook, YouTube and Netflix all seem too much to resist.
Recently, however, I started to realise that I am simply wasting my time scrolling through the same thing day after day.
Surely there's a better way to be using this screen time?
Surely I can Swag some Bucks?
Make money easily with Swagbucks UK
I can't even remember now how I discovered Swagbucks UK, but I am glad I did.
To put it simply, Swagbucks is a website where you complete tasks that you would normally do when on the internet anyway, and get rewarded with bucks.
This online currency adds up until you swap it for gift cards. Simple.
Some of the main ways to earn these bucks are:
Completing surveys
Watching videos
Using a search engine
Playing games
Shopping
If the everyday tasks seem like things that you would be doing anyway then that's half the battle won!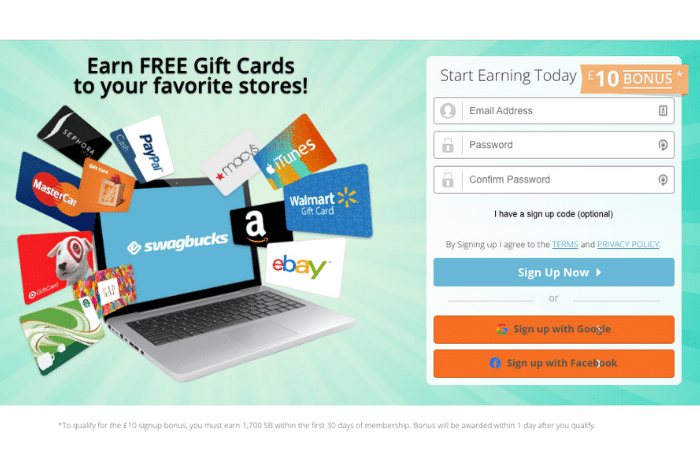 Loyalty pays
It really does pay to be loyal to Swagbucks.
Every day, you get a daily target to reach and are rewarded with bonus points for reaching it.
Every 7 days that you make this in a row, you get an extra bonus, and all these bonus points are rewarded to you at the end of the month (make sure you claim these, or you lose them).
It's a great incentive to visit the site each day and really makes the points stack up.
Get into a routine
Logging on to Swagbucks every day may seem like a big ask, but there are many ways to easily incorporate it into your routine.
As someone who likes to have a leisurely breakfast, I always squeeze in a survey first thing in the morning.
Then I will watch a few videos while I'm having my lunch and play some games in the evening while watching TV.
Just doing this as part of my normal laptop routine guarantees me to earn SB every day!
Swagbucks search
The thing that is the easiest thing to do, and won't require any extra effort, is to search through Swagbucks.
By setting your search engine to the Swagbucks one instead of Google, Bing or Yahoo, you have a chance to win bucks every time you search the internet.
So next time you want to check out Skint Dad's latest post, search for it through Swagbucks, earn yourself some rewards and then maybe save yourself some cash.
As someone who has always used Google, I was a bit dubious about whether or not these search results would be up to scratch.
However, the search engine is actually run by Yahoo, so they are pretty reliable.
The only real difference that I have noticed is that it's not as good as Google at predicting what you are going to search for, but it's a small detail in the grand scale of things.
Swag Button
Another extra that I installed was the SwagButton.
This is a little extension button on the top right of your toolbar (a bit like the Pinterest button) that allows you to access Swagbucks UK much more easily while elsewhere on the net.
You can watch videos while on other sites (everyone loves a technology multi-task), use the search engine, and find quick links to shopping offers!
Another bonus is that it gives you an alert when there is a new SwagCode available.
What's a SwagCode, I hear you ask?
Well, every so often, Swagbucks kindly give out a few extra bucks, and all you need to do is enter a code into the appropriate box – a bit like using a promotional code when shopping.
These can be found on certain pages of their site and are often posted on their Facebook page – so worth following them.
You can also Google (or SwagSearch) for the latest codes, as there are some sites dedicated to posting up SwagCodes as soon as they are released.
Completing surveys
Surveys are the fastest way of making large amounts of Swag Bucks (SB) at once.
Completing surveys can pay over 200 SB, but others only pay about 40 SB.
However, this 40 is normally enough to hit the daily target, so if all you have time for is 10 minutes doing a survey, this is ideal.
Be warned, though, you will get screened out of a lot of surveys, but stick with it!
Even when you get screened out, you get rewarded 1 SB, so it's worth giving every survey a shot!
I really like the idea that you are helping people do research and develop their goods or company with your opinion.
So often, it is everyday people who come up with innovative ideas, and so this is a great way to get them heard!
Just another bonus to earning Swagbucks!
You may also be interested in:
Cash back when shopping

If you are someone who does a lot of online shopping, you may as well earn Swagbucks while you are doing it.
After installing the Swagbucks Toolbar (see above), you will automatically be alerted when you are on a site that offers Bucks for your purchases.
It works a little bit like cashback.
The reward won't be instant, as they have to make sure you don't cancel your order.
This is especially good for big purchases, and look out for promotional periods when they may be offering double the reward on certain sites.
Make money watching videos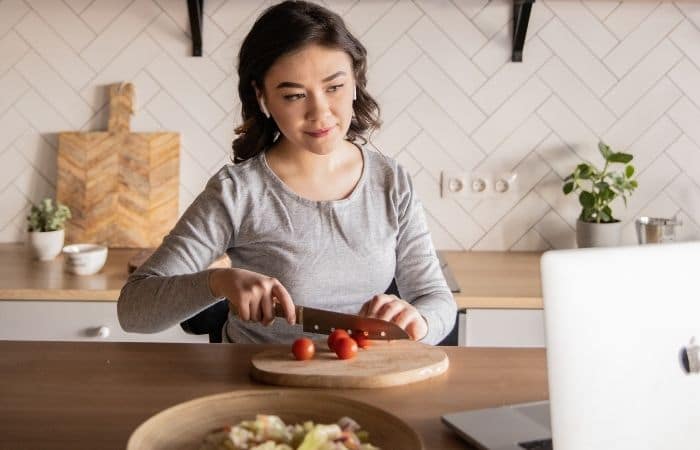 If you dream of getting paid to watch TV, Swagbucks UK offers something pretty close.
Although there is a 150 SB daily earn limit, this is still a fair amount.
You can choose to watch videos from a wide variety of genres, such as Fitness, Food, Entertainment and Fashion.
I particularly like watching the trailer for the newest films that have come out or doing Yoga along with the fitness instructor in the video.
If ever there was motivation to work out, it's getting paid for it!
Play games
If you have a little time to spare, and can't be bothered to complete surveys, you will like this next idea.
You can even earn money with Swagbucks by playing games.
You get paid for an entire completed game, so stay on to the end.
I quite enjoy a quick game of solitaire or a word game while I'm having some lunch.
It's an easy way to pass the time, give my brain a bit of a workout and another way to earn points.
Money for receipts
Using your grocery receipt, you can turn it into cash, similar to other apps where you scan receipts for money.
Swagbucks allows you to earn SB for the receipts you upload and get additional cashback for specific purchases.
Check the tab on the Swagbucks website or take a look at the app.
Daily poll
You can earn SB quickly and easily when you answer the daily poll.
Doing this doesn't take as long as completing surveys, and you can see your earnings go up.
---
By combining all of these techniques, you can really build up the Swagbucks.
I tend to earn around £10 – £20 a month in Amazon vouchers, but I know others who earn more.
It's not enough to live off, but a nice bonus when you want to treat yourself.
Last year, I saved up just over £100 of Amazon vouchers and got all my Christmas shopping done without paying a penny. I felt like Santa really did exist. 
Right now, I am saving up my vouchers to buy a new camera – something I wouldn't normally afford to do.
So, even if you are on a tight budget, there are ways to earn Swagbucks gift cards so that you can still reward yourself and be a savvy saver!
Is Swagbucks legit?
Very simply – yes.
Swagbucks is legit.
They have been offering surveys and ways to make money for years.
In fact, Skint Mum remembers joining them when her daughter was a newborn (and now she's 17!)
She has had money payout and earned a fair bit over the years in free gift cards and PayPal
How much are Swagbucks worth?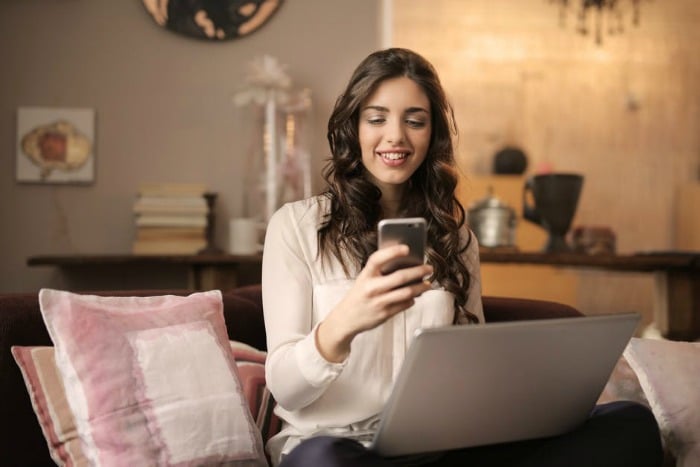 Swagbucks is the name of the credit you earn when you complete surveys and tasks like watching videos.
On average, you can earn 70 – 150 Swagbucks (SB) for each survey you complete.
Plus, there are all the other options to increase your earnings.
When it comes to cashing out either in cash or gift cards, 100 SB is the same as $1/75p.
Cash out with gift cards or cash
When you are ready to cash out, there are loads of options.
Head to the rewards tab, where you can see the selection of gift cards available.
You can pick from major retailers like M&S, Amazon, Tesco or Cafe Nero.
Many on the gift cards also get a hefty percentage discount, when they are running a sale.
Or, just choose to get cash through PayPal.
You've also got the option to donate through the Swagbucks website.
Choose a cause close to your heart, and you can give 5 SB per donation.
FAQs
Does Swagbucks give you real money?
You're able to cash out in real money with Swagbucks from doing their activities. You can get cash through your PayPal account.
How much could I make with Swagbucks?
You could realistically make £20 – £75 ($25 – $100) in PayPal cash or gift cards each month. Some super-users have earned over $10,000 from using Swagbucks!
How many Swagbucks is $1?
Every 100 Swagbucks is the same as $1.
How old do you need to be to use Swagbucks?
You need to be at least 13 years old to use the Swagbucks site, which is a great way for kids to make money online.
Is Swagbucks legal?
Yes, Swagbucks is a legit company that pays you for your opinions and for taking part in activities online.
Is Swagbucks worth the time?
In my opinion, Swagbucks is one of the decent survey sites to earn money. They have been around for years, are a free site to join, and you can earn real cash every month.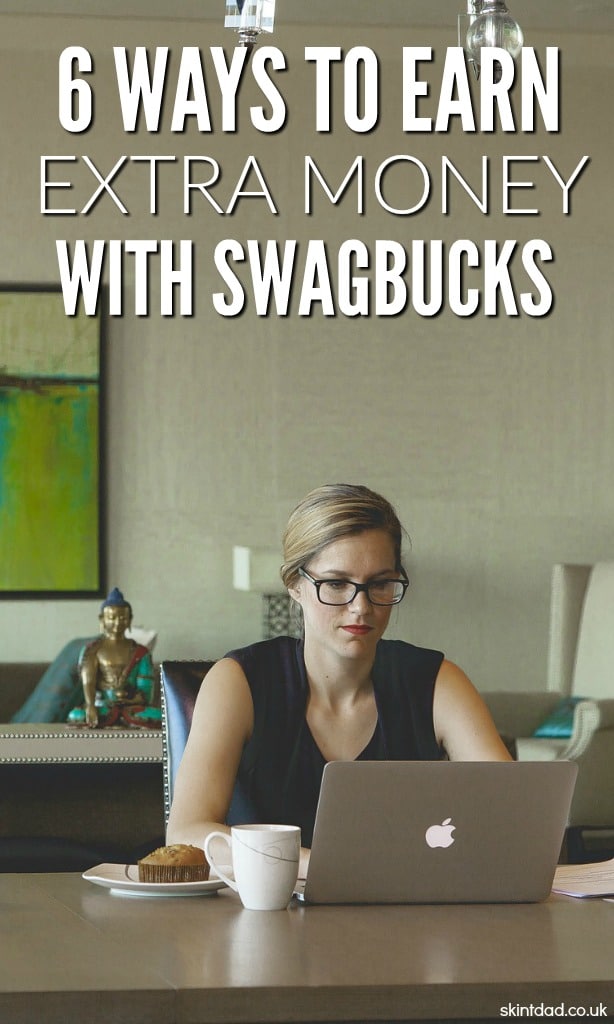 Latest posts by Lorna Beattie
(see all)