Kids can (and want) to make money too. We share how to make money as a kid with job ideas and easy ways to earn.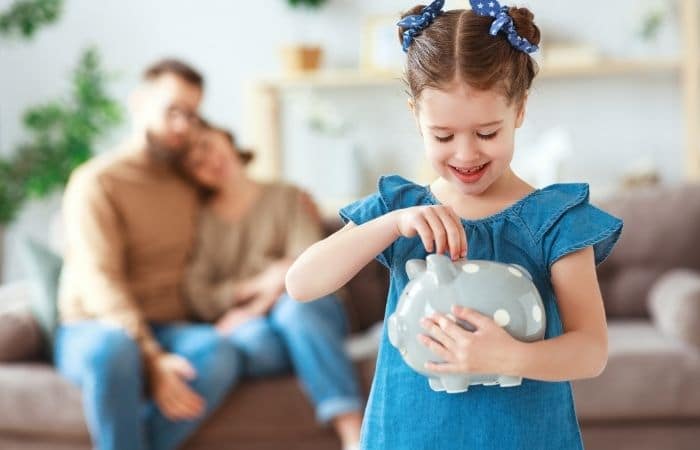 £10 BONUS OFFER: Earn easy cash by watching videos, playing games, and entering surveys.

Get a £10 sign up bonus when you join today.

Join Swagbucks here >>
My daughter recently asked for pocket money in exchange for doing jobs around the house.
And while I'll encourage her to make money, I don't have an unlimited budget to fund her bank account.
So, it got me thinking about making money as a kid (without turning to the bank of mum and dad).
How to make money for kids
You don't need to wait until you're 18 to enter the world of employment.
Kids can earn money in the UK, and it doesn't matter if they are younger kids, teens or slightly older.
There are lots of opportunities to start making money out and about, online and from home.
You may think the options to make money when you're a kid seem limited, but there is never a better time for kids to make money fast these days.
When I was a kid, I found several different ways to boost the cash in my piggy bank, but kids today have internet-based jobs to bring in money faster.
One of the best ways to start is to ask your child to brainstorm ideas about what they like doing.
What are their hobbies?
Do they have any skills they could use?
Doing this at first can help decide what side hustle they want to make money with, and if it's actually feasible.
Are you older and need money? Check out a few ideas on how to make money online UK edition.
How can I make money fast as a kid?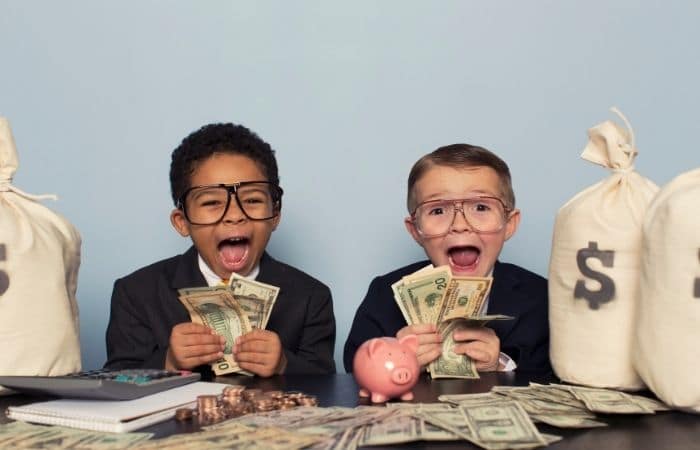 Because you don't need many skills for some of these jobs, most kids could easily do these jobs and get paid quickly.
Not only can they earn a small income, but they learn a great life lesson about how money is made and can go on to learn about how to budget and save their hard-earned money.
Whether you're a kid reading this, or friends and family looking for ideas, we share loads of ways to make money.
How kids can make money online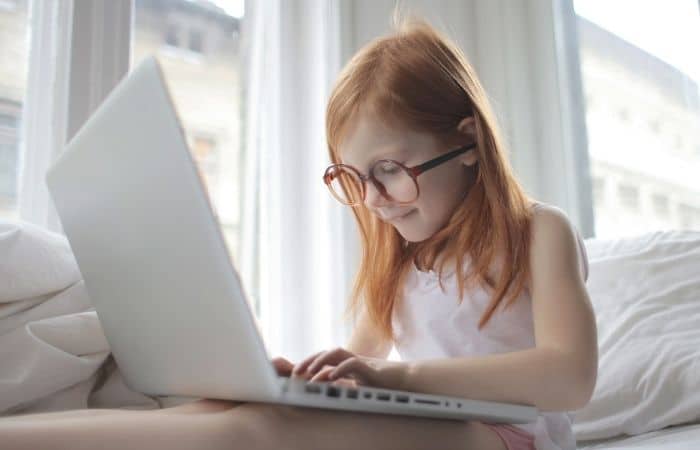 I know how much my kids like being online and having seen us make a living online, they seem eager to follow in our footsteps.
Today, there are so many ways to earn money online – the possibilities are endless, and so is the earning potential.
Start a blog
Perhaps I'm biased, as we've made good money from blogging, but it's an easy way to earn a living when you get into it.
It's not even pocket change; we've been able to earn decent money and enough to support two adults' wages, plus pass work to freelancers.
Your child needs to write, but you learn your style and get into a flow the more you do it (plus the practice writing will help towards their exams).
Don't get hung up on the design and making things look pretty; publish every day and improve as you go.
Once you work out the niche and what you want to write about, income can come fast (we started making money after two months).
Some of the simplest ways to make money blogging are display adverts (you get paid for the volume of traffic), affiliate marketing (when someone clicks a link out to a retailer or service provider, you may earn a small percentage back (see these best affiliate networks) and sponsored posts (when a company pays you to talk about them).
So, pick a topic, then start a blog – the rest you can learn on the journey.
Paid surveys for kids
When looking for how to make money as a kid, paid online surveys are worth looking into.
The idea is that you give your opinion on different topics from food and snacks to travel and clothing, and you get rewarded for doing so.
You can complete online surveys after school or at weekends and can easily do it from a smartphone.
A fair few of the sites require you to be over 18, but a few look for a younger audience's opinions.
Swagbucks is great for kids over 13 years old.
You get paid in high street gift cards and earn through surveys, watching videos and even playing games.
You will also receive a £10 welcome bonus when you sign up here.
YouGov and Prize Rebel allows you to be 16, but it's best to get parental permission.
You're not going to make your millions, so don't get your hopes up, but they don't take a lot of time and can have you making hundreds from online surveys from your bedroom.
As well as surveys, you can make more money when you play games and even watch videos.
Start a YouTube channel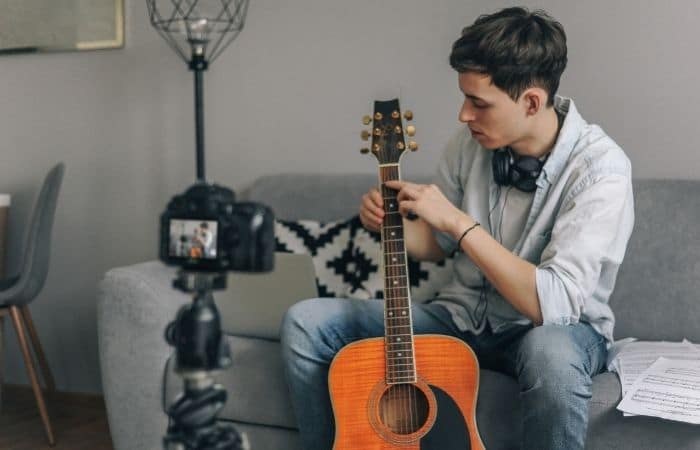 Instead of blogging, you can make money as a kid through vlogging with your own YouTube channel.
You record *something*, edit the video and upload it to YouTube.
You're not going to make immediate money, but need to build up a following first.
You need 1,000 subscribers and 4,000 hours of overall watch time within the past 12 months to monetise a YouTube channel.
If your child makes popular content, it might not take that long to hit the targets.
Videos could be about toy reviews, how-tos on their favourite hobby, or playing video games.
My youngest has a channel and shares videos of her playing computer games (the screen capture) and some animated videos she makes.
She's learning a real skill!
As channels get popular, you can also use affiliate links in the description and potentially work with brands on sponsored content.
You need to be 13 years old to create a YouTube account and 18 years old to monetise it, but a parent can help set it up in their name (which is worth keeping an eye on the content they are sharing and engaging with).
Some YouTubers make a whole lotta money!
You may have even seen one of their highest earners, Ryan's World – the 9-year-old! – who makes millions of dollars from YouTube and now has toys for sale in shops.
His net worth is around $32 million!
Become a video game live streamer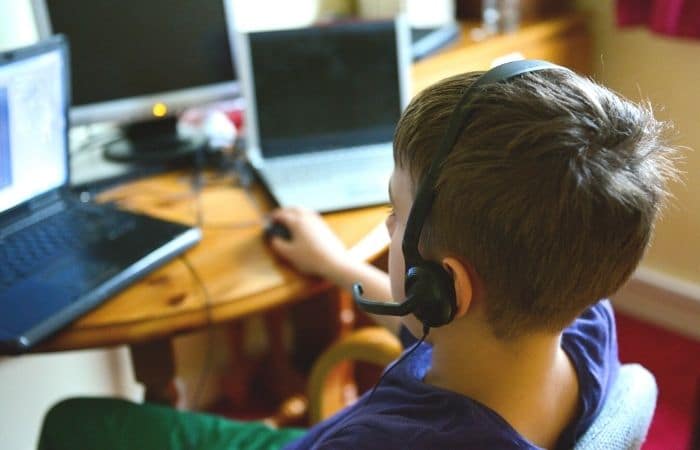 If you have an avid gamer, they could share their hobby online and make money at the same time.
Streaming video games is quite a new thing in terms of making money online, having only been a big thing since around 2014, but it's not a multi-million dollar industry.
You can show your face (or not) and can stream to Twitch, a YouTube channel and Facebook using Open Broadcaster Software (it's good and free).
When it comes to making money as a kid streaming, you make your income on the broadcasts via ad revenue, sponsorships with brands, viewer donations and subscriptions.
Make money online selling your skills
A fun way to earn money as a kid is by using skills that potentially come naturally to them, but others are in desperate need of.
Using Fiverr, children from the ages of 13 can sell gigs from $5 up to thousands in 200 categories of freelance services.
Do you have a voice suitable to record voiceovers?
Maybe they can teach/train/coach someone else how to play a game online (yes, people pay for this), or maybe they are good at creating GIFs?
Businesses need people to help them with skills they don't have, and it's one untapped way for how to make money as a kid.
Make some extra cash selling photos online
Once upon a time, you need to have an expensive camera to take amazing photos, but today a smartphone lets anyone look like they take pro-snaps.
Once your child has a selection of photos, they can upload them onto a stock image site and sell the image's rights.
Your child would get paid royalties for every photo that gets downloaded.
They could potentially make money fast for the right snaps, so it's worth taking time to get quality images.
Look into Adobe Stock or Shutterstock.
Be an influencer
When I was younger, I wouldn't have even known how to make money as a kid as an influencer!
But, today, it's just how things are done.
Social media on its own is a full-time job to many, and I've read stories of young people quitting their jobs to concentrate on travelling the world, posting a photo online and (from the outside) living a retired-looking life.
Obviously, there is more to it than that, and influencers work hard to build a following and engaged community and work with brands and PR companies to create content to help promote services.
Influencers also make money with ads, affiliates and selling their own products.
Most social media sites say you need to be 13 to sign up (make sure not to break the rules or your account and hard work will get closed down).
Whether you want to start on Instagram or TikTok, be authentic and find your voice so you can stand out.
How kids can make money from home
If you want to avoid using the internet as a way for kids to make money, there are plenty of other great ways to earn money from home.
Reselling items/flipping
It's very simple – you have something cheap then sell it for profit (also known as flipping).
You could start by selling your own things like unwanted toys and clothes.
Not only will it free up space in your kid's bedroom, but they can build up a small profit, then take to charity shops or car boot sales to find things you want to sell on. It's something that kids of all ages could do.
You'd need basic skills in photography, writing descriptions and researching online to see how much items sell for.
A child may need a parent's help with posting the items on eBay, Facebook Marketplace or Gumtree, depending on their age.
For more ideas, take a look at the best things to buy and sell for profit.
Make money selling other people's stuff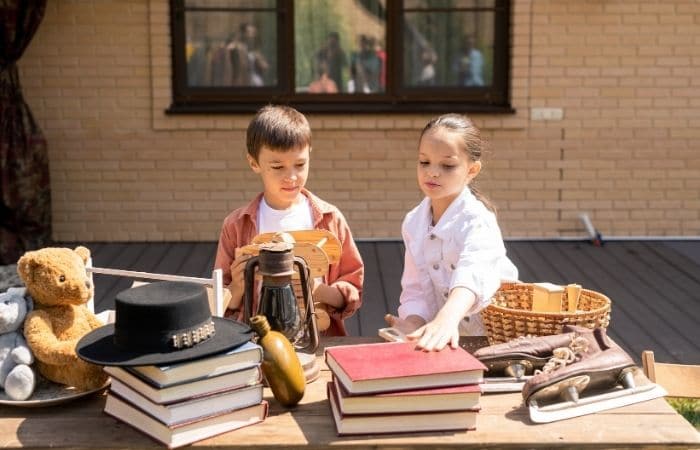 If you don't have a lot of stuff to sell and don't have extra money to buy up stock yourself, you could sell stuff for other people and keep a cut of the profit.
The UK's average UK household has £400 worth of unused stuff lying around, and collectively there is £10 billion of clothes unworn in wardrobes.
People want to sell stuff but don't always have the time or inclination to do it themselves, so your child could offer it as a service.
When you sell someone's items, you give them the money and keep a cut for yourself.
You could either organise a garage sale type event or sell their stuff online.
Make homemade items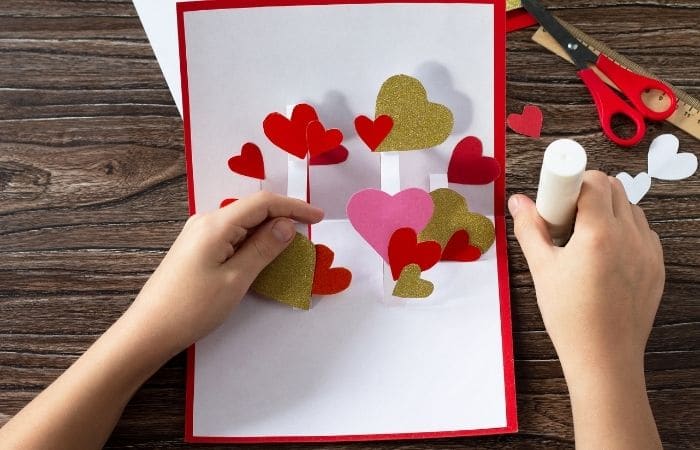 Do you have a crafty kid? Do they know how to make things others love?
They could use their skills to sell homemade items to many people.
With parents' permission, allow your child to sell their makes on Etsy, an online marketplace that sells handmade, craft and vintage items.
A way to make money as a kid is through making bead jewellery, friendship bracelets, small sculptures, knitting like blankets or clothing, greeting cards, printables – the possibilities are endless.
If they have a crafty hobby, they already know what they want to do, otherwise, look through the categories and find inspiration.
Similarly to eBay, you pay listing fees and transaction fees on sales, so make sure to work out the cost of materials and postage vs how much they'd make back – very good for the maths skills.
Earn money selling t-shirts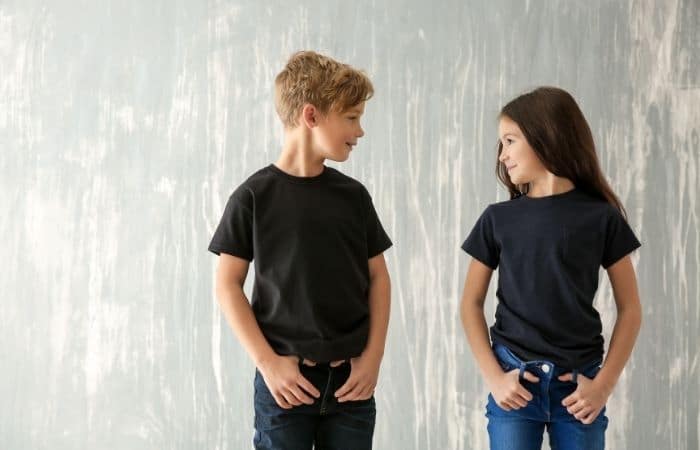 Pretty much every influencer has a clothing brand they flog alongside what they do on social media.
(Have you been badgered to buy an expensive t-shirt, bag or hat from some YouTuber you've never heard of? Just me?)
Well, creating a fun or memorable brand isn't just about being famous first – anyone can do it and start a buzz.
Selling t-shirts online is the easiest way to go about it.
Come up with a custom design and sell them on; although you have a few ways to sell.
Either get them printed each time someone buys one and have them drop-shipped or buy them in bulk, hold the stock and ship yourself.
Find out more about how to start a clothing business.
Become a tutor
Is your kid good at geography, computer science, English?
When they have a skill, someone else wants the support.
Your child would need to be a year or two older than the ones they support, so they'd have an understanding of the subject materials being taught.
Kids could help with homework, test or exam prep in exchange for extra cash on a basic level. Find out how to become a tutor.
Further afield, people from other countries look for native English speakers to hone their language skills and learn English as a second language.
This could also be an option.
Publish a book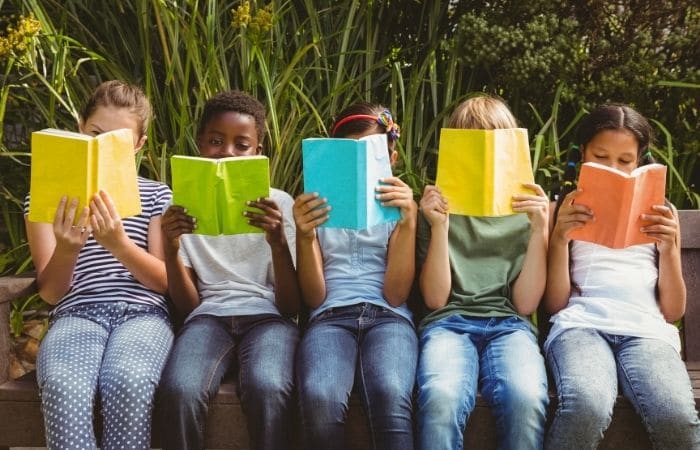 You don't need a publishing house to become an author nowadays.
If your child has a passion for writing, why not publish their poetry or short stories for them to make money.
Self-publishing has never been easier, and e-books can be read easily on most devices and to a worldwide audience.
The youngest British author is 5 years old.
Invest
One of the easiest ways to make money is by letting your money work for you.
If your kid has a generous family who gives cash for birthdays and Christmas presents, open up a savings account for your child and start investing in their future today.
Compound interest is an amazing thing and can make money worth a whole lot of money more.
Read next: How much pocket money should I give my child?
Other ideas for kids to make their own money
There are far more easy ways to make money and get out of the house too, without needing to pick up a paper route or the cliched lemonade stand.
Here are more ideas of how to make money as a kid:
Plant sitting
When your neighbours go on holiday, they could look to put their pets into kennels, but their garden and house plants still need looking after.
Offering plant sitting, or even basic house sitting, for neighbours gives them peace of mind that someone can keep an eye on things when they're away.
It can be more than giving the plants a bit of water.
You could even pick up the post from the doormat, move the curtains, so others think someone is home, which can stop opportunistic criminals.
It can be an easy way to make extra pocket money over the summer holidays or school breaks.
Pet sitting
Similarly to looking after plants and flowers, you can make money as a kid feeding pets.
Don't just think of a dog or cat who are at home alone for long periods of time.
This could also be for pet owners of smaller animals like a goldfish, rabbit or hamster.
Dog walking business
As long as a child has experience with dogs, they could start a dog walking business.
They can offer services to people around your neighbourhood as a way to make money as a kid.
It would be a useful service to people with mobility issues or for people who work long hours.
Shopping service
If Deliveroo and Uber are doing it, why can't a kid?
Do you have neighbours who need some essentials from the supermarket or corner shop, like bread, milk and sugar?
Offer a service locally to run errands and deliver groceries for a small charge.
If the business gets popular, you could stock your own supplies from a cash and carry to bring costs down and be more competitive.
Fix bikes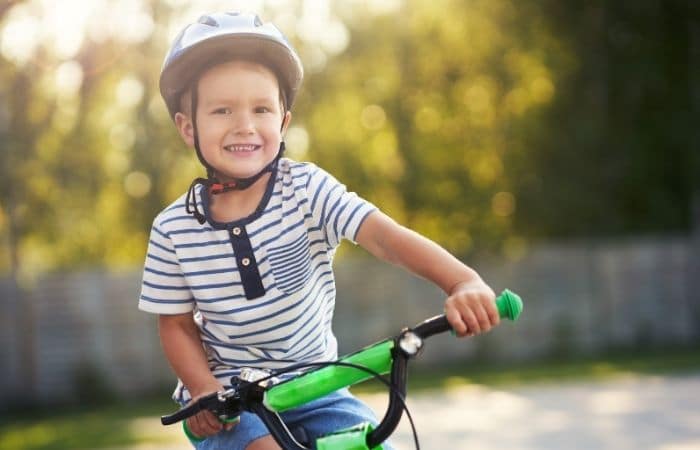 We are becoming a greener country, and many people are conscious of how they travel.
For smaller journeys, people want to leave their car at home and take a bike instead.
The trouble is, there are a lot of bikes that are left in the shed all winter and need a bit of TLC.
If your child is confident in tinkering and cleaning bikes, they may have sellable skills for the neighbourhood.
Bikes need just as much of an MOT and service as cars to keep them safe on the road.
Whether it's sorting out gears or replacing tyres, there are many easy jobs that bike owners don't know how to sort out.
Chores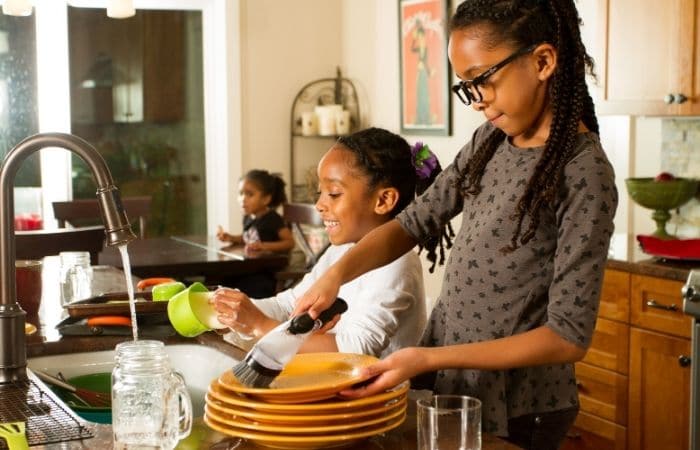 Offering help with odd chores for neighbours in the community could be really helpful.
Whether it's vacuuming, a bit of dusting, or taking out the bins, there can be cash made from doing the stuff kids refuse to do at home!
Gardening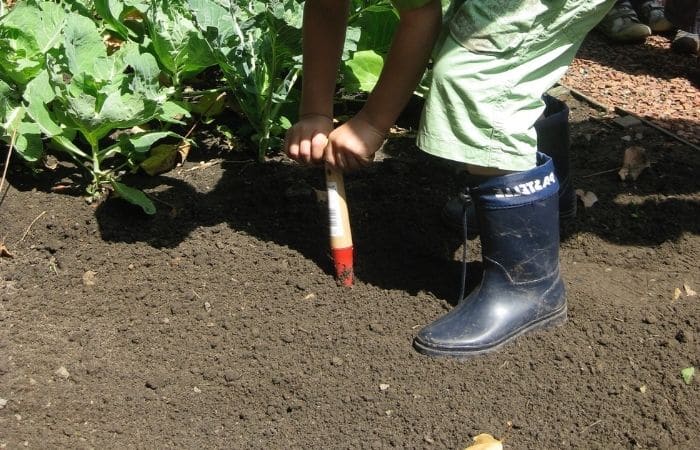 If you've got a green finger, a kid could make money helping out with the upkeep of a garden.
Tasks offered could be simple things like lawn mowing, trimming hedges, keeping flower beds and patios weed-free, sweeping pathways and gathering leaves in autumn.
Washing cars
People around your neighbourhood may be willing to pay more for jobs they hate to do!
A great way to make extra money is to wash the cars of people who cannot find the time to do it themselves.
You will need to supply your own bucket and soap to get started, but you might be able to earn a lot of money in just one weekend.
You could try and do a one-off car washing event, or build up regular customers each week for an ongoing way to make some extra money.
As you get more customers, you can make good money selling extra services like cleaning inside too.
Teach tech
Kids may know all sorts about using a smartphone or computer, so one way of making money as a kid is to pass on that knowledge to adults.
It could even be simple things like using Zoom, making a video call, using emojis (properly), logging on to social media, accessing emails, or using Google Drive.
If someone isn't used to being online, things that a kid may use daily aren't so second nature to others.
With a long list of tech, there are loads of ways kids can make some money.
Babysitting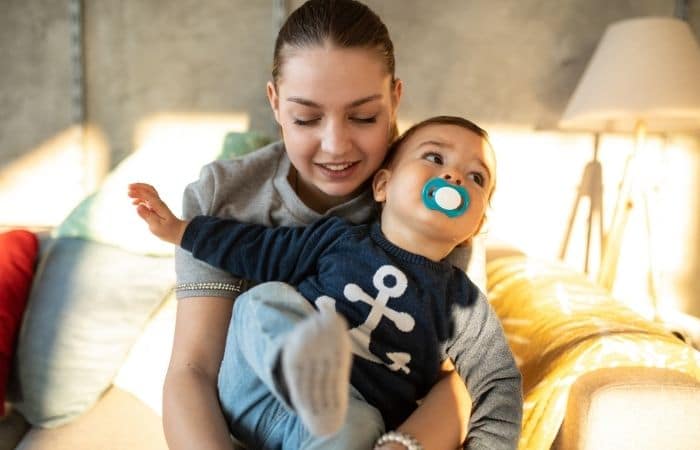 You will need to be a bit older to be a babysitter, and parents want someone responsible for taking care of their children.
It's a great way to make money as a kid in the evenings and weekends.
Generally, babysitters will be 16 years or older and show proof that they are trustworthy (maybe a teacher reference).
It would also be a good idea to undertake some first aid training, just if something were to happen.
But, more than that, it will put your skills higher than others.
A DBS check would also be worth getting, but you need to be 16 years old to have the check carried out.
As you'll work in the night, you'd need to factor in how you'd get home safely.
Ways kids can advertise
One of the best ways to advertise any of these services is to start with the local Facebook groups.
While it can be tempting to offer services on behalf of your kid, if they are over 14, they can have their own account and explain why they are doing what they're doing.
As work starts to come in, new jobs should come through word of mouth.
Alternatively, pop an advert into the window of your local shop, although you'll usually have to pay, or see if your local church would post an announcement.
Jobs for 13 year olds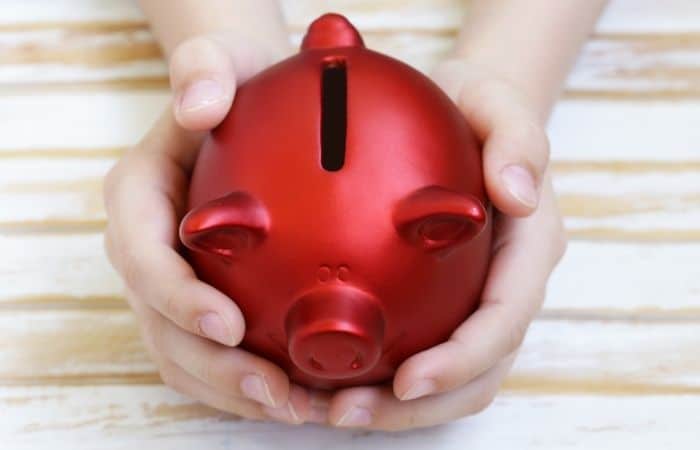 Being 13 isn't an age I'd want to do again in a hurry.
They are new teenagers, but not old enough to do much.
They need money to go out and have fun but struggle to make any money themselves.
There are jobs for 13-year-olds with an employer and making extra cash working for themselves.
At 13, there are some restrictions on the kind of work children can do.
Younger kids cannot work in places like a factory or industrial estate during school hours before 7 am or after 7 pm and can only work part-time.
As a few examples, kids at 13 can apply for work doing a paper round, in a shop (although not likely on a till), in a hairdresser making tea/coffee and sweeping,
When working for someone else, school-aged kids under 16 are not entitled to National Minimum Wage.
But, if they work for themselves, they can earn a fairer level for the work they do.
Can you start a business if you're under 18?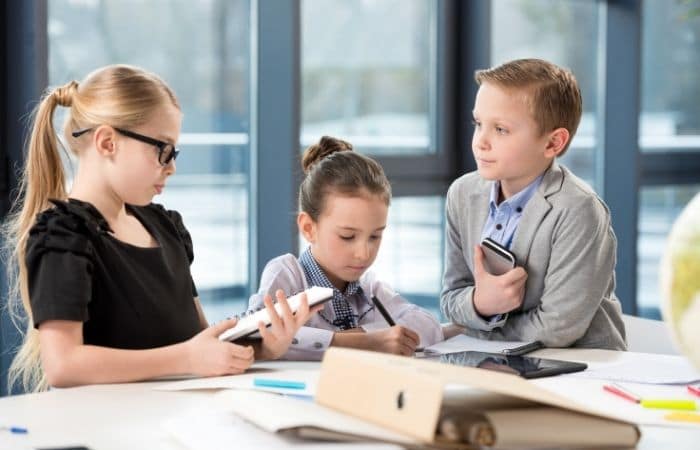 Age is only a number and anyone, at any age, can start a business to make extra cash.
What could start as a bit of pocket money for a child may take root and be more professional.
Children, or young entrepreneurs, can also access support and grants from young enterprise schemes, which may be worth looking into if their business needs a bit of a cash boost.
There may be some stumbling blocks; opening a business bank account or getting access to credit, as well as balancing school with a new business, but it's a great way to learn something they don't teach you in school.
How much can young kids earn before paying tax?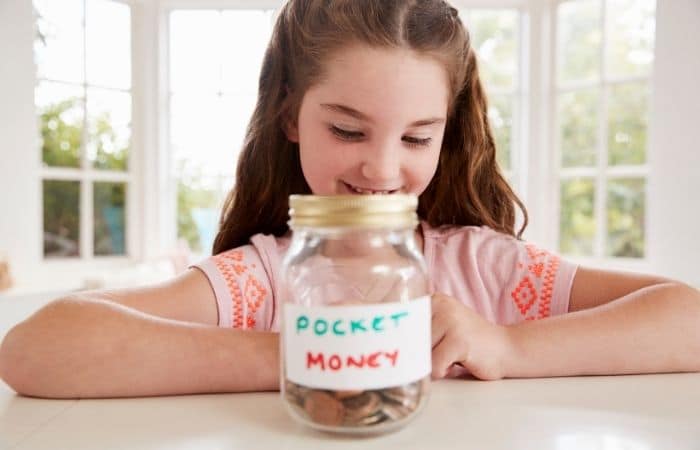 There is no age limit on when HMRC want to tax us!
Even if you make money as a kid, if they earn enough, they still need to pay tax (although National Insurance Contributions don't need to be paid until someone is over 16 years old).
A child – even at a young age – still has a personal allowance, which allows them to earn a tax-free amount a year.
If they start to earn more than £1,000 a year, a child will need to make sure to register as self-employed and complete an annual return.
Is there a minimum age children can work?
If your child is looking to earn money working for someone else, there are child employment laws protecting children and limiting what can be done.
The youngest child can work part-time is from the age of 13.
However, if they are working in TV, theatre or modelling, they can be younger but need a performance licence. For full-time work, they need to have reached the minimum school leaving age.
When it comes to a child working for themselves, there is no age limit, but they'd obviously need to balance education and chill out time into anything they do.
How can a kid become a millionaire?
Making money as a kid will get earn money, but long term wealth can be harder.
You may hope your child grows up to earn millions as an entrepreneur from their side hustle, selling their great business idea on, but there is the best way to set them up on the path to be a millionaire – and it's all about saving/investing.
The earlier you start saving for your child, the sooner they can become a millionaire.
Put £25 a month aside into a high-interest account from birth until 21, then allow compounding interest to take effect, your child could be a millionaire by the time they turn 60, according to The Motley Fool.
Obviously, investments can go up as well as down.
Help kids with financial education
Kids learn at school, but life lessons – even for young kids – start at home.
Even a basic financial education of earning money and what you should do with it can be best taught from home.
Kids need to learn that money doesn't just magically come from the ATM, but is earned through work.
Getting your children excited about making money can also show it can be fun.
When children can earn their own money, it allows them to develop independence.
While you don't want your 8-year-old planning to move out, finding ways to think for themselves can help them in all areas of their development, confidence and people skills.
When children start to make some money, it's the perfect time to get them in the habit of saving part of what they earn for a rainy day and their future.
Help them come up with a savings goal, so they are working towards something, and when they save enough, they'll get a great sense of accomplishment.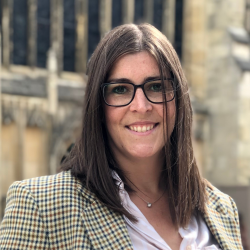 Latest posts by Naomi Willis
(see all)