Aldi is donating leftover and surplus food when they close their doors on Christmas Eve, meaning people without will be able to eat over the festive period.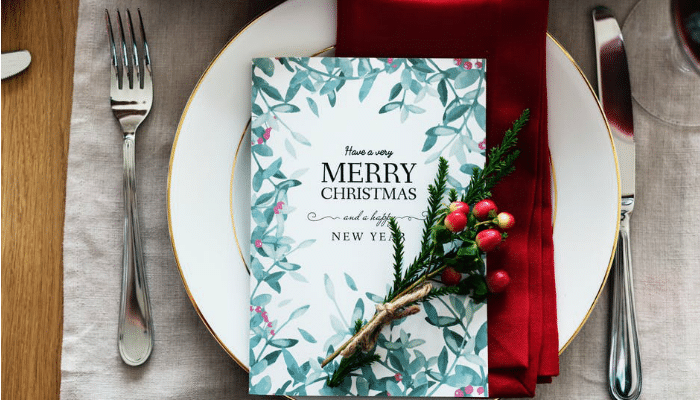 £10 BONUS OFFER: Earn easy cash by watching videos, playing games, and entering surveys.

Get a £10 sign up bonus when you join today.

Join Swagbucks here >>
When Aldi shuts its doors on Christmas Eve, staff are going to get a bit of a break.
You can find Christmas opening hours for Aldi and other supermarkets here.
When stores close on Christmas Eve, they shut for two days and reopen on 27th December.
While this will be a great break for staff, there would be loads of food sitting in the fridges and fresh fruit and veg that won't be fresh enough when the stores opened back up.
Instead of chucking the lot in the bin – and in the true spirit of Christmas – Aldi has a far better idea!
Each year, Aldi offers the opportunity for leftover and surplus food to be donated to worthy causes.
Love food hate waste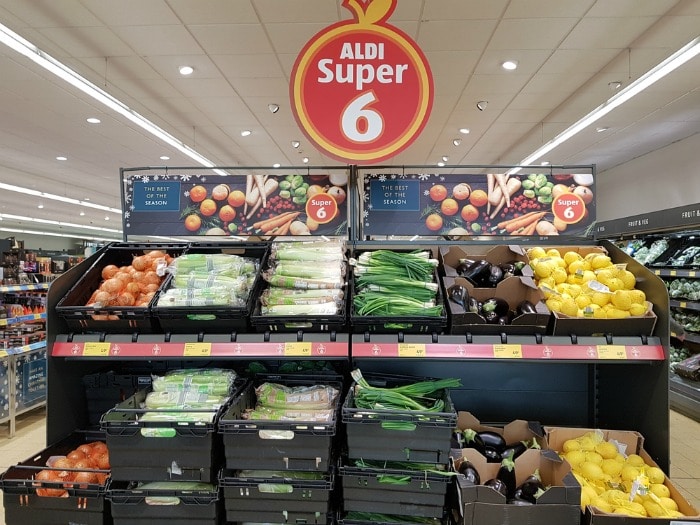 After Aldi stores close on Christmas Eve, there is expected to be a lot of surplus food that customers just haven't bought.
Aldi wants this food redistributed to support people in less fortunate circumstances and to prevent food from going to waste.
For Christmas 2018, over 500 charities received food donations from over 500 Aldi stores on Christmas Eve – that was the same as 495,000 meals!
And this year, Aldi has pledged to donate 10 million meals to families across the UK who face hunger.
What food is available?
Not everything will be up for grabs, so get the thought of a big bottle of gin or washing powder out of your head.
Aldi is focussing on making sure produce that has a short shelf life won't go to waste.
Read this if you're not sure of the difference between use by and best before
While they cannot guess how much food will be available when they close their doors, in a previous year, they believed there were around 20-30 crates expected from each store.
The following types of foods are being donated:
Fresh fruit and vegetables
Fresh meat
Fresh fish
Bread and bakery products
Other chilled products (e.g. dairy, desserts, ready meals etc.)
Although these types of food have short shelf lives, Aldi has said that there will be at least one day remaining on all the products.
How do I get the food from Aldi?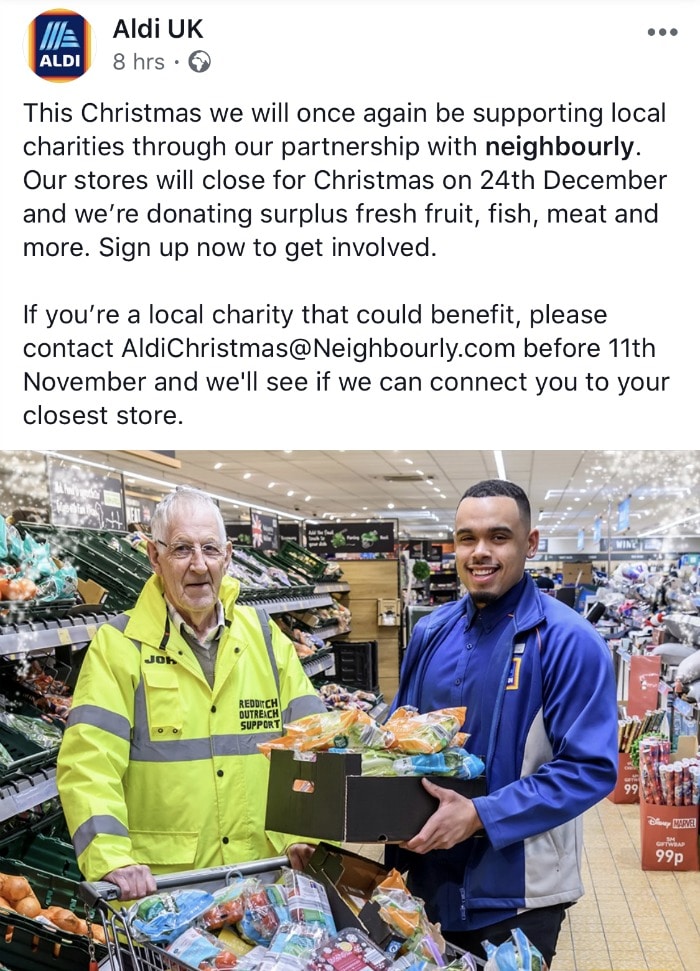 This very generous offer is not available to the general public.
They are offering this to charitable organisations.
There is also no way Aldi can deliver these products so charities or organisations that want to take advantage of this need to arrange their own transport to pick up the food, as well as containers to take the food away in.
Collections will need to be made once the stores are closed on Christmas Eve.
As staff want to be on their merry way, it's only fair that these times are met.
IMPORTANT
If you are a charity (or know of one to let them know about this), you need to contact neighbourly who are working in partnership with Aldi.
Before 5th December 2021, email AldiChristmas@Neighbourly.com and they will see if they can connect you with your closest store.
They will likely need the following details:
Charity / Group Name
Main Contact Name
Main Contact Telephone
City / Town
Closest stores
As a registered charity, Community Interest Group, non-profit, or community group, you must have a Level 2 Food Hygiene Certificate, dated within the last two years, to be able to receive food donations.
How else can you get free food?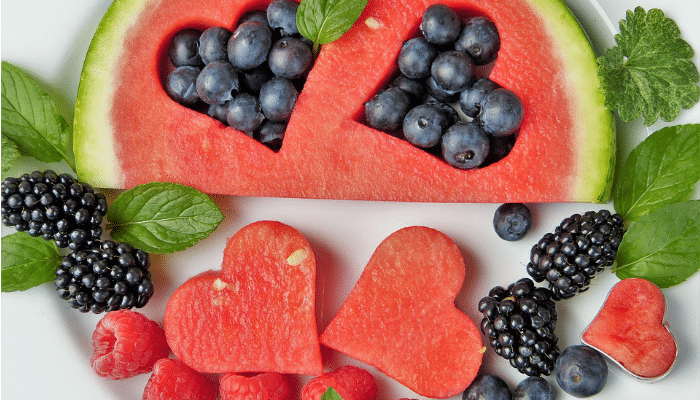 Now, while this hugely, festive and generous offer is only available to charities, there are other ways you can get free food.
Olio
People give away perfectly good food via Olio.
Olio is a food sharing app where surplus food is made available for others – for free!
CheckoutSmart
You're able to get free food and cheaper food via CheckoutSmart.
Access the details via your smartphone or directly from their website to see what's on offer each week (it changes regularly).
There are plenty of other ways to get free food too.
:: Come and join thousands of other savvy shoppers in the Reduce Your Supermarket Spend Facebook community to find out tips and tricks to save money on your food shop.
Enjoy this post? Why not also sign up to receive our newsletter.
We send out all the best money saving news and tips from the site and as an added
bonus you'll get an exclusive £16 cashback from Quidco (new members only)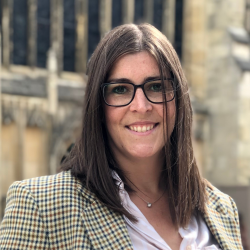 Latest posts by Naomi Willis
(see all)