Find the best deals and latest offers on cheap Tassimo coffee pods. Never pay full price – here are the ways to get your Tassimo compatible pods!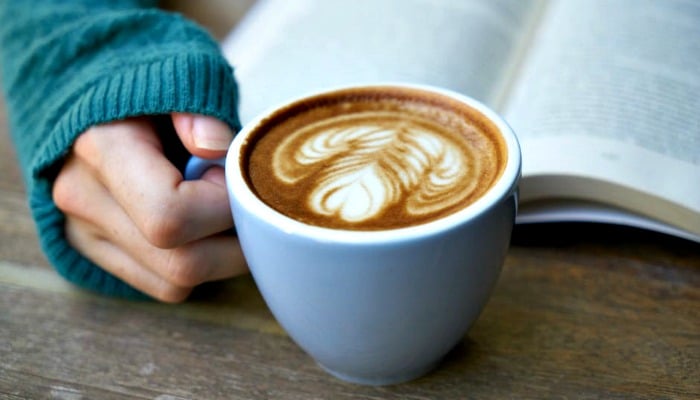 £10 BONUS OFFER: Earn easy cash by watching videos, playing games, and entering surveys.

Get a £10 sign up bonus when you join today.

Join Swagbucks here >>
While you've invested in a Tassimo machine, the cost doesn't stop there!
You can get coffee machines for a bargain price, but the ongoing cost of the Tassimo coffee pods is something you may not have factored in. You're not able to use any old ground coffee in the machine, but you need to use their specially designed coffee pods.
It's worth it though as at the touch of a button, you can get a creamy Costa vanilla latte, a warming hot chocolate or a kick from an espresso.
Now comes the battle; to enjoy decent coffee and still save money.
Where can you get cheap Tassimo pods?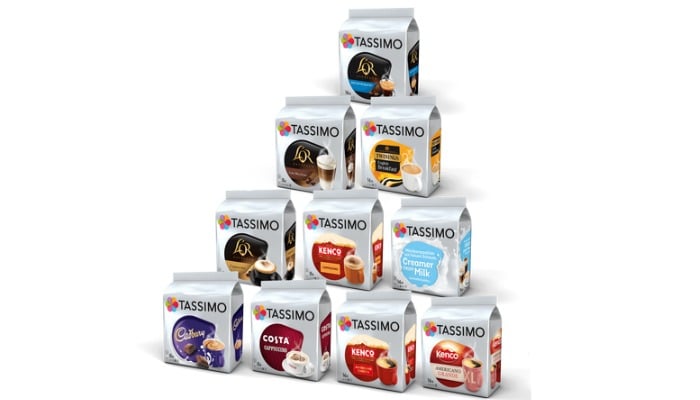 There's no point walking into the first supermarket you come across as you'll most likely need to pay full price.
Some of the supermarkets run price offers from time to time. Even with some of the "deals" it usually works out more expensive and better deals can be found online.
Tassimo pods offers
Offers for the pods range from around 18p per capsule up to 63p!
It can be quite a difference in terms of how much you pay, so it's always worth looking around to get the cheapest Tasssimo pods deals.
When you want a milky coffee like a cappuccino or latte, you have to use two discs (one for the coffee and one for the milk), so you effectively get half in each pack. The way to drink Tassimo cheapest is to buy Americano or long black coffee and top it up with warm milk.
Full priced capsules are around £5 for 8 (meaning 63p per T DISC) – this is why it's important to look for the offers.
Amazon Tassimo pods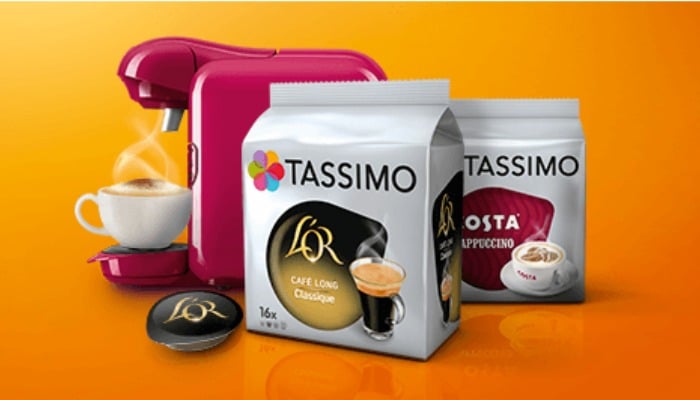 Amazon is bar far the cheapest place to pick up bargain Tassimo pods.
As a one time purchase, you're able to pick up 80 T Discs for £16.65 (21p per cup).
However, if you choose to subscribe and save, you can get 5% off the price on an ongoing basis (making it 20p per cup). But…subscribe to 5 products and you can get 15% off the price (and other things you subscribe to as well).
Not heard of Subscribe and Save? Find out more here
With the hefty reduction, this means you could get your Tassimo pods for just 18p per cup.
Lowest cost: subscribe and save with Amazon and get your pods for just 18p per cup
Supermarkets
Keep an eye out when the supermarkets run the 3 for £10 pods offer.
If you're buying coffees with milk it works out at 42p per cup, but Americano pods jump down to just 21p per cup!
You can get the costs down even more by using supermarket offer codes to bring the price of your shop down more.
Lowest cost: wait until there's an offer (Tesco and Ocado are good ones to check) and buy them for 21p per drink.
Discount shops
B&M, Homebargains and Poundstretcher sell pods, but you need to watch for the prices.
Although they are discount retailers, do check prices before automatically thinking you're getting a bargain.
Poundstretcher probably have the best deals (if your store has any in stock!).
Lowest cost: I've seen packs on sale for £3.99 for 16 – meaning 25p per drink.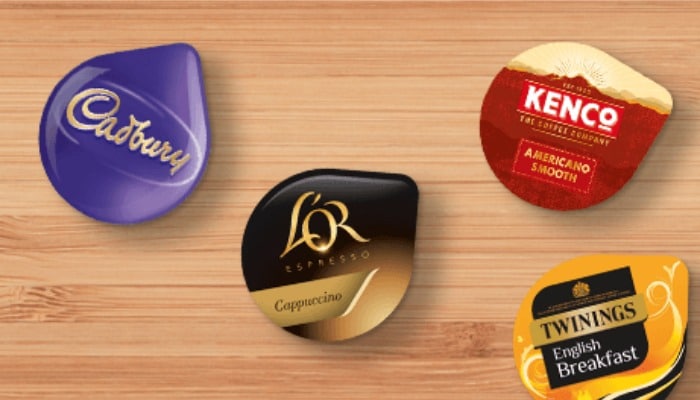 Groupon
Groupon can be known for good deals, but remember to check the pricing before you buy!
The Tassimo pods offers on Groupon update regularly and include different types of coffee capsules.
You're also able to pick up better price Tassimo accessories.
Lowest cost: at the moment, the cheapest pods work out at 27p per drink
eBay
There are all sorts of low price Tassimo pods being sold on eBay. The best bet is to stick with a seller with great feedback.
Most charge for delivery, but find a deal where you can get free postage. This usually happens if you buy 3 or more packs at a time.
Remember that you can collect Nectar points with eBay as well.
Lowest cost: avoid delivery by buying a few packs at a time and get prices down to 27p per drink
Tassimo
Tassimo sells the pods on their own site.
There's no minimum spend and you get free delivery when you spend over £30. If you're planning to spend less, delivery costs are £2.99.
You're usually able to get a discount or use an offer from the site, but you'll need to spend more if you want the discount to apply.
There are discounts up for grabs if you find and use voucher codes (but not on top of their current offers!).
To get a couple of extra bonuses, sign up for their newsletter to get offers (like 30% off your first order) and you're able to get £20 off pods once you've registered your machine with them.
Even with discounts, you're likely to get the packs for a bit cheaper elsewhere.
Lowest cost: even with discounts prices are around 45p per drink
Tassimo subscription (with a £1 Tassimo coffee machine)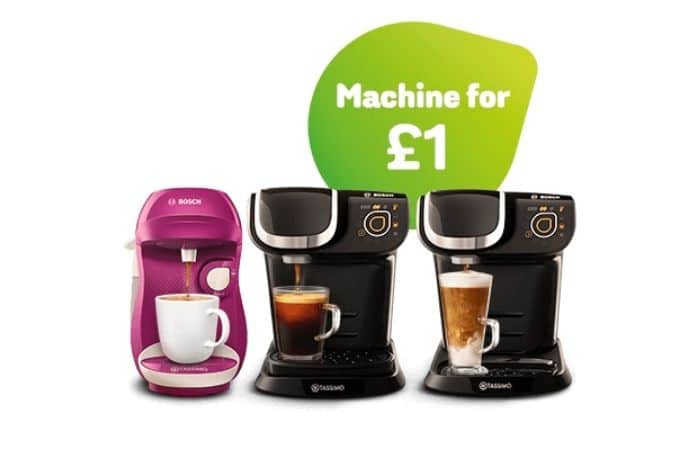 One option could be to choose a subscription for coffee from Tassimo.
As part of the deal, you pick from a choice of Tassimo coffee machines for £1 and get free delivery on coffee capsules to your door each month.
If you're a heavy coffee drinker and get through 3 coffees a day (or 90 a month), it will cost you £29.99 a month, the equivalent of 33p per drink. You can pick from a wide range of coffees, hot chocolate or tea.
It's worth looking into the different subscription levels to see if it's worth it for you.
Tassimo compatible pods
You are not able to buy a compatible pod made by another company. There is not a range of Tassimo compatible pods available.
You're restricted to the Tassimo T Discs only. These discs feature a special bar code to make sure you get the perfect hot drink.
So, make sure to get a good deal when you buy them as you won't find cheap pods in Lidl or Aldi.
If you see any "fake Tassimo pods" for sale you need to avoid them as they won't work in the machine (and who knows what are inside them?!)
Is there a cheaper version of Tassimo pods?
You can get bargain Tassimo coffee pods from a range of retailers. They are directly compatible ones and you cannot get deals for a cheaper imitation.
Tassimo pod range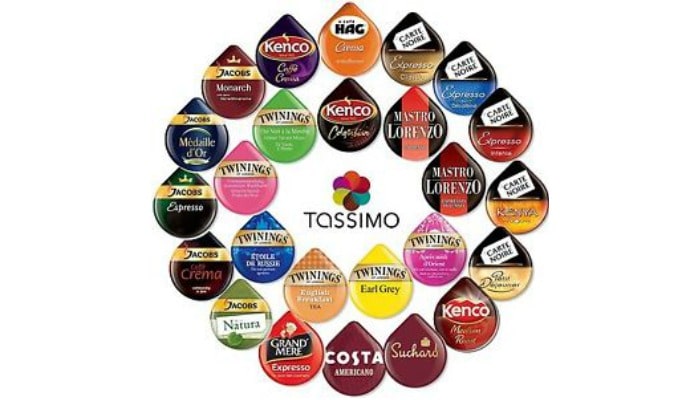 There are so many different types of coffees (and teas and hot chocolates) to try.
You can pick from classic coffee, espresso, cappuccino and latte to speciality coffees such as cortado or iced latte pods. There are also different blends of tea or spicy chai latte.
Don't think about just standard drinks! You can use your Tassimo coffee pods to make other recipes like an espresso mug cake or how about an espresso martini!
Just think – you get to choose from a latte macchiato, Costa Americano, hot chocolate, caramel latte or cappuccino, and more! You get to mix up your preferred strength and size of sup as well as add-in flavours from some of your favourite brands, including:
Baileys
Cadbury
Carambar
Costa
Evergood
Friele
Gevalia
Grand'Mère
Hag
Jacobs
Kenco
L'OR
Marcilla
Milka
Oreo
Suchard
TASSIMO
Twinings
Velours Noir
Are Tassimo coffee pods worth buying in bulk?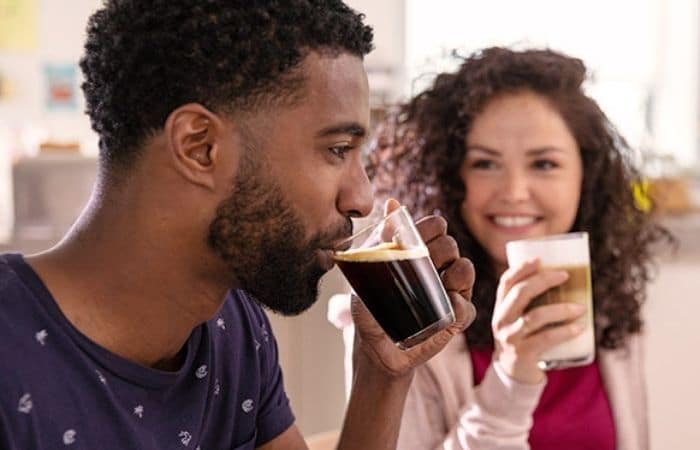 Absolutely! Buying them in bulk will see you get access to the best Tassimo pods offers.
Pods come with a best before date. This means, even after the date has passed, they are still perfectly safe to use and drink.
Read more on best before and use by dates
Can you use Dolce Gusto pods in a Tassimo machine?
Dolce Gusto coffee machines are different from Tassimo. The coffee pods are not compatible either way.
Can I recycle Tassimo coffee pods?
Once you've used a coffee pod, you're not able to refill it, but they can be recycled.
Tassimo has launched a kerbside collection of its coffee pods or you can choose to drop off used pods at a Collect+ store.
You don't need to worry about removing the ground coffee from the capsules; they care of that all for us.
Once collected, the coffee grounds are used to create soil improver and renewable energy and the plastic and aluminium coffee pods are given a lease of life as new products.
Should I just stick with a kettle?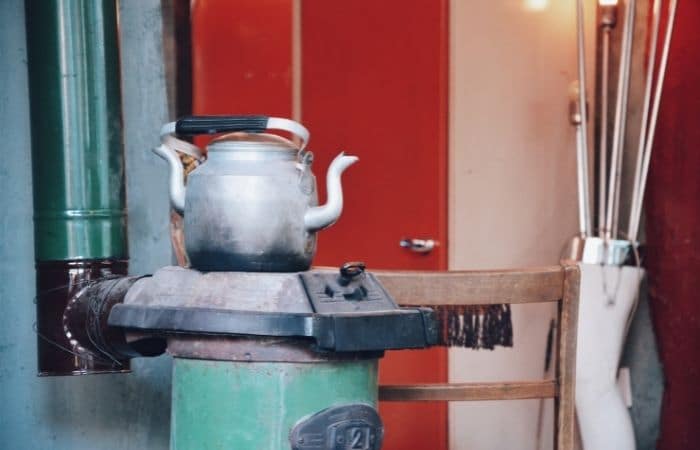 In the long run, if you want to save money then yes.
If you are a lover of coffee, and already spend money at a coffee shop, then this will save you money over time (provided you stop getting your coffee fix from a cafe).
As an alternative, you are able to get espresso coffee machines that use ground coffee beans, which are easier to get hold of. However, it takes a little more time to get the coffee just right and you need to clean up more.
So, if you love coffee and are short on time then a Tassimo machine may be a worthwhile investment.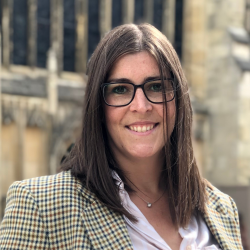 Latest posts by Naomi Willis
(see all)