It's a fact. People using prepayment meters to top up their gas and electricity are hardest hit by the sudden energy prices as they're charged higher rates than direct debit customers. According to Citizen's Advice, nearly a quarter of UK citizens struggle to keep the lights and heating on with their regular income.
You're right to be concerned about the gas and electricity bill you've received since the October increase. Gas and electricity suddenly cost a small fortune, even considering the £400 energy rebate from the Energy Bills Support Scheme. It's worth your while to check whether you qualify for a free fuel voucher to help you keep warm.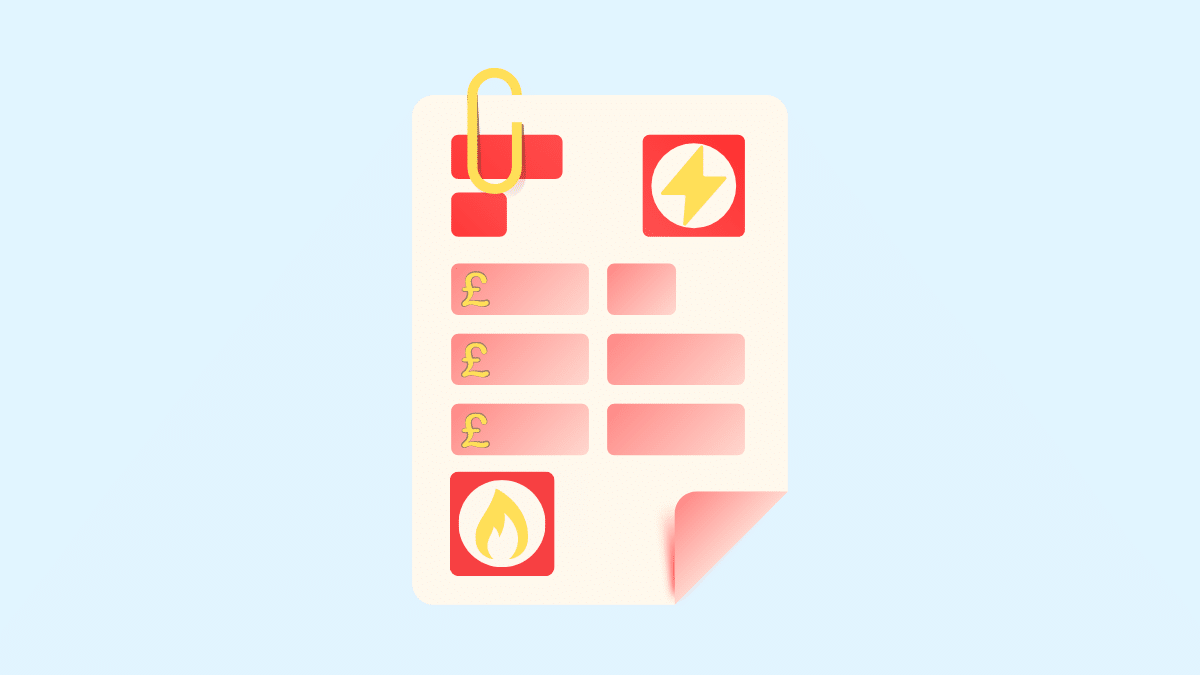 £10 BONUS OFFER: Earn easy cash by watching videos, playing games, and entering surveys.

Get a £10 sign up bonus when you join today.

Join Swagbucks here >>
Do I qualify for Free Fuel Vouchers?
To qualify for a fuel voucher, you need to approach Citizen's Advice, your local council or food banks and ask them for a referral for support. Qualification criteria differ between the different organisations, so it's best to make contact first to see whether you qualify.
You will usually need to show proof of any income or benefits and outgoings, so they can see how you are in hardship with your bills.
To qualify, you must pay for your energy on a prepayment meter.
Paying on prepayment meters means you're among many who pay higher tariffs than those who pay via direct debit. The price cap on these meters also differs from customers paying in arrears.
The energy price guarantee rose from £2,017 to £3,608 on 1 October 2022, which means that prepayment customers pay an average of £301 monthly for heating compared to the average of £296 per month for standard meter users. Bills are set to rise again in April 2023, although it looks like there will be another cap.
Considering prepayment meters are often installed in the houses of consumers who have accumulated debt through late or non-payment, those consumers are primarily from low-income households and are less likely to be able to afford the higher rates than direct debit customers.
What is the value of the vouchers?
Fuel vouchers are up to a maximum of £49, but it will depend on your individual circumstances and where you live to determine the value of your voucher. Specific schemes offer varying voucher values depending on the time of the year.
In other areas, the size of your household can determine voucher eligibility. In other words, you could receive more as a family living together than as a single person living alone.
Some other areas give vouchers with lower values, but you'll receive them more often.
Your voucher usually comes as a code via text message, letter or email that you use to add credit to your gar card or electric key, which you can use at a PayPoint or Payzone point.
Vouchers usually expire in 14 days. There is usually a limit of up to 3 vouchers a year, and you're not guaranteed to get one.
Where can I find free Gas and Electricity Vouchers?
The Fuel Bank Foundation is in charge of the fuel voucher scheme, and its partners, some of which I mentioned earlier, all distribute the free vouchers.
Fuel vouchers are designed for people experiencing a fuel crisis due to rising costs. You can apply for assistance if you have no money to top up your prepayment meter. There are approximately 350 partner organisations that refer applicants to the Fuel Bank Foundation, with GPs, housing associations, food banks and local councils among them.
Particular residents eligible for fuel vouchers may already live without gas or electricity as they can't afford the Winter fuel payment. If you're among those or close to doing the same, I encourage you to apply urgently, as this is potentially a way out of your predicament.
How do I receive and use a Fuel Voucher?
If you qualify, you'll receive free gas and electricity vouchers via email, text or letter. To redeem it, you take the code provided, some form of ID, and an account or bill showing your full name and physical address to a post office with Payzone or PayPoint.
You must use the fuel voucher before three months pass and use the total value at your usual top-up point. It's up to you how you use it, for gas or electricity or both.
I saw a £49 fuel voucher post on Facebook – can I get a free voucher?
There is a viral post that does the rounds on Facebook and other social media platforms. It suggests that "anyone" struggling financially can get a voucher, but it's not true.
Posts like this, unfortunately, mislead people into thinking they can get a voucher without question when they are not eligible.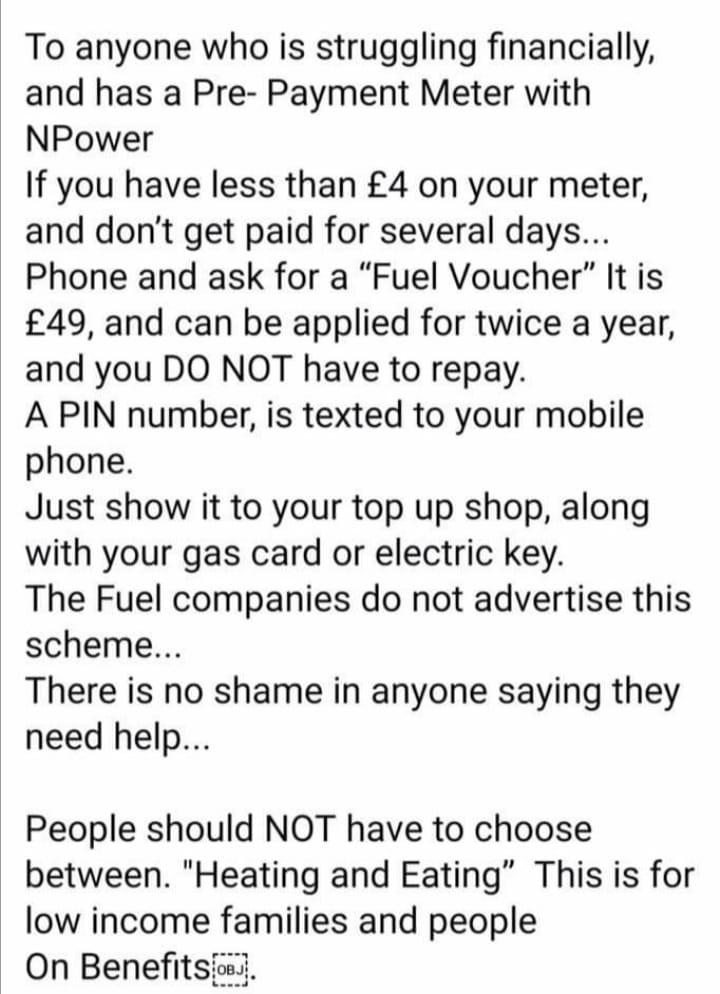 The post says:
To anyone who is struggling financially, and has a Pre- Payment Meter with NPower

If you have less than £4 on your meter, and don't get paid for several days..

Phone and ask for a "Fuel Voucher" It is £49, and can be applied for twice a year, and you DO NOT have to repay.

A PIN number, is texted to your mobile phone.

Just show it to your top up shop, along with your gas card or electric key.

The Fuel companies do not advertise this scheme..

There is no shame in anyone saying they need help..

People should NOT have to choose between. "Heating and Eating" This is for low income families and people

On Benefits"
What's not true
You do not have to be with npower – you can be with any supplier.
The less than £4 credit is also not true – an amount is not usually set for the charity to provide support. Although they will likely have an upper end cut off.
Fuel companies do not "advertise" this as it's not something they are involved with. The Fuel Bank Foundation, which runs it, is a separate charity.
What is true
You need to be struggling financially and have a pre-payment meter.
A PIN or code would usually be text to you, but it can also come as an email or letter.
You do need to show the code as well as the gas card or electric key, but you also need to show the instructions on how the code works and a copy of a bill.
There is no shame in asking for help – ever.
There are other posts that suggest you can claim the voucher twice a year – like it's your full entitlement, don't miss out… – but that is also incorrect. The vouchers come from charitable donations, and the pot of money will eventually run out if it's given out twice a year with no checks when someone is in need.
What can I do if I don't qualify for a Fuel Voucher and can't pay for energy?
If you haven't qualified for free gas and electric vouchers, or you're struggling even after receiving one, there are various other ways you can possibly find relief.
By the time you read this, you should have received the first instalments of the £400 energy rebate from the government and the second instalment of the £650 cost of living payment, so hopefully, that will have eased the pressure slightly. That doesn't mean you can't still explore one of the other options available.
Speak with your energy supplier, and they'll assist you with reducing your bill by perhaps changing you to a more affordable payment structure or swapping out your meter. They can also help you get onto the Priority Services Register for emergency credit if and when needed.
Register with the Priority Service Register if you have young child in the house or are vulnerable.
If you pay your landlord for energy, check whether they're getting a Government discount. They should really pass on some of this discount to you.
If you're part of a heat network, check if the suppliers receive any Energy Bill Relief Scheme discount, as they should also pass a fair amount on to you.
If you're on benefits, you could get £150 added to your prepayment meter with the Warm Home Discount Scheme. There's no application to the scheme as the addition is automatic, as long as your energy supplier is part of the scheme. Fortunately, the majority of recognised energy suppliers are.
If you're on Pension Credit's Guarantee Credit clause, you should qualify for the Warm Home Discount Scheme. You might also be eligible for the Warm Home Discount Scheme if you get another benefit and the government rules that you have high energy costs. This is an automatic ruling, and there's no need to approach them.
Cold Weather Payments can help you pay for heating costs if you qualify. You'll receive a payment if you're eligible and the weather dips below a specific temperature for a prescribed period. You'll only receive a Cold Weather Payment if you're already getting pension credit, income support, jobseeker's or employment allowance, or Universal Credit.
If you're a direct debit customer and the rising cost has caused you to fall into arrears, you can apply for a grant through your energy supplier. A number of energy companies offer these due to the rising energy bills. It's best to contact yours and enquire.
Make sure you are claiming all the benefits you're entitled to, which can help cover the costs of everyday bills.
Look at ways you can save money on energy bills and cut back on your consumption, which will help with your costs.
FAQs
How do I receive and use my fuel voucher?
You'll receive a code by text message or email if you're referred. Use the code to add credit to your gas card or electricity key. If you don't have a fuel voucher, reach out to your supplier to get one. Your local council may also be able to organise a fuel voucher.
What is the Fuel Bank Foundation?
The Fuel Bank Foundation was created by npower to support customers but became a charity in its own right in 2017.
They continue to help pre-payment energy customers who are not able to top up their meters, therefore avoiding self-disconnection.
If you don't need any fuel support but have a little spare cash, consider donating to the work the Fuel Bank Foundation does.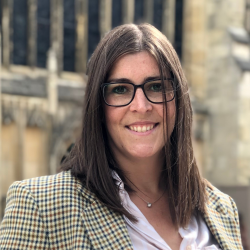 Latest posts by Naomi Willis
(see all)