Have you got a passion for fashion? Want to know how to start a clothing business? You're in the right place! If you've got lots of creative fashion ideas bubbling away, you're sure to find this helpful guide.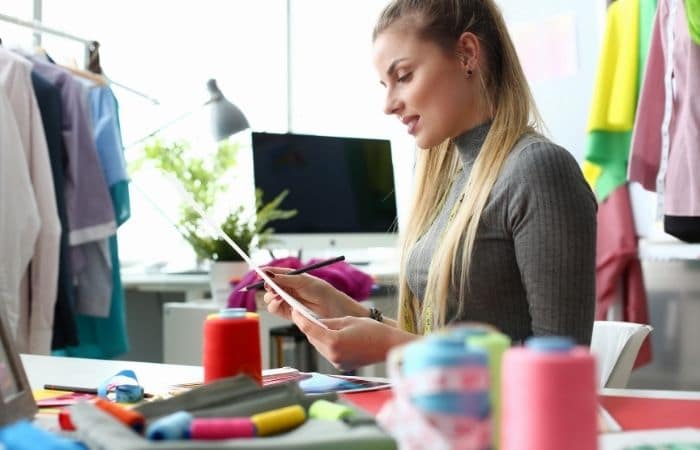 £10 BONUS OFFER: Earn easy cash by watching videos, playing games, and entering surveys.

Get a £10 sign up bonus when you join today.

Join Swagbucks here >>
Starting their own clothing line can be pretty scary and intimidating for many people.
If this sounds relatable to you, don't worry, you'll find all the tips and advice you need to get started right here.
Although starting a clothing company is hard work, the rewards will be fantastic if you stay consistent and put in the effort, time, and resources!
That's why we've packed this guide with practical and helpful advice on how to get your fashion brand started.
From choosing the right marketing strategy to the best places to sell your clothing line, you'll find it all below, so be sure to keep reading.
The four different business models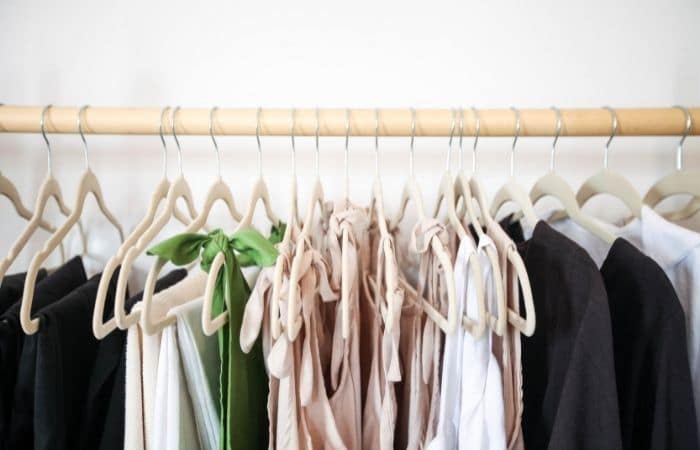 When you initially set up your clothing line, you'll need to choose a business model. Typically, there are four different ones you can choose from:
Direct-to-garment printing/on-demand: This model involves purchasing standard plain clothes such as t-shirts or jumpers and having your own design or logos printed on. This is a very affordable option that can be easily and quickly set up.
Designing and manufacturing from scratch: This essentially involves designing your garments, finding materials, and producing them either through a manufacturer or by yourself. This will be more expensive than other options, but you'll be able to sell the clothes at higher prices, and the clothing line will be 100% yours.
Wholesale customisation: This model involves bulk buying simple clothing items and customising them with your own tags, designs, and labels. This is usually done using high-quality printing equipment rather than with digital or screen printing. This does cost more, but there's potential for higher margins.
Reseller: With this model, you buy clothing (sought-after labels or vintage clothing) and sell it on sites such as Vinted and Depop.
The planning stage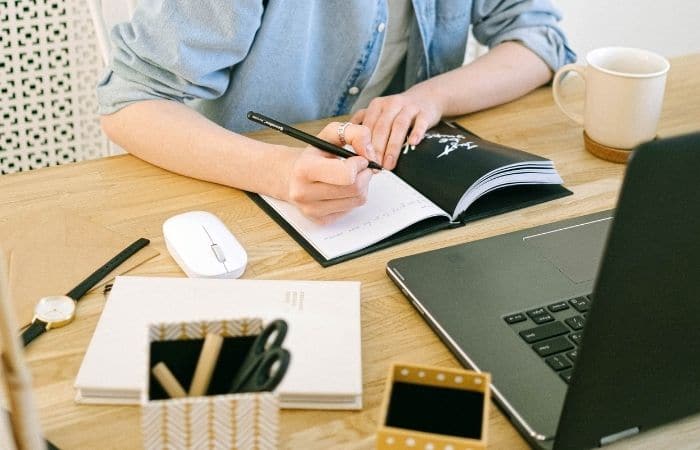 Market research
You may already have lots of ideas of items you want to sell, which is excellent, but you'll need to put the brakes on for now. One of the most common reasons new manufacturers in the fashion industry fail is that they're selling things that no one wants to buy.
It would be soul-destroying to go through the entire process of creating your new clothing line for it to flop straight away. This is why market research will be your best friend – determining your target market is key to being a successful clothing manufacturer.
Luckily, there are many paid and free resources that allow you to find out if there's a need for what you're selling. This research comes in two types:
Primary research – where you collect data by yourself
Secondary research – where you get data from other sources that have already done the research
Here are some ideas for primary marketing research:
Search for specific products on search engines and see what is popular
Take a look at Facebook Analytics to research the interests, behaviours, and likes of the people that may become your customers or your target audience.
Do some competitor research on other companies that are selling clothes to see what customers love and what isn't selling well. Pay attention to negative reviews and comments as you'll be able to save the day with a solution to their problem!
Self-definition
Recognising a need and a target audience work hand-in-hand because it's a certain group of people who are going to want or need what you're selling. This group, or groups of people, are your target customers. They're the people you'll spend each day trying to connect and engage with.
The more you understand them and their needs, the better your chances will be of getting and keeping them as customers. If you want to start a clothing line that becomes successful, you'll need to have an excellent understanding of your target customers.
Be sure to perform research until you have a good understanding of both the psychographics and demographics:
Psychographics – dislikes and likes, interests, hobbies, lifestyle habits and buying behaviours. This includes the brands they currently buy from and why. Also, the problems they have and how you can help to provide a solution.
Demographics – gender, age, marital status, income, location etc.
Choosing a name
One of the hardest but most fun stages of starting your own clothing line is selecting a name for it! Choosing the right name is essential because your brand name is the first thing customers will hear when they learn about you. You want to give the right impression about what you're selling.
If you're struggling with ideas, try these:
List all the words that you associate with your brand, no matter how weird and wonderful, and put them together in different ways.
Get inspired by the brand names that you love. What is their story? Why do you love the brand?
Look up unique and unusual names that relate to your brand's ethos and identity.
Invent new words that sound suitable.
Consider yourself! Could your name be used in your branding name?
Remember, your brand name must be:
Easy to pronounce and spell.
Catchy and memorable.
Unique – don't choose a name that's close to another brand.
In accordance with your branding, providing customers with an accurate idea of what they will get from your clothing line.
Attractive to your target audience.
Developing your branding
Brand awareness is super important for new businesses. Without it, potential customers aren't going to hear about you, and your business will never take off. So, you'll need to develop the materials that will represent your fashion business.
This includes your brand logo and name, illustrations, colour palettes, and item photography. Doing all of the design and branding yourself can seem a bit of a daunting task.
If you don't possess the design skills or the finances to hire a developer, you can find lots of beginner-friendly and free resources to keep costs down.
Writing a clothing line business plan
An effective clothing brand business plan should outline:
Who you are as a brand, including what you sell, your team, and your brand's mission statement.
What you want to accomplish, including specific and measurable business goals.
Why your brand will be successful.
How you're planning to meet these business goals, with specific stages and strategies.
Ideally, your business clothing plan will cover the initial three to five years of business. Naturally, there will be some things that don't go exactly as planned, but it's extremely helpful to have goals to work towards.
More importantly, having something to compare your business progress to will help you see if you're meeting your goals. Additionally, your plan will show you if you need to make any changes to what you originally wrote down.
Lastly, your plan is what you'll showcase to potential partners and investors. If it's strategic, specific, and promising, you're more likely to impress people and get them on board to support your brand, helping it grow.
The implementation stage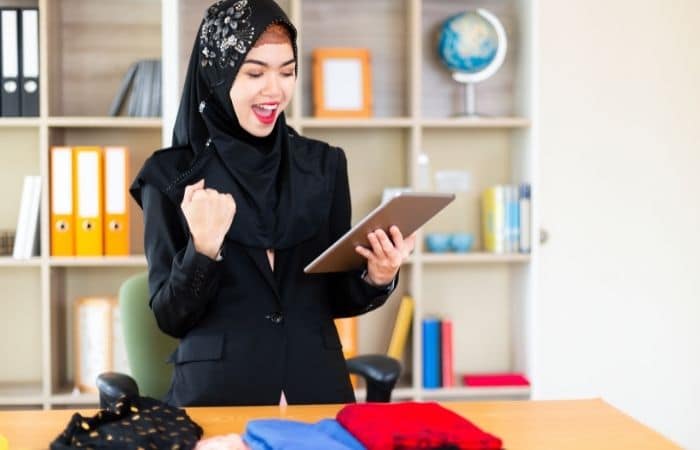 Licenses and regulations
In the UK, clothing isn't a strictly regulated niche, and there aren't any specific licenses you need to sell your clothing line. The exception to this is if you're selling at a market, where you'll need a market stall license.
However, you will need to make sure your clothing complies with the Sale of Goods Act, the Sale and Supply of Goods Act, and the Supply of Goods and Services Act. These essentially mean that all items sold by you must be exactly as they're described.
Even if your clothing line is just a side hustle for you, it's essential to treat the business side of it seriously. Keep your books up to date and open a business bank account. If you do this, the upfront costs of having an accountant will certainly pay off.
Sourcing your manufacturers and suppliers
Needless to say, your clothing line will be nothing without clothes! At the heart of your business, creating and designing clothes takes a lot of research into manufacturers and suppliers. However, how you do this depends on which business model you've chosen.
Suppliers
Where you purchase your wholesale items will depend on whether you'll be customising them yourself or if you'll be using a customising service using your designs.
Although many suppliers sell blank clothing items in bulk, many will also offer embroidering, printing, and labelling services. Consult with online directories and ask fashion and manufacturing forums for any recommendations.
Manufacturers
Whether your business idea grows to the point where you can't keep up or want to outsource production from the beginning, you inevitably need to have a factory produce your clothing in bulk. There's only a certain amount you can do with a sewing machine!
Firstly, ask yourself whether you're looking for a factory that provides:
CMT (cut, measure, trim): You provide the designs and materials, then the factory puts it all together.
FFP (full package production): The factory sources the materials for your own designs.
The latter option will be more expensive, but it could save valuable time for you.
Marketing: building a website
Having a website is one of the best ways to showcase your brand. Online marketing is a powerful tool since more and more people use the internet to find products.
An easy way of starting a blog or website is to use WordPress or a website builder. These make designing and developing your website an easy process, and it's much cheaper than hiring a web designer. Using a website builder involves choosing a template representing your future brand and inputting images and text.
Different ways of selling your clothing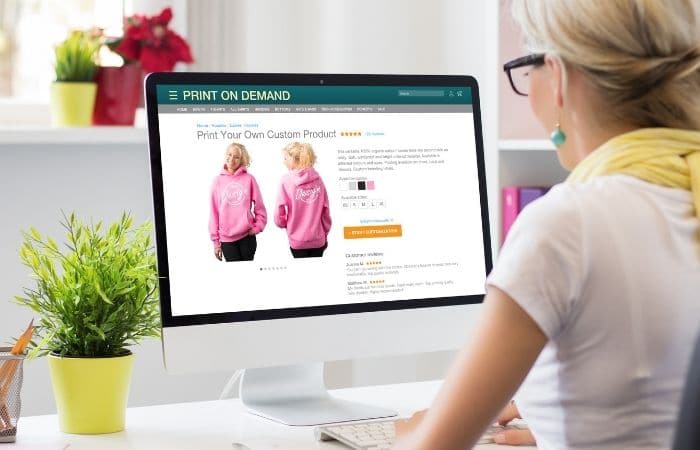 Online
Deciding how you'll be selling your clothes may seem like a straightforward decision, but there are a variety of different routes you could take. Scroll down to see which one would suit you best.
On your own site
As we discussed earlier, having a website is key to a successful clothing line. Allowing people to purchase clothes through your online clothing store is a great way to start making sales.
Having shipping options is essential here as you'll have to package and send your clothing items professionally.
On an existing online marketplace
Selling your clothes online on well-known fashion marketplaces such as Etsy, ASOS, Amazon, and eBay will exponentially boost your brand's exposure. Additionally, you'll usually get business support as part of the deal.
Check out how to get started selling on Etsy UK and selling on Amazon UK.
For example, creating a boutique on the ASOS Marketplace will cost you a monthly fee plus commission on any sales you make. But, a member of the ASOS team will give you advice on promotions, pricing, and strategies to create more revenue.
In person
If you'd prefer to sell your clothes face-to-face with customers, there are plenty of options! Take a look below to see how you can sell your clothing line in person.
In your own store
Opening your own retail business is one way of selling in person, but you'll have to put in a significant amount of money, and there's a lot you can lose if it does go wrong.
Before you jump in and open a brick-and-mortar shop, you'll need to create a strong sales history by selling your clothes in one of the ways we mentioned earlier.
You'll need to have a seamless manufacturing process and boost your brand's awareness through good marketing to give yourself a great chance of succeeding.
In department stores or boutiques
Selling your clothes in boutiques and department shops will give you an enormous amount of exposure, and it usually results in excellent revenue. This is because, although stores will usually pay wholesale prices for your clothing line, they'll probably order in bulk.
You'll need to have a good track record of sales, as well as a stable infrastructure that's able to accept larger orders and manufacture large quantities of clothing. For this reason, it's not a suitable option if you're just starting out.
On a market stall
Market stalls are great places to test out new clothing brands to see how much interest they get without committing to a permanent option such as a physical store. The cost of renting a pitch will vary between markets, but many cost as little as £10 for the day.
Try to look for markets focused on fashion brands, or search for the ones that are popular with your target customers. You could also take your fashion stall to fairs and festivals that your target customers go to.
Keeping a handle on your finances
There's no doubt about it; creating your clothing line will require time and money. Luckily, accounting software can assist with both! From purchasing materials to paying staff wages, there are many outgoing costs you'll need to keep track of.
However, you'll also need to be aware of much money you're making and what that will mean in terms of taxes. Hiring an accountant may be an option, but this can be expensive, and it's not always a good idea for new small business owners.
Common mistakes to avoid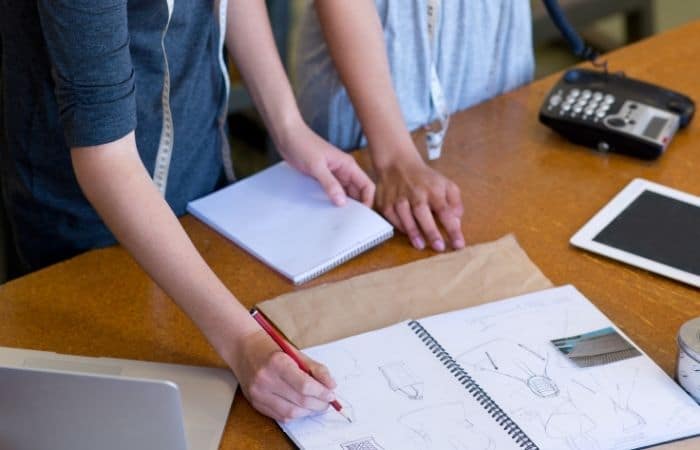 When you first decide to start a clothing line, it's a very exciting time, and it's easy to get carried away. You may be tempted to rush the process or cut corners out of excitement, but this could be very costly, both in your reputation and financially. Here are some common mistakes to avoid:
Starting out too big – creating more clothing than you need to begin with can waste money and materials.
Not having the funds – if you can't fulfil orders straight away, this can damage business relationships and may mean that you miss out on big orders.
Poor marketing and branding – bad marketing can damage a brand before it even begins. Good marketing will get your brand out there so people can hear about you.
Our top tips for building a successful clothing brand
To successfully start a clothing line, follow our top tips below:
Do your research! Although copying a business and its products is never ok, you should definitely check out similar brands to yours to see how they're performing.
Stay relevant and creative. Get feedback from people and encourage honesty as that's how you'll know you're selling things people want.
Get your pricing right. Setting your prices too low means you'll make little to no profit. Choose a price that allows you to make a good profit.
FAQs
How do I start my own clothing business?
There's no way around it; if you want to start a clothing line, you'll need passion, drive, and a willingness to work hard!

Whether you want to open your own online store or a physical shop, follow the advice in this guide for a successful clothing business!
How much does it cost to start a clothing business?
This depends on which business model you choose.

If your budget is tight, a direct-to-garment printing model is your best bet as it doesn't require a lot of upfront capital.

Whereas, creating everything from scratch will be very rewarding if you have a bigger budget!

It can be possible to start a business with no money.
Is a clothing business profitable?
Yes!

The great thing about a clothing business is that everyone always needs clothes, so it will always be an in-demand business that will never go out of fashion, pun intended!

Just remember to keep your ideas fresh and unique, so your customers are always interested!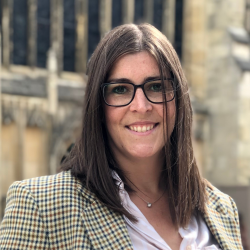 Latest posts by Naomi Willis
(see all)