There are some legit ways of earning some extra cash while browsing the web – including watching videos, clicking on adverts, playing games or completing surveys.
You probably won't make a fortune, but it's still worth giving them a go as a way to boost your monthly money.
And what could be easier than earning a little bit of extra dosh while searching the web from the comfort of your sofa?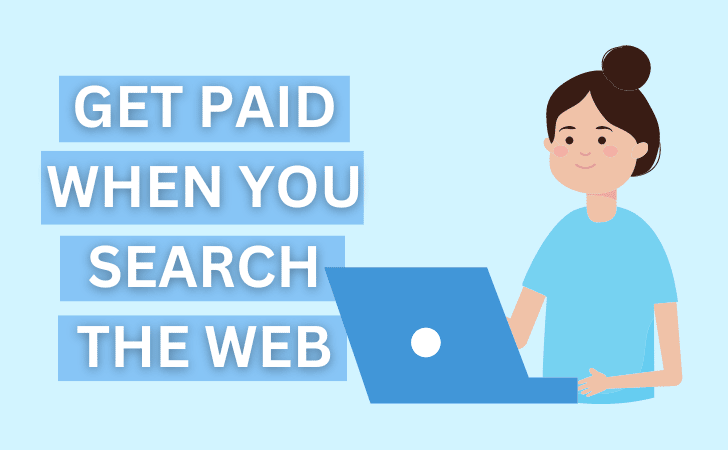 £10 BONUS OFFER: Earn easy cash by watching videos, playing games, and entering surveys.

Get a £10 sign up bonus when you join today.

Join Swagbucks here >>
How do I earn money by searching the internet?
There are many ways to earn rewards and cash using your mobile internet or shopping online.
Imagine earning cash payments while searching online for your next holiday or completing some online surveys during your lunch break. You can even get paid for to watch ads for money.
Search engines that make you money
One of the easiest ways to earn some extra pennies is to install a browser extension (don't worry, this is easy to do) and then make money while browsing the web.
We all use search engines (such as Google) to look online, so using a specific browser means you can earn rewards whilst shopping.
A browser extension is a free piece of software that you just click once to install and then use automatically to search the web. It's easy to do and only takes a few minutes.
Companies make their money by collecting your browsing data and using it for market research. You could get paid a few pounds a week, which over the year could give you around £100.
Some well-known browsers include:
Swagbucks
The Swagbucks search engine is simple but effective. It uses the Yahoo search platform, so you know the results you're getting are legit, plus you're earning money.
To get you kicked off when you sign up for a free Swagbucks account here, you will earn a £10 bonus!
Instead of heading to the site to search, you can easily install their SwagButton extension to help you earn some extra cash.
You'll forget you're using it, but you'll soon find a few extra pounds in your PayPal account that you can cash out. You can add these to your savings for school holidays or Christmas.
Find out more about how Swagbucks works and how to maximise how much you make.
InboxPounds
You can earn points that you can swap for PayPal cash or shopping vouchers by searching the web.
You can even boost your earnings by playing games and taking surveys.
Sign up here to earn a £1 bonus.
Qmee
Qmee is a survey app, but install the browser extension, and once you click on the little adverts that pop up, you can earn some pennies here and there that all add up.
You'll literally earn a few pence for clicking on the ads, but the money mounts up and can be cashed out using PayPal or Amazon vouchers.
Sign up here to get an extra 50p when you cash out for the first time.
Google Opinion Rewards
Sign in with your Google account, and it sees where you shop and then may send you surveys to get an understanding of your experiences.
Turn on location services to get even more surveys, and it's all to help others with their search experiences.
You can earn up to $1 for each survey which can take just 20 seconds!
When it comes to getting paid, you can pick from either Google Play or PayPal credit.
Google Opinion Rewards is on the Apple App Store and Google Play Store.
Microsoft Rewards
Download Microsoft Rewards as a search engine where you can earn points and vouchers from browsing the web.
You can also participate in surveys, daily tasks, quizzes, and monthly quests.
iRazoo Search
Set iRazoo Search as your default search engine with a few easy clicks and earn around £10 a week – you'll earn rewards when surfing the Web. Yahoo powers the feature.
This browser works with Google Chrome, Mozilla Firefox, Microsoft Edge, and Microsoft Internet Explorer, so you shouldn't have any problems.
Survey Junkie
Survey Junkie is an online marketing research community. You get to answer surveys, give your feedback for major brands, and earn cash and vouchers for high street shops.
This is a good site for you if you like giving your opinion and sharing your thoughts and behaviours.
Download the Survey Junkey Pulse browser extension you will get access to even more surveys. This is free and easy to use.
MobileXpression
In two weeks, you can earn enough to earn a £10 Amazon gift card with the MobileXpression app.
You install the app, it looks at your internet usage and rewards you. The longer you keep using it, the more money you make.
Get paid for searching and then shopping
You will earn money on your search results and shopping experience if you shop through a cashback site.
Retailers, including Asda, Wilkos, B&M, and Iceland are all included, and you earn a percentage of cashback. Here at Skint Dad, we think this is one of the easiest ways to get paid for searching for something you would buy anyway.
Some great cashback sites include TopCashback and Quidco.
Become a Search Engine Evaluator
You may need to register and apply to this kind of work to evaluate search engine results.
Search engine companies like Google, Bing, and Yahoo pay ordinary people like you and me to do this kind of work and earn money online searching.
This could be the perfect job for students to do in your time evaluating search results on different search engines.
You get paid for each job regardless of how long it takes you.
No longer exists
Cross Media Panel
Cross Media Panel closed in 2016 and merged with Google Opinion Rewards.
FAQs
How do I get paid?
You can often receive cash rewards for searching the web that is sent to your PayPal account or gift vouchers for Amazon or other high street retailers.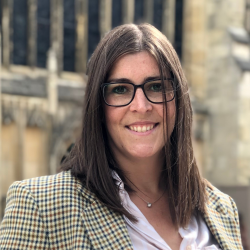 Latest posts by Naomi Willis
(see all)