Meal planning doesn't need to be a pain anymore. These easy-to-use meal planner apps can help take control of your mealtime and cut costs in the kitchen.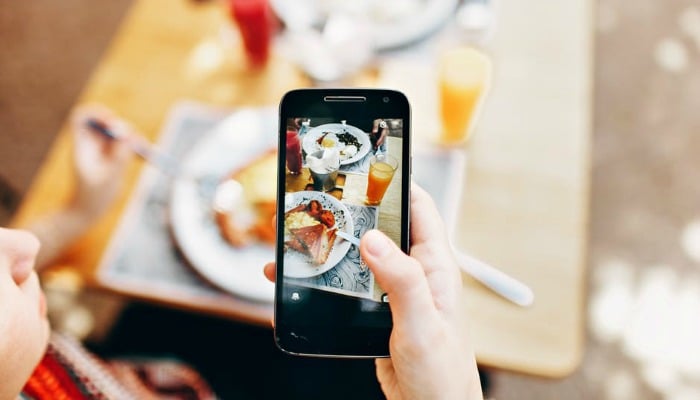 £10 BONUS OFFER: Earn easy cash by watching videos, playing games, and entering surveys.

Get a £10 sign up bonus when you join today.

Join Swagbucks here >>
Meal planning – a surefire way to save money on your food shop.
On top of the cash saving, you reduce food waste, have less stress in the evenings working out what to eat and stop too many trips to the supermarket.
A lot of meal planning is just down to how you, well, plan it. Some people prefer a pen and paper, while others are great at using a spreadsheet, and colour-coding different columns.
There are also countless apps which all raving they're the best to help you plan your daily and weekly meals. But, which ones are worth downloading to make the whole meal planning process better?
Well, these ones are pretty good to help you plan, shop and prepare your food…
Best meal planner apps
Whether you've got access to Google Play or the Apple iStore, these meal planning apps are all free to download and use.
Everyone has their own tastes, so it's best to play around and find which app is best for you.
Lasta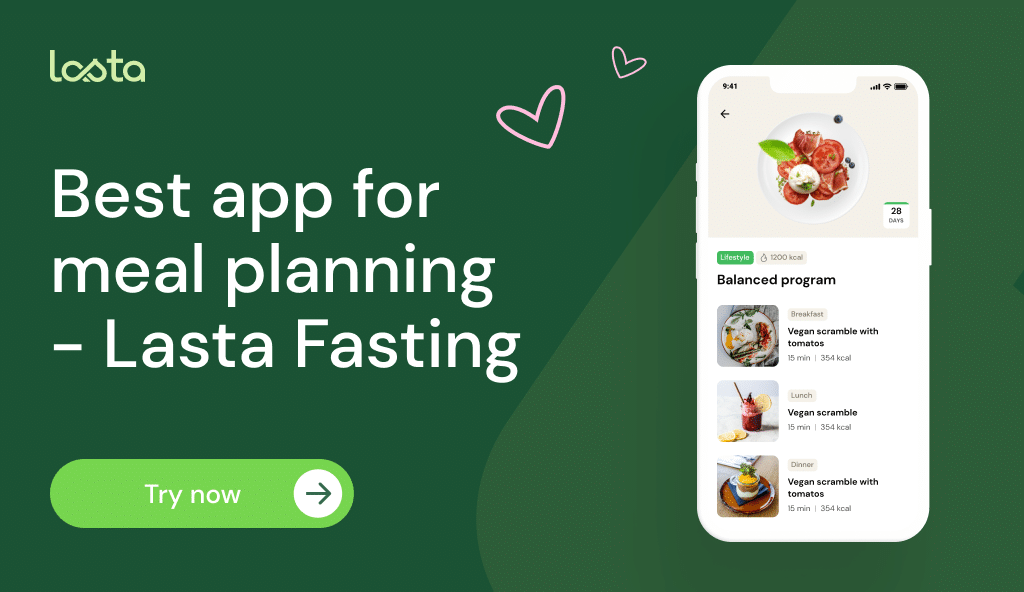 Lasta is an all-in-one meal planning app that caters to a wide range of dietary preferences, food allergies, and lifestyles.
Whether you're vegan, pescetarian, or have specific allergies, the app allows you to customize your meal plan according to your unique needs. 
With a vast collection of recipes and mouth-watering photos, Lasta offers a plethora of options that are both nutritious and delicious.
Even if you are a beginner in the kitchen, Lasta's user-friendly interface makes it easy to explore and discover new dishes to try.
In addition to meal planning, this app also includes several features to support a healthy lifestyle and make weight loss easier.
One of these features is intermittent fasting tracking, allowing users to set their fasting schedule and receive reminders to stick to it.
The app also includes a water intake tracker to help users stay hydrated throughout the day. Additionally – a mood tracker, can be helpful for identifying emotional triggers that may lead to overeating or other unhealthy habits.
My favourite thing: it allows you to specify any food allergies you have when customizing your meal plan. This is incredibly important for people with allergies or intolerances who need to avoid certain ingredients to stay healthy.
With Lasta, you won't have to worry about accidentally selecting a recipe that contains an ingredient you can't eat, as the app will filter those out for you.
Yummly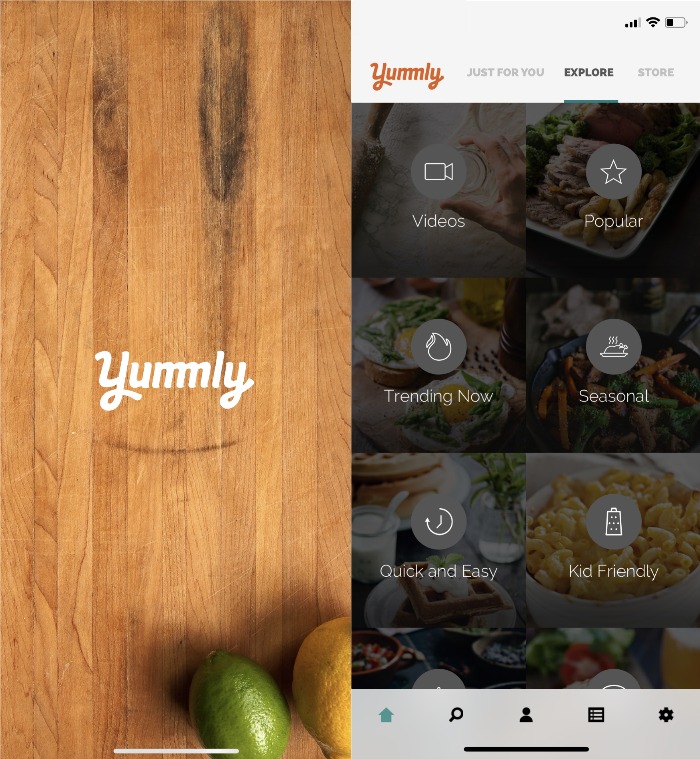 Set up an account so you can customise different diets (vegan, pescetarian etc) or if you want to not show foods if you have any allergies. You're also able to pick your favourite kind of cuisines, dislikes and how decent your cooking skills are so you can get shown the most relevant dishes to add to your meal plan.
You've then got loads of different recipes to choose from – and the photos will make you hungry!
Find what you like and click on "Yum" to add it to your meal collections (meal plan) for later. While in the recipe, you can also add all ingredients to your list.
Once you've picked what you want to eat, head to the shopping list, and everything you need to buy is there, based on the aisles in the supermarket. If you need 1 onion for 1 dish and 2 for another, the app puts them together, rather than showing onions on your list once. This makes it far easier to see what you need to get.
You can print or email the shopping list when you need it and can refer back to your meal plan on the app.
My favourite thing: I am bad at forgetting the time, and therefore usually start cooking dinner later than I should! The Yummly app has a cooking reminder! You can tell it when you want to eat and it sets an alarm on the day of your choice to give you enough time to prep and cook your meal.
Want to try out this meal planning app?
Mealime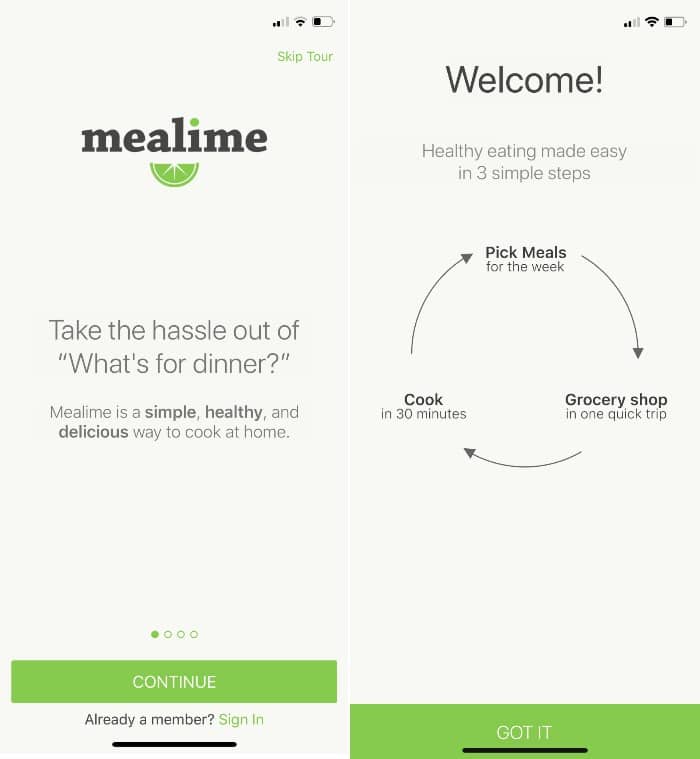 If you're stuck for inspiration then the Mealime meal planning app will help pick your meals for the week.
The recipes and meals (there are thousands) are healthy options that can be cooked and prepped in around 30 minutes.
Just pick the kind of diet you have, if you've got any allergies, any dislikes and choose how many people you're cooking for.
Then pick your meals and grab your shopping list
My favourite thing: you've likely already got herbs, spices and some store cupboard essentials in the kitchen. The app prompts you to check your cupboards and remove things you don't need to buy, reducing any food waste and helping you save a few quid.
Want to try out this meal planning app?
Vegan Recipes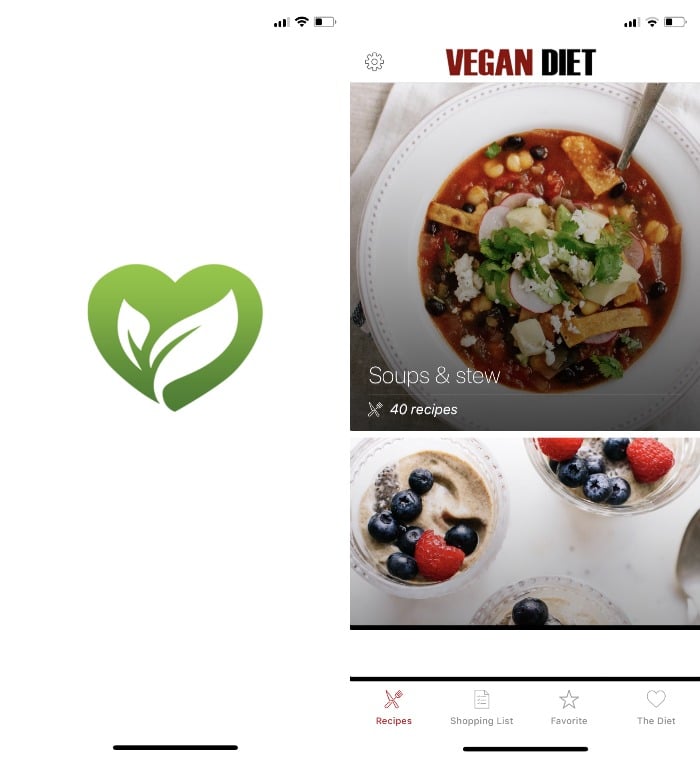 If you eat a vegan diet, then a vegan meal planning app might be the best choice for you.
Vegan Recipes gives you a choice of different meal times, so you pick if you are looking for food for dinner, lunch or even dessert.
Give the recipe you like a star, add the food to your shopping list and you're ready to go.
My favourite thing: Stuck for what to pick? There is a 22-day vegan meal plan already prepared for you, so you don't even need to decide what to have.
Want to try out this meal planning app?
Meal Planner Pal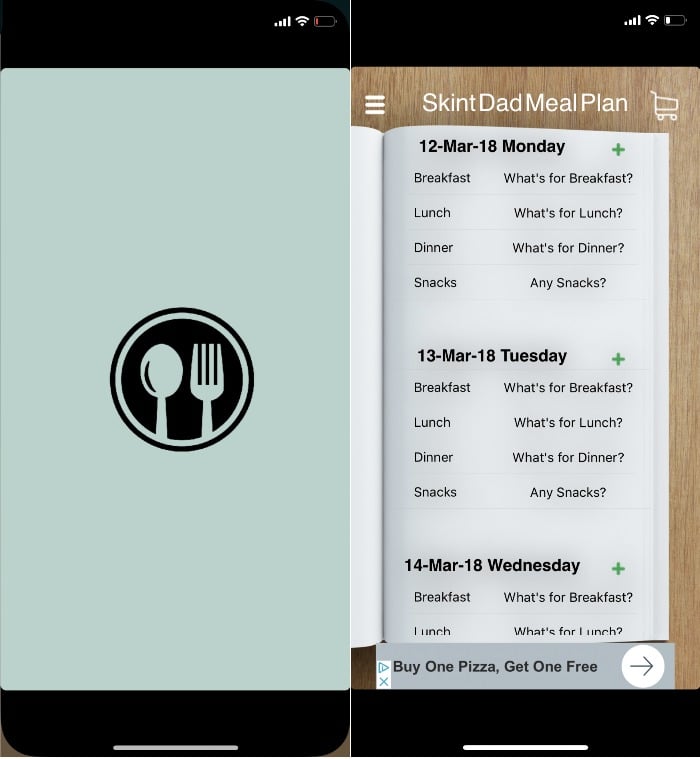 With this meal planner app, you simply add in what you want to eat each day for breakfast, lunch and dinner. You don't need to look through loads of different recipes, so can just add in your own family favourites.
With each meal, you add the ingredients you need and it summarises it all in your grocery list. As you're shopping, you can cross each item off your list as you buy it.
My favourite thing: this app is no frills, but that's great as it doesn't run slow and does exactly what you need. You're also able to track your fruit and veg intake for each meal so you can keep on top that you're getting your 5-a-day.
Want to try out this budget meal planning app?
FoodPlanner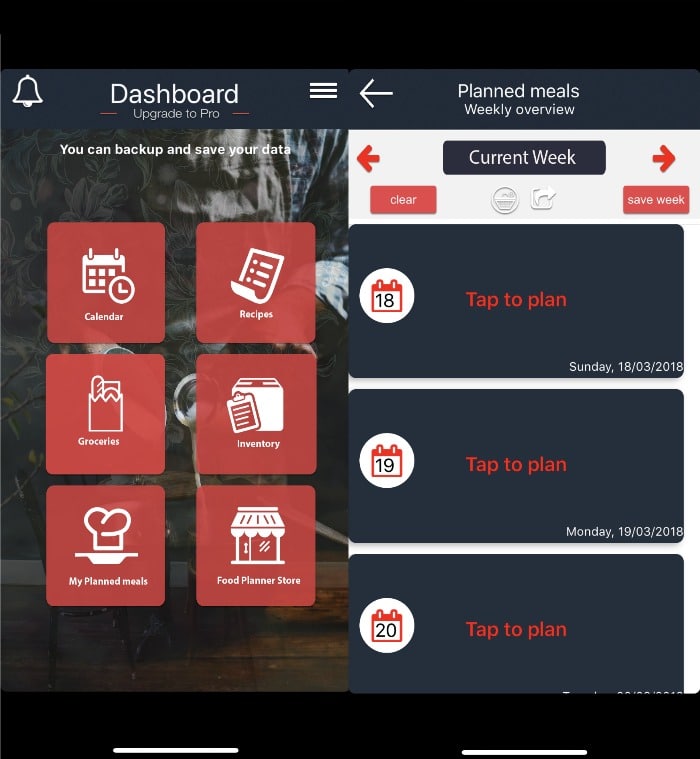 If you don't want to choose from just one batch of recipes this app may be for you.
You can either pay and use their recipes (there's no need!), or upload your own, or import recipes from anywhere from the web. So, if you've got a favourite dish from the BBC, or you love a few of Skint Dad's recipes, this works well.
Once you've got your meals planned, just start adding them to the calendar. When you've got it all in place, add your food to your grocery basket.
My favourite thing: Rather than having to opt for website recipes, this has the option to upload your own favourite meals. So, if you have an old hand-me-down recipe, it won't get missed off with this app.
Want to try out this meal planning app?
Do you use another app? Join the conversation in the Reduce Your Supermarket Spend community and share how you meal plan (whether you use an app or not).
Love meal planning? Of course, you do….that's why you got down this far :) Check out these other awesome meal planning ideas: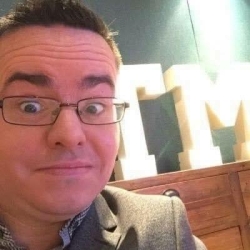 Latest posts by Ricky Willis
(see all)