Halloween has recently taken over Easter as the second-largest consumer spending holiday after Christmas.
In the UK, we are expected to spend around £300 million on Halloween decorations, costumes and sweets.
We are certainly celebrating our holidays a lot more in recent times, and it can be nice to do with your children and family.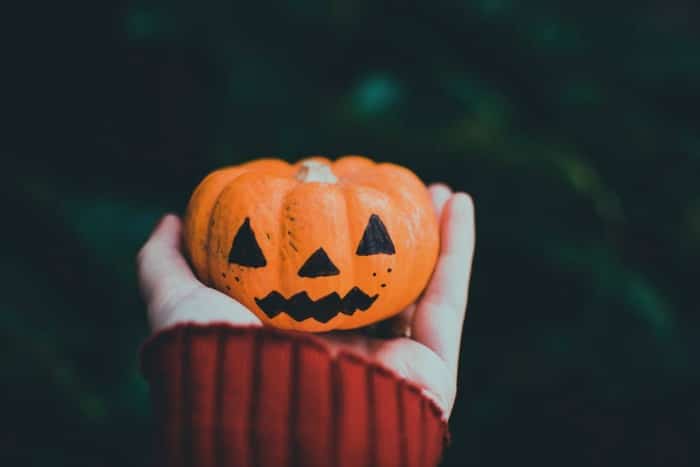 £10 BONUS OFFER: Earn easy cash by watching videos, playing games, and entering surveys.

Get a £10 sign up bonus when you join today.

Join Swagbucks here >>
However, there are some great tips and ideas to keep your Halloween spending low – after all, it's not long until Christmas now!
Not taking part this Halloween? Pick a free no trick or treating sign to print and stick up outside your home or in your window.
Cheap Halloween costume ideas
You don't need to spend a fortune for one night of the year.
There are plenty of ways to get a spooky costume for Halloween on the cheap!
Costume swapping with friends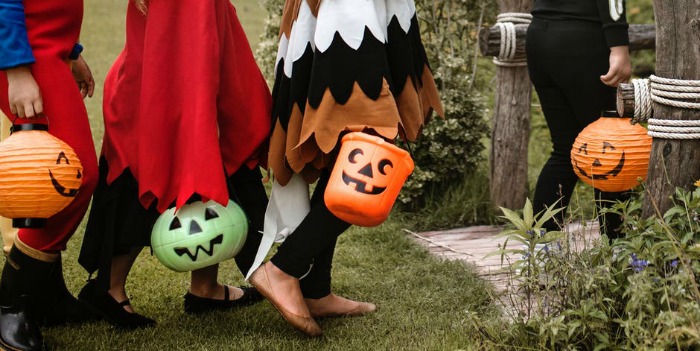 Ask your friends and family if they have any costumes that you could borrow.
Why not also offer to lend them an old costume of yours.
This is especially helpful when it comes to the kids because they grow out of their costumes straight away.
Look for second-hand costumes
Look on Facebook selling pages, eBay, Gumtree as most people only wear their Halloween costume once and want something different the year after, so there is plenty of choices.
Stores are pretty good at reducing their Halloween costumes in the run-up to it, so check in your local stores and online on eBay or Amazon Halloween section.
Alternatively, why not make one of your old costumes into something new?
If one of your kids has an old princess dress that doesn't fit properly anymore, add a few drops of blood and a bit of face paint, and you've got a zombie princess.
DIY costumes
There are a ton of DIY Halloween costume ideas that you could do for very cheap.
Have a rummage in the back of your cupboards, and you could make a Halloween costume for free if you have the items lying around your house.
Here are some ideas:
Kids Halloween costume ideas
Mummy
Wrap them up in bandages, and voila! Toilet roll doesn't stay on long (believe me, I've tried (and failed!)) You could also add some spooky face paint to finish off the look.
Skeleton
All you need is a black top, trousers and white tape to create the bones effect.
Rubik's cube
Get a large cardboard box, spray the whole thing black and then cut out coloured paper into squares to stick on. Make sure you cut out holes for the arms and head!
Lego costume
Find a long cardboard box and cut holes out for the body, arms and head. Spray with whatever colour you wish, e.g. red, and stick on paper cups – then spray them the same colour.
Where's Wally
This is a really easy costume if you already have all of the bits – you just need a red and white striped top, red and white striped hat and some round glasses!
Toy Soldier
This is one of my all-time favourite costume ideas. Get an army outfit, cut out some cardboard for "feet" and spray paint green all over.
Lamb
Get a black bodysuit and stick cotton wall balls on it with fabric glue. So cute and easy too!
Super Mario Brothers
If you already have dungarees, a red top and a red hat that's all you need for Mario! Add a moustache with black face paint and cut out an 'M' to stick on the hat.
Ghost
Probably the easiest ever Halloween costume because all you need is a white bedsheet!
Family Halloween costume ideas
If you are heading to a party as a family or plan to go trick and treating together and want to make a bit of an effort, you can dress individually, or why not try going as the same theme?
It can be cheap to pull off a budget Halloween costume for the whole family.
Stick Family – put on an all-white outfit and stick black tape in the shape of a stick person onto your body. Use a paper plate to draw a face on for a mask.
Nightmare Before Christmas – the outfits in Nightmare Before Christmas are quite simple, but you will have to go heavy with the face paint.
Vampires – all-black outfits, some fake teeth, fake blood and a bit of face paint is all that's needed for this look!
The Addams Family – pretty simple costume idea that you probably have everything you need lying at home for!
Zombies – an increasingly popular fancy dress outfit as it is so simple to make – you could wear any type of clothes and rip them, then paint your face Zombie style. Make sure that you practice your Zombie walk too!
The Asda 25% off George sale usually has costumes included if you wanted to buy one cheaper, as does the TU 25% off sale at Sainsbury's.
Decorations
Get your home looking all spooky for Halloween without breaking the bank!
Yes, the pound store is just a £1 an item, but it can add up quickly when you start popping things into your basket…
Instead, try to…
Make spider-webs out of black rubbish bags
Hang some "ghosts" made from old sheets from your tree
Draw on white paper cups with a black marker pen to make ghosts
Make pumpkins out of rocks by painting them orange and using black paint to make eyes and a mouth
Cut up paper plates to make a skeleton to hang on the wall or the front door – just make sure it doesn't blow away!
Create a monster door on your front door by cutting out a card for eyes and a mouth.
Snacks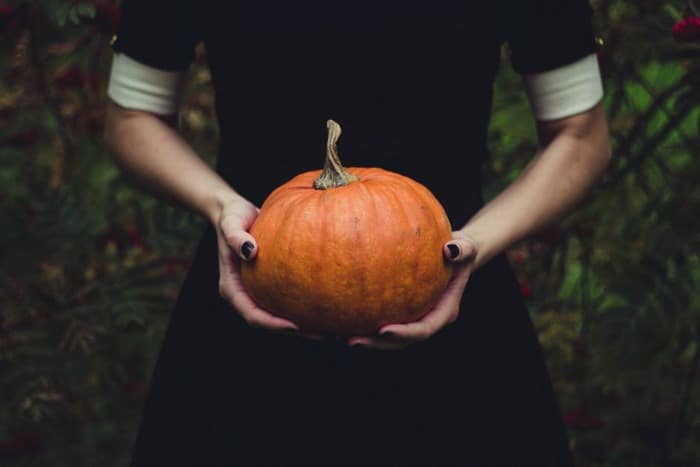 If you go on Pinterest and type in 'cheap Halloween food' or something similar, you will find a huge amount of recipes and ideas that look spooky and delicious!
Hot dog sausage fingers
Mummy or skeleton gingerbread men
Banana ghosts with raisins for eyes and mouth
Satsuma pumpkins – simply draw a pumpkin-style face with a black marker pen
Jelly with worm sweets inside
Donuts with fake vampire teeth in the middle
Have a 'yucky' dip – this will be something that your children would be more than happy to help you set up! There's a variety of different things that you could use to make this, such as sugar-free jelly, cold spaghetti, cold porridge, baked beans, and you could use pickled eggs for eyeballs.
If you're planning on getting creative and carving a pumpkin, then make sure not to waste it!
Take a look at some of the ideas and tips so you can use up your pumpkin to prevent food waste.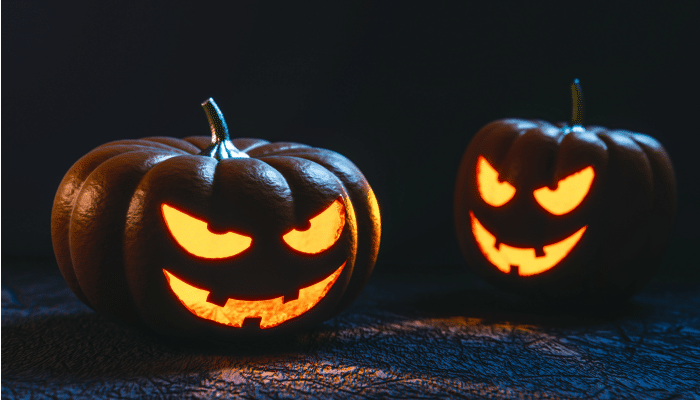 For more ideas of cheap Halloween food come and join the Reduce Your Supermarket Spend Facebook community, where loads of real-life examples are being shared.
This post was first contributed by Francesca, who blogs at The Money Fox, but has since been updated by Skint Mum.
Latest posts by Skint Dad Contributor
(see all)