Find out when the next TU 25% off sale is running in 2022 and how to get the best discounts on clothing for women, men, and kids, including school uniforms and stuff already in their sale.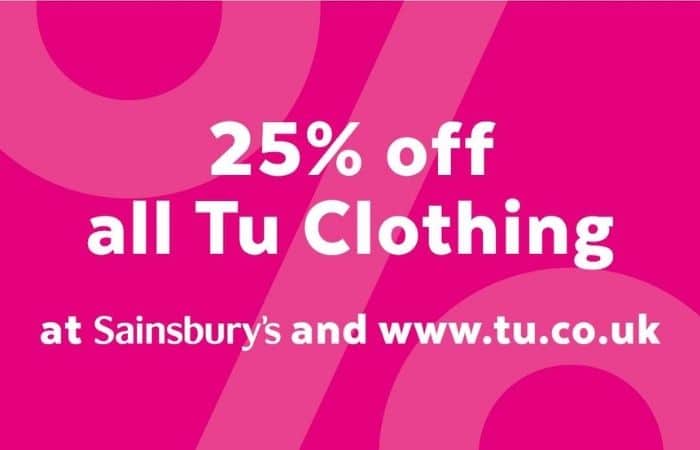 £10 BONUS OFFER: Earn easy cash by watching videos, playing games, and entering surveys.

Get a £10 sign up bonus when you join today.

Join Swagbucks here >>
Is there 25 off TU clothing at Sainsbury's?
Sainsbury's runs sales on their clothing for women, men and children in store and online.
As well as clothing, there are discounts on footwear and accessories during the 25% off TU clothing sale.
Better yet, the offer also applies to school clothes and fancy dress (which is great around October time and World Book Day)!
A lot of our community members hold out for the Sainsbury's TU clothing sale to order kid's school stuff for the start of the academic year.
The TU 25 off sale runs a few times a year, but there are also 50% off and Black Friday deals.
Even when the main event is not running, there is usually a few bits you can find discounted.
Argos TU clothing sale – maybe a better way to shop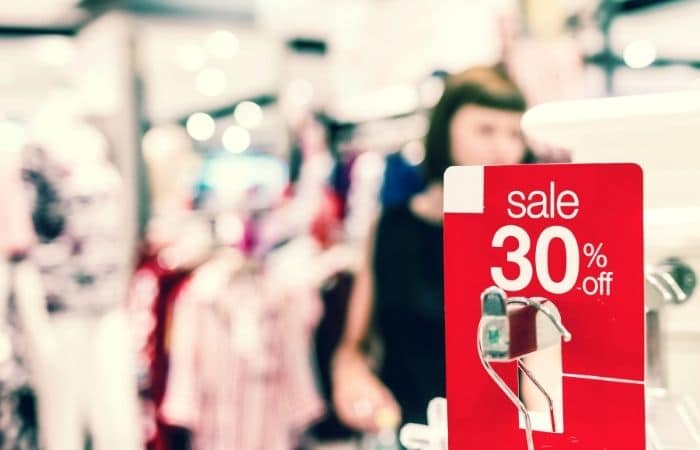 Now Argos and Sainsbury's are part of the same company; you can also get bargains in the sales at Argos.
There are a couple of reasons why you may prefer to shop for the TU clothing sale at Argos.
Firstly, you get next day free click and collect with Argos, whereas you need to spend £15 with Sainsbury's to get free collection
With Sainsbury's, you cannot redeem Nectar points for TU clothing online; however, you can spend the points when you purchase online with Argos.
You're still able to collect Nectar points when you shop. Use our free Nectar calculator to work out how much are Nectar points worth.
When is the next Sainsbury's TU clothing 25 off?
Although the sale dates aren't advertised in advance, we get insider tips and secrets shared ahead of time (thank you, my lovelies).
Using previous sale dates, we can also make good predictions of when the next one is.
Next TU clothing sale date:
The next 20% TU clothing sale date is from Monday 16th May until 21st May 2022.
This sale is for kids and baby clothing only.
However, there is currently an up to 50% off sale running online.
Watch this space for the next update.
Next predicted date:
August 2022
---
> Shop the TU sale at Sainsbury's
Previous sale dates: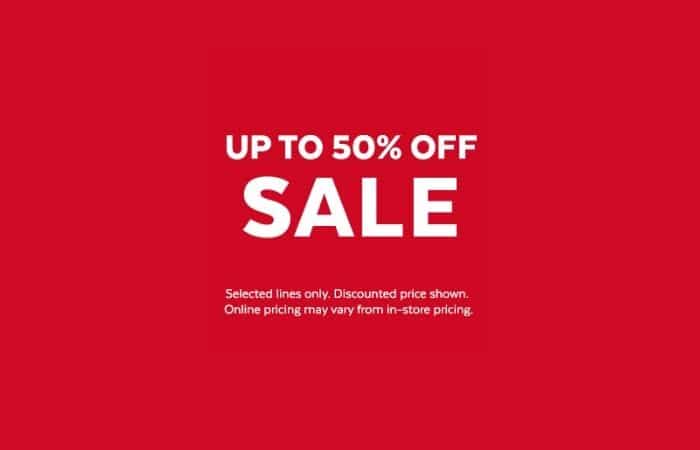 Cancelled – Tuesday 18th May 2021 – Monday 24th May 2021
Sorry to say but the 25 off TU clothing event has been cancelled again.
There was a rumour of a sale in August, but it never happened.
They do have a kid's sale starting the week commencing 17 May 2021, with a Women's sale from 27th May, but no 25% off. You should be able to get 50% off, but it's usually on end of line clothing, rather than general TU clothing. You're able to order sales stock online this time.
Cancelled – Tuesday 9th February 2021 – Monday 15th February 2021
Sainsbury's stores are not running in the TU sale as expected in February to try to reduce the number of people shopping in store.
Some stores may have a smaller 50% off sale on women's, men's, and children's clothing and shoes, but this will be in limited supply.
A member of staff at our local store suggested the next TU 25% off sale won't be until after lockdown restrictions ease.
Wednesday 25th November – Tuesday 1st December 2020 – this sale is for selected items only.
Tuesday 20 October 2020 – Monday 26th October 2020
Tuesday 11th August 2020 – Monday 17th August 2020 – due to lack of stock, the 25% off was reduced, and only selected items were on sale.
Tuesday 19th May 2020 – 25th May 2020
Tuesday 11th February 2020 – Monday 17th February 2020
Does 25 off start at midnight?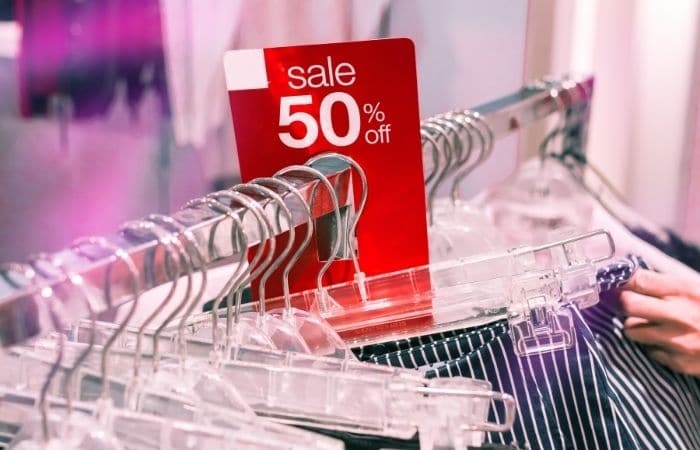 If you are more of an online shopper, you can guarantee to get the bargains you want.
The sale starts online before, whereas you need to wait until the store opens to shop for the 25% off TU clothing sale.
As an extra tip, because everything sells so quickly, add stuff to your basket a day or so before.
Then, on the day of the sale, check back and the stock will still be there (discounted) and you can checkout.
Who delivers TU clothing?
When shopping online, you don't pay for click and collect when you spend over £15. You can collect your bargain clothes from over 700 locations.
For delivery, you pay £3.95 for standard home delivery which takes 3 – 5 days. If you need your clothes quicker, you can pay £4.95 for next or named day delivery.
Can I return TU sale items?
Clothing bought through TU offers a 30-day money-back guarantee.
You're able to return or exchange items for free to a participating Sainsbury's or Argos in a Sainsbury's store.
You can choose to return the clothes in the post, but you will need to pay £3.50 for the return which will be deducted from the refund amount. If anything is faulty, you won't be charged the fee.
Quick top tips to get the best deal

To make sure you get a great deal and save money in the popular 25 off TU clothing sale:
Add clothes to your online basket 1-2 days before the sale. They'll hold in your basket and update on sale day with the lower price
Use the SmartShop app to check for discount prices while browsing
Buy from Argos as click and collect is free
Skint? Use your Nectar points as money to buy stuff in the sale, but at Argos only
Work at Sainsburys? Colleagues get a staff discount on top of the TU sale prices!
Plan early and get cheap fancy dress outfits out of season
Get cash back on your TU purchases via Quidco. Sign up to the Skint List newsletter and get access to £16 free cashback when you spend £10
Shop other sales – the 25 off Tesco clothing sale and Asda 25% off George are worth checking out.
Community feedback and TU reviews
The Reduce Your Supermarket Spend community loves a good deal, and many of them cannot wait for the dates of the next 25 off TU clothing sale. Check out their feedback:
I got a complete new work wardrobe for £65 and scored for £15 worth of nectar points too. Two tops I bought were £5 reduced by 50% then a further 25% off. Bargain!

Emily
Got a Christmas jumper for my 3yo but next size up £8 to £4 to £2.60.

Anje
It's the best place for uniform and even better with 25% off. I picked up a pack of 2 joggers for £8, other places I was looking at was £8 just for one pair.

Emma
Best school shoes depending on the sizes your kids are (the smallest size they do I think is a small 10) are Treads. They have a 12-month guarantee and they genuinely do last the 12 months. Their customer service is excellent too – I have had to use the guarantee once (I've had about 6 pairs now) and they sent out a new pair right away.

Leonie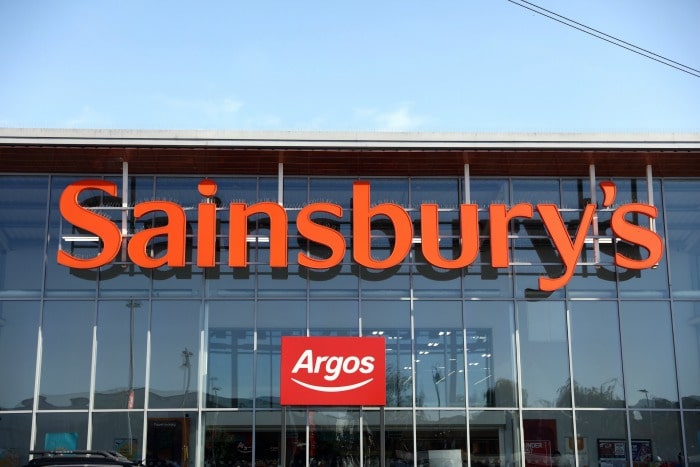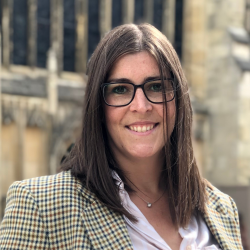 Latest posts by Naomi Willis
(see all)