Asda Price Guarantee is being scrapped from 3 October 2018!
For more information please read all about Asda Price Guarantee ending.
UPDATE March 2019 ::
All change! There's a new Asda loyalty scheme! Find out all about George Rewards.
Don't just use Asda's price checker after you've done your shop. Follow an easy Asda Price Guarantee hack and these other tips to save even more!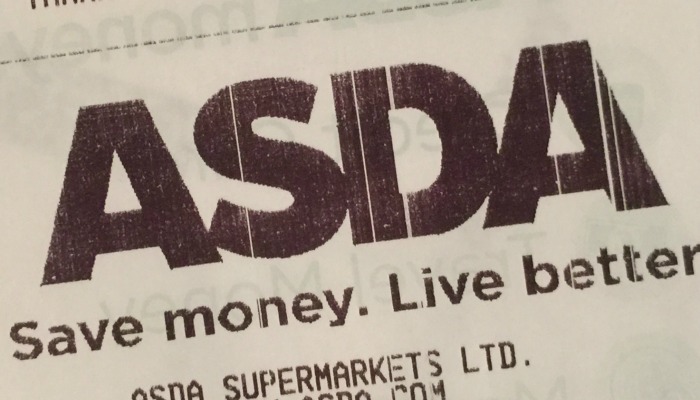 £10 BONUS OFFER: Earn easy cash by watching videos, playing games, and entering surveys.

Get a £10 sign up bonus when you join today.

Join Swagbucks here >>
The Asda Price Guarantee is great and all that.
It can save you money on your shop by doing an Asda price check and comparing what you've bought versus other supermarkets (see our full guide).
If they're not 10% cheaper then you get a voucher for the difference.
It's that simple.
However, by instead of just heading out and doing your shop, if you use this knowledge to your advantage then you can make sure you get the most overall savings.
Asda Price Guarantee hack
To make the most money back on your shop you need to do a little forward planning.
You just need to do a comparison of your shop before you head out the door.
The best tool to use is MySupermarket. It's a supermarket comparison site and allows to you see all the pries of all the supermarkets at the same time.
This is what you need to be looking for:
Asda price check for individual items
When buying items one at a time, do a search in MySupermarket and find the product you want.
Let's take PG Tips as an example (as I know so many of you don't want to brand down on tea).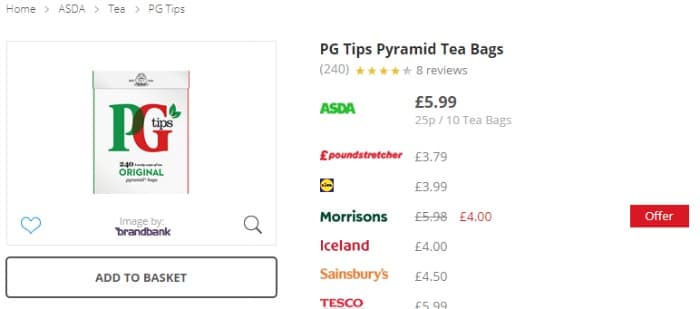 In Asda, they were selling PG Tips (240 bags) for £5.99 a box. However, Morrisons had an offer to get the same size box for just £4.
Using the Asda Price Guarantee, Asda would need to sell this box of tea bags for £3.60 to be 10% cheaper than Morrisons.
Because Asda are not 10% cheaper, this would mean an Asda Price Guarantee voucher for the difference would be £2.39.
Asda Price Guarantee for multi buys
When you get something that's part of a multi buy the Asda price checker usually works in the same way.
As an example, let's take a promo that was running at Tesco; it gives 5 tins of Heinz products for £3. Asda were not running the same promotion.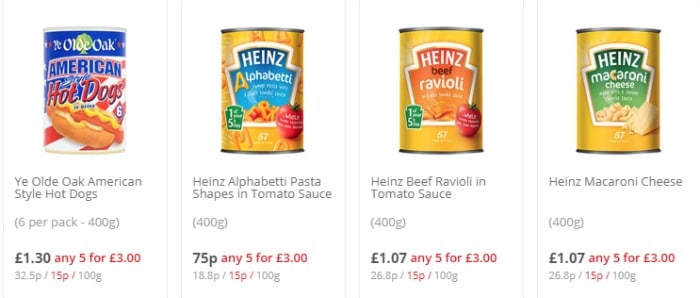 When the Asda Price Guarantee receipt checker looks at this, it works out what the average cost would be. Instead of seeing them as £1.07 each, it splits the total costs between the 5 items in the deal.
So, these tins show as just 60p each for the receipt checker.
From an Asda point of view, it's costly.
To be 10% cheaper on this product, Asda would need to sell each tin for just 54p. As they are selling them for £1.07 there would be a 53p voucher for each tin. As there are 5 in the deal, there would be a £2.65 voucher back, making the tins just £2.70 from Asda.
Please note:
In the Asda Price Guarantee terms and conditions, it says that if the prices of the items in the multi buy are different (ie one tin was 60p and another was £1) it wouldn't work. All items in a multi buy need to be the same original price to work in the Asda Price Guarantee hack.
Also, where a N/A shows this means they could not make a comparison with items at another retailer. Guess that Tesco don't sell that size tea?
Extra tip
One more thing to be aware of is that it's best to split your shop into two. Have one shop with things lower in Asda and one with things at a higher price in Asda.
The member of staff will have no problem putting two transactions through for you.
This way, your voucher will be the highest it can be.
By adding items that are lower priced, Asda uses them to bring the value of your voucher down (like it did for the example above, eg the sugar and wipes were more expensive).
Asda tips and tricks to save
Asda price check and guarantee are just one way to save money on your food shop.
There are other ways you can lower the amount you need to spend, leaving you with more money in your pocked.
Use cashback on top
CheckoutSmart is a great money saving tool.
On its own it works wonderfully and will pay you money to buy food. Sometimes you'll get the food for free, other times you'll get a percentage of your spend back.
Either way, it's bringing the cost of your supermarket spend down. Get a CheckoutSmart account here.
However, you can use it at the same time as any other offers running in supermarkets and use it with the Asda Price Guarantee.
Using the shop, we could get a bottle of wine with 54% off the price (be Drinkaware).

Asda are selling this particular bottle for £7.98, but Tesco are selling it for £7.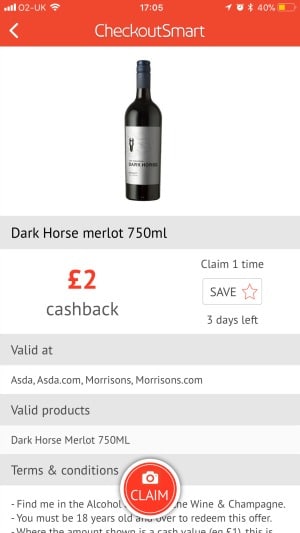 For Asda to be 10% cheaper they would need to sell the wine for £6.30 – already a bargain!
However, this bottle of wine is also on CheckoutSmart and they are offering £2 cashback with Asda (but not Tesco).
Overall, this would mean an Asda Price Guarantee difference of £1.68 (as a voucher) and £2 (as cashback) giving a total of £3.68 off the price. The total cost of the wine comes down to just £4.30 a bottle.
Not heard of the app before? Read our guide on how to use CheckoutSmart
Use free money
This is actually broken into two different ways to get free money to spend at Asda.
Gift cards
So you know what you're going to buy and have a voucher from your last shop to know money off the price.
But, you can still get your shop even cheaper!
Use Zeek and buy gift vouchers at a discounted price (you get a £3 bonus via this link). They sell unwanted gift vouchers for cheaper than the face value. You will only get a small percentage off for a supermarket, but it's still a saving!
Then, just use the gift voucher when buying your shopping to make immediate savings.
Related: Read our Zeek review
Savings cards
Use the Asda Savings Card through the year to save the odd pound here and there and you could be quids in for Christmas.
Not only is it an easy way to save without really noticing, but you get a big bonus come December.
You can get a £6 bonus when you've saved £144 on a savings card. Bonus payments are paid in November each year.
Take a look at our guide on Christmas savings clubs for a full run down.
Use rubbish
This isn't meant to be as gross as it sounds.
I'm not suggesting to hunt around in bins (as you're not allowed to actually do that), but take a look outside of an Asda store in trolleys, in the car park or (where I find a lot) in nearby bushes.
What you're looking for is other people's discarded receipts and you're now taking part in wombling.
For whatever reason, they don't take their receipts leaving trash. As well as doing your bit for the environment, you are able to use their receipt on the Asda Price Guarantee site.
This way, you'll be able to boost the amount of APG vouchers you get.
Is it worth the effort?
Oh yes!
You'll be printing free money. It's not like you're getting a shop for the same price elsewhere. You will be getting a voucher meaning your shop was cheaper than anywhere else.
While you won't be able to get the discount then and there you will be able to use the voucher for next time. And, if you continue to use this Asda Price Guarantee hack you will forever have a huge discount voucher.
This is also just an example of a few products. If you did this for everything your voucher would be massive (which is why Asda Price Guarantee terms and conditions cap the maximum voucher spend per month at £100).
If you're going to putting together a meal plan (which'll save you cash) then this should be a vital part of your planning.
The most important part of the Asda Price Guarantee hack is to check ahead on prices of other supermarkets to make sure you're buying products that can maximise the 10% difference the most.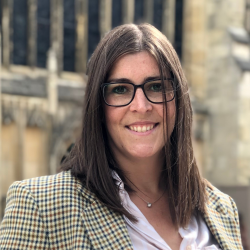 Latest posts by Naomi Willis
(see all)