I know how upset some people were when the Asda Price Guarantee closed in 2018.
It was a great little loyalty scheme from Asda to reduce the price of your supermarket shop.
However, all good things must come to an end … but … when one door closes another one opens!
And, while they've stopped APG, Asda has launched a new loyalty scheme instead!
George Rewards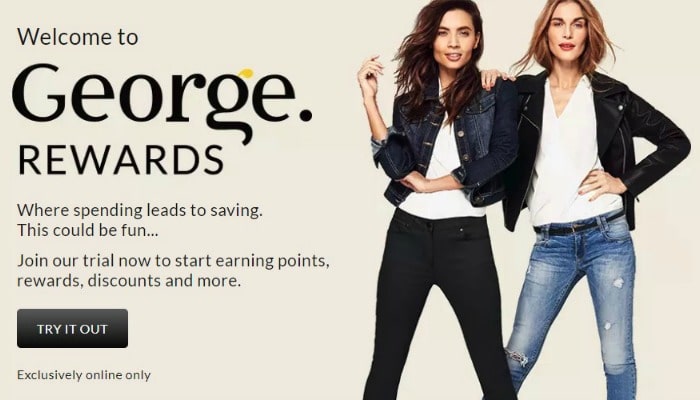 £10 BONUS OFFER: Earn easy cash by watching videos, playing games, and entering surveys.

Get a £10 sign up bonus when you join today.

Join Swagbucks here >>
Asda has launched George Rewards as an online exclusive reward programme.
It has started as a "trial" at this time, but I guess if it's popular enough it may carry on.
You get rewarded each time you shop online at Asda George.
You earn points, which lead to rewards, discounts (and more, apparently).
It's not just points on what you spend – there are other ways to collect George Reward points too.
Asda Rewards has also launched to help save money on your grocery shop.
How many points do you earn with George Rewards?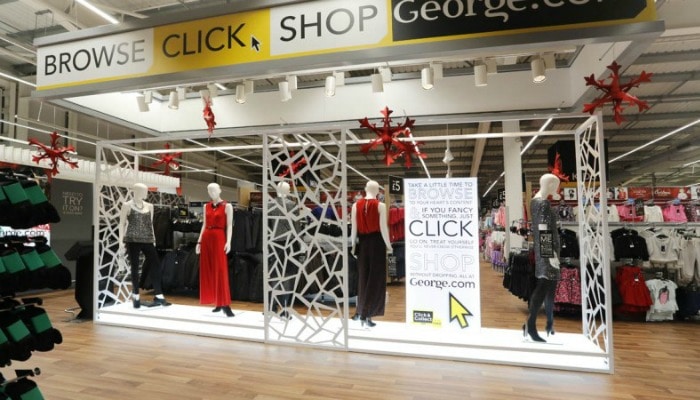 The whole idea is that you earn points for shopping and then use the points to unlock discounts and special offers.
You're able to collect 1 point for every £1 you spend online at Asda Geroge.
Plus, if you spend over £50, then your points double up for whammy savings!
You can't collect loyalty points on delivery costs.
However, you're able to get a lot more points than just by buying stuff.
Collect more George Rewards
My daughter has had a growth spurt (I guess it's how much she eats (which is all the time!!)).
Her school shirts are getting on the mini-side, so we popped on the Asda site to buy her some better-sized ones.
So, we spent £8 on a couple of shirts, which meant we should have got 8 points – but we earned so many more!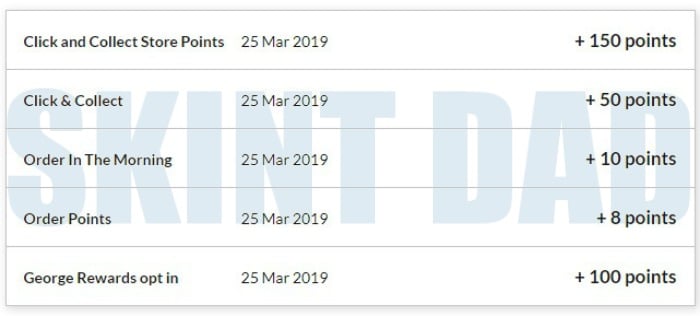 You can get an immediate 100 points just for signing up – easy!
If you choose to click and collect, then 50 extra points will come your way, and when you pick a collection date further in the future, you earn more too.
The maximum you can get for a later collection date is 150 points.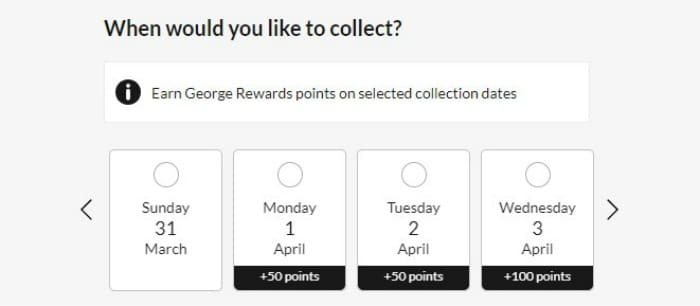 While I'm not a massive fan of vampire shopping, Asda is rewarding shoppers who place an order after midnight and before 12 pm lunchtime. You can collect an extra 10 points order between these times.
If you tell Asda your birthday, you can get an extra 20 points too. This only needs to be the day and month (so don't worry about having to fib about the year ;) )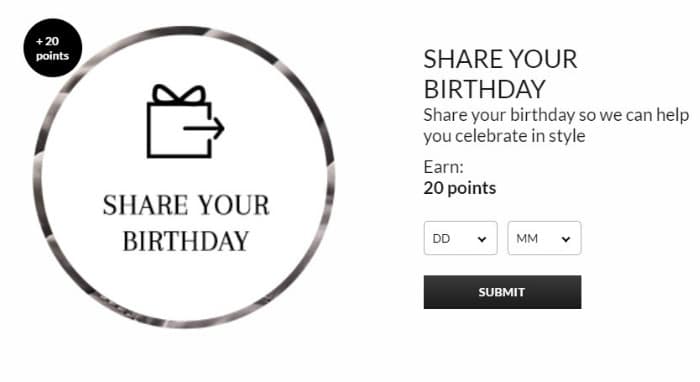 For each review you write, you're able to tot up 20 points a time.
There is no stated maximum amount of reviews you can make, so if you like writing, it may be a way to boost your points total, without spending cash.
It does, however, look like this will only work on products you've actually bought :) I haven't tested things out too much with this one, so please do let us know if it works.
(If you enjoy writing reviews, you can try Vine and become an Amazon product tester and get free stuff).
You can also refer a mate and get another 50 points (when they create an account).
You'll get another 150 after they've made their first order, but you're only able to refer a maximum of 5 people.
What do you do with George Reward points?
So, it's great saving up all these points but what do you do with them once you've collected a few?
Right now, the points you earn can go on to unlock special offers.
For me, this allows discounts when you shop at Asda.
I've got the options to get 15% off clothing, footwear and accessories when I spend over £30; get 20% off women's dresses, save on boots and shoes and get money off baby clothing.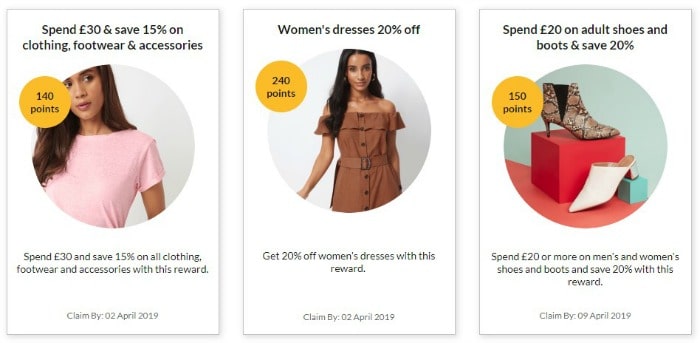 When you've decided what you want to use your reward points on, you just click to unlock and activate the reward.
When you then shop, eligible items will be highlighted with a yellow offer box.
Then, the discounts are automatically applied when you're at the checkout.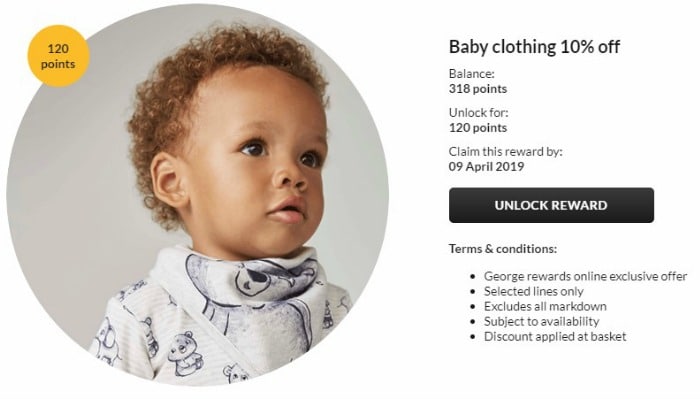 As the trial progresses, I hope they add in other incentives and offers.
Ok, so, all in all, I would prefer another discount or reward scheme for food, like Asda used to do, or like you can get from Tesco Clubcard or Sainsbury's Nectar.
I'm not a massive fan of spending money to save money. It can sometimes make people spend more than they can afford or really want.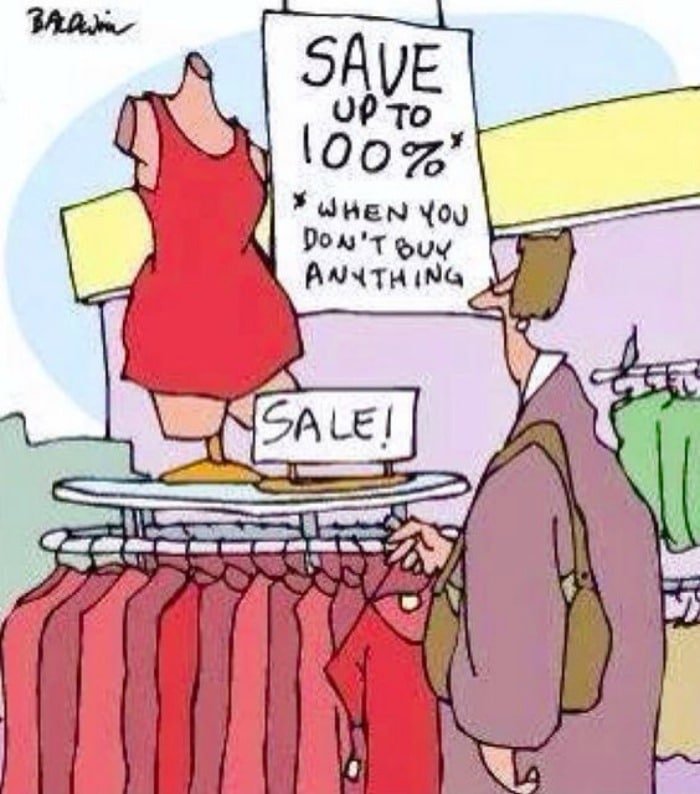 Incentivising shopping can cause more issues when people already have problems with overspending.
Read: Overspending? Cut It Out with These 5 Practical Tips
But, I suppose, having a new Asda loyalty scheme is better than nothing.
Let's just see what happens next :)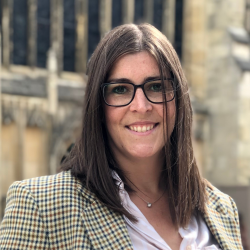 Latest posts by Naomi Willis
(see all)