Asda has launched its brand new loyalty scheme, "Asda Rewards" to earn cash and get money off your food shop.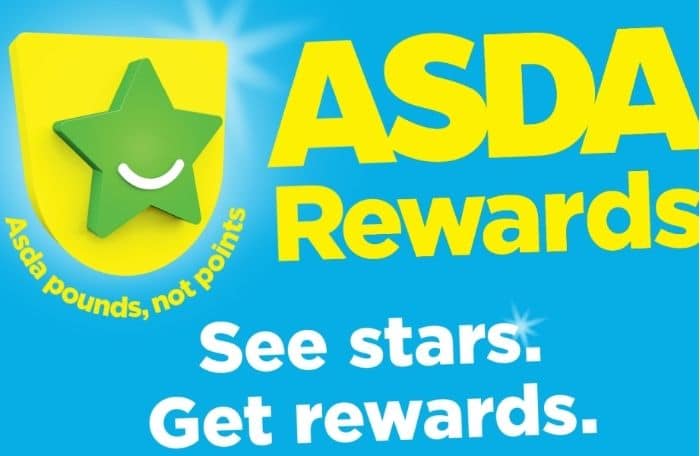 £10 BONUS OFFER: Earn easy cash by watching videos, playing games, and entering surveys.

Get a £10 sign up bonus when you join today.

Join Swagbucks here >>
Using the brand new Asda Rewards app, you can earn money to spend on food at Asda.
It's a limited trial at the moment, in a small number of stores (see below to find out if your store is included).
When you buy "Star Products" or complete Missions, you earn pounds, not points, to spend on your next food shop.
Here's everything you need to know about the app.
Asda Rewards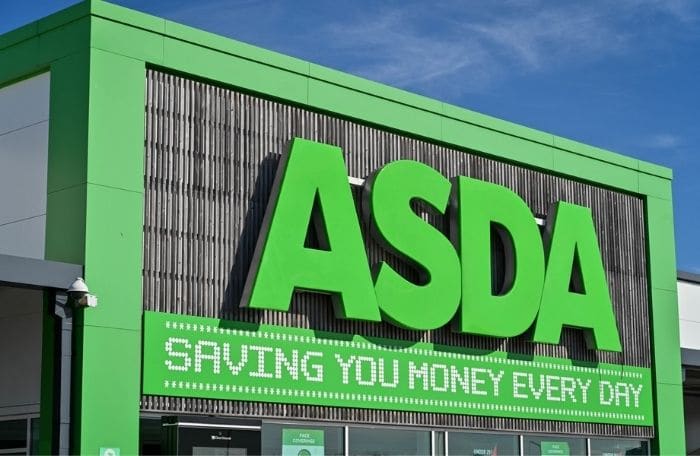 The Asda Rewards app launched in 16 stores as part of a pilot scheme from 21 October 2021, which extended to 48 stores from March 2022.
Customers who shop in one of the trial stores can download the reward app from either the Apple app store or the Google play store and start earning rewards for a money off voucher.
Each time you shop, you will see your cash pot build-up when you buy Star Products or complete in-app Missions.
You can then redeem the cash the next time you shop by using vouchers saved in the app.
As of March 2022, customers have built up over £800,000 into their Cashpots to spend in store.
You can either use the vouchers to get money off part of your shop or keep saving them and get a full shop for free in the future.
At certain times of the year, there will be special "Boost" vouchers that can multiply the value of your cash pot – we'll update you when we find out more.
Matt Mclellan, Vice President Customer Proposition & Planning, said:
"We know our customers want the best possible value when shopping with us, especially as household budgets become stretched.
"Our Asda Rewards trial rewards our loyal customers with pounds, not points for buying the products they love.
"We hope that our customers will enjoy building up their cash pot during the trial and spending it on whatever they like in store – or saving it for the all-important Christmas shop."
What are Star Products?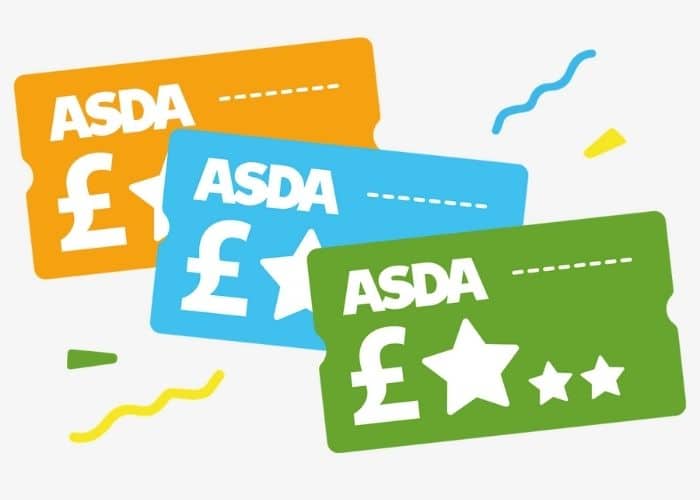 Looking at the app, you can find the current Star Products, which earn you more rewards each week.
It can include both branded as well as Asda own-label products.
Each Star Product will have a different cash reward value and will be shown next to the item.
There should also be Star Product signage in store to make it easier to find.
Star items can include stuff you'd likely buy in a typical shop like everyday grocery lines, beers, wines, spirits, household cleaning and pet products.
When it comes to brands, you can get rewards across products from Asda, Cadbury's, Heinz, Pampers, Budweiser, Gillette and many more.
What is a Mission at Asda?
On top of rewards for buying products, you can make more rewards by completing in-app Missions.
They can reward you money in your cash pot for doing things like:
buying five fruit and veg items to unlock their "5 a day badge"
spending £15 on pet products
shopping 4 times in a month
seasonal Missions including Halloween and Christmas themed bonuses
What stores are part of the Asda Rewards launch?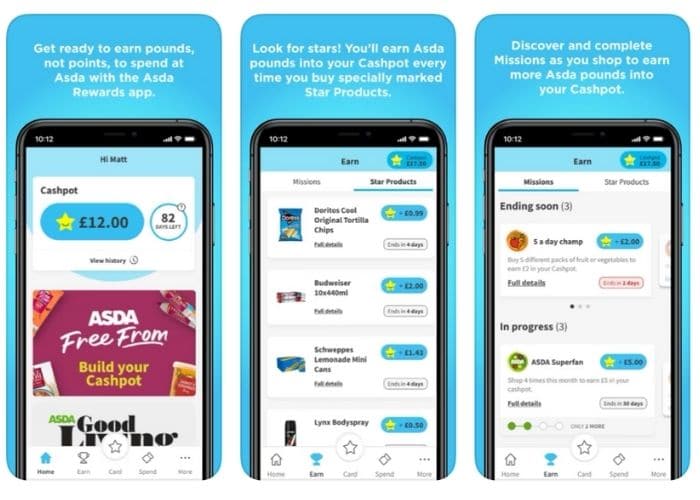 Customers in selected stores across West Yorkshire and the West Midlands are part of the initial launch.
The initial trial of 16 stores has been extended. Sounds like their loyalty scheme has been going well!
There are now 48 stores where you can use Asda Rewards.
The trial has been extended to all 32 stores in West Yorkshire, as well as four stores in the North East and four stores in central Scotland. The trial stores in Birmingham will continue to use the rewards scheme as normal.
Here are the Asda stores that you can use the app and get money off your food shop:
Adel, West Yorkshire
Barnes Hill, Birmingham
Capehill, Birmingham
Darlaston, Birmingham
Dewsbury, West Yorkshire
Glasshoughton, West Yorkshire
Great Bridge, Birmingham
Halesowen, Birmingham
Halifax West, Yorkshire
Huddersfield, West Yorkshire
Keighley, West Yorkshire
Killingbeck, West Yorkshire
Oldbury, Birmingham
Perry Barr, Birmingham
Queslet, Birmingham
West Bradford, West Yorkshire
Living Forster Square, West Yorkshire
Living Guiseley, West Yorkshire
Living Leeds Crown, West Yorkshire
Living Wakefield, Yorkshire
Aspley, Yorkshire
Batley, Yorkshire
Beeston Leeds, Yorkshire
Benton, North East
Boldon, North East
Bradford, West Yorkshire
Byker, North East
Chesser, Central Scotland
Edinburgh, Central Scotland
Gosforth, North East
Greengates, Yorkshire
Harehills, Yorkshire
Kirkstall, Yorkshire
Little Horton, Yorkshire
Middleton, West Yorkshire
Moorthorpe, Yorkshire
Morley, West Yorkshire
Normanton, Yorkshire
Otley, Yorkshire
Pontefract, Yorkshire
Pudsey, West Yorkshire
Shipley, West Yorkshire
South Shields, North East
Straiton Edinburgh Central, Scotland
Wakefield Dewsbury Road, Yorkshire
Wakefield Durkar, Yorkshire
Wortley, Yorkshire
Wyke, Yorkshire
Where can I download the app?
The app is available on the Apple App Store or the Google Play store.
You can find out a little more about the loyalty scheme here.
Asda George Rewards
While the Asda Rewards scheme is the first-ever loyalty program for groceries, Asda already has a loyalty scheme.
George Rewards allows shoppers to get discounts on clothes and homewares products when shopping online.
How else can I save as Asda?
Asda run lots of offers and deals to save on food and clothing.
For a tasty weekend treat, you can get a free movie voucher plus two pizzas and a drink in the £5 Asda pizza meal deal.
If you need school clothes, you can get a bonus of £15 to spend on uniforms when you use the Asda School Shop Savings Card.
The Asda 25% off George clothing sale is worth checking out as you can get a bargain on outfits and shoes for kids, women and men.
FAQs
Do I need a physical Asda Rewards loyalty card?
You don't need a separate loyalty card for Asda. Download the app, and you can scan your card from your phone to build up your cashpot.
Do I need to create a new account?
You can sign into the app using your current Asda log in details.
Can I earn rewards on my whole shop?
Asda Rewards allows you to build up rewards on selected Star Products, which are listed in the app, rather than on your whole food shop.
What can I spend Asda Rewards on?
You can use your rewards to get money off any future food shop.
How do I spend my Asda Rewards cashpot?
Once you've saved up your cashpot, you can swap it for an Asda voucher from within the app to spend on whatever you want.
How long do Asda Reward vouchers last?
Once you've swapped your cashpot for Asda vouchers, you usually have 30 days to spend them. If you don't use them by the date, they will expire after this time. Check the app for the exact expiry date.
How long is the trial running for?
UPDATE: Asda was running the loyalty app trial until 31 December 2021, but decided to extend it in early December until 20th April 2022.

From then, they will decide if it will roll it out to other stores from then.

If your store is not part of the trial, you can register your interest for your local store here.
Other loyalty apps
Asda is not the only supermarket to offer a loyalty scheme, and I'm actually surprised it's taken this long to get one.
Check out the My Morrisons app, where you get personalised offers for money off then and there.
Tesco Clubcard Prices is a great way to get extra discounts exclusively for Clubcard members.
The Sainsbury's Nectar was a popular scheme, but they've recently cancelled Nectar Double Up, which means the Nectar Points value is a lot less.
You can save even more at Asda using the Airtime Rewards app. You get cashback on your shop which reduces your phone bill.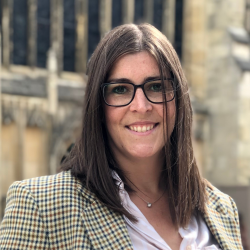 Latest posts by Naomi Willis
(see all)