With little or no online delivery slots at the supermarket, here's a list of alternative places to shop where you can get your groceries (contactless) delivered.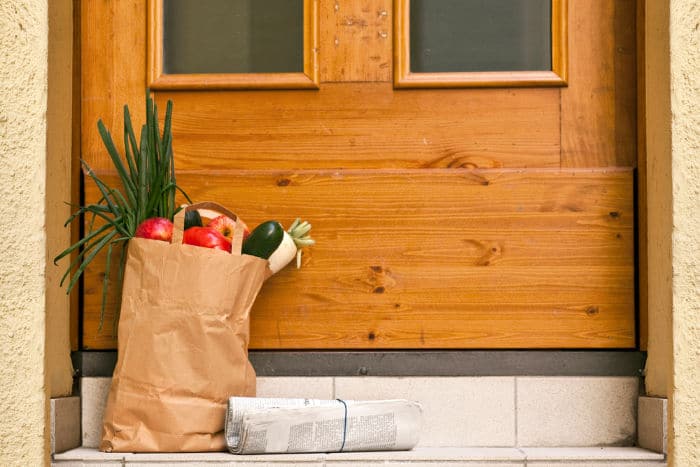 £10 BONUS OFFER: Earn easy cash by watching videos, playing games, and entering surveys.

Get a £10 sign up bonus when you join today.

Join Swagbucks here >>
The supermarket has changed over time, and we rely on them more and more.
Instead of just stocking food, we can get entertainment, household goods and clothes, meaning it can be a one-stop-shop.
In times like this, the supermarket is so busy, and they are struggling to keep up with customer demand.
They are advertising jobs to start immediately and are changing how they do things in stores to make sure that food stays on shelves longer.
Reports have shown that the average household spent an extra £62.92 in March (around £80 million collectively), which is around five days' worth of extra groceries. This puts pressure on everyone else, and there is less to go around.
With food demands high at the supermarket, giving us empty shelves and no online delivery slots for weeks, using supermarkets as we used to isn't quite possible.
So, instead of relying on the supermarkets, there are other options to buy food or get groceries (contactless) delivered to your door.
Get meat delivered with Muscle Food
Muscle Food sounds like it's for bodybuilders – but it's not. They sell lean meats at reasonable prices for everyone.
You can pick and choose which meat or fish you want, or you can select ready made hampers of meat.
The packs are delivered in super chilled, temperature-controlled boxes so even if you can't get to the door straight away it doesn't matter as the food stays chilled for 48 hours!
Read our Muscle Food review to see what kind of things you can get.
Approved Food
Approved Food sell food close to their best before dates at much lower prices – saving you up to 70% on supermarket prices.
They sell thousands of different products with a wide range of food, drinks, household items, toiletries, gifts plus much more.
Most people save around £60 per month compare to shopping on the high street.
Read our Approved Food review for more information.
Amazon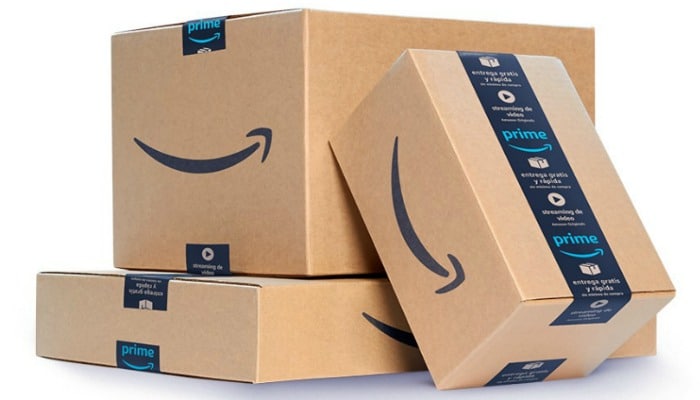 Amazon sells pretty much everything, and when it comes to food, you've got a couple of options:
Amazon Pantry
You can fill up your store cupboard, get free samples and free delivery with Amazon Pantry.
When you buy 4 of the qualifying products listed in this page and get free delivery on your entire Amazon Pantry order.
That's a saving of £3.99 in value.
Amazon Fresh
You can do your entire food shop with Amazon Fresh, with over 300,000 items on offer.
Whether you need fresh food or daily essentials, for orders over £40 you're able to get one-hour time slots from 7 am – 11 pm every day, including same-day delivery.
Not all postcodes are covered, but if you can get the shop where you live, you will look to save at least 15% versus leading supermarkets.
You can get a free 30 day trial here. After the trial ends, AmazonFresh is available to Prime members for £3.99/month.
Read next: Find out the cheapest online supermarket
Get veg delivered
Why not look to get personalised seasonal vegetables delivered to your door
You can pick and choose what you want, rather than being given a load of veg no one in the house likes.
Everything is delivered in returnable, reusable and recyclable packaging.
Co-op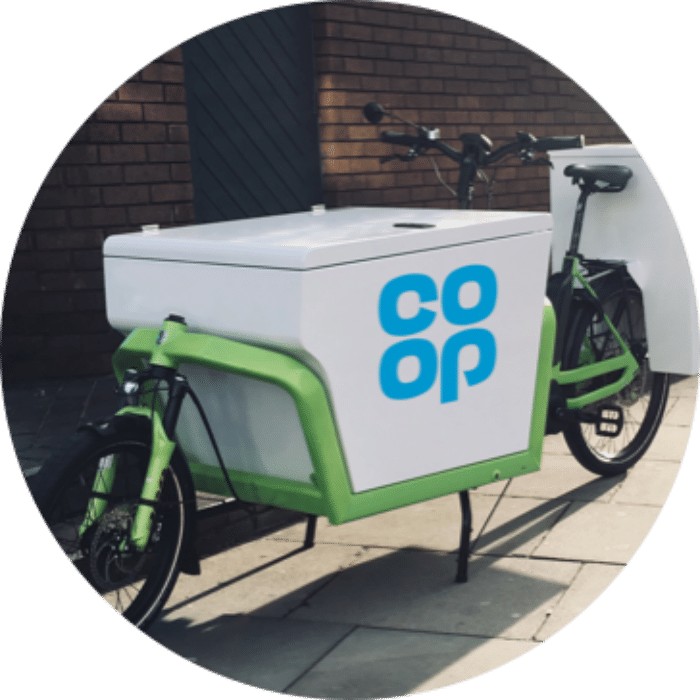 Yep, Co-op delivers food, and you can get it delivered the same day.
Co-op online delivery has not been rolled out across the whole country – yet – but it can be useful for parts of London and Manchester.
But, if they don't do their own delivery near you, you can get some of the basics to your door in less than an hour using the Deliveroo app.
Click here to get £10 credit to spread across your next orders with Deliveroo.
Your local petrol station
You're not going to get an entire food shop, but it's useful to get top-ups now and again if you're not able to get out.
Download the Delivoeroo app, and you may well find your local petrol station has basics like milk, bread, and even beer!
Click here to get £10 credit to spread across your next orders with Deliveroo.
Wholesale and bulk online stores
You may think wholesalers only sell to businesses and you'd be right…but things are changing.
They usually sell their stock to business and restaurants but are they are mostly closed, they've got no one to sell to.
Instead, they are looking to change how they do business and sell to the general public as well.
This means you'll be able to bulk buy food (which is great if you've got the spare cash and space).
Search for a wholesaler in your area to see if they're starting to offer food, drink and cleaning supplies to the public.
Get meal boxes
If you struggle for what to cook, why not let someone else decide with easy to follow meals that can be cook in 15-20 minutes.
> Click here to get a £3 trial box at Simply Cook
You get a box that can be delivered through your letterbox with four recipe kits and step by step instructions for you to make a meal. You do need to add 4-6 items from your fridge or cupboard.
So you know, there is also a high demand for meal kits and, as they are so popular, they are taking up to 2 working days longer than usual to be delivered.
For info, Gousto is not currently taking any new orders.
Use your local independents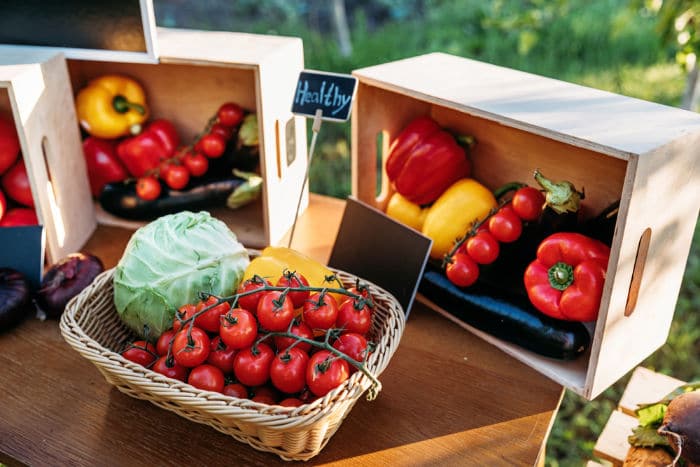 Don't ever forget your high street and look to buy local.
Until recently, you were only able to shop in store, but many (if not all of them) are now offering food delivered to your door.
Butchers
For fresh meat, and even delicious sausage rolls, local butchers will likely offer a weekly delivery service.
Fishmongers
If you have a local fishmonger (google it to see), they are also changing to offer door to door delivery.
Greengrocer
For any fruit and veg, contact your local greengrocer.
Bakers
Many local bakeries are also offering delivery of bread and cakes.
:: While most are only able to take phone orders, some have got websites or Facebook pages set up with price lists.
Also, if you can get out for shopping, you may well find your local shops have less of a queue time than the bigger supermarkets.
Milk delivery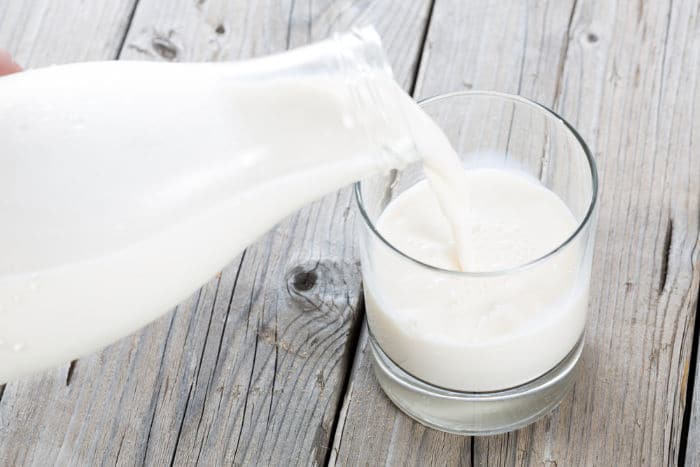 Your milkman/woman/person can deliver milk to your doorstep.
Find your local milk-person here.
Some of the larger milk delivery companies have stopped taking on new customers, but the local businesses may still have supplies to deliver in your area.
It is more expensive than getting milk in plastic bottles, but you can maybe look to balance it with the convenience of having fresh milk delivered and that the glass bottles can be reused.
Farm shop
Your local independent stores will have fresh foods, but it'll be even fresher from the farm direct.
Many farms have shops attached to them that sell their freshly-harvested foods or keep foods from last season frozen.
Look to find you closest farm shop on the Farm Retail Association site (there are loads of them across the country!).
Eco/zero waste shop
There are now hundreds of zero waste shops in the UK.
Instead of buying a specific pack size the other shops offer, with a zero-waste store, you take your own container and just buy what you need.
This means you avoid excess materials, some of which cannot be recycled, and you can save money as you'll only buy what you'll use.
Many of the zero waste shops have started to offer local delivery from their stores, so find your nearest one on Google*.
* Other search engines are available.
Takeaway
Ok, so this isn't the cheapest option at all, but it's still an option.
If you need food and have some spare cash, then getting a takeout can keep you fed.
There are a fair few national companies who have shut down their services, temporarily, so look to buy from your local restaurants and help keep them going.
You can call to order or use sites like Just Eat, Deliveroo or Uber Eats.
I know that Uber Eats has removed delivery charges with thousands of restaurants. Again, it's not cheap, but it's a treat, and with free delivery, it's less expensive than it was a few months ago.
Just East and Deliveroo also deliver smaller shops directly from supermarkets and convenience stores as well now.
Want to earn money doing deliveries? Find out how much do Just Eat drivers earn.
Facebook community group
There are loads of Facebook support groups that have popped up offering support while people need to isolate.
People have offered to drop a few food items off, and others are sharing supplies.
I've watched in my local town as people selflessly give their time and are looking out for members of the community they've never met before.
However, please take some caution on this one.
While I know that so many people are genuine, have a kind heart and want to help, there are going to be a few bad apples. The people offering their time via Facebook have had no kind of police checks (DBS), so you're just taking their word that they are doing the right thing.
Message the "admin" of the Facebook group if you're unsure.
Food parcels from the government
Delivery of food parcels to clinically vulnerable people in England has now started.
If you're not able to get help from friends, family and wider support, and you have a condition that classes you extremely vulnerable, you can register for support here.
You will then get help with food, shopping deliveries and any additional care you might need.
:: Come and join thousands of other savvy shoppers in the Reduce Your Supermarket Spend Facebook community to find out tips and tricks to save money on your food shop.
Enjoy this post? Why not also sign up to receive our newsletter.
We send out all the best money saving news and tips from the site, and as an added
bonus you'll get an exclusive £16 cashback from Quidco (new members only)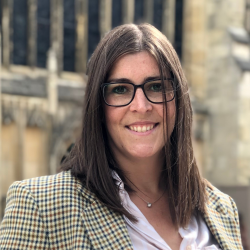 Latest posts by Naomi Willis
(see all)