With petrol prices at their highest price recorded in the UK, you can still find cheap petrol near you when you fill up your car.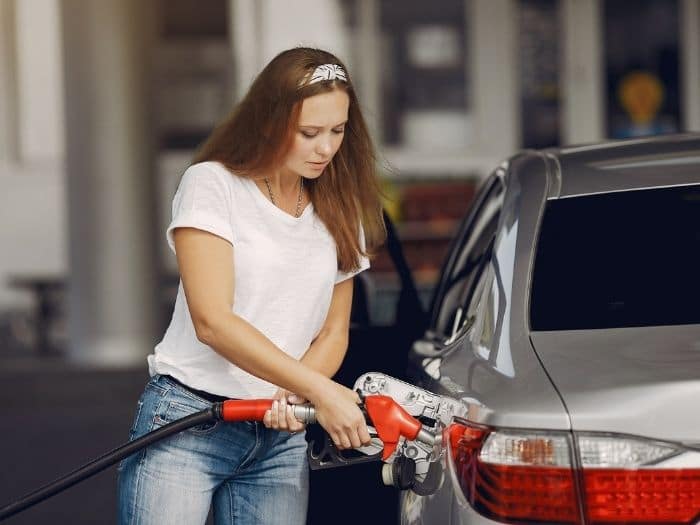 £10 BONUS OFFER: Earn easy cash by watching videos, playing games, and entering surveys.

Get a £10 sign up bonus when you join today.

Join Swagbucks here >>
With the average weekly UK fuel prices at 139.46p for petrol and diesel at 143.19 (according to the Department for Business, Energy & Industrial Strategy as of 18 October 2021), there is little sign of them getting back to a more manageable price.
However, that doesn't mean you can't save money on fuel prices at petrol stations.
You could save up to £200 a year when you know how to find the cheapest petrol and diesel near you, plus by using these tips.
Here's how to keep your costs lower.
Use supermarket promotions

The local supermarkets are already, generally, the cheapest place to find cheap fuel.
Although the supermarket fuel is cheaper, it has to conform to a British Standard, so it must be above a certain quality.
On top of lower prices, you can also take advantage of collecting loyalty points to get cash off your future shop.
From time to time, supermarkets run promotional offers to get money off every litre of fuel.
For instance, the Tesco money off fuel offer sees you get a 10p off coupon on each litre of fuel. You usually need to spend a minimum amount in store to get the Tesco fuel 10p off voucher.
Morrisons have also run offers to get 10p off per litre when you spend £50.
How to find the cheapest petrol near me
Instead of just heading to the closest petrol station, do a tiny bit of research before you start up your engine, and you'll likely see savings of around £226 a year for petrol and £158 on diesel.
Take a look at PetrolPrices.com (or use their app) to see where the cheapest petrol and diesel prices are.
Petrol Prices monitors stations' prices in the UK and covers 98% of all stations, receiving 8,000 daily updates about pricing. This means you'll be sure to have accurate and up to date information.
All major service stations are covered, including BP, Shell and Texaco, and smaller chains and hundreds of independent stations.
Plus, the best bit, the site is entirely free to use!
How Petrol Prices works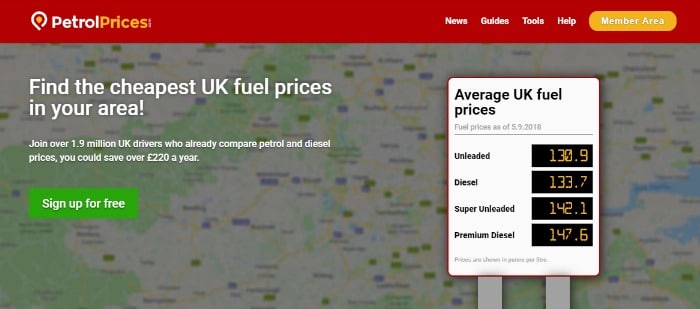 Create a free account with them, and you can start searching for the lowest UK fuel prices where you live (or any area you're planning to travel to).
If you've got a particular brand or station you prefer to use, you can even filter your searches to show you what you're after.
Sign up to their price alert emails, and they'll send you a snapshot of the lowest and nearest petrol station prices in your area, so you don't even need to go on their site to cheap all the time.
Find cheap fuel with Confused
If you're not a fan of signing up for an account, Confused.com offer a petrol price comparison too.
However, they don't have as many petrol stations listed, covering 83% of pump prices in the UK.
The search limits are relatively low as well, but it's certainly still worth giving it a go!
Balance fuel prices out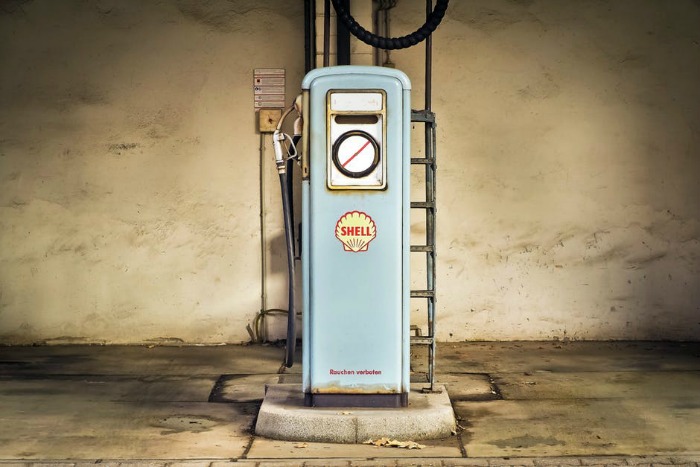 You need to work out whether travelling a bit further than your usual forecourt will save you on the price of fuel costs overall.
It might be the cheapest fuel in your tank, but you might not save.
If you've got to drive miles to get a few pennies off a litre of petrol (plus the drive back), the chances are that you'll end up spending out even more.
Move…
Ok, it's an overstretch, and you might not want to move house to reduce what you spend on your vehicle.
(….although we did!)
However, there are different areas of the county where fuel is a LOT cheaper than others.
We saw this saving straight away when we moved from the southeast to Yorkshire.
And while it's a stretch to move entirely, what you can do is plan your fuel top-ups more cleverly.
If you can try to tie in your visit to a petrol station with some other chores, then the tip could be worthwhile.
Maybe you'll be travelling for work or have a staycation or family visit coming up, plan to do a full fill up at that point (if they have cheaper fuel in their area).
Check in the area if there's a supermarket you could visit instead of your usual one, or maybe see if there's something on for the kids close by so you can turn it into a day trip.
Again, use sites like Petrol Prices and look for the cheapest petrol or diesel in other areas.
The pricing across the UK is so varied, and you never know if there'll be a petrol station around the next corner that may be 10p cheaper.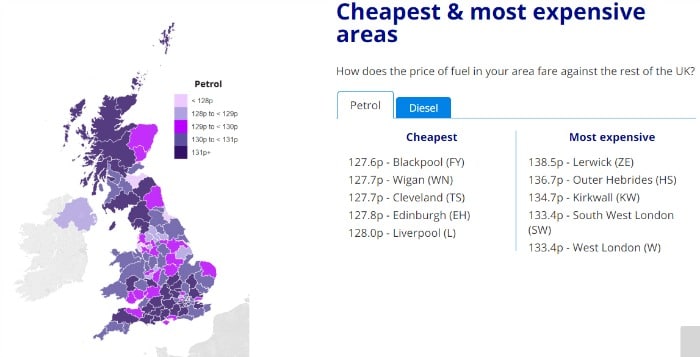 Use a loyalty scheme from petrol stations
Moving away from supermarkets, branded fuel stations also offer loyalty cards to help you cut costs.
You can earn points for every litre of fuel you fill up with and convert points to pay for other things.
Take a look at BPme reward card, Shell Go+ card where you get cash off fuel every ten visits, Texaco Star Rewards which sees you save 1p for every litre of fuel purchased, and Esso Nectar.
Remember, there is also the Tesco Clubcard, the My Morrisons app, and you can collect Nectar points with fuel from Sainsbury's.
Be more fuel efficient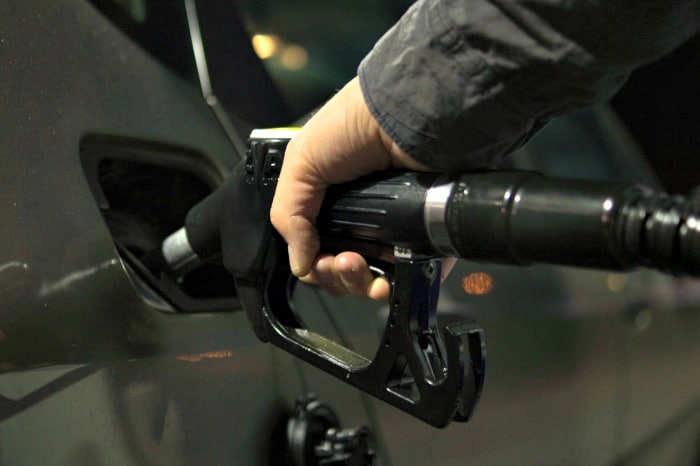 Whether you fill up your car with petrol or diesel, it's always a horrible shock when you've got to pay!
It's another one of those bills where the average prices keep going up – and it goes up fast!
The trouble is, owning and running a car seems to be more of a necessity now than a luxury.
Yes, I'm sure many people could ditch the car and do the school run on foot a few days a week, or use the cheapest online supermarket instead of shopping in store.
Other ways to save on fuel costs
But, realistically, stopping a few trips won't prevent the need of having a car to do other errands or even go to work.
So, what can you do for fuel economy when prices keep going up?
Turn off the air conditioning
While something it's an old wives tale, aircon does increase consumption – by up to 10%.
So, maybe just pull a window down for some fresh air and cut the cost of petrol.
Use live maps
Before setting off on any journey (even if I know the route), I check for live traffic updates on a map app on my phone.
It can show if there are longer delays than usual or road closures that can mean I get stuck in traffic for longer, therefore will use more fuel.
Get rid of extra weight
Remove anything you don't need to have in your boot or on your roof rack. Carrying it around is burning extra fuel.
Find somewhere else to keep your baby buggy, golf clubs or even heavy bottles of car shampoo.
Reduce drag
Your car has been designed to be aero-efficient, and adding something else to the vehicle will make it work harder.
Take off the roof box you aren't using and remove a bike rack if it's not in use.
Get regular servicing
Make sure to book an annual check-up, plus maintain the correct tyre pressure regularly.
Slow down and go gentle
Driving slower can reduce your fuel consumption, and being more gentle with how you break and change gears can also help – simples.
Not going by car?
If you're travelling another way, you can find cheaper travel. Check out the little-known Jobcentre Plus Travel Discount Card
---
Read next: 9 Ways to Reduce Your Fuel Costs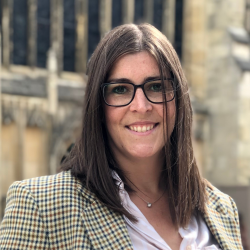 Latest posts by Naomi Willis
(see all)