I asked my 11 year old daughter what she things the future of energy will look like and how our fuel usage will change. She had some clever ideas.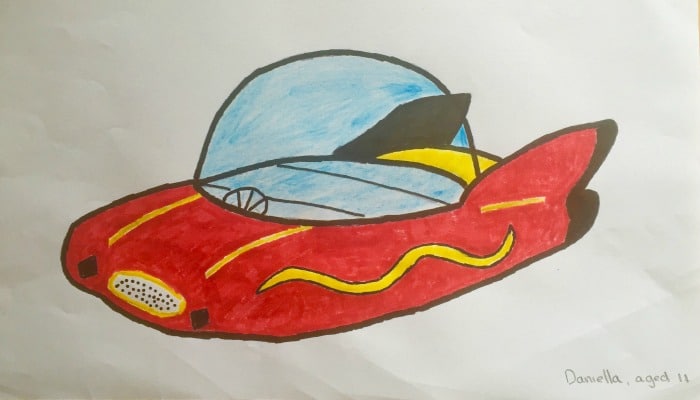 I don't even know how many years we've used electric in the house to get our lights to work and our appliances to turn on. Or gas to make our heating work and boil food on our cooker.
Energy has been something that was there before the colour television (well before my time!)
On top of this we've got diesel or petrol to fuel our cars.
For those who have a bit of budget and are jumping ahead of technology, may have installed solar panels on your roof as an alternative source of energy.
There are more and more of us on this earth, creating a higher demand for energy.
Energy in the future
A few years back, it was mooted that fossil fuels would run out, leaving us with little in the way of fuel to power our every day stuff.
This is now changing as technology is getting better and they are able to find better ways to access fuels.
Plus, they are looking at ways for fuel to be more environmentally friendly to preserve our planet for many future generations.
Times are changing
Energy also has to keep up with our demands for more juice to power more stuff, and the ever changing ways we use technology.
Around 20 years ago not many of us would have had a mobile phone, but now we want to have one constantly charged with us at all times. This has meant development of on the go chargers that are compact enough for a pocket or bag.
We're also able to track out own energy usage around the home with Smart Meters being installed and available across many homes in the UK. These smart meters give you real time information about the energy you're actually using, making sure you won't get an estimated bills and will only pay for what you use.
But where will the future take us?
Although the idea of robots in our homes or flying cars may seem like it's still out of a sci-fi film, they are becoming a reality sooner rather than later, and we will need to pay for more energy to keep everything powered on.
I have loads of ideas about what may or may not happen with power in the next 10 – 20 years. What's really interesting though is the opinion of a child.
They see the world with such innocence that anything could happen.
The future of energy
I asked my 11 year old what she thinks energy looks like in the future.
She can see that cars won't be the same and will fly. Rather than having planes to take you from county to country, a good old hover car will be able to get you too and from the shop.
She says it will be powered by carbon dioxide (very environmentally friendly) as well as taking boost when you plug it in to the electric.
Plus, with no wheels, they'll be less wear and tear so it'll be a cheaper car to maintain.
E.ON took a copy of her drawing and turned it into a video.
Cheaper power in the future?
I wonder (and hope) that power will become cheaper in the future.
Smart meters are going to change things as we'll be able to closely monitor how much we're actually using in the home and make changes to lower our costs.
This is only the beginning though. Soon more and more initiatives will come to give us more control and hopefully pave the way for new and cheaper ways to keep our homes powered.
This competition is brought to you in partnership with E.ON Energy. See if you could save money with their gas and electricity deals today.
Written in collaboration with E.ON Energy